Contaminated EzriCare Eye Drops Blind Woman Months Before Recall
Fact-Checked
Editors carefully fact-check all Drugwatch content for accuracy and quality.
Drugwatch has a stringent fact-checking process. It starts with our strict sourcing guidelines.
We only gather information from credible sources. This includes peer-reviewed medical journals, reputable media outlets, government reports, court records and interviews with qualified experts.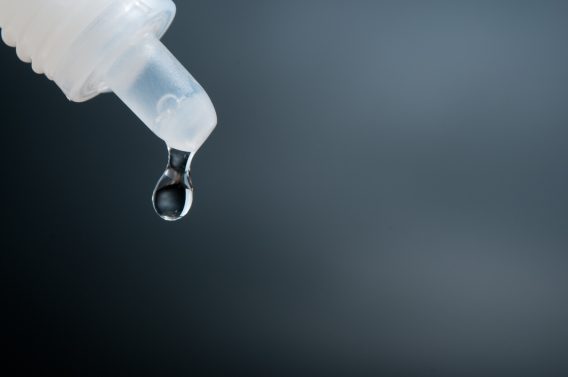 Months before bottles of EzriCare Artificial Tears were recalled from the market, Nancy Montz was experiencing sudden blindness and corneal ulcers.
Montz, a 72-year-old from Ohio, was hospitalized in November after doctors discovered she'd contracted an extensively drug-resistant bacteria formerly unreported in the United States, according to NBC News.
That bacterium, Pseudomonas aeruginosa, is now linked to contaminated eye drops and is connected to sickening nearly 70 patients – killing three, blinding at least eight and requiring four to have their eyeballs surgically removed. 
"We thought that this was just some sort of freak accident," said Dr. Morgan Morelli, a physician who specializes in infectious diseases at University Hospitals Cleveland Medical Center and who treated Montz. "We had no idea that this case was going to be linked to a global manufacturing issue."
EzriCare Artificial Tears Recall
EzriCare Artificial Tears, as well as Delsam Pharma's Artificial Eye Ointment, were recalled in February, and the Centers for Disease Control and Prevention issued a health alert. Global Pharma Healthcare in India manufactured the products, and Aru Pharma imported them, according to an EzriCare statement. 
Neil Flynn, an attorney with The Russell Freidman Law Group representing Aru Pharma, told Drugwatch his client had minimal involvement with the products' sale and distribution.
"It is our understanding that EzriCare sold the product directly to retail consumers through Amazon Marketplace and wholesale purchasers including Walmart. Aru Pharma had no role in the formulation or manufacture of the eyedrops, nor did it 'distribute' them. My client simply brokered a deal between EzriCare and Global Pharma for the purchase of the eyedrops," Flynn said in an email.
Consumers should stop using the products immediately and report any adverse effects to a doctor. Many people who used contaminated EzriCare Artificial Tears or Delsam Artificial Tears and were injured as a direct result have begun filing lawsuits.


Did you develop an eye infection or suffer vision loss after using EzriCare or Delsam Artificial Tears?
Woman's Case Documented in Health Journal
This month a team of doctors and scientists wrote about Montz's case in the Antimicrobial Agents and Chemotherapy Journal. Montz, who was not named in the journal, was identified by NBC News. 
Montz was experiencing dry eyes and ordered EzriCare Artificial Tears through Amazon, according to NBC. She used the product for about two weeks before noticing her left eye was cloudy and she had trouble seeing. She awoke to a yellow discharge on her pillow and went to the emergency room for help.
Doctors there cultured Montz's corneal ulcer and prescribed her antibiotics that commonly treat eye infections, but the following day the condition worsened. During a visit with a specialist a day later, doctors noticed her entire left eye had clouded over. Her case was turned over to microbiologists and infectious disease experts, including Morelli. 
Health care specialists knew the P. aeruginosa bacterium had infected Montz, but the question was how.
"We wondered if she'd accidentally touched something, or there was some freak accident" to explain the infection, Morelli said in a press release issued by the American Society for Microbiology.
Researchers decided to test Montz's EzriCare eye drops and found the same strain of bacterium in the sample. She was treated with a powerful IV antibiotic and two topicals. While her condition has improved, it's unclear if she will regain her vision, Morelli said. 
EzriCare Artificial Tears Side Effects: Blurry Vision, Eye Pain 
Montz's case is one of 68 reported in 16 states involved in the outbreak. More than half of the patients were linked to four health care facility clusters, according to the Centers for Disease Control and Prevention. Most sickened patients reported using the artificial tears before becoming infected. 
Consumers with an eye infection may have symptoms that include:
Blurry vision

Eye pain or discomfort

Feeling of something in the eye

Increased sensitivity to light

Redness of the eye or eyelid

Yellow, green or clear discharge from the eye
Consumers who used the brands and experienced any eye drops side effects should seek medical care immediately.
While the products have been pulled from shelves and a recall was issued, Morelli worries that more people may be at risk, especially those who still have the products in their homes. 
"People may still have it on their medicine cabinet shelves," Morelli said in the ASM press release. 
Morelli also hopes the eye doctors who may be the first physicians to see future patients with this infection will know what to look for. 
"We don't always get this detailed of a history or ask someone to bring in over-the-counter medicine they're using," Morelli said. "We really wanted to raise awareness."
Share This Page:
How can we improve this page?
Thank You for Your Feedback
We appreciate your feedback. One of our content team members will be in touch with you soon.
We appreciate your feedback. One of our content team members will be in touch with you soon.