Survey: Eye Drops Sold Online Pose Risks to Consumers
Fact-Checked
Editors carefully fact-check all Drugwatch content for accuracy and quality.
Drugwatch has a stringent fact-checking process. It starts with our strict sourcing guidelines.
We only gather information from credible sources. This includes peer-reviewed medical journals, reputable media outlets, government reports, court records and interviews with qualified experts.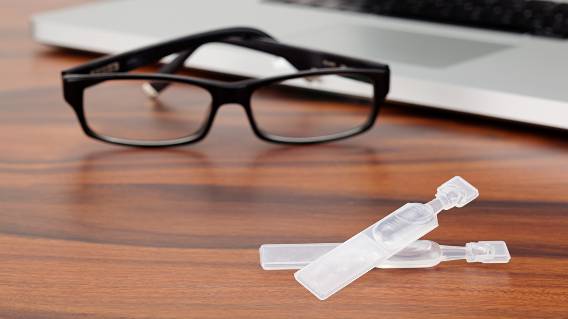 Hundreds of potentially dangerous eye drops are being sold online without government oversight, according to a recent report by the nonprofit Dry Eye Foundation.
An investigation by the advocacy group found that more than 200 eye drops made by 62 brands could cause potential health problems because of packaging and formulation issues. A significant number of eye drops are formulated for sale in countries other than the U.S., according to the Dry Eye Foundation, which keeps a master list on its website.
"Eye drops purchased on the shelf in drugstores can generally be considered safe. Conversely, e-commerce platforms such as Amazon, Walmart, eBay and Shopify sell many eye drops which are not registered with the FDA," said Dr. Sandra Brown, a Drugwatch expert contributor and the Dry Eye Foundation's medical advisor. "These products should be considered unsafe because nothing is known about their manufacturing conditions." 
Earlier this year, contaminated eye drops caused major health issues for more than 80 Americans after users contracted a deadly bacterium. Health officials linked the illnesses, which included loss of sight, four eyeball removals and four deaths, to the Pseudomonas aeruginosa bacterium, which has been found in EzriCare Artificial Tears and Delsam Pharma's Artificial Tears.
The two brands were imported into the U.S. and sold online. Global Pharma, an India-based manufacturer, recalled the drops and Delsam Pharma's Artificial Ointment. Investigators from the U.S. Centers for Disease Control and Prevention and the U.S. Food and Drug Administration are investigating the incidents.
A number of people have filed eye drop lawsuits after they experienced injuries when using the eye drops. The cases are still in the early stages and there have been no settlements or jury trials. 
Did you develop an eye infection or suffer vision loss after using EzriCare or Delsam Artificial Tears?
Eye Drops Reported to FDA
The Dry Eye Foundation reported more than 200 eye drops to the FDA for various reasons, including: 
Counterfeits of national brands

"Natural" eye drops that claim to treat various medical eye diseases

Preservative-free eye drops packaged in standard eye drop bottles that require preservation

Unregistered imports that appear to be packaged for sale outside of the U.S.

Trending scams, such as eye drops that claim to change eye color
"Raising awareness about the safety hazards of purchasing eye drops online has become our top priority for 2023," said Dry Eye Foundation Executive Director Rebecca Petris.
In June, the Dry Eye Foundation released a list of 205 potentially unsafe eye drops and reported the medicines to health officials. It found that many of the OTC drugs were packaged exclusively for sale in countries other than the U.S. Many of the bottles were labeled preservative-free, but the type of bottles used as packaging were meant for preserved eye drops to prevent contamination.
"In 2022 we were worried about three incorrectly packaged biologic eye drops. Then came the Ezricare tragedy earlier this year, which increased our sense of urgency," Petris said. "Since then, our list grew to 10, 20, 50, 100, and now over 200. We have been sharing all our research with the FDA, and in the meantime, we need eye care providers to know what's going on."
The Dry Eye Foundation is encouraging health care professionals to learn more about safety issues and review current product alerts.
Consumers Urged To Use Caution 
A surge of unregulated eye drops continues on popular e-retailer sites and can cause harm to U.S. consumers, the foundation warned. It urged consumers to take a few extra precautions when purchasing over-the-counter medicines online to ensure they are safe.
Always check the manufacturers' store to see if the product is sold by the company. An imposter company could be selling a bogus product.

Check the National Institutes of Health DailyMed website to see if the product is registered with the FDA before purchasing. While that can be helpful, the FDA does not review OTC product information uploaded by companies and states it "has not evaluated" whether the products comply with applicable regulations or policies.
"Although being registered with the FDA is not a guarantee of safety – EzriCare eye drops were registered – not being registered is an indication that the seller is [disregarding] the FDA's rules," Brown added.
If the product is sold with an ordinary eye dropper, the product must be preserved to prevent contamination. Preservative-free drops require special packaging or to be placed in single-use dosage droppers.
Eye Drops Safety Tips
Brown advised that consumers should pay attention to any potential eye drop side effects. Some of these are immediate and others occur over time.
"If an eye drop causes immediate redness, stinging, burning, watering or blurred vision you should rapidly flush your eyes with cool or cold tap water, using your fingers to widely separate your eyelids, for at least five minutes," Brown said. "If the eye drop seems to be causing gradually increasing irritation with each use, simply discontinuing it should be sufficient."
If eyes remain persistently red and irritated, Brown recommends seeking evaluation by an eye care provider. Consumers should bring the eye drops to the provider visit.
Eye drops can get hot during the heat of summer and the product's temperature could reach unsafe levels, Brown added.
"Keeping [eye drops] in the car in the summer can increase the temperature to more than 110 degrees. This is well outside the recommended storage temperature. Never keep eye drops in a pocket or leave them in the car," she advised.
Share This Page:
How can we improve this page?
Thank You for Your Feedback
We appreciate your feedback. One of our content team members will be in touch with you soon.
We appreciate your feedback. One of our content team members will be in touch with you soon.