Study: Popular Weight Loss, Diabetes Drugs Could Lead to Digestive Issues
Fact-Checked
Editors carefully fact-check all Drugwatch content for accuracy and quality.
Drugwatch has a stringent fact-checking process. It starts with our strict sourcing guidelines.
We only gather information from credible sources. This includes peer-reviewed medical journals, reputable media outlets, government reports, court records and interviews with qualified experts.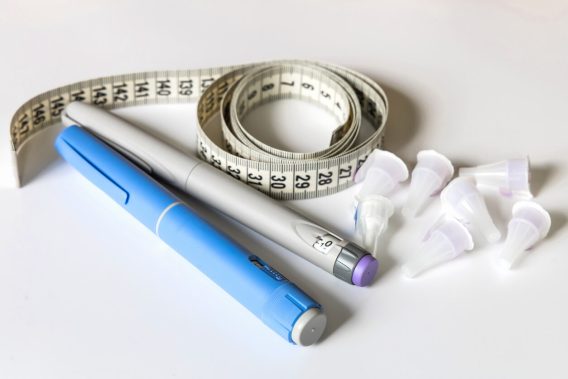 Injectable medications that have grown in popularity recently for weight loss may be putting people at risk of a number of severe digestion problems, according to a study published recently in the Journal of the American Medical Association.
Researchers at the University of British Columbia who studied Ozempic, Wegovy, Saxenda and Victoza found potential problems, including pancreatitis, bowel obstructions and stomach paralysis.
The study used a random sample of more than 16 million insurance claims from a national prescription drug database. Researchers sought out patients who were prescribed semaglutide and liraglutide, which are in a class of drugs called GLP-1 agonists. The drugs slow down the passage of food through the stomach, which helps people with diabetes control their blood sugar.
Ozempic and Wegovy are semaglutides, and Saxenda and Victoza are liraglutides. Wegovy and Saxenda are approved by the U.S. Food and Drug Administration for chronic weight management. While Ozempic and Victoza are used in the treatment of Type 2 diabetes, they have also been used off-label for weight loss. 
Study Focuses on Obesity Diagnoses 
To find patients who may have been prescribed the drugs, researchers focused on those who were diagnosed with obesity at least 90 days before starting the medication. They also ruled out anyone with diabetes who had been taking a different drug to control their blood sugar. Then they compared how often those patients suffered serious digestive problems to others who had been taking different weight-loss medications.
"This is critical information for patients to know so they can seek timely medical attention and avoid serious consequences," Mohit Sodhi, a medical student and one of the authors of the study, told CNN. "Someone who has diabetes and is taking this medication for that might be more willing to accept the risk of these adverse events, which are rare, to help get their diabetes under control." 
See if You Qualify for a Lawsuit
Our Partners
Our Trusted Legal Partners
Drugwatch partners with trusted law firms to help you take legal action. After submitting the form, one of Drugwatch's partners will contact you for a free case review.








Lawsuits Filed Against Manufacturers
Jaclyn Bjorklund filed a lawsuit in August against Novo Nordisk, claiming the drug maker did not warn people about all the potential side effects linked to the drug. The Louisiana woman says the label doesn't mention the potential for severe gastroparesis, or "paralyzed stomach." That lawsuit is also against Eli Lilly, the maker of Mounjaro, which is a Type 2 diabetes treatment being used off-label for weight loss.
Bjorklund claims she used Ozempic for more than a year to treat her Type 2 diabetes and then switched to Mounjaro. She says the drugs caused "severe gastrointestinal events." The Ozempic lawsuit states that Bjorklund experienced stomach pain, severe vomiting, gastrointestinal burning and hospitalizations. According to the National Institute of Diabetes and Digestive and Kidney Diseases, diabetes is the most common cause of gastroparesis.
In September, the FDA warned expectant mothers and women who plan on becoming pregnant about the dangers of Ozempic and Wegovy. The federal agency says any medicines containing semaglutide may cause birth defects, low birth weight and miscarriage. Novo Nordisk advises women to stop taking the medication if they become pregnant or are trying to conceive. 
Possible Serious Side Effects
Serious side effects can be found in about 1% of patients who take the drugs, but the number of people using the medications has increased recently. According to analytics firm Trilliant Health, quarterly prescriptions increased by 300% between 2020 and 2022. 
"When you have millions of people using these drugs, you know, a 1% risk still translates to many people who may experience these events," lead study author Dr. Mahyar Etminan, an epidemiologist at the University of British Columbia, told CNN. 
The U.S. Food and Drug Administration added intestinal blockage as a possible side effect of Ozempic in October. Similar drugs Wegovy and Mounjaro already have warnings about the potential for intestinal blockage. According to Novo Nordisk, the maker of Ozempic, gastrointestinal events are considered well-known side effects for these types of drugs.
Some of the more common side effects of Ozempic include: 
Abdominal pain

Constipation

Diarrhea

Nausea

Vomiting
More serious side effects caused by the drugs can be acute kidney injury, pancreatitis and hypoglycemia. An investigation by the European Medicines Agency is ongoing after some Ozempic and Wegovy users complained about suicidal thoughts and self-harm. The FDA lists suicidal behavior as a possible side effect of Wegovy and Saxenda.
Share This Page:
How can we improve this page?
Thank You for Your Feedback
We appreciate your feedback. One of our content team members will be in touch with you soon.
We appreciate your feedback. One of our content team members will be in touch with you soon.