Reverse Shoulder Replacement
Reverse shoulder replacement has become increasingly popular for people with serious shoulder pain, immobility and rotator cuff injuries. While the shoulder implant results in a more stable joint, it comes with a greater chance of complications than traditional shoulder replacement.
The number of shoulder replacement surgeries has nearly tripled since 2000, but the procedure is still far less common than knee or hip replacements. Between 2000 and 2013, the number of total shoulder arthroplasties (TSA) or replacement in the U.S. skyrocketed from 18,000 to 45,000 a year. By comparison, there are more than a million hip and knee replacements in the U.S. annually.
Helping drive the rising numbers of shoulder replacements have been implants designed for a procedure called reverse shoulder arthroplasty (rTSA) or replacement. Since the FDA approved the first rTSA device in 2003, the procedure has become an increasingly viable treatment for people who could not reap the same benefits of a conventional shoulder replacement. While originally performed as a means to repair failed shoulder replacements, rTSA was used in roughly a third of all primary shoulder replacement surgeries by 2011.
When Is Shoulder Replacement Surgery Necessary?
Shoulder replacement is usually an option if a patient is in extreme pain from arthritis in or damage to the shoulder joint. Most people can treat these conditions with medicine, exercise or other treatments.
A doctor may recommend shoulder-replacement surgery if other treatments fail to relieve severe pain. Shoulder replacement is also an option for patients who have very limited motion in the arm, suffered a traumatic injury to the shoulder or who have lost large amounts of cartilage in the shoulder joint.
Several conditions can result in damage severe enough to require shoulder-replacement surgery.
Osteoarthritis is the result of wear and tear on the joint. Cartilage that normally cushions bones against one another wears away, allowing the bones to rub together. Over time, this can become increasingly painful.
Rheumatoid arthritis
Rheumatoid arthritis
is a disease that causes inflammation of a membrane around joints. The inflammation can damage cartilage and lead to severe joint pain.
Post-traumatic arthritis can result from a serious injury to the shoulder. Torn ligaments and tendons or bone fractures can cause cartilage loss causing pain.
Severe fractures around the shoulder joint – particularly to the ball at the top of the upper arm bone – can make repairs difficult. Older patients with osteoporosis are susceptible to these injuries. It may be easier and safer to replace the joint than attempt to repair the broken bone.
Avascular necrosis is a condition in which the blood supply to the bone is interrupted. Without blood flow to the bone, cells die, the shoulder joint deteriorates and arthritis can set in. Avascular necrosis can be caused by serious fractures of the bones around the joint or sickle-cell disease. Heavy alcohol use, deep sea diving and steroid abuse are other potential causes.
Replacing a failed shoulder implant is not common – implants have a 15- to 20-year life expectancy, but complications or device failures may require a surgery to replace the original implant. This is called a revision surgery.
The Difference between TSA and rTSA Shoulder Replacements
The chief difference between shoulder-replacement implants is that a conventional TSA mimics human anatomy while rTSA, a reverse-shoulder implant, reverses it. According to a 2022 study, reverse shoulder replacements have a lower revision rate, about 6%, compared to other shoulder arthroplasties.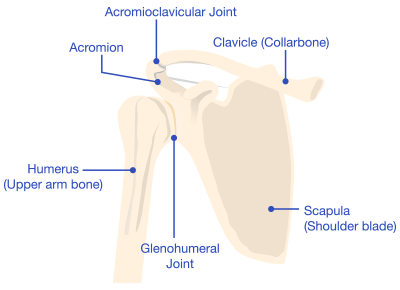 The human shoulder is a ball and socket joint. The humerus, or upper arm bone, is topped with a ball-shaped end that fits into a socket on the shoulder blade.
During TSA, the natural ball is removed from the top of the humerus. A stem is placed into the center of the arm bone and connected to a metal ball. The natural socket in the shoulder blade is replaced with a plastic cup where the ball is snapped into place. The whole process takes a surgeon about two hours.
Conventional shoulder replacement does not work for all patients. A reverse shoulder replacement may be considered for people with damaged rotator cuffs because of the implant's design. Rotator cuffs are the complex of muscles and tendons that hold the ball of the humerus into the socket in a natural shoulder joint. Because an rTSA reverses the anatomy of the shoulder, it can still function without an intact rotator cuff.
If the patient has a severely damaged or torn rotator cuff, extreme arm weakness or inability to lift the arm beyond 90 degrees or has had a previous, failed shoulder replacement, a reverse shoulder replacement, or rTSA, may be a better option.
In an rTSA, the location of the ball and the socket are reversed. A ball is attached to the shoulder blade while a socket assembly is attached to the arm bone. The procedure also changes the way patients move their arm, allowing the patient to use the deltoid muscles instead of the rotator cuff to lift the arm.
Reverse total shoulder arthroplasty, or replacement, is a more complex surgery than TSA and is usually performed at larger hospitals or medical centers.
Though more complex, rTSA may be recommended if a patient suffers from certain conditions in which the more conventional shoulder replacement may not deliver the same benefits.
Medical Conditions and the potential benefit from rTSA surgery
Severe arthritis in shoulder joint AND torn or destroyed rotator cuff tendons

Potential Benefit from rTSA Surgery - Significant pain relief, improved range of motion

Torn rotator cuff tendons AND range of motion limits ability to function in life

Potential Benefit from rTSA Surgery - Regaining some degree of motion and function

Revision surgery for patient with TSA implant but still suffers pain and loss of motion

Potential Benefit from rTSA Surgery - Reduces pain, improves range of motion (more complex because old implant must be removed)

Arm fracture resulting in natural ball joint separating from humerus or splitting

Potential Benefit from rTSA Surgery - Joint repair and replacement

Tumor on the humerus or ball joint

Potential Benefit from rTSA Surgery - Joint repair, improved range of motion
Since an rTSA reverses the anatomy of the shoulder, the range of movement will be different from a natural shoulder joint. Despite this, it can still be an improvement over severely damaged joints.
Recovery from either a TSA or rTSA procedure usually takes up to eight months. Patients have to wear a sling to support the shoulder for the first two to four weeks after surgery and should not drive a car during that time.
Exercise of the shoulder and arm is important in the weeks immediately after surgery and physical rehabilitation should begin shortly after the procedure. This helps strengthen the area around the implant and improve arm and shoulder flexibility.
Complications of Reverse Shoulder Replacement
The complication rate of rTSA has been reported to be as high as four times that of conventional shoulder-replacement surgery. Studies have put complication rates as high as 37.5 percent. Researchers in a 2013 study of nearly 3,000 reverse shoulder-replacement patients found those younger than 60 required revision surgery at twice the rate as patients 60 or older.
Typical complications from reverse-Shoulder Replacement can include:
Dislocation of the ball and socket of the implant (more common with rTSA than TSA)
Infection which may require surgery to treat
Scapular notching – wearing a groove into the shoulder blade
Component loosening or failure
Bone fractures around the implant or in the shoulder blade
Hematomas – pockets of blood forming in the joint area
Weakness, numbness or tingling sensations
The most common complication is dislocation. A 2017 study found two-thirds of dislocations occurring in the first three months after surgery and more frequent among revision than primary replacement surgery.
Zimmer Biomet recalled more than 3,600 reverse shoulder implants in 2016. The company reported certain devices had fractured. Fixing the damage required revision surgery. Some people who experienced fractures filed reverse shoulder lawsuits.
Another 2017 study in the journal Orthopedics suggests that testing for metal allergy before shoulder replacements may reduce the risk of complications. Researchers looking at patients from more than 1,200 shoulder replacement surgeries, found that most of those with metal allergies, who opted to go forward with shoulder replacement, developed symptoms of complications within 12 weeks of surgery. They also showed progressive pain and stiffness after receiving the implant.
Despite potential complications, a surgeon may recommend reverse shoulder replacement because of the improvement in the quality of life it offers for patients with certain conditions.
Reverse shoulder replacement remains a relatively new procedure and reports of complications have decreased as surgical techniques and implant designs have improved. Compared to hip and knee implants, reverse-shoulder implants have faced far fewer device recalls. Component fractures have resulted in the most serious problems, leading Zimmer-Biomet to recall 3,600 Comprehensive reverse shoulder implants in 2016.
There are also potential complications which are common to any type of surgery. These are very rare but may include heart attack, stroke, reactions to medication or anesthesia used during surgery or deep vein thrombosis – blood clots in the leg that can break off, travel to the lungs and cause a pulmonary embolism.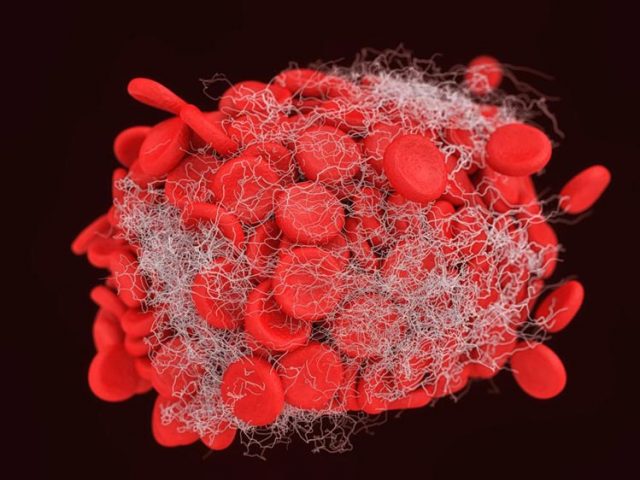 Your Health Insurance May Affect Your Chance of rTSA Complications
Researchers at Boston University Medical Center have found that the type of insurance coverage people have – or don't have – is associated with the risk of complications in shoulder-replacement surgery.
The researchers analyzed medical records for more than 103,000 patients who had shoulder replacements – both TSA and rTSA. Their 2017 study found that people with Medicare or Medicaid coverage and those with no insurance suffered "a significantly higher rate of medical, surgical, and overall complications" compared to patients with private insurance.
The researchers said the higher rates may be associated with socioeconomic status or education levels of the patients. They also found that people with private insurance tended to have shoulder replacement surgery in high-volume hospitals where doctors would have done more surgeries and be more familiar with them. Patients on Medicaid and or who were uninsured tended to have their surgeries at hospitals and by surgeons that had performed fewer shoulder replacements.
Reverse Shoulder Implant Manufacturers
Despite the relatively small number of shoulder replacement surgeries compared to hip and knee replacements, shoulder implants – TSA and rTSA combined – amount to an estimated $2.7 billion market. It is expected to grow at eight to 12 percent annually to 2020.
The potential for profit has attracted a crowded field of more than a dozen manufacturers into the rTSA market.
Reverse Shoulder Replacement manufacturers
Arthrex
Biotechni
Cayenne Medical
DePuy Synthes
DJO Global
Evolutis
Exactech
FH Orthopedics
FX Solutions (distributed by Corin Group)
Integra LifeSciences
Lima Corporate
Medacta International
Wright Medical Technology
Zimmer-Biomet
DePuy Synthes, Exactech, Wright Medical Technology and Zimmer-Biomet hold the largest shares of the rTSA market.
Companies are looking for a competitive edge and are likely to focus on innovations design, virtual surgery planning systems and development of next-generation implants. They are also looking methods and devices to preserve bone during implant surgery and opportunities to replace older implants in patients requiring revision surgery.
Please seek the advice of a medical professional before making health care decisions.
Share This Page:
How can we improve this page?
Thank You for Your Feedback
We appreciate your feedback. One of our content team members will be in touch with you soon.
We appreciate your feedback. One of our content team members will be in touch with you soon.
Who Am I Calling?
Calling this number connects you with a Drugwatch representative. We will direct you to one of our trusted legal partners for a free case review.
Drugwatch's trusted legal partners support the organization's mission to keep people safe from dangerous drugs and medical devices. For more information, visit our partners page.