Reverse Shoulder Replacement Complications
Reverse shoulder replacement has gained popularity partly because it can be a solution for severe injury or deterioration of patients' shoulder joints. But the implants have brought higher complication rates than other joint replacements.
Reverse total shoulder replacement or arthroplasty (rTSA) gets its name from the way it "reverses the anatomy" of the human shoulder. A natural joint has a "ball" at the top of the upper arm bone and a "socket" in the shoulder. Reverse implants place an artificial ball on the shoulder and an artificial socket on the upper arm.
Reverse shoulder replacement remains a relatively new procedure. Reports of complications have decreased as surgical techniques and implant designs have improved. But complication rates have been higher than for other joint implants over the history of the devices. According to a 2022 study, reverse shoulder replacements have a lower revision rate, about 6%, compared to other shoulder arthroplasties.
Common Complications
The most common complications include nerve damage, infection and dislocation.
The overall complication rate of rTSA may be as much as four times that of conventional implant surgery. One study found that nearly 4 in 10 reverse shoulder implant patients younger than 65 experienced complications.
Among the complications seen in this procedure are:
Dislocation of the ball and socket of the implant (more common with rTSA than TSA)
Infection which may require surgery to treat
Scapular notching (wearing a groove into the shoulder blade)
Component loosening or failure
Bone fractures around the implant or in the shoulder blade
Weakness, numbness or tingling sensations
Nerve damage that affects feeling or control of the arm and hand
Hematoma (blood clotting in tissue)
Age can also play a role in a patient's chances of suffering a complication, but not in the way it often factors into medical issues. Researchers in a 2013 study of nearly 3,000 rTSA patients found those younger than 60 required revision surgeries at twice the rate as patients 60 or older. So younger people are more likely than older people to experience problems.
Study: Benefits vs. Complications
In January 2018, a small study suggested these implants could reduce pain and increase range of motion. But researchers also found high complication rates associated with the devices. The study looked at 22 patients 19 years old or older. Thirteen of the patients reported one or more complications. These included infection, loosening and dislocation. Researchers published their findings in the Journal of Shoulder and Elbow Surgery.
Implant Risks
Despite potential side effects, a surgeon may still recommend reverse shoulder replacement if it may improve a patient's quality of life. Patients should be aware of the potential complications from this surgery and how they may affect their health.
Dislocation
A 2017 study of nearly 1,500 reverse shoulder replacements found 2 of every 3 dislocations happened in the first three months after surgery. Dislocations were also more frequent among people who'd had surgery to repair or replace an earlier implant.
Did You Know
A reverse prosthesis is designed for situations where the rotator cuff — the muscles and tendons surrounding the shoulder joint — is damaged.
A reverse shoulder implant can dislocate if a patient lifts something or puts other tension on the muscles. Dislocation can also happen if the parts of the implant don't match in size.
Doctors may be able to relocate the ball into the socket of the implant, and put the patient's arm in a sling for a few weeks. If this does not work, or if it can't be done, the patient may require surgery to relocate the implant.
Infection Risk After Surgery
Infection is a risk of any surgery and especially of implant surgeries. Some estimates suggest 1 in 10 people who receive a reverse shoulder implant may have to deal with infection. In most cases, it can be treated with antibiotics.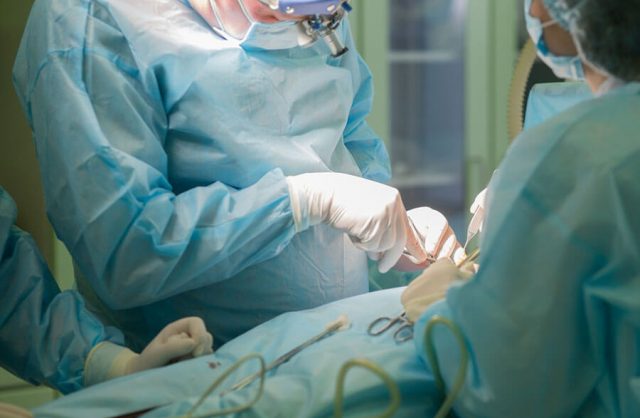 Surgical site infections can come from germs introduced where the skin has been broken.
If the drugs do not work, the patient will have to undergo another surgery to stop the infection, which may involve cleaning the prosthetic and infected tissue or, in more severe cases, removing and replacing parts of the implant.
Loosening and Fractures
A patient's bone health can play a part in fractures or the implant coming loose. Fractures can occur even as a surgeon places an implant into a patient for the first time. Patients receiving this joint replacement may already have weak bones that are more prone to breaking.
If the patient's bone fails to grow around the implant's baseplate, it may remain loose and require further surgery to correct.
In 2016, Zimmer Biomet recalled more than 3,000 reverse shoulder implants after reports of the devices fracturing. The only way to repair a fractured implant is with revision surgery.
Nerve Damage
Reverse shoulder implants can cause a loss of feeling or control in the arm and hand.
The implant can affect a bundle of nerves called the brachial plexus. These nerves run down the neck, through the shoulder and continue down to the hand.
The implants can put pressure on this nerve bundle or push it aside from its normal location. If this happens, a patient can lose feeling or even lose partial function of the arm and hand. Scar tissue from the surgery can cause similar nerve complications.
Health Insurance May Affect Risk
Researchers at Boston University Medical Center have found that the type of insurance coverage people have — or don't have — is associated with the chance of complications in shoulder replacement surgery.
The researchers analyzed medical records for more than 100,000 patients who'd had the procedure replacements — both conventional and reverse implants. Their 2017 study found that people with Medicare or Medicaid coverage and those with no insurance suffered "a significantly higher rate of medical, surgical, and overall complications" compared with patients who have private insurance.
Complications Based on Health Insurance
Medicare

2 in 10 patients had complications

Medicaid or No Insurance

Almost 2 in 10 patients had complications

Private Insurance

1 in 10 patients had complications
Those with Medicare, Medicaid or no insurance at all were twice as likely to suffer complications as those who had private insurance.
The researchers said the higher rates may be associated with income or education levels of the patients. They also found that people with private insurance tended to have shoulder replacement surgery in high volume hospitals where doctors would have done more surgeries and be more familiar with them. Patients on Medicaid and or who were uninsured tended to have their surgeries at hospitals and by surgeons that had performed fewer shoulder replacements.
Please seek the advice of a medical professional before making health care decisions.
Share This Page:
How can we improve this page?
Thank You for Your Feedback
We appreciate your feedback. One of our content team members will be in touch with you soon.
We appreciate your feedback. One of our content team members will be in touch with you soon.
Who Am I Calling?
Calling this number connects you with a Drugwatch representative. We will direct you to one of our trusted legal partners for a free case review.
Drugwatch's trusted legal partners support the organization's mission to keep people safe from dangerous drugs and medical devices. For more information, visit our partners page.