Best (And Worst) Cities for Asthma
One in 13 Americans has been diagnosed with asthma. Does where they live impact their condition? Drugwatch researchers have examined factors such as air quality, statistics, asthma incidents and fatalities to identify the best cities for asthma and which ones to avoid.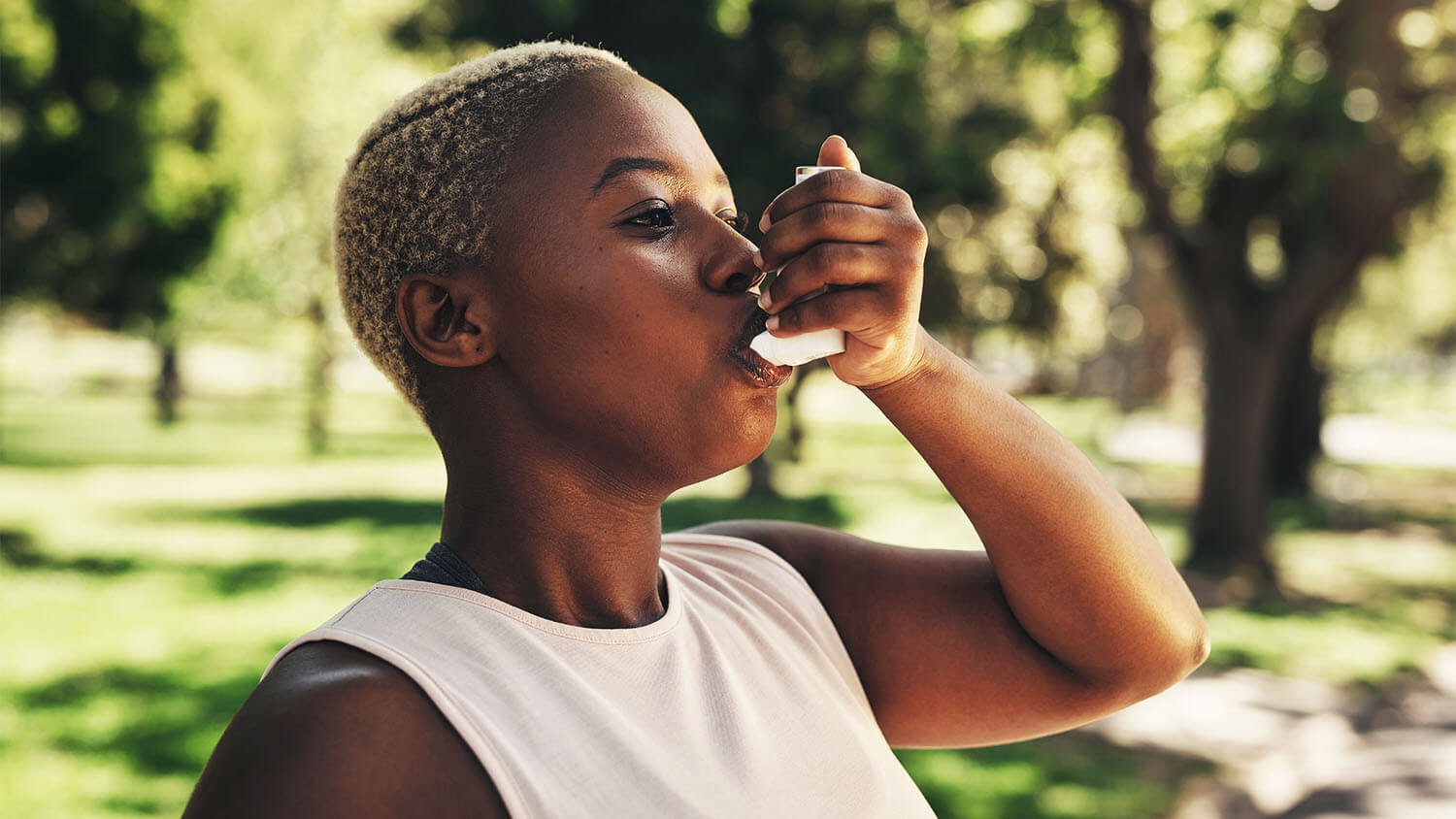 5 Best Cities for People Living With Asthma
Not every major U.S. city is ideal for asthma sufferers. Knowing which are the best cities for asthma or the worst, and understanding the research behind these rankings can help you manage and reduce asthma symptoms, ensuring a healthier future.
| Best Cities for Asthma | Worst Cities for Asthma |
| --- | --- |
| 1. Virginia Beach, VA | 1. Fresno, CA |
| 2. Raleigh-Durham, NC | 2. Phoenix, AZ |
| 3. Colorado Springs, CO | 3. Chicago, IL |
| 4. Palm Bay, FL | 4. Houston, TX |
| 5. McAllen, TX | 5. Detroit, MI |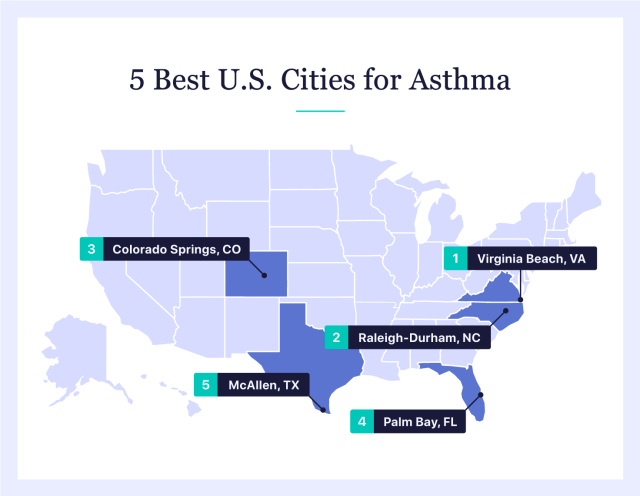 To identify the best and worst metropolitan areas for people with asthma, we reviewed data including the American Lung Association's 2022 State of the Air report and its Cleanest Cities list that identifies top cities noted for lower air particle pollution rates and ozone levels. We then cross-checked those rankings with the Asthma and Allergy Foundation of America's list of Asthma Capitals Report identifying the most challenging cities for asthma in the United States.
Ozone, for example, causes irritation to airways that leads to coughing, scratchy throat and increased frequency of attacks for those with asthma. Not only are people with asthma at greater risk from ozone, but so are children, adults with lower nutrient levels (including vitamins C and E) and those who work outdoors.
1. Virginia Beach, VA
Virginia Beach secured the top spot on our list thanks in large part to its levels of ozone gasses being among the lowest levels in the U.S.. As one of the most common air pollutants, concentrated ozone levels can irritate the lungs and airways, reducing lung function and triggering asthma attacks.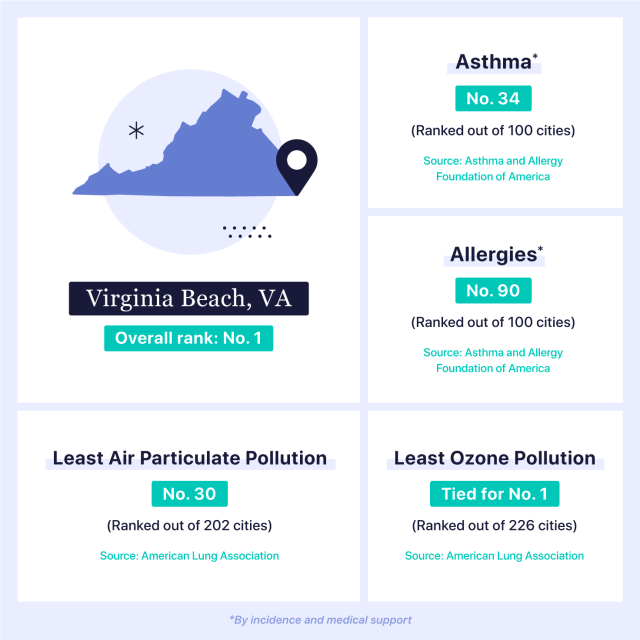 Research suggests that beach destinations can be a great option for people with asthma since strong ocean breezes are generally free of allergens. Positioned on the coast where the Chesapeake Bay meets the Atlantic Ocean, Virginia Beach offers a variety of outdoor adventures and exercise opportunities. Swimming offers potential benefits for people with asthma as well, though it's important to be mindful of exercise-induced asthma attacks with any aerobic activity.
2. Raleigh-Durham, NC
Based on the AAFA's tracking of asthma prevalence, emergency department visits because of asthma attacks and asthma-related fatalities, the Raleigh-Durham area of North Carolina ranks fourth among cities in the U.S. with the fewest asthma incidences. Because it's also tied for first in low ozone levels, this metropolitan area lands the second spot on our list.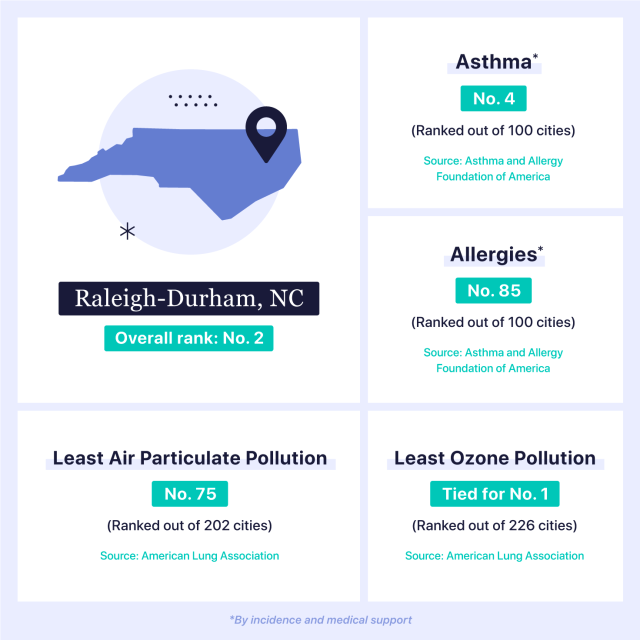 With an average annual high of 71 degrees and an annual low of only 50 degrees, the neighboring cities of Raleigh and Durham offer an environment that is less likely to exacerbate asthma. Experts confirm that extremely cold, dry air can cause intense asthma flare-ups. And extreme heat and sunlight sometimes combine with airborne pollutants to increase ground-level ozone, which is a known asthma trigger.
Cities with less extreme weather patterns may be more appropriate for those with asthma. While the state of North Carolina has met all health-based federal air quality standards since 2015, and Raleigh-Durham's weather patterns are less extreme than other areas, wildfires and weather conditions can impact air quality measures.
3. Colorado Springs, CO
Nestled along the eastern edge of the Rocky Mountains at an elevation of 6,035 feet, Colorado Springs offers a variety of outdoor adventures. Allergens and air particulates are less prevalent in a city at this elevation. This is because some asthma triggers, such as dust mites, are less frequent at higher elevations.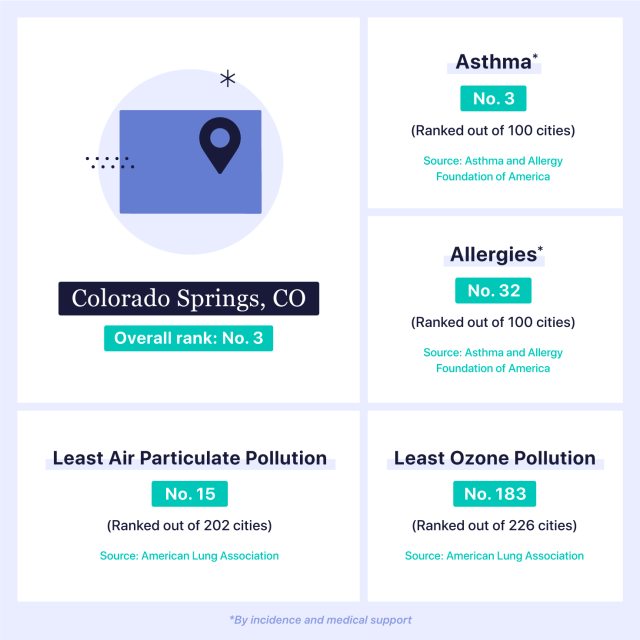 While the city performs well in most of the categories we measured for this list, it ranks 183rd for high ozone days out of 226 metropolitan areas according to ALA data. Because of climate change, wildfires – a frequent source of airborne pollutants – are expected to increase in frequency in coming years.
4. Palm Bay, FL
Palm Bay, Florida, is a coastal town approximately 75 miles southeast of Orlando that ranks fourth on our list. Similar to Virginia Beach, the city benefits from its location along the Atlantic Ocean with ocean breezes helping to decrease the amount of particle pollution in the air. In fact, Palm Bay tied for first place with other cities in the ALA's ranking of cleanest metropolitan areas in the country in terms of 24-hour particle pollution.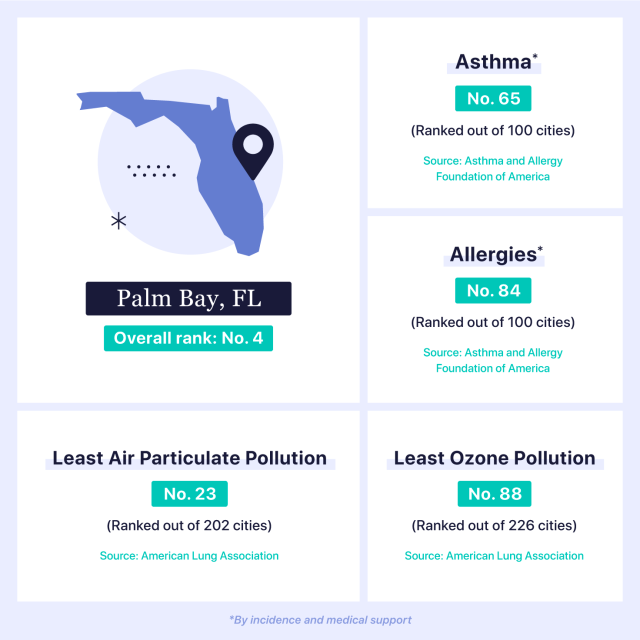 The city is the largest in Brevard County, where almost 13% of the county population has received an asthma diagnosis in their lifetime. Asthma hospitalizations have steadily decreased among county residents over the past 20 years, dropping from a rate of 125.4 hospitalizations per 100,000 people in 2003 to only 36.1 as of 2021.
5. McAllen, TX
The city of McAllen rounds out our top five best cities for asthma. Tucked along the Mexico border in southwest Texas' Rio Grande Valley, McAllen is a growing area that has seen its population increase at an average annual rate of 22% since 1990. Although Texas summers are known for their intense heat, which can lead to a heightened concentration of ground-level ozone, McAllen still managed to tie for the number one spot with the least amount of ozone pollution among 226 U.S. cities.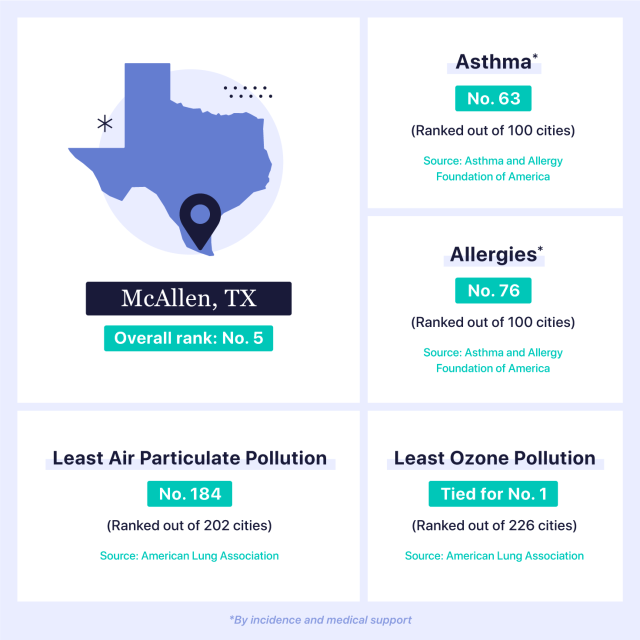 Although ozone is not a current issue in McAllen, air particulate pollution and allergy conditions overall may pose a challenge for some residents. Based on the AAFA's list of allergy capitals, McAllen ranks in the top 25% of the worst cities for people with allergies. Their ranking reviewed pollen scores, over-the-counter allergy medicine use and the availability of board-certified allergists.
5 Worst Cities for Asthma Sufferers
All of the cities on our worst list are among the top 11% of metropolitan areas with the most air pollution, according to the 2022 ALA State of the Air report. These five cities all face a variety of additional challenges. Because of a variety of factors, such as legacy housing, pollution and proximity to industrial sites, some metropolitan areas can be more dangerous for people with asthma.
The top five worst cities for asthma include:
Fresno, CA
Phoenix, AZ
Chicago, IL
Houston, TX
Detroit, MI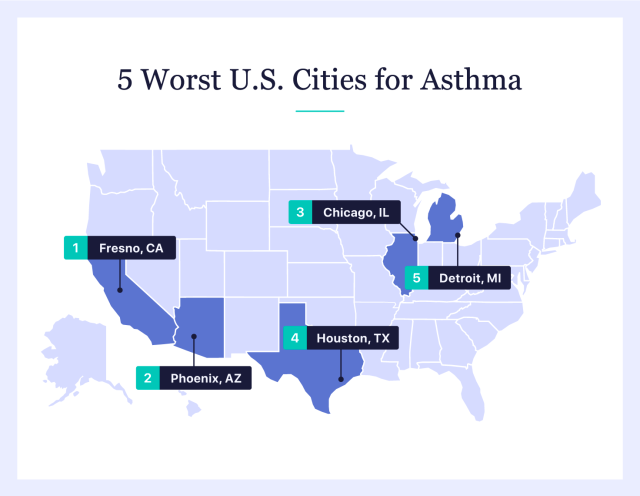 Analysts from the Environment America Research and Policy Center tracked the number of days major cities faced elevated ozone levels and particulate rates. Of the 366 days of the year in 2020, Fresno experienced 218 days with air pollution advisories in place — almost 60% of the entire year. In stark contrast, the best city for asthma sufferers on our list, Virginia Beach, experienced only 12 days of air quality advisories in 2020.
| Number of Days With Air Pollution Advisories in 2020 | |
| --- | --- |
| Fresno, CA | 218 |
| Phoenix, AZ | 149 |
| Chicago, IL | 84 |
| Houston, TX | 96 |
| Detroit, MI | 95 |
The asthma triggers landing these cities on the worst list include industrial particles from factories and burning fossil fuels as well as natural causes including tree pollen. Natural allergens' impact on air quality is often seasonal, but can be serious.
Phoenix is one of 16 metropolitan areas, including Fresno and Detroit, that received an F rating in the State of the Air report.
Chicago is in the top 25% of cities exposed to major amounts of tree pollen, specifically.
Houston residents live in the 12th most challenging place to live with pollen allergies.
Detroit has the worst rates of asthma diagnoses, asthma-related fatalities and asthma-related ER visits in the U.S., according to the AAFA.
The state of California consistently lands at the top of lists identifying cities with poor air quality and high pollution levels. The Central California city of Fresno sits at number one on our list, after receiving failing grades from the ALA in all three of the pollution measurements they track: ozone levels, short-term air particle pollution and year-round air particle pollution rates.
Fresno is located in the San Joaquin Valley, home to some of the worst air quality levels in the United States. The region serves as a hub for massive agricultural production that is responsible for supplying one-fourth of the nation's food. The resulting fumes and chemicals — from tractors, roads, railways and irrigation systems — continually affect its air quality. The valley's surrounding mountain ranges can also trap airborne pollutants.
Asthma Risks and Factors To Consider
Air pollution is a major player in worsening asthma symptoms. There are many additional factors that also play an important role in the state of asthma in the U.S. today.
Climate Change
Increases in temperatures and the frequency of extreme weather events across the countries as a result of climate change have been shown to impact asthma rates. Mold — a common trigger for asthma — is more common following flooding and intense periods of rain. Rising temperatures lead to increased production of ozone gas, which often feels like a sunburn as it irritates the lungs when inhaled.
Additionally, a hotter, drier climate leads to more frequent wildfires. Wildfires are a major source of environmental toxins and other particles that can irritate your airways.
Seasonal Impact
Fall and winter's severe cold and dry air can trigger asthma. Intense humidity, rain and summertime thunderstorms of summertime can also exacerbate asthma.
Nationally, September is typically the worst month of the year as ragweed pollen blooms and mold develops among decaying fall leaves. Doctors see the most asthma attack-related patient visits during this month. The third week of September has come to be known as "asthma peak week" because it's often the worst week of the year.
Medication Side Effects
Singulair (montelukast) is a common prescription medication designed to help prevent asthma symptoms such as coughing, chest tightness, difficulty breathing and wheezing. But in 2020, the Food and Drug Administration required its manufacturer, pharmaceutical company Merck, to add a black box warning on Singulair.
The black box warns consumers about the risks of potentially serious mental health issues known as neuropsychiatric events, including depression, aggression, suicidal thoughts and sleep disturbance. Although lawsuits over Singulair side effects have been filed, the drug remains on pharmacy shelves and may still be beneficial to some patients.
Xolair (omalizumab) is another prescription asthma medication with warnings about serious potential side effects. This injectable treats persistent allergic asthma and chronic hives. Some patients experienced anaphylaxis and blood vessel problems, which led to FDA-approved label changes for the medication.
Speak with your doctor to discuss any concerns you may have or questions about which asthma medication may work best for you. Contact your doctor right away about any side effects you experience while taking your medication.
Socioeconomic Factors
Asthma diagnoses are disproportionately higher among Black, Hispanic and Alaska Native/American Indian communities, according to the AAFA's Asthma Disparities in America report. Statistically, Black adults experience the highest rates of asthma in the country. Black Americans are almost three times as likely to die from asthma than white Americans.
Socioeconomic factors and structural community issues such as systemic racism and segregation have been a factor in the disproportionate burden of asthma minority communities face. As journalist Vann R. Newkirk II noted in a 2017 article in The Atlantic about his own personal experience with asthma, "The ability to manage and effectively maintain asthma regimens are, like just about everything else, connected to income, free time, and the robustness of services in a person's community." Low-income communities traditionally have less access to those key factors.
Mental Health Stressors
Stress is a well-known asthma trigger. Personal, professional and global stressors – such as war or concerns about the impact of climate change — can potentially increase the risk of chronic stress, which can in turn increase asthma symptoms.
Concerns about overall health, difficulty in daily tasks during flare ups and the costs associated with managing a chronic condition like asthma can also be a major source of stress and anxiety. People with asthma are estimated to spend approximately $3,266 more per year in medical costs than people without asthma.
Tips To Minimize Asthma Triggers
Ten people die from asthma each day in the U.S. Many asthma deaths can be prevented with careful avoidance of triggers and access to symptom management and emergency care. The following are strategies that can help reduce the impact of potential triggers.
Many of these tips are most effective if roommates, partners and family are on board with making changes to help eliminate asthma triggers from your environment. Individuals with asthma should work with the members of their household and their medical provider to make an asthma action plan. This is a document that lists the family plan to make these changes and to respond in the event of an asthma attack.
Avoid Tobacco Smoke
People with asthma are usually well aware of the dangers of smoking tobacco but may face challenges in working with family or roommates to eliminate secondhand smoke from their homes. Having the conversation about making your home a smoke-free zone can be challenging with friends and loved ones, but can help you protect your immediate and long-term health.
Reduce Dust Mites
Dust mites are tiny bugs that are often found in bedding, carpeting curtains and upholstered furniture. They're significant allergens for many people and can pose particular risk to people with asthma. These common asthma triggers are nearly invisible to the naked eye. Following these tips can help:
Maintain a low humidity level of approximately 30% to 50% inside your home.
Avoid using down-filled pillows and bedding.
Install an allergen-proof mattress cover and pillow covers.
Wash, rinse and thoroughly dry your bedding once a week.
Washing curtains, dusting and sweeping often and changing heating and air conditioning filters regularly may also help. Many people with allergies and asthma find that opting for tile, wood or other materials rather than carpeting can reduce symptoms as well.
Monitor Outdoor Air Quality
Weather and outdoor conditions can be major asthma triggers. Using weather apps or listening to weather reports that include information about the day's air quality forecast can help you plan your day. Minimizing exposure to outdoor airborne pollutants may not always be possible, but knowing when days are higher risk than others can help you be as prepared as possible.
Use Safer Household Cleaners
Aerosolized cleaning products and disinfectants can trigger an asthma attack. Try to reduce how often you use aerosol products. Instead, seek out safer cleaning products such as EPA Safer Choice program-certified options.
Methodology
To identify the best and worst cities for asthma in America, we reviewed and compared data from the top cities categorized as having the best and worst air quality. We ranked each city on a weighted scale based on the following standards:
Annual air particle pollution rates — 25 points
Annual ozone levels — 25 points
Asthma ranking — 30 points
Allergies ranking — 20 points
We began with data from the American Lung Association's 2022 State of the Air report on the cleanest cities and the most polluted cities in America. We then cross-compared those results with the Asthma and Allergy Foundation of America's rankings of allergy capitals and asthma capitals to score the positions of overlapping metropolitan areas across the lists.
Please seek the advice of a medical professional before making health care decisions.
Share This Page:
How can we improve this page?
Thank You for Your Feedback
We appreciate your feedback. One of our content team members will be in touch with you soon.
We appreciate your feedback. One of our content team members will be in touch with you soon.
Who Am I Calling?
Calling this number connects you with a Drugwatch representative. We will direct you to one of our trusted legal partners for a free case review.
Drugwatch's trusted legal partners support the organization's mission to keep people safe from dangerous drugs and medical devices. For more information, visit our partners page.