Valsartan Recalls
In July 2018, the FDA announced a voluntary recall of several drugs containing valsartan, used to treat high blood pressure and heart failure, because of contamination with an impurity, the potentially cancer-causing chemical N-nitrosodimethylamine, or NDMA. Other drugs affected by the valsartan recall include losartan and irbesartan.
The FDA estimates that millions of Americans take valsartan to treat high blood pressure or heart failure. According to a statement released by the FDA on August 30, 2018, the initial recall involved more than half of the United States supply of the valsartan. The agency estimated that the tainted drugs first entered the US market around 2014.
Not all valsartan products are included in the recall. The FDA has traced the recalled drugs to Chinese manufacturers Zhejiang Huahais and Zhejiang Tianyu as well as Hetero Labs Limited in India.
In September 2018, the FDA announced it had found another toxic chemical in tainted valsartan batches called N-nitrosodiethylamine (NDEA). Similar to NDMA, the chemical could possibly cause cancer.
As of 2022, the recall now includes some lots of other drugs in the same class as valsartan called angiotensin II receptor blockers (ARB) after manufacturers found N-Nitroso-N-methyl-4-aminobutyric acid (NMBA) in some of these drugs in March 2019. So far, in addition to the valsartan-containing products, the recall also includes certain losartan and irbesartan products as well, according to an FDA questions and answers page.
Lawyers are filing valsartan lawsuits on behalf of people who were diagnosed with cancer after taking valsartan for more than a year or who suffered liver or kidney injuries that required an emergency room visit or hospital stay.
Are you suffering from liver damage, tumors or cancer after taking Valsartan?
Drugs and Manufacturers Included in the Recall
The valsartan recall includes several, but not all, generic drugs that contain valsartan as the active ingredient. The recall does not currently include the brand name valsartan-containing drugs Diovan, Entresto, Exforge, and Exforge HCT.
Recalled drugs include the following valsartan-containing drug combinations:
Amlodipine and valsartan
Amlodipine, valsartan and hydrochlorothiazide (HCTZ)
Valsartan and hydrochlorothiazide (HCTZ)
Only specific valsartan manufacturers recalled the drug. The FDA said it will update its list as it continues to investigate.
Manufacturers included in the valsartan recall are:
A-S Medication Solutions LLC (Teva/Actavis & Prinston/Solco)
American Health Packaging (Aurobindo)
Aurobindo Pharma USA, Inc.
Aurobindo Pharma USA, Inc. (Acetris)
AvKARE Inc. (Hetero/Camber)
AvKARE Inc. (Teva/Actavis)
Bryant Ranch Prepack Inc. (Teva/Actavis)
Hetero Labs Inc. labeled as Camber Pharmaceuticals Inc.
H J Harkins Company Inc. (Prinston/Solco)
Mylan Pharmaceuticals Inc.
Northwind Pharmaceuticals (Teva/Actavis)
NuCare Pharmaceuticals Inc. (Prinston/Solco)
Preferred Pharmaceuticals Inc., labeled as Solco Healthcare LLC
RemedyRepack Inc. (Prinston/Solco)
RemedyRepack, Inc. (Torrent)
RemedyRepack Inc. (Hetero/Camber)
Rising Pharmaceuticals Inc. labeled as Acetris Health LLC (Aurobindo)
Solco Healthcare LLC (Prinston)
Teva Pharmaceuticals USA Inc.
Teva Pharmaceuticals USA Inc. labeled as Actavis Pharma, Inc.
Teva Pharmaceuticals USA Inc. labeled as Major Pharmaceuticals
Torrent Pharmaceuticals Limited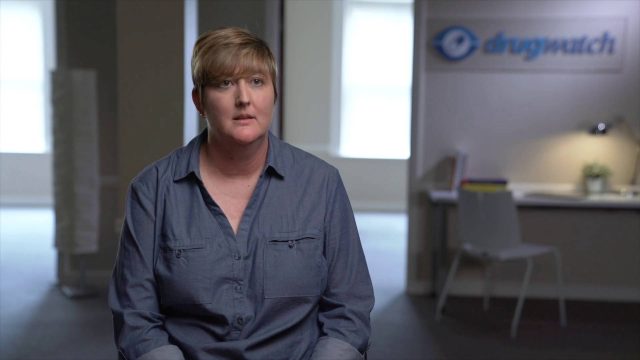 The recall includes dose-strengths from 40 mg to 320 mg.
How to Find Out If Your Drug Is Part of the Recall
Anyone taking valsartan or a combination drug that includes valsartan should locate the name of the drug's manufacturer and the lot number either on the prescription bottle label or in the warning insert that accompanies the medication. Then, check with your pharmacist or search the FDA's recall list for the manufacturer and lot number.
The FDA also uses a National Drug Code to track products. The FDA's list includes the NDC codes for all recalled valsartan products. Normally, your prescription bottle from the pharmacy will not contain this information. Your pharmacist should be able to check these codes for you.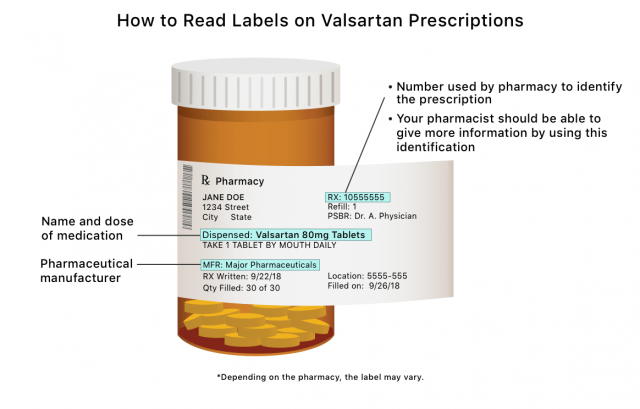 What Should I Do If My Drug Is Recalled?
If your valsartan manufacturer is a part of the recall, do not stop taking your medication. Suddenly stopping your medication may lead to more immediate health problems. First, talk to your doctor about your treatment options.
Next, search for your drug's manufacturer in the FDA's Drug Recalls database. Some manufacturers provide guidance in the event of a medication recall. For example, Torrent Pharmaceuticals Limited lists all the lots and products included in its recall. It also provides contact information and instructions for patients.
If you cannot find information on the FDA's website, talk to your pharmacist. Don't throw away your medication until you have your new medication. Your pharmacist can offer instructions for disposing of old medication.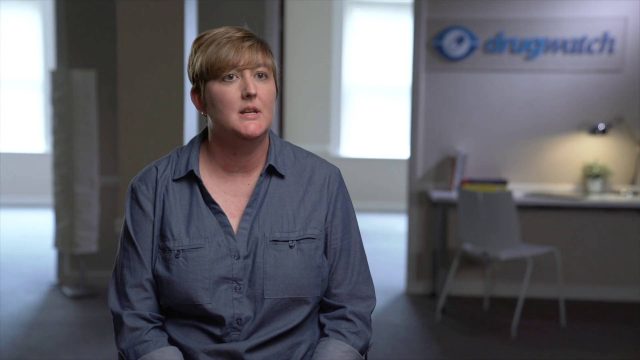 Alternatives to Valsartan
Several blood pressure drugs may be a suitable alternative to valsartan. There are also drugs in the same class as valsartan that are not currently part of the recall. You may also be able to get valsartan from a manufacturer that is not on the recall list.
Ask your doctor about your treatment options. Each of these medications has its own risks or side effects.
Some therapeutic alternatives to valsartan include:
Azilsartan
Candasartan
Eprosartan
Irbesartan
Losartan
Olmesartan
Telmisartan
Suffering from liver damage or cancer after taking Valsartan?
NDMA Cancer Risk
The FDA recalled some valsartan products because it found traces of NDMA, a chemical that can cause tumors in animals and may potentially cause cancer in humans. Cancer is not a typical valsartan side effect.
"We estimated that if 8,000 people took the highest valsartan dose (320 mg) from NDMA-affected medicines daily for four years (the amount of time we believed the affected products had been on the U.S. market), there may be one additional case of cancer over the lifetimes of these 8,000 people beyond the average cancer rate among Americans," FDA Commissioner Scott Gottlieb said in a statement.
In some studies, researchers found a positive link between NDMA intake and gastric and colorectal cancer, according to Health Canada's Guidelines for Canadian Drinking Water Quality released in 2011.
On Feb. 28, 2019, the FDA posted its interim limits for NDMA, NDEA and NMBA in angiotensin II receptor blockers. The FDA calculated its acceptable limits based on a 1 in 100,000 cancer risk after 70 years of exposure. The FDA will use these limits to inform recalls of contaminated products.
For the maximum daily dose of valsartan (320 mg/day), the limits are:
NDMA — 96 nanograms per day; 0.3 parts per million
NDEA — 26.5 nanograms per day; 0.083 parts per million
NMBA — 96 nanograms per day; 0.3 parts per million
Please seek the advice of a medical professional before making health care decisions.
Share This Page:
How can we improve this page?
Thank You for Your Feedback
We appreciate your feedback. One of our content team members will be in touch with you soon.
We appreciate your feedback. One of our content team members will be in touch with you soon.
Who Am I Calling?
Calling this number connects you with a Drugwatch representative. We will direct you to one of our trusted legal partners for a free case review.
Drugwatch's trusted legal partners support the organization's mission to keep people safe from dangerous drugs and medical devices. For more information, visit our partners page.