Fosamax User Suffers Femur Break, Dead Jaw Syndrome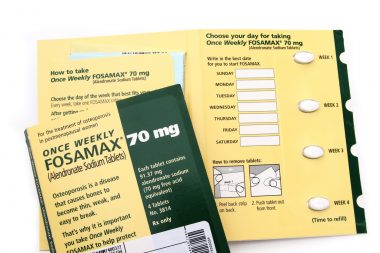 What's happening to one Georgia woman sounds like something out of a horror movie. Pieces of dead bone push up out of her gums, causing pain and making it difficult for her to eat.
It's a condition called dead jaw syndrome or osteonecrosis of the jaw (ONJ). Parts of the jawbone become exposed, starve from lack of blood and die.
"I lost some teeth, and I am losing the ability to chew," said the woman, whom Drugwatch is only identifying as C.H. to protect her privacy. "I could feel the bone with my tongue. They were these rough patches in the back of my mouth."
When the symptoms started, C.H. went to her regular dentist, who then consulted with an oral surgeon.
The dentist "immediately came back and asked me if I had ever taken anything like Fosamax," she recalled. "I said, 'Oh, yes. I am very familiar with the drug.'"
At age 50, her doctor had prescribed Fosamax to treat osteopenia — a mild form of bone loss. Unlike osteoporosis, osteopenia doesn't greatly increase the risk of bone fracture.
Fosamax works by slowing down the rate at which the body breaks down old bone. C.H. had never heard of any warnings about the drug's side effects. She thought it would protect her from fractures.
But, she has had more than her fair share of experience with Fosamax side effects.
Before it caused bones to protrude in her mouth, it led to two surgeries for a broken femur. Now, she has a metal rod in her leg and continues to suffer from chronic pain.
Serious Fracture Leads to Surgery
Thirteen years after C.H. began taking Fosamax, she mildly twisted her leg as she was walking around the house. Her femur spontaneously fractured and she fell. Prior to this incident, she had never broken any bones.
"The surgeon who looked at it said it was a spiral break which is more difficult to fix," she recalled. "Immediately he asked my husband if I had been taking Fosamax at the time."
That was the first that C.H. heard about the connection between the two.
"I didn't understand until I looked into it more and had a professional explain it to me," she said. "I thought that Fosamax was supposed to make my bones stronger. In fact what it does is make them brittle. If there's a weird turn or hit, they break more easily than normal bone."
When the bone wasn't healing from the first surgery, C.H. had to undergo a second surgery. For two years after, she was forced to take strong medication to manage her pain.
She filed a Fosamax lawsuit for the femur break. She cautions against using the drug.
Fosamax "completely disrupted three years of my life," she said.
Dead Jaw Syndrome
In February 2018, dead bone was coming up through C.H.'s gums. Doctors told her the body was rejecting the dead bone.
Her dentist diagnosed her with ONJ. The condition is a reported side effect of Fosamax, according to the drug's label.
"I thought the oral surgeon was going to remove all the dead bone that he could. Then, he said the bone that was there when my dentist first saw it had been broken off and swallowed," she said. "What do they say? You have to eat a pound of dirt before you die? I'll just add that to my pound."
C.H. has no treatment options for ONJ except oral surgery to continue removing the dead bone when it protrudes through her gums.
Life After Fosamax
C.H. and her husband had a successful retail business before she began suffering side effects of Fosamax. After she broke her leg, she knew there was no way she could continue running the business. They sold the business and moved to Georgia to be closer to family.
"The leg has started to flare up again," she said. "I might have to do more rehab on it. It is probably arthritis where the rod and pins are. I don't have arthritis anywhere else."
Looking back on it now, C.H. tries to make light of how the drug changed her life.
"It's not much fun to try and enter a federal building anymore and explain, 'No, it's not my cell phone or a bomb — it's the rod in my leg,'" she chuckled.
Disclaimer: Thoughts and opinions expressed in this patient story are strictly anecdotal and should not be taken as medical information or advice. Views of the interviewee do not necessarily reflect those of the author, editor or Drugwatch.
Share This Page:
How can we improve this page?
Thank You for Your Feedback
We appreciate your feedback. One of our content team members will be in touch with you soon.
We appreciate your feedback. One of our content team members will be in touch with you soon.
Who Am I Calling?
Calling this number connects you with a Drugwatch representative. We will direct you to one of our trusted legal partners for a free case review.
Drugwatch's trusted legal partners support the organization's mission to keep people safe from dangerous drugs and medical devices. For more information, visit our partners page.