Oklahoma Woman Begs People Not to Take Cipro or Levaquin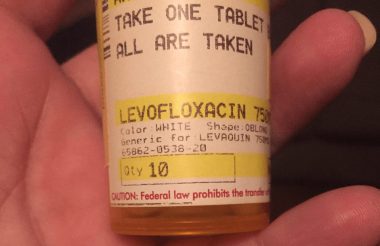 The only part of Ann Winslow's body that is not in pain is her mouth — and she is not afraid to use it.
The 62-year-old grandmother is using her voice to warn people to stay away from fluoroquinolone antibiotics Cipro and Levaquin.
"I am not short on words," she said. "I beg people to stay away from these drugs."
Winslow, of Oklahoma, first took the antibiotics for a simple urinary tract infection. The drugs ultimately led to kidney failure, chronic nerve pain and aneurysms.
Before Cipro and Levaquin, Winslow lived an active life surrounded by family. Even a triple bypass couldn't slow her down. She also survived bone cancer.
"I was fine when I was getting my chemo shots," Winslow said. "I was a little tired, but at least I could walk. If I had to choose, I would keep the cancer over the side effects from Cipro and Levaquin."
The pain from antibiotic nerve damage has crippled her. Now, Winslow considers it a victory if she can walk twenty-five feet to her mailbox or get up and make a cheese sandwich.
On top of the nerve pain, she developed two aneurysms: one in the stomach and another closer to her chest. Aneurysms are weak spots on blood vessels that can rupture and cause internal bleeding.
She lives in fear each day that they will burst. Sometimes, this fear prevents her from leaving the house.
"After Levaquin there was no life. It took away my life," she said. "Everything is a process now. You think about how you are going to do everything because of the pain."
Cipro Leads to Kidney Failure
Winslow took Cipro for a urinary tract infection in 2014. A few days later, she was in the back of an ambulance with kidney failure.
While she was in the hospital, she got pneumonia. Doctors gave her Levaquin to kill the bacteria.
"After, I got home I was just tired and weak. I didn't think anything of taking Levaquin at the time," she said.
But, after a second bout of pneumonia in 2015, doctors gave her more Levaquin in the hospital.
She said the kidney failure was easy compared to what followed.
'Death is Imminent'
After leaving the hospital in 2015, Winslow was in excruciating pain. She couldn't walk or touch anything.
She found out this terrible pain in her hands and feet was an antibiotic side effect called peripheral neuropathy.
"I was fried. I went back to see my doctor four days after getting back from the hospital. I was bad," Winslow said. "After seeing me, my doctor wrote on his report, 'Death is imminent.' If I had a gun then, I would have shot myself. The pain made me desperate."
She told her doctor that she thought Levaquin hurt her. He replied, "I know it did."
She didn't stop fighting to live, despite her doctor's opinion that she wouldn't survive.
"I couldn't get to the bathroom on my own. I couldn't even make a cup of coffee. I had to wear gloves because God forbid I touch something. The pain in my hands was so bad," Winslow said. "You sit on the couch with your arms around your knees, you don't want your feet to touch anything."
Her husband quit his job as a truck driver to stay home and care for her.
Aneurysms 'Scare Me to Death'
Cipro and Levaquin also led Winslow to develop two aneurysms. Each time she has them checked, they grow.
"I am constantly afraid that these aneurysms are going to rupture one day. They scare me to death," Winslow said. "My husband always blamed the antibiotics."
Winslow and her husband are angry that no one warned them.
"The Cipro bottle says, 'Stay out of the sun.' The Levaquin bottle says nothing," said Winslow, who has kept the medicine bottles. "Nobody said a word to us. This stuff has been killing people for years."
'I Didn't Ask for This'
Winslow has read the stories of others who suffer from fluoroquinolone side effects. Compared to some, she feels lucky.
Winslow called Janssen Pharmaceuticals, the company that manufactures Levaquin. She has since contacted a lawyer to sue the company.
"I cursed out Janssen. I sent them pictures of my aneurysm and said, 'Print them out and put them on your wall of fame,'" she said. "How dare they. I didn't ask for this. I'm not their guinea pig, but I was just their cash cow."
Disclaimer: Thoughts and opinions expressed in this patient story are strictly anecdotal and should not be taken as medical information or advice. Views of the interviewee do not necessarily reflect those of the author, editor or Drugwatch.
Share This Page:
How can we improve this page?
Thank You for Your Feedback
We appreciate your feedback. One of our content team members will be in touch with you soon.
We appreciate your feedback. One of our content team members will be in touch with you soon.
Who Am I Calling?
Calling this number connects you with a Drugwatch representative. We will direct you to one of our trusted legal partners for a free case review.
Drugwatch's trusted legal partners support the organization's mission to keep people safe from dangerous drugs and medical devices. For more information, visit our partners page.