Elmiron Lawsuits
Elmiron, or pentosan polysulfate sodium, lawsuits claim the drug causes an eye disorder called maculopathy and other disorders of the retina that may lead to blindness. People who took Elmiron and suffered maculopathy or other serious vision problems may be entitled to compensation.
See If You Qualify for Legal Action
You may be legally entitled to compensation for your injuries. Get a free case review today to find out if you are eligible.
Plaintiffs in Elmiron lawsuits accuse Janssen Pharmaceuticals of failing to properly warn the public about the risk of vision problems. Recent studies linked the drug to ocular toxicity.
Research presented at the American Academy of Ophthalmology in 2019 by Drs. Robin A. Vora, Amar P. Patel, and Ronald Melles revealed that patients taking Elmiron showed clear signs of toxicity.
"It's unfortunate," Vora said in an American Academy of Ophthalmology news release. "You have a patient with a chronic condition like interstitial cystitis, for which there is no cure and no effective treatment. They get put on these medications because it's thought to have few side effects and few risks, and no one thinks about it again. And year after year, the number of pills they're taking goes up and up."
The drug has been on the market since the late 1990s, and it is the only drug approved to treat pain associated with interstitial cystitis, or IC — a condition that affects millions of Americans each year. IC is more prevalent in women.
Hundreds of thousands of people may have taken the drug and may have been exposed to the risk of potentially permanent vision damage.
Maculopathy and Pentosan Polysulfate Sodium
Elmiron's current prescribing information provided by Janssen Pharmaceuticals lists the drug's side effects and warnings but has no information about the risks of maculopathy, a type of disease that affects the macula.
The macula is the backside of the retina. The retina senses light and sends a signal to the brain, allowing people to see. Retina damage affects a person's vision. In the Western world, maculopathy is the most common cause of blindness.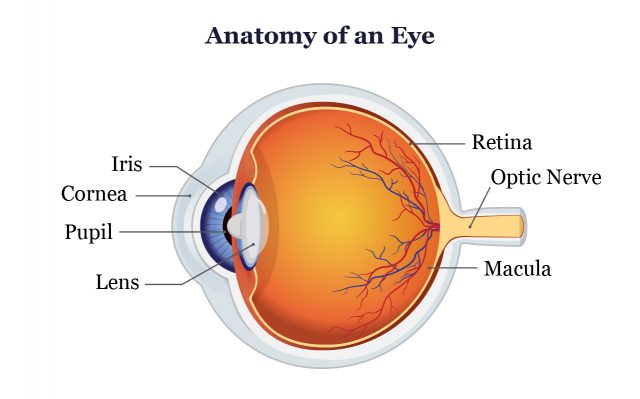 The type of maculopathy linked to Elmiron is called pigmentary maculopathy. According to studies, this type of maculopathy seems to be unique to Elmiron users.
If caught in its early stages, the damage may stop after taking medication. But in late stages, the disease can lead to permanent vision loss. So far, researchers have reported on one patient whose eye damage continued for years even after stopping Elmiron.
The most common visual symptoms reported in studies were difficulty reading and difficulty adapting to dim lighting.
Symptoms Associated with Elmiron Damage in Studies
Areas of vision loss in the field of vision, paracentral scotoma
Difficult time adjusting to dim lighting or the dark
Having a hard time reading
Problems seeing objects that are close
Vision dimming
Timeline of Studies
May 2018

Doctors at the Emory Eye Center published results of a case study of six adult patients who took pentosan polysulfate sodium for IC in Ophthalmology. They found chronic exposure to the drug caused unique pigmentary maculopathy — specifically, injury to the retinal pigment epithelium, a layer of cells that nourishes the retina.

April 2019

Doctors at Emory Eye Center published an expanded study of 10 patients in the Journal of Urology. Researchers noted that patients with a history of IC who did not take pentosan polysulfate sodium did not have the unique form of pigmented maculopathy present in patients who took the drug. They recommended that patients with signs of damage stop taking Elmiron and patients without symptoms undergo an ophthalmic examination with retinal imaging.

October 2019

Researchers at Kaiser Permanente found 140 patients who had taken about 5,000 pentosan polysulfate sodium pills over the course of 15 years. Of those patients, 91 agreed to be examined. Twenty-two out of those 91 patients had signs of toxicity. The toxicity was greater in patients who took more of the drug — 11 percent in patients taking 500 to 1,000 grams and 42 percent in patients taking 1,500 grams or more.

November 2019

Dr. Neiraj Jain and colleagues published a cohort study of data from a large United States medical claims database from 2002 to 2016 in the British Journal of Ophthalmology. They followed data from two groups of pentosan polysulfate sodium users: one group of 3,012 at 5 years and the second group of 1,604 at 7 years. They found pentosan users had significantly increased odds of macular disease at 7 years.

November 2019

Drs. Rachel M. Huckfeldt and Demetrios G. Vavvas published a case report in Ophthalmic Surgery, Lasers and Imaging Retina. They presented the case of a patient whose pentosan-associated maculopathy continued to get worse 6 years after stopping the medication.
Do I Qualify for an Elmiron Lawsuit?
Lawyers are accepting cases from people who took Elmiron for at least one year and suffered vision problems. These vision problems must have occurred within six months of taking Elmiron.
Injuries in lawsuits include:
Blurred vision
Degenerative maculopathy
Halo vision
Macular retinopathy
Macular/pattern dystrophy
Maculopathy
Metamorphopsia
Pigmentary maculopathy
Reduced night vision
Retinal pigment epithelium atrophy
Retinopathy
Scotoma
Unilateral or bilateral blindness
Vision impairment
Vision loss
Please seek the advice of a medical professional before making health care decisions.
How helpful was this page?
How can we improve this page?
How can we improve this page?