Elmiron Lawsuits
Elmiron lawsuits are legal claims that people who took Elmiron and later developed maculopathy or other serious vision problems have filed. Elmiron lawsuits allege Janssen Pharmaceuticals knew about the risk of eye damage but failed to adequately warn the public.
See If You Qualify for an Elmiron Lawsuit
If you developed maculopathy or other serious vision problems after using Elmiron, you may be entitled to compensation. Get a free case review today.
What Are Elmiron Lawsuits?
People who took Elmiron, a medication that treats symptoms of interstitial cystitis, are filing lawsuits against Janssen Pharmaceuticals after they suffered vision problems that could lead to blindness, including maculopathy.
Elmiron lawsuits allege Janssen failed to warn doctors and patients that Elmiron side effects included vision damage. Lawsuits also claim Elmiron is a dangerously defective drug and the drugmaker withheld adverse event reports from the public, medical community and FDA.
People file Elmiron lawsuits for potential compensation for medical bills, pain and suffering, lost wages, loss of quality of life and future care.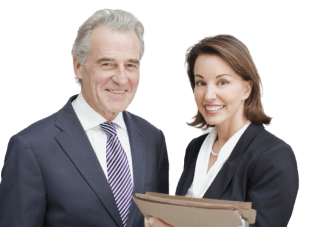 Status of Lawsuits and Settlements
So far, there have been no jury verdicts or settlements, and the litigation is still in early stages. The Judicial Panel on Multidistrict Litigation ordered Elmiron lawsuits from across the country consolidated into multidistrict litigation (MDL) in New Jersey in December 2020, and as of Aug. 13, 2021, there are 497 cases pending.
"Given the universe of patients on Elmiron and the relatively unique nature of the injuries here, plaintiffs expect that the universe of cases to ultimately increase to approximately 1,000 cases," lawyer Trent B. Miracle with Simmons Hanly Conroy told Drugwatch.
An MDL is a large group of lawsuits with similar claims. They are meant to make litigation more efficient and less costly for plaintiffs because costs are shared across all claimants. Plaintiffs' and defendants' lawyers agree on about four or five cases that will go to trials called bellwether trials. These cases serve as a starting point for settlement negotiations.
Unlike class actions, cases in MDLs are treated as individual claims with unique settlement values and each claimant chooses their own lawyer. Class actions typically seek reimbursement for a faulty product and don't seek compensation for serious injuries.
The first Elmiron lawsuits could go to trial in early 2023.
Jeanette Milburn Files Suit for Macular Degeneration
Jeanette Milburn filed her Elmiron lawsuit against Janssen, Johnson & Johnson and other drugmakers on January 20, 2021. She took Elmiron from 2007 to 2019 for treatment of bladder pain caused by interstitial cystitis.
In 2016, she began having flashes of light in her right eye for about three days. Her doctor diagnosed her with retinal hemorrhage and macular degeneration.
Valarie Hull, aka "Patient Zero," Files Suit
South Carolina resident Valerie Hull filed her Elmiron lawsuit against Janssen and other manufacturers in June 2020. Hull was documented as "patient zero" in the 2018 study by Emory Eye Care.
As a result of long-term Elmiron use, Hull suffers from loss of night vision, changes in eye color pigment, severe vision degradation and pigmentary maculopathy.
Kimberly Pelczar Files Suit for Vision Loss
On March 26, 2020, Kimberly Pelczar filed a lawsuit against Teva Pharmaceuticals USA Inc. and Johnson & Johnson's subsidiary Janssen Pharmaceuticals because of vision loss she claims resulted from Elmiron.
In 2005, Pelczar began taking Elmiron for IC. In 2015, she began to suffer eye problems. From 2015 to 2019, she saw medical providers for her visual symptoms. In 2019, medical providers diagnosed her with permanent retinal injury and vision loss because of Elmiron toxicity.
Do I Qualify for an Elmiron Lawsuit?
Lawyers are accepting cases from people who took Elmiron for at least two years and suffered vision problems, especially if they were still using Elmiron from 2018 to present.
These vision problems must have started while taking Elmiron or within one year of stopping treatment. For example, if you stopped taking Elmiron in 2010 and got a diagnosis of an eye condition in 2011, you may qualify.
Injuries in lawsuits include:
Blurred vision
Degenerative maculopathy
Halo vision
Macular retinopathy
Macular/pattern dystrophy
Maculopathy
Metamorphopsia
Pigmentary maculopathy
Reduced night vision
Retinal pigment epithelium atrophy
Retinopathy
Scotoma
Unilateral or bilateral blindness
Vision impairment
Vision loss
Questions Lawyers May Ask You About Elmiron
When you contact a lawyer about your potential Elmiron vision damage case, they may ask you questions about your experience with the drug. Make sure you answer questions with as much detail as possible.
What injuries have you experienced?
People filing Elmiron lawsuits have typically been diagnosed with maculopathy or macular degeneration. Your medical records will help your attorney confirm the diagnosis.
When did your vision problems begin?
Knowing when you first started experiencing vision problems may help your lawyer accurately draw the connection between your vision problems and your Elmiron use. Generally, individuals seeking compensation for their injuries were diagnosed with vision problems either while they were taking Elmiron or within one year of stopping the medication.
Do your vision problems affect your day-to-day activities?
Be open with your attorney about how your vision problems have impacted your ability to do certain daily activities. He or she will also want to know about the emotional toll these vision problems have taken on you.
How long did you take Elmiron?
Vision problems have been linked to long-term exposure to the drug. The majority of Individuals filing Elmiron lawsuits had taken the drug for at least two years prior to experiencing vision problems.
Do you or your family have a history of eye problems?
Your lawyer will ask about your medical history to determine whether you may be prone to vision problems. Have copies of your medical records on hand.
What treatment did your medical provider recommend for your vision problems?
Bring any medications you're currently taking for your vision problems. Your attorney will want to know if your vision problems have improved as a result of this treatment.
What prognosis did your medical provider give you?
Be prepared to discuss what your medical provider told you about the chances of regaining your vision and if symptoms would improve over time.
There may be a time limit to file your case, so you should contact an attorney as soon as you can. There is no charge to contact a lawyer about a potential Elmiron vision damage case.
Elmiron Linked to Maculopathy
Several studies have linked Elmiron, pentosan polysulfate sodium (PPS), to vision damage. Specifically, a rare type of maculopathy called pigmentary maculopathy. Researchers have said this type of maculopathy only occurs in Elmiron users. Maculopathy is a progressive disease that could lead to blindness, and there is no cure.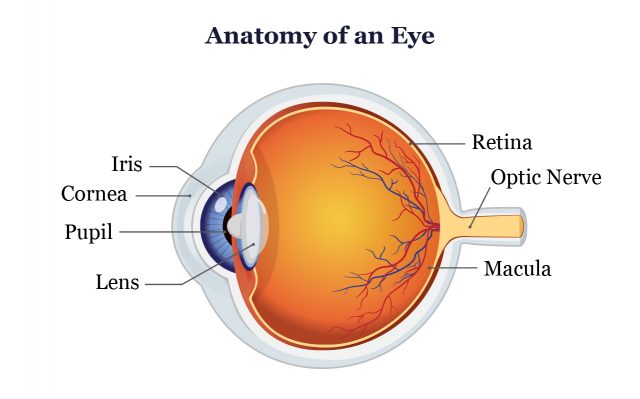 "In 2018, eye physicians published the first report of retinal damage associated with Elmiron use," Miracle said. "Since then, the medical literature regarding eye damage and vision loss associated with Elmiron continues to grow."
The most common visual symptoms reported in studies were difficulty reading and difficulty adapting to dim lighting. Researchers found that PPS users who took more of the drug over a longer period had the worst eye damage and that damage could continue progressing even after a patient stopped taking the medicine.
One of the most recent studies from November 2020 published in Retinal Cases and Brief Reports suggests that patients may develop Elmiron maculopathy years after stopping the drug.
Will There Be an Elmiron Recall?
Elmiron has not been recalled despite studies linking long-term use of the IC drug to potentially permanent vision damage.
The drug has been on the market since 1996. Janssen didn't warn about the risk of retinal pigmentary maculopathy until it updated the drug's prescribing information in June 2020.
The FDA published the new label with the maculopathy warning but has not issued a statement or safety communication about it. So far, the agency hasn't asked Janssen to recall the drug and the drugmaker hasn't said it plans to issue one.
Download Your Free Elmiron Guide
Learn more about Elmiron and how to take legal action if you developed vision problems after taking the drug.
Get Your Free Guide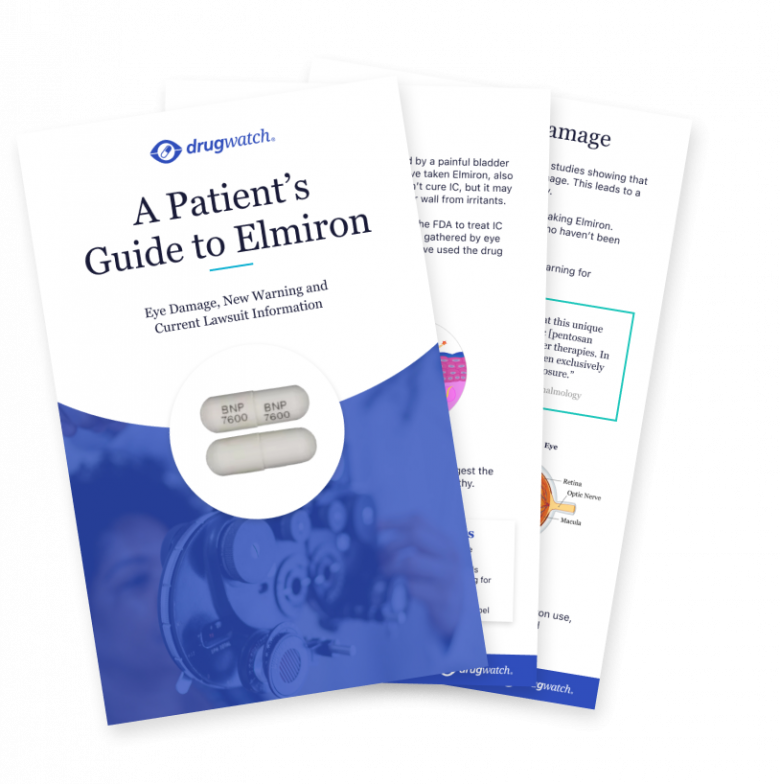 Are There Elmiron Alternatives?
Elmiron is the only oral medication approved to treat the pain and discomfort of interstitial cystitis. A few alternatives may help lessen IC symptoms.
Make sure you talk to your doctor about alternatives if you are taking Elmiron and are concerned about vision damage.
Elmiron alternatives include:
Bladder training to control urinary urgency
Oral medications such as antihistamines, antidepressants, ibuprofen and naproxen sodium
Nerve stimulation
Physical therapy to control muscle spasms
Injecting dimethyl sulfoxide into the bladder
Bowel training
Diet and exercise
Surgery to remove the bladder
The Janssen Pharmaceutical Companies of Johnson & Johnson
Janssen Pharmaceuticals is a subsidiary of Johnson & Johnson. In addition to Elmiron, they develop and market medicines in the areas of hypertension, oncology, neuroscience, immunology, cardiovascular and Type 2 diabetes. They also develop vaccines and were responsible for developing Johnson & Johnson's COVID-19 vaccine.
Janssen's prescription pharmaceuticals brought in $45.6 billion for J&J in 2020. Its blockbuster drugs include Remicade, Stellara, Invega, Darzalex, Uptravi, Invokana and Xarelto.
The J&J subsidiary has faced a number of lawsuits in addition to Elmiron. Other drugs involved in injury lawsuits that had large settlements and verdicts include: Xarelto, Invokana and Risperdal.
Please seek the advice of a medical professional before making health care decisions.
Share This Page:
How can we improve this page?
Thank You for Your Feedback
We appreciate your feedback. One of our content team members will be in touch with you soon.
We appreciate your feedback. One of our content team members will be in touch with you soon.
Who Am I Calling?
Calling this number connects you with a Drugwatch representative. We will direct you to one of our trusted legal partners for a free case review.
Drugwatch's trusted legal partners support the organization's mission to keep people safe from dangerous drugs and medical devices. For more information, visit our partners page.