Elmiron
Elmiron, or pentosan polysulfate sodium, is an oral prescription drug used to treat discomfort or bladder pain associated with interstitial cystitis, or IC, a chronic condition that causes bladder pain and pressure. The three most commonly reported side effects are hair loss, diarrhea and nausea.
Janssen Pharmaceuticals manufactures Elmiron, and the U.S. Food and Drug Administration originally approved it for sale in 1996. It was approved under the Orphan Drug Act, or ODA. The ODA gives special status and incentives to sponsors, or manufacturers, of medications that treat rare diseases.
Currently, it's the only oral drug approved to treat bladder pain and discomfort associated with IC. Since its release, it's estimated that hundreds of thousands of people have used the drug, according to HealthDay.
The majority of Elmiron side effects are mild, but new studies show the drug could be toxic to the retina, the tissue behind the eye that senses light.
How Pentosan Polysulfate Sodium Works
Researchers don't know exactly how pentosan polysulfate sodium works, but they believe it works by protecting the bladder from irritants in urine. Elmiron doesn't work like other pain relievers like Tylenol or non-steroidal anti-inflammatory drugs like ibuprofen, and it doesn't work by stopping inflammation.
In people with IC, the bladder wall's protective lining is damaged. This allows irritating substances in urine to cause inflammation in the bladder wall. Elmiron creates a barrier on the bladder wall to prevent irritation.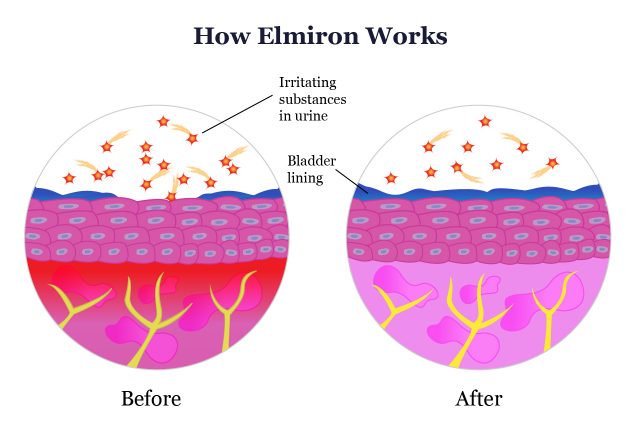 Does Elmiron Cure Interstitial Cystitis?
Elmiron doesn't cure IC, but it does provide some relief from symptoms. Interstitial cystitis, or bladder pain syndrome, is a chronic condition that causes painful symptoms in the bladder. IC is common and affects between 1 to 4 million men and between 3 to 8 million women in the United States, according to the National Institute of Diabetes and Digestive and Kidney Diseases. Currently, there is no cure.
Researchers don't know what causes IC, but certain activities, food and drinks may trigger symptoms. For example, people reported symptom flares with stress, intercourse, holding their urine or using tight undergarments.
Symptoms of IC include:
Pressure, mild discomfort or tenderness in the bladder, lower abdomen or pelvic area
Urinary urgency several times a day
Waking up several times at night to urinate
Burning sensation or pain
Urinating more often
Pain that gets worse until bladder is emptied
Pelvic floor muscle pain
Pain during or after sexual intercourse
How Well Does It Work?
Elmiron's manufacturers tested the drug in two clinical trials in 2,627 patients. Of these trial participants, 2,343 were women, 262 were men and 22 were unknown. After three months in the second trial, 52 percent of the patients, or 1,307, had dropped out or were ineligible for analysis, according to the medication insert.
The results of these studies showed that Elmiron relieved pain in many patients. The average time it took to work was three to six months. The longer patients used the drug, the better it worked.
But another study done on a smaller number of patients by G.R. Sant and colleagues published in The Journal of Urology found that oral pentosan polysulfate sodium didn't provide much benefit to the majority of IC patients.
Side Effects
In clinical trials, most side effects were minor. Out of 2,627 trial participants, 33 suffered serious side effects. Six patients died, but other health problems appear to have caused the deaths. The most common side effects occurred in 1 to 4 percent of participants.
The most common side effect reported was hair loss, or alopecia. Hair loss began in the first four weeks of treatment. About 97 percent of patients experienced hair loss on a single spot. This usually went away after patients stopped using the drug and hair grew back.
Most Common Side Effects
Hair Loss (4 percent)
Diarrhea (4 percent)
Blood in stool (percent unknown)
Nausea (4 percent)
Headache (3 percent)
Rash (3 percent)
Upset stomach, dyspepsia (2 percent)
Abnormal liver function tests (1 percent)
Dizziness (1 percent)
Bruising (percent unknown)
A search of the postmarketing data available on the FDA Adverse Event Reporting System (FAERS) Public Dashboard from 1997 to Dec. 21, 2019 showed 2,460 adverse event reports for brand name Elmiron and generic pentosan polysulfate sodium combined.
Of those reports, 1,691 were serious. This included 23 deaths. Data on FAERS comes from voluntary reports and the FDA cannot verify if the adverse event was related to drug use.
The top five adverse events in FAERS were:
Alopecia, 250
Headache, 172
Pain, 170
Diarrhea, 163
Nausea, 155
Some patients also reported weight gain and edema. In a phase 4 study of 128 patients, 8 patients (6.3 percent) who took the daily 300 mg dose experienced rectal hemorrhage. Most patients described it as mild.
Fifteen percent of patients who took a 900 mg dose had a higher incidence of rectal bleeding. Patients taking the higher 900 mg dose also had elevated liver enzymes.
Dosage, Instructions and Precautions
The recommended daily dose for Elmiron is one 100 mg capsule by mouth three times a day for a total of 300 mg daily. The capsule should be taken with water at least one hour before meals or two hours after meals.
After three months of taking Elmiron, the patient should contact their health care provider for an evaluation of how well the drug is working. If there is no improvement in IC symptoms and there are no serious side effects, the health care provider may recommend another three months of treatment.
Precautions
Elmiron is a weak anticoagulant. This means it works like a blood thinner and makes it harder for blood to clot. Its strength is about one-fifteenth the strength of heparin. Rectal hemorrhage, gum hemorrhage and bruising have been reported.
Patients about to have surgery, who have symptoms of bleeding or who are taking other drugs that may increase bleeding — blood thinners, aspirin, or non-steroidal anti-inflammatory drugs — should tell their health care providers right away.
Some patients experienced mildly elevated liver enzymes that occurred three to 12 months after starting treatment. Researchers haven't tested Elmiron in people with liver insufficiency, and people with liver problems should use the drug with caution.
Drug Interactions
Elmiron's medication insert doesn't list any drug interactions. But patients should tell their health care provider about all drugs, vitamins and any herbal supplements they are taking — especially any medication that may increase bleeding risk.
Lawsuit Information
Lawsuits claim that people who took Elmiron experienced vision problems including blurred vision, maculopathy, retinopathy and vision impairment.
Learn More
Lawsuits for Eye Damage
Elmiron's medication insert doesn't list any warnings about eye damage or an increased risk of eye disease. But new studies suggest the drug may contribute to vision problems.
One of the first case reports appeared in the Journal of Urology in 2018. Dr. William A. Pearce and colleagues wrote that long-term use of the drug led to "injury to the retina and the underlying retinal pigment epithelium," according to the IC Network.
In 2019, Drs. Rachel M. Huckfeldt and Demetrios G. Vavvas published a case report in Ophthalmic Surgery, Lasers and Imaging Retina of a patient whose pentosan polysulfate sodium-related maculopathy continued to get worse 6 years after stopping the drug.
Lawyers are currently filing Elmiron lawsuits on behalf of people who took the drug and experienced vision problems including blurred vision, maculopathy, retinopathy and vision impairment.
Please seek the advice of a medical professional before making health care decisions.
How helpful was this page?
How can we improve this page?
How can we improve this page?