EpiPen Epinephrine Auto-Injector
Mylan's EpiPen and EpiPen Jr. are intended to treat sudden and life-threatening allergic reactions resulting in anaphylaxis. Malfunctions have been associated with hospitalizations and deaths even as EpiPen's price skyrocketed.
EpiPens are auto-injector devices, pre-loaded with medication and intended to treat severe allergic or asthmatic emergencies. People can remove a safety cap and slam the device against their thigh, causing the EpiPen to deploy a needle into skin or muscle. The action should trigger delivery of a precise dose of epinephrine (also called adrenaline). This can head off anaphylaxis – a life-threatening allergic reaction.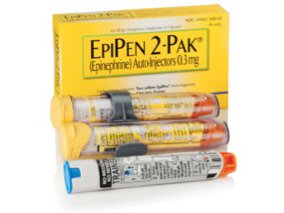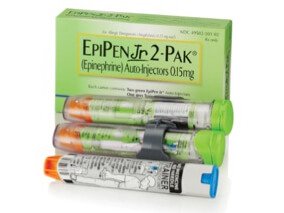 Pfizer subsidiary Meridian Medical Technologies manufactures the devices for another drug company, Mylan N.V. The companies also manufacture and market the only generic version of the EpiPen.
In 2016, Mylan raised EpiPen prices by 400 percent, drawing sharp criticism. The following year, the company announced Meridian had recalled 13 lots of defective EpiPens after reports of life-threatening malfunctions.
What Is Anaphylaxis?
Anaphylaxis happens when a person's immune system overreacts to an allergen. The most dangerous symptoms include a sudden drop in blood pressure, breathing difficulty and passing out. It requires immediate medical attention.
EpiPens are intended to stave off the symptoms long enough for a patient to seek medical attention. Even though an EpiPen may relieve the symptoms temporarily, the effect may only last 15 minutes. People prescribed EpiPens are advised to have a second one available in case the effects wear off before they can seek medical help.
EpiPen's label includes a warning that people should always seek "immediate medical or hospital care" whenever they use the device.
People Died After EpiPen Failures
In 2017, Bloomberg reported that EpiPen failures had been associated with seven deaths through mid-September of that year. Reports from the same period showed another 228 people were hospitalized after their EpiPen or EpiPen Jr. failed. The FDA Adverse Events Reporting System (FAERS) Public Dashboard shows reports of EpiPen complications more than doubled between 2016 and 2017.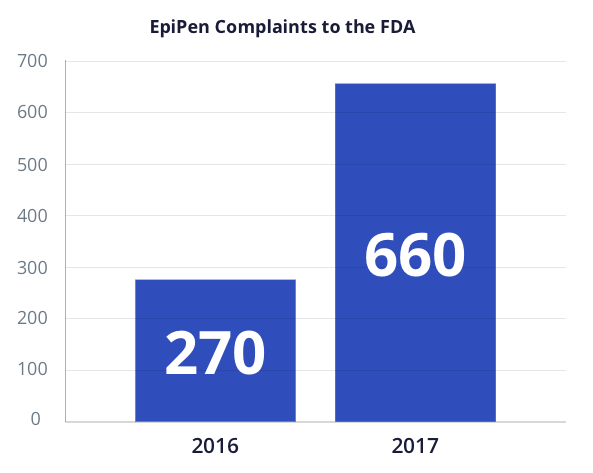 The FDA points out that reports in its database do not confirm medical products are the actual cause of a complication or death. However, the reports show only a fraction of the complications believed to have occurred since so few people know they can file a report with the agency when they experience a problem.
Hundreds of Malfunctions Cause EpiPen and EpiPen Jr. Recall
In March 2017, Meridian recalled 80,000 EpiPens sold around the world. A week after the initial recall, Mylan announced that Meridian had recalled thousands more EpiPens distributed in the U.S. The recalls were announced after reports that a defective part could cause them to malfunction.
In the U.S., 13 lots of EpiPen and EpiPen Jr. devices were included in the recall. All had been distributed between December 2016 and July 2017. The expiration dates on the affected devices ranged from April to October 2017.
RECALLED EPIPEN LOTS
| Product & Dosage | Expiration Date | Lot Number |
| --- | --- | --- |
| EpiPen Jr., 0.15 mg | April 2017 | 5GN767 5GN773 |
| | September 2017 | 6GN215 |
| EpiPen, 0.3 mg | April 2017 | 5GM631 |
| | May 2017 | 5GM640 |
| | September 2017 | 6GM082 6GM072 6GM081 |
| | October 2017 | 6GM088 6GM199 6GM091 6GM198 6GM087 |
In a press release announcing Mylan's recall, the FDA reminded people to always seek emergency treatment after using an EpiPen, "particularly if the device did not activate."
The agency also called on consumers and health care professionals to report any EpiPen malfunctions or complications from the devices to its MedWatch program.
In September 2017, the FDA sent Meridian a warning letter citing the company for failing to appropriately investigate hundreds of complaints of EpiPen malfunctions.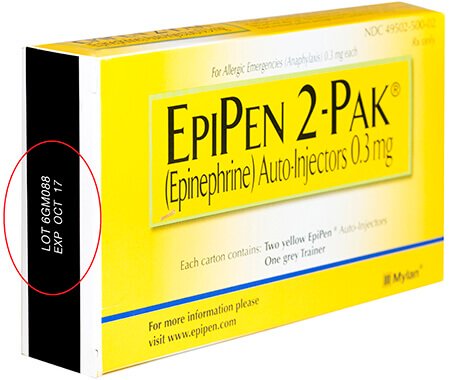 EpiPen Price Increases Skyrocketed Before Recall
In 2016, NBC News reported that Mylan paid less than $35 for each EpiPen Meridian manufactured for the company. But between 2007 and 2016, Mylan raised the price of EpiPens 400 percent from $57 each to more than $600 for a two-pack – about $300 apiece. The company was able to take advantage of a lack of competition and its auto-injector patent to push aside competition while keeping customers who had few alternatives.
Did you know
It is estimated that the epinephrine in a $300 EpiPen costs only about $1.
It is the auto-injector — not the medication — that makes EpiPen unique. It allows anyone to inject a precise dose of epinephrine in an emergency.
History of EpiPen price increases
2009

EpiPen cost was just over $100 for a two-pack.

July 2013

EpiPen prices rose to about $260.

May 2015

EpiPen prices hit about $460.

May 2016

Cost for an EpiPen two-pack topped $600.
The FDA first approved EpiPen in 1987, and Mylan acquired the right to market the device from Merck in 2007. At the time, EpiPen had a virtual monopoly, controlling about 90 percent of the auto-injector market. Mylan worked on improving the device and patented a new, improved injector in 2009 that improved its competitive place in the market.
EpiPen History: Business Deals, Price Increases and Problems
EpiPen and EpiPen Jr. have dominated the auto-injector market since the first devices were approved in the 1980s. The devices have been licensed to different companies and the manufacturing operation has been involved in multiple mergers. Recent years have been rife with rising EpiPen costs and increased reports of EpiPen complications.
EpiPen Timeline
December 22, 1987
1996

Survival Technology merged with Brunswick Biomedical to create Meridian Medical Technologies.

1997

Merck subsidiary Dey acquired exclusive license for EpiPen, Meridian continues to manufacture it.

1998

Meridian recalled 1 million EpiPen and EpiPen Jr. devices because they didn't contain the proper dose of epinephrine.

2007

Mylan acquired right to market EpiPen devices from Merck.

2009

Mylan and Meridian developed new design for EpiPen devices.

December 2010

EpiPen adverse event reports to FDA increased sharply from an average of 16 per year to 172 in 2010.

March 2011

Pfizer acquires Meridian and its parent company, King Pharmaceuticals, for $3.6 billion.

2016

Congress, U.S. Department of Justice and state attorneys general investigated EpiPen price hikes that had increased 400 percent since 2007.

October 2016

Mylan agreed to $465 million settlement with U.S. Department of Justice over Medicaid drug rebates for EpiPen devices.

March 2017

Meridian recalls more than 80,000 EpiPen and EpiPen Jr. devices.

August 2017

Class action

lawsuits over EpiPen

pricing are closed and moved to a Multidistrict Litigation in Kansas federal court.

November 2017

FDA sent a warning letter to Meridian claiming the company failed to investigate reports of problems with EpiPen devices.

December 2017

FDA reported adverse event reports over EpiPen and EpiPen Jr. more than doubled over the previous year.
FDA Promises Generic EpiPen Competition
In November 2017, on the heels of the skyrocketing prices, recalls and increased reports of EpiPen complications, FDA Commissioner Scott Gottlieb announced the agency would streamline an approval process that could put generic competitors on the market more quickly.
FDA Guidance on generic alternatives to EpiPen
Some design differences may be approved as substitutes.
Differences must not affect patients' ability to use the device as intended.
Instructions on use may differ from EpiPen's.
Manufacturer must demonstrate differences will not affect safety or effectiveness of the generic device.
The guidance did not mention EpiPen specifically and could possibly be applied to certain other medical products.
"This will make it easier for generic firms to plan how they can copy complex drugs," Gottlieb said.
The FDA approved the first generic version of EpiPen in August 2018, providing new competition that could help drive down the cost of a lifesaving product that had become a notorious symbol of high drug prices.
The generic copy is made by Teva Pharmaceuticals USA, and will rival Mylan, which had come under intense criticism for raising the price of its EpiPen sixfold since buying it in 2007. Mylan's device has been plagued by periodic shortages, with consumers scrambling again in recent months to find a reliable supply.
Please seek the advice of a medical professional before making health care decisions.
How helpful was this page?
How can we improve this page?
How can we improve this page?