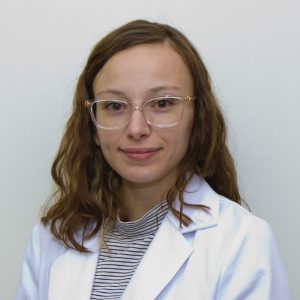 Jessica D. Hess, Ph.D.
Pharmaceutical Researcher
Last Modified: July 28, 2023
Jessica D. Hess is a pharmaceutical researcher with a Ph.D. in biosciences from the University of Texas at El Paso. She is a postdoctoral fellow in the Department of Genetics and Epigenetics at the Beckman Research Institute of City of Hope.
During her Ph.D. studies she specialized in small molecule anticancer drug discovery under the mentorship of Dr. Renato J. Aguilera at The University of Texas at El Paso. She also gained hospital-based health care experience in pediatric and mental health settings while serving as a patient care technician. 
Hess instructed undergraduate students on subjects such as:
Biology

Immunology

Microbiology
She hopes to one day contribute to the development of best-in-class anticancer medicines and to help everyone better understand complex scientific concepts.
Hess' research spans a wide range of medical topics, including:
Bioinformatics

Cancer biology

Drug discovery and development

Science communication
In 2019 Hess founded her first business, Cell Kulture Co., with the intention of increasing public understanding of science through art. She has since been locally and nationally recognized for her research, entrepreneurship and support of STEM workforce diversity.
About Drugwatch's Experts
Drugwatch's experts are authorities in their fields. Their personal experiences and professional expertise make them uniquely qualified to review our content for accuracy and verify that the information you read here is trustworthy, comprehensive and consistent with the latest evidence-based research.