An EpiPen can be a life-saving device for someone having a life-threatening allergy or asthmatic attack. It can fend off anaphylaxis, a condition in which blood pressure drops and people have difficulty breathing. EpiPens are designed to deliver a precise dose of epinephrine – also known as adrenalin – which can provide temporary relief, giving a patient time to seek medical attention.
Hundreds of people reported serious complications after EpiPen and EpiPen Jr. failures in recent years. After the reports, manufacturer Meridian Medical Technologies launched an EpiPen and EpiPen Jr, recall that included more than 80,000 of the devices. The company blamed a defective part for causing the devices to malfunction.
Most Common EpiPen & EpiPen Jr. Complications
The four most common EpiPen complications reported to the U.S. Food and Drug Administration account for 80 percent of all complications with the devices. But some of these most common problems are also among the most serious complications of the devices.
Most Common EpiPen Complications
| Complications Reported | Cases Reported Between 1993 and 2017 |
| --- | --- |
| Accidental exposure to EpiPen | 656 |
| Device Failure | 545 |
| Drug ineffective | 419 |
| Expired Product Administered | 242 |
Accidental Exposure to EpiPen
EpiPens are designed to automatically deploy a needle and inject medication. There have been hundreds of cases reported in which the device deployed unexpectedly. Accidental injections, when not necessary, can cause numbness or tingling around the injection site. It can also increase heart rate or lead to heart palpations. In some cases, it can cause tissue death.
Call the NPCC
People accidentally exposed to EpiPen should call the National Poison Control Center at 800-222-1222 for help and instructions.
The EpiPen redesign in 2009 addressed the accidental exposure in part by modifying the design of the needle cover. The modification means the needle is not exposed either before or after use.
EpiPen Failures and Malfunctions
The 2016 EpiPen recall was blamed on a defective part in the auto-injector. It was blamed for triggering the needle to deploy prematurely or for causing the medication in the devices to leak out before it could be injected.
Bloomberg reported in 2017 that failures or malfunctions resulted in more than 220 hospitalizations and were associated with seven deaths through mid-September that year.
Ineffective EpiPens and EpiPens Used After Expiration Date
Epinephrine in EpiPens has an estimated shelf life of just 12 to 18 months. Expired EpiPens may be less effective or not effective at all in an emergency. The FDA has received 419 reports of ineffective EpiPens and 242 reports of expired EpiPens between 1993 and 2017.
EpiPen & EpiPen Jr. Price Increases and Serious Complications
Relying on an expired EpiPen or EpiPen Jr may increase the risk of failure in a medical emergency. But there are anecdotal cases of people doing just that due to steep price hikes for the devices. The New York Times reported that when Sarah Brown of Boulder, Colorado, saw her co-pay for a pack of EpiPens increase to $585 in 2016, she opted to rely on her expired ones.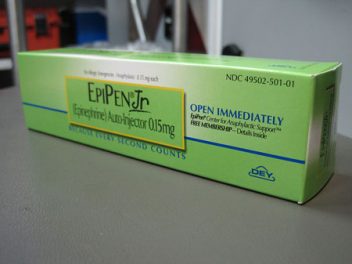 "It was a gamble," she told the Times.
A 2015 study in the Annals of Allergy, Asthma & Immunology spurred a rash of news stories about EpiPens still being effective in some cases after they expire. Researchers looked at 35 expired EpiPens and found that some injectors could retain 90 percent or more of their effectiveness for up to two years after the expiration date.
A second study in 2017, published in the Annals of Internal Medicine, looked at 40 EpiPens past their expiration dates. They found some that remained partially effective as long as four years after the date.
However, researchers cautioned that people should always replace their EpiPens before the expiration date on the label.
FDA Database of EpiPen Complications
Since 1993, the FDA has received 2,325 total adverse event reports for EpiPens. The agency categorizes more than half – 1,235 reports – as "serious cases" including 116 deaths. The FDA makes this information searchable on its FAERS Public Dashboard.
Fact
The FDA points out that the reports do not mean that EpiPens were the cause of the deaths or all serious complications. But the agency admits not all complications are reported.
Mylan N.V., which owns the rights to EpiPen and markets it, redesigned the auto-injector in 2009. In the 16 years before the redesign, the FDA received a total of 256 adverse event reports over EpiPens. That total was surpassed in just the first two years after the redesign, with 311 reports sent to the FDA.
Between 2015 and 2016, the number of adverse event reports more than doubled from 270 to 660. This occurred around the time EpiPen's manufacturer, Meridian Medical Technologies, issued a recall of more than 80,000 of the devices.
Please seek the advice of a medical professional before making health care decisions.
How helpful was this page?
How can we improve this page?
How can we improve this page?