NDMA
N-nitrosodimethylamine, or NDMA, is a yellow, odorless liquid chemical once used to make rocket fuel. It is also a byproduct of several manufacturing processes and water chlorination. Small amounts of NDMA may occur in water, soil and air. It's been classified as a probable human carcinogen.

Normally, NDMA breaks down when sunlight hits it, according to the Agency for Toxic Substances & Disease Registry.
The International Agency for Research on Cancer (IARC) classifies NDMA as a group 2A carcinogen. This means it's "probably carcinogenic to humans," and there is sufficient evidence that it causes cancer in humans.
Starting in 2018, the U.S. Food and Drug Administration released a series of warnings about several medications contaminated with NDMA. Some of these medications had higher than acceptable levels and were recalled.
Recalled drugs include valsartan and other blood pressure drugs in the ARB class, Zantac (ranitidine) and metformin.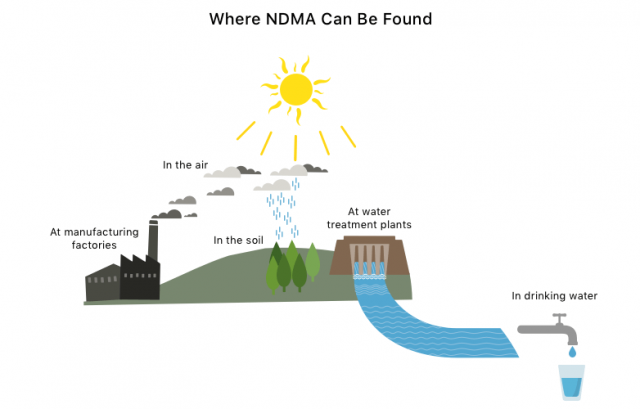 NDMA Exposure
Normally, people are exposed to small amounts of NDMA in the environment and through food and water. Chemicals found in food and water such as nitrosamines or alkylamines can turn into NDMA in the stomach.
NDMA is also created when the food or drink is processed. Foods such as cured meats (particularly bacon), beer, fish, cheese and even vegetables may contain NDMA.
For most people, exposure to small amounts isn't a problem. The liver breaks down NDMA, which leaves the body through exhaled air or urine. This process occurs within 24 hours of ingesting the chemical.
But higher exposures over time may increase cancer risk, and sudden exposure to large quantities can be toxic.
Did you know?
One pound of bacon may contain 0.304–0.354 micrograms of NDMA.
The EPA set a threshold of 0.11 µg/L (micrograms per liter) of NDMA in tap water. The agency set this limit based on a lifetime risk of one additional person in one million people developing cancer at that level of NDMA. Each state has its own limits for NDMA in drinking water. Most are below the EPA's acceptable limit.
The FDA has said consuming up to 0.096 micrograms, or 96 nanograms, per day is considered a reasonably safe amount.
NDMA exposure can occur with the following:
Contaminated water
Cured or smoked meat and fish
Shampoos and cleansers
Cigarette smoke
Tanning chemicals
Pesticides
Manufacturing rubber and tires
Malt beverages, such as beer and whiskey
Symptoms of Overexposure
NDMA is toxic to humans, and overexposure can cause a number of symptoms. Researchers have not established toxic levels for blood, so overexposure is difficult to diagnose. But doctors can monitor changes in liver function to diagnose potential NDMA overexposure.
According to the EPA and National Library of Medicine, NDMA can cause a variety of adverse health effects. After the chemical enters the body by mouth, it enters the bloodstream and travels to organs in a matter of minutes.
Since the liver is responsible for removing the chemical from the body, many of these problems occur in the liver.
NDMA overexposure can cause side effects including:
Headache
Fever
Nausea
Jaundice
Vomiting
Abdominal cramps
Enlarged liver
Dizziness
Reduced liver, kidney and lung function
The levels of NDMA in valsartan and other medicines are not likely to cause acute symptoms of overexposure.
Treatment for overexposure includes activated charcoal for ingested NDMA, oxygen for inhaled NDMA and saline washes for eyes.
Contaminated Medications
Beginning in 2018, the FDA became aware of NDMA contamination in medications. Manufacturers issued several recalls and one market withdrawal. The FDA released guidance for manufacturers on how to control NDMA contamination in medications in September 2020.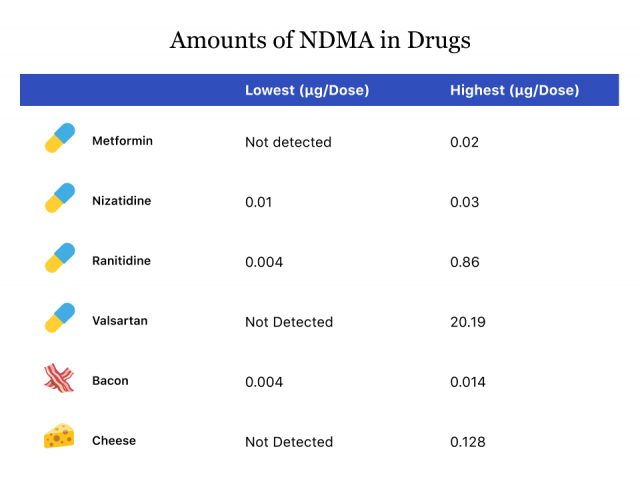 Valsartan
The first drug to be tested was valsartan. The agency found higher than acceptable levels in certain batches of the blood pressure drug and several manufacturers issued valsartan recalls.
Other blood pressure drugs in the same ARB class, including losartan and irbesartan, soon joined the contaminated list and were also recalled.
Makers of valsartan face more than 600 federal cancer lawsuits as of Sept. 15, 2020.
Valsartan Lawsuit Information
Individuals filing valsartan lawsuits claim the drug's contamination with NDMA caused them to develop cancer. Learn more.
Zantac
In September 2019, FDA received reports of NDMA in batches of Zantac (ranitidine). Dozens of countries issued bans, recalls or warnings for the drug.
After conducting lab tests, FDA researchers discovered that NDMA levels in Zantac continued to increase after normal storage conditions. In April 2020, the FDA asked all manufacturers to withdraw all medicines containing ranitidine from the market.
Makers of Zantac and ranitidine face more than 3,000 cancer lawsuits in state and federal courts as of October 2022.
Metformin
In December 2019, FDA reported that some metformin products sold outside the U.S. tested positive for NDMA. After testing, the agency found levels of NDMA in metformin sold in the U.S.
It released the lab results in February 2020. Some batches of the drug had levels ranging from 0.005 to 0.19.
Based on this information, several companies including Apotex, Amneal, Marksans, Lupin and Teva recalled their products.
Cancer and NDMA
Even if it's a potential carcinogen, there hasn't been much research done on the exact types of cancer caused by NDMA in humans. In animal studies, researchers found that NDMA caused liver and lung cancer.
Valsartan lawsuits and Zantac lawsuits linked the drugs and NDMA to cancers including esophageal cancer, bladder cancer, gastric cancer, liver cancer, colorectal cancer and others.
Please seek the advice of a medical professional before making health care decisions.
Share This Page:
How can we improve this page?
Thank You for Your Feedback
We appreciate your feedback. One of our content team members will be in touch with you soon.
We appreciate your feedback. One of our content team members will be in touch with you soon.
Who Am I Calling?
Calling this number connects you with a Drugwatch representative. We will direct you to one of our trusted legal partners for a free case review.
Drugwatch's trusted legal partners support the organization's mission to keep people safe from dangerous drugs and medical devices. For more information, visit our partners page.