IV Flush Syringe
Health care professionals use IV flush syringes to clear out patients' catheters and intravenous lines to ensure the tubes are air-free and unobstructed. Nurse Assist, a Texas-based medical device manufacturer, recalled all of its Normal Saline IV Flush Syringes in 2016 after the devices spread a bacterial infection. Patients became sick and some died. How the syringes became contaminated with the bacteria Burkholderia cepacia remains unknown.
Nurse Assist flush syringes were implicated in an outbreak of the Burkholderia cepacia bacterial infection found in the blood of 164 patients in 59 medical facilities, such as nursing homes, in five states. According to the Centers for Disease Control and Prevention, seven people died — five in New York and two in Pennsylvania — although it's undetermined if the causes of those deaths were the infection, underlying conditions or something else.
New Jersey reported the most cases, with 59, followed by New York with 58 and Pennsylvania with 30. The remaining cases were reported in Delaware (4) and Maryland (12).
B. Cepacia Bacteria Linked to Flushes
CDC researcher Dr. Richard B. Brooks told Drugwatch that the CDC has not yet reported the root cause of the contamination, which led to the recall of more than 386,000 IV Flush syringes nationwide on Oct. 4, 2016. The recall was initiated less than two weeks after the Maryland Department of Health and Mental Hygiene first alerted the CDC to a cluster of infections among patients at long-term rehabilitation facilities who were receiving intravenous fluids and/or antibiotics through central venous catheters.
After reviewing patient records and culturing suspect products, investigators quickly discovered that the affected patients were all in skilled nursing facilities supplied by the same pharmacy, which distributed saline flushes from the same manufacturer. On Oct. 3, they found B. cepacia bacteria in sealed saline flushes made at one of the manufacturer's facilities. The next day, the recall was initiated.
"Quick action and open inter-state collaboration prevented additional cases and identified the outbreak source," Brooks, a CDC epidemic intelligence service officer assigned to the Maryland Department of Health, said in an email to Drugwatch.
"This investigation demonstrates the need for us to be able to better track compounded medications and medical devices, including saline flush syringes, throughout the manufacturing and distribution process, up to the point at which they are given to individual patients," Brooks told Infectious Disease News.
Asked by Drugwatch to elaborate on this, Brooks said, "Currently, there is not a good mechanism in place for tracking individual saline flushes to an individual patient. That made determining which patients in this outbreak were at risk for having been exposed to the contaminated flushes challenging. An improved mechanism for tracking flushes and other similar devices might help in more quickly identifying patients who have received a specific product."
FDA Issues Warning Letter to Nurse Assist
In May 2017, the FDA issued a warning letter to Nurse Assist over its record keeping. In particular, inspectors found company records showed more cases of syringes manufactured than sterilized prior to the outbreak. The FDA was critical of Nurse Assist for failing to catch the discrepancy and address it.
The letter also said records showed Nurse Assist employees had taken product samples to test for endotoxins. But FDA inspectors found the company failed to document whether or not any batches of syringes were contaminated.
Uses and Risks
Prefilled saline syringes are found everywhere in medical settings, such as hospitals and clinics.
Stated advantages of prefilled saline syringes to health care providers:
Greater efficiency in work flow
Increased patient safety due to manufacture labeling
Decreased risk of infection
Decreased medication errors
Nurse Assist prefills each IV Flush Syringe with 0.9 percent sodium chloride — a mixture of salt and water — which is compatible with body fluids and tissues. Doctors use sodium chloride for a number of medical uses, and the intravenous formula is the most common preparation.
Nurse Assist sells these plastic syringes in three different doses: a 3 ml fill, 5 ml fill and 10 ml fill for a 12 ml syringe.
However, these devices come with disadvantages as well, including reports of infectious outbreaks allegedly due to poor manufacturer compliance with FDA regulations.
Other side effects of Saline solutions or the device itself might include:
Hypersensitivity (allergic) reactions
Air embolisms (air bubbles trapped in one's veins or arteries)
A certain taste or smell after the IV is flushed
A study conducted by Vanderbilt University Medical Center in Nashville concluded that "prefilled saline syringes cause the patient to experience a taste and/or smell after their IV catheter is flushed with saline." Participants in the study reported that they were 7.3 times more likely to experience a taste and 10.4 times more likely to experience a smell with the prefilled syringe when compared with the multi-dose bag.
When Are They Used?
Health care providers and patients use these syringes to clear out devices that deliver medicine directly into the veins of a patient through a needle or catheters. Hospitals and clinics use them before and after starting IV medication drips or fluids in patients. This ensures the lines stay clean and prevents blockages.
Hospital Use
Hospitals use IV Flush Syringes to ensure the lines stay air-free and prevents blockage.
Some other common uses for a prefilled saline syringes include:
Delivery of antibiotics
Delivery of fluids in patients who are dehydrated
Blood pressure maintenance
Treatment for shock
Surgical procedures
Chemotherapy in cancer patients
Delivery of pain medicines
Delivery of minerals and vitamins in patients who are malnourished
In between administering multiple medications to ensure the medicines won't react
How Does It Work?
To flush the IV, nurses and other health care professionals clean the IV port and connect the IV Flush Syringe to it. Then, they slowly pull back on the syringe plunger until a small amount of blood is visible. Next, they inject the flush solution into the IV or catheter. At this time, the nurse may start a medication drip. Before beginning another medication in the line, they will flush it again.
Cause of Contamination Unknown
But it's a mystery how supposedly sterile syringes became contaminated with the bacteria, Burkholderia cepacia, which can be deadly in some immune compromised patients, particularly those with cystic fibrosis and the elderly.
If it gets into the bloodstream, the bacteria can cause fever and chills, confusion, cough, trouble breathing and other symptoms. It can also lead to a potentially fatal complication known as sepsis. Sepsis occurs when infections release chemicals into the bloodstream that can trigger severe inflammation. The inflammation can lead to changes in the body, possibly damaging organ systems to the point of failure.
Otherwise healthy people who are exposed may show no symptoms at all.
"Since the FDA has not reported the root cause of contamination at the manufacturing or sterilizing facilities, it is impossible to say how the syringes became contaminated," Brooks said. "It is unlikely that the bacteria would have survived properly conducted sterilization with gamma radiation. Therefore, the most likely explanations for contamination include: 1) the syringes somehow failed to undergo sterilization; 2) there was a problem with the sterilization process in such a way that sterilization was not effective; or 3) bacteria were somehow introduced into the saline in the syringes after sterilization."
Burkholderia cepacia is a bacterium found naturally in river sediments and moist soil around plant roots. It causes rot in certain plants, including garlic and onions. It is adaptable and able to survive in hostile environments, including disinfectants. It can survive for years in water. It is naturally resistant to many common antibiotics. It even uses penicillin as a nutrient. Healthy people are rarely infected by it.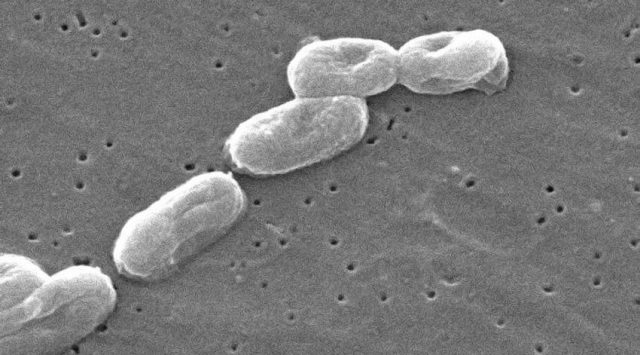 There have been other instances of Burkholderia cepacia being transmitted through contaminated health care products, including mouthwash, nasal spray, liquid stool softener and sublingual probes.
Since Burkholderia cepacia is commonly found in soil and water, Brooks was asked, should consumers be wary of any water-based medical products, even those that are sterilized, in light of what happened here?
No, the researcher said. People need not worry, but they can take precautions.
Outbreaks Called Very Rare
"Fortunately, outbreaks such as the one we investigated are very rare, and regulations that are in place to ensure the safety of medications provide excellent protection for consumers," he said. "Consumers can check the FDA's searchable MedWatch website to learn about reported adverse events associated with regulated products. They can also further protect themselves by asking their providers if they are following evidence-based infection control practices, including hand hygiene protocols and safe injection practices."
The 2016 recall involved Normal Saline Flush 12ml IV Flush Syringe with fill volumes of 3ml, 5 ml and 10 ml. The syringes are identified by the product codes 1203, 1205, 1210 and 1210-BP. Lot code information was provided on both packaging panels and individual syringe labels, according to the FDA.

Syringes implicated in bacterial outbreak
Manufacture Dates Between

September 24, 2015 & August 1, 2016

Distribution Dates Between

February 16, 2016 & September 30, 2016
The CDC advises medical-device distributors, health care facilities and providers to stop using any of the remaining Nurse Assist prefilled saline flush syringes and immediately recover unused syringes from pharmacies, medication carts, preparation and patient-care areas. Also, notify local or state health authorities of any cases of B. cepacia bloodstream infections in patients who received intravenous care at a facility that was using these products and whose symptoms began since Aug. 1, 2016.
In May 2017, nearly eight months after the Nurse Assist syringes were recalled, the FDA issued an advisory notifying manufacturers of non-sterile, water-based drug products of recent recalls linked to Burkholderia cepacia contamination. B. cepacia, the warning said, can be found in pharmaceutical water systems and can survive and multiply in non-sterile, water-based products because it's resistant to certain preservatives and antimicrobial agents.
Brooks said that advisory wouldn't have applied to the IV Flush Syringes because they're sterile.
2007 Syringe Case Settled for $7.8 million
People who were treated at residential medical facilities that used the IV flush syringes supplied by Nurse Assist and later suffered infection from the bacteria Burkholderia cepacia may have a lawsuit against the manufacturer.
But Nurse Assist is not the first syringe maker to come under scrutiny for contaminated syringes.
The federal government brought a case against B. Braun Medical Inc. in 2016 that accused the company of selling contaminated prefilled saline syringes in 2007. Authorities said the adulterated IV flush syringes infected patients in California, Texas, New York and Nebraska with the bacteria Serratia marcescens.
B. Braun Medical agreed in May 2016 to pay $4.8 million in penalties and forfeiture and up to another $3 million in restitution to resolve its criminal liability for selling the contaminated syringes.
Please seek the advice of a medical professional before making health care decisions.
How helpful was this page?
How can we improve this page?
How can we improve this page?