Nurse Assist, a Texas-based medical-device manufacturer specializing in senior care, recalled its Normal IV Flush Syringe following reports of sometimes serious and potentially deadly bacterial infections in patients. The pre-filled saline flushes were linked to an outbreak of Burkholderia cepacia bloodstream infections.
While the severity of such infections can vary from patient to patient, those with weakened or otherwise compromised immune systems, especially the elderly or those with cystic fibrosis (CF), are at the greatest risk of developing serious, sometimes life-threatening, illness.
Other serious side effects linked to IV Flush Syringes can include the development of air embolisms (or trapped air within a blood vessel) that can travel to vital organs, such as the brain, heart or lungs, resulting in serious health consequences.
Other warnings contained in the drug labeling for sodium chloride include the risk of fluid overload as well as a condition called extravasation, which can lead to severe tissue damage.
Bacterial Infections
The Centers for Disease Control and Prevention (CDC) was alerted to an outbreak of B. cepacia bloodstream infections at a rehabilitation facility in September 2016. The Maryland Department of Health and Mental Hygiene reported 12 total cases of bacterial infection at three different health care facilities in Maryland. These patients were found to be affected by potentially serious and sometimes deadly bacteria thought to be spread from contaminated prefilled saline flush syringes manufactured by Nurse Assist.
Residents of long-term care or rehabilitation facilities in four additional states, including Delaware, New Jersey, New York and Pennsylvania, were also found to be affected by B. cepacia infections. As of January 11, 2017, a total of 164 cases of B. cepacia bloodstream infections from 59 different facilities were identified, possibly resulting in seven subsequent deaths, as reported by the CDC.
Potentially Deadly
Bacterial infections in patients receiving IV flushes may have resulted in 7 deaths out of 164 patients affected.
Some of the injured patients and family members of those who died filed IV flush syringe lawsuits.
What Is Burkholderia Cepacia Bacteria?
Burkholderia cepacia, also called B. cepacia, is the name of a group of bacteria that can be found naturally in soils and water, as well as decaying plants. It was once believed that the strains of B. cepacia found in the environment were different from the strains found in humans. However more recent studies have debunked that idea, confirming that the bacteria can be spread from one infected individual to another (most common form of transmission), as well as indirectly from a contaminated surface to an individual.
Dry bacterial droplets can live on surfaces for up to two hours, while wet droplets can survive for up to 24 hours.
B. Cepacia can live on:
Sinks
Countertops
Utensils
Personal care items
One of nine different species of B. cepacia complex, the bacteria were previously known as Pseudomonas cepacia. While often relatively harmless to healthy people, B. cepacia is capable of causing certain health problems, such as weakened immune systems or chronic lung disease, including serious cases of pneumonia and other infections, in people who are ill or more susceptible to its adverse effects, particularly those people with cystic fibrosis (CF).
B. cepacia can be resistant to many common antibiotics. Therefore, infections that spread quickly throughout the bloodstream can be deadly.
B. Cepacia and Cystic Fibrosis
While B. cepacia infections are not extremely common in individuals with cystic fibrosis (CF), when they do occur, they can be extremely dangerous and difficult to treat.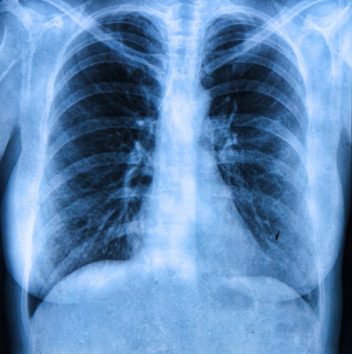 CF is a genetic disease passed down from one family member to the next. It is a disease of the mucus and sweat glands that primarily affects the lungs, pancreas, liver, intestines, sinuses and sex organs of both males and females. CF results in mucus that is abnormally thick and sticky. This mucus can clog the lungs causing breathing difficulties and making it easy for bacteria to grow, which can result in recurrent infections and ultimately permanent damage to the lungs.
There is no cure for CF. Symptoms and severity of the condition can vary from one patient to the next, and a person's life expectancy when living with CF is typically a bit shorter than the average person, with some people who have CF living into their 40s, 50s or older.
B. cepacia bloodstream infections are one factor that can possibly affect a patient's life-expectancy when living with CF, as well as complicate their condition. Although only about 3 percent of people with CF also tested positive for B. cepacia, according to one analysis by the Cystic Fibrosis Foundation, having CF makes patients more susceptible to the bacteria, along with other bacteria responsible for causing infections in people with the inherited disease.
Symptoms of B. Cepacia Bacterial Infection
Since saline flushes are administered into the veins through an IV, outbreaks caused by infected IV flush syringes resulted in B. cepacia infections of the bloodstream, according to the CDC. Likewise, symptoms experienced by such infected individuals are often in line with common symptoms seen with bloodstream infections.
Common symptoms of B. cepacia
Fever
Chills or shivering
Clammy or sweaty skin
Confusion or disorientation
Shortness of breath
Increased heart rate
While healthy individuals can often avoid symptoms and long-term effects of B. cepacia exposure, most people exposed to IV treatments, and consequently, IV flush syringes, are ill or otherwise immune-comprised, thereby necessitating the use of the IV.
Other possible symptoms of B. Cepacia
Cough
Congestion
Wheezing
Therefore, most individuals exposed to the bacteria by IV flush syringe are prone to experience infection and accompanying inflammation that gradually interferes with proper lung functioning.
If the bacteria spread throughout the body, a condition called cepacia syndrome results. This serious illness can lead to rapid deterioration of the lungs and subsequent death in a matter of weeks, if not promptly treated.
Diagnosis and Treatment of B. Cepacia Bacterial Infections
Diagnosis of a B. cepacia infection requires a culture (an examination of certain body tissues in a lab to detect and identify infectious processes) of the patient's sputum, or mixture of mucus and saliva coughed up from the respiratory tract. The culture will also be used to determine the strain or strains of B. cepacia affecting the patient.
Treatment of such infections should be handled on a case-by-case basis, depending on the severity of the patient's symptoms as well as any other health conditions they may have. Patients diagnosed with a B. cepacia infection who also have cystic fibrosis (CF), for example, need to undergo treatment, such as clearing the airway, whether or not they are having any actual symptoms of the infection.
B. cepacia is also highly resistant to many mainstream antibiotics, making treatment more difficult.
Some types of antibiotics that are generally more effective in treating B. Cepacia Infections include:
Trimethoprim-sulfamethoxozole (Bactrim)
Doxycycline
Ceftazidime
Meropenem
Bactrim and doxycycline are both taken by mouth, while ceftazidime and meropenem are given intravenously (or by IV).
Air Embolism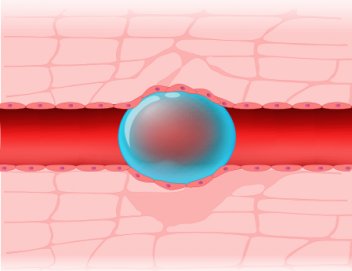 When one or more air bubbles enter a vein or artery causing a blockage of blood flow, it is called an air (or gas) embolism. Air can accidentally be injected into a vein via a syringe or IV inserted into it. While air embolisms are typically rare, they can be quite dangerous when they do occur. An air embolism is capable of traveling throughout the bloodstream to the body's organs, such as the brain, heart or lungs, where the trapped air bubble can possibly lead to a heart attack, stroke or respiratory failure.
Some air embolisms can be minor, causing only mild symptoms or no symptoms at all. However, all air embolisms have the potential to cause serious and permanent damage to the central nervous system (CNS), as well as other body systems and organs.
It takes just 0.5 to 1 milliliter of air in a pulmonary vein to cause a cardiac arrest, and just 2 to 3 milliliters of air injected into the cerebral (brain) circulation to potentially lead to death by stroke, according to Medical News Today. Therefore, all air bubbles trapped in the body's blood vessels must be treated as an emergency requiring immediate medical attention.
Symptoms of Air Embolism
Sometimes an air embolism is small and doesn't cause any significant blockage in the veins or arteries. These embolisms are capable of resolving on their own without causing any major symptoms or health complications.
Contrarily, larger air embolisms can lead to serious consequences to a patient's health, some of which can be deadly, such as heart attack and stroke.
Signs and symptoms of a potentially dangerous air embolism include:
Pain in the joints or muscles
Irregular heart rhythms (arrhythmias)
Blurred vision or other vision changes
Anxiety
Itchy skin
Seizures
Bloody frothing (an overflowing mass of small bubbles) from the mouth
Low blood pressure along with dizziness
Difficulty breathing or catching one's breath
Chest pain
Treatment of Air Embolism
Sometimes, a doctor will know when and how the air bubble may have entered or is entering the body. In such cases, the problem can be corrected to avoid serious complications and reduce the probability of future air embolisms.
When treating an air embolism, a health care provider will try to do three things, including:
Stop the source of the air embolism
Prevent the unwelcome air from causing any serious, permanent or potentially life-threatening damage to the patient's body and organs
Treat symptoms or resulting health complications, as needed
Specific methods of treatment might include having the doctor place the patient left side down with the feet higher than the head. This will prevent the trapped air from traveling to the body's vital organs, such as the brain, heart and lungs.
Surgery may be needed to remove the air embolism. Other treatments might include certain medicines, such as adrenaline to assist with heart problems, or hyperbaric oxygen therapy to shrink the air embolism and cause it to be harmlessly absorbed by the bloodstream.
Hypersensitivity to Saline Solution and Other Serious Side Effects
Although rare, it is possible to have an allergic reaction (hypersensitivity) to the saline solution found inside an IV Flush Syringe. Anaphylaxis, a sudden, serious and potentially life-threatening whole-body allergic reaction can occur within just minutes of exposure to the preservatives in the saline solution (sodium chloride) in the sensitive patient. As histamine is released in various parts of the body, the airways can begin to tighten and other severe symptoms can result.
Other possible symptoms of a reaction to saline solution
Abdominal pain
Feeling anxious
Chest discomfort or tightness
Difficulty breathing, coughing, wheezing or high-pitched breathing sounds
Diarrhea
Difficulty swallowing
Dizziness or lightheadedness
Hives (rash), itchiness or redness of the skin
Anaphylaxis is a medical emergency that requires immediate medical attention.
Other serious side effects can include:
Fluid Overload

Patients with congestive heart failure, severe kidney impairment, and clinical diagnoses of edema (swelling caused by fluid in the body's tissues primarily occurring in the feet, ankles and legs), sodium retention or high sodium levels in the blood (hypernatremia) are at an increased risk for fluid overload if saline is improperly administered

Extravasation

Defined as the leakage of a fluid out of the vein into which it is administered, this side effect may cause mechanical compression of neurovascular structures, such as the nerves, veins and lymphatics, resulting in injury to the body's tissues.
Please seek the advice of a medical professional before making health care decisions.
How helpful was this page?
How can we improve this page?
How can we improve this page?