Arthrex iBalance Total Knee Arthroplasty
Arthrex Inc. claims its iBalance Total Knee Arthroplasty System is a novel and innovative product for total knee replacement. Its studies show improvement in pain, function and quality of life in people who use the device. But in 2015, Arthrex announced a recall of the iBalance TKA Tibial Trays, and now the company faces lawsuits.
The Arthrex iBalance Total Knee Arthroplasty (TKA) System is a knee implant and instrument kit that allows surgeons to perform total knee replacements in patients who've lost cartilage in their knees because of osteoarthritis. The iBalance TKA also helps treat post-traumatic arthritis, a condition that occurs when a joint wears out because of injuries from sports, vehicle accidents, falls or other trauma.
Florida-based medical device manufacturer Arthrex Inc. markets the iBalance TKA. In 2017, the company made $2 billion in annual revenue, according to Forbes. Its headquarters is in Naples.
According to Arthrex, the iBalance TKA matches the curvature of the normal knee, which allows for maximum flexion.
"Highly anatomic femoral and tibial resurfacing implants and a novel and innovative instrument platform facilitate an accurate, efficient and reproducible surgical technique," Arthrex claims on its website.
A clinical outcomes report by Arthrex suggested a "trend toward favorable outcomes" among patients who had had surgery with an iBalance prosthesis. The report, which was revised in February 2018, specifically looked at pain, function and quality-of-life scores over four years. However, the report noted that more analysis was needed to determine whether the results were statistically significant.
In July 2022, researchers reported on a clinical study that followed a group of adults aged 45 to 74 for five years after they received a total knee replacement. The authors noted excessive sedentary behavior in 91% of the cohort, and inadequate physical activity at five years was apparent for 59% of participants. Additionally, 47% of patients experienced clinically significant fatigue after five years.
Before Arthrex marketed the iBalance TKA, a company called Accelerated Innovation LLC sold it as the Accin Total Knee System. The U.S. Food and Drug Administration originally cleared the device for sale in 2008.
In 2015, Arthrex recalled more than 2,300 iBalance TKA Tibial Trays. People who claim their devices failed and caused them injuries, including the need for revision surgery to remove and replace the implant, have filed knee replacement lawsuits against the company.
Knee Replacement Surgery with Arthrex iBalance TKA System
The Arthrex iBalance TKA System provides the surgeon with several tools to assist in knee replacement surgery and a pamphlet with detailed instructions. The iBalance implant is made of metal and polyethylene plastic parts.
After placing the patient under general anesthesia, the surgeon will cut part of the femoral (upper thigh) bone at the joint to make a flat surface. Next, the doctor will cut the tibia (lower part of the knee bone) at the joint.
Fact
Family members should be aware that after they leave the patient to go into the operating room, it may take a few hours before the surgeon can discuss the results of surgery.
After measuring and choosing the right size implant parts, the doctor will secure the iBalance TKA Tibial Tray component and then the femoral component with a layer of bone cement. The surgeon will also remove the patella (kneecap) and reattach it with a patellar component and bone cement.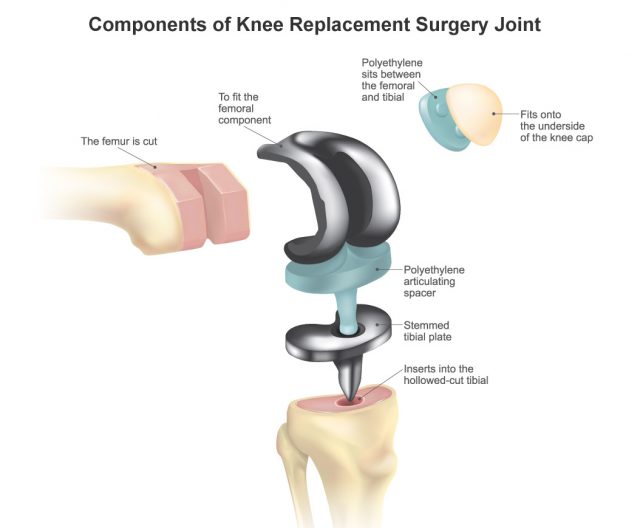 After the bone cement has hardened, the surgeon will check the patient's range of motion, joint tension and balance. Finally, a polyethylene plastic tibial insert goes in between the tibial and femoral metal pieces. This provides a smooth surface and cushion for the knee to flex.
Most patients spend 1 to 2 hours in the recovery room after surgery. Recovery may take several weeks. Arthrex recommends not driving for two to three weeks after surgery and attending outpatient physical therapy two to three times a week. Patients may also do therapy exercises at home.
iBalance TKA Tibial Tray Recall
On Dec. 17, 2015, Arthrex announced a voluntary recall of 2,378 units of its iBalance TKA Tibial Tray. The tibial tray is a metal piece that attaches to the shinbone and provides support for the upper part of the implant.
Arthrex said the reason for the recall was that the devices were "reported to have a smooth texture to the outer surface of the metal, which differed from a [sic] previous that had a textured outer surface."
Arthrex iBalance TKA Tibial Tray Sizes and Catalog Numbers Included in the Recall
Size 2 - Catalog # AR-503-TTTC
Size 3 - Catalog # AR-503-TTTD
Size 4 -Catalog # AR-503-TTTE
Size 5 - Catalog # AR-503-TTTF
Size 6 - Catalog # AR-503-TTTG
Size 7 -Catalog # AR-503-TTTH
Size 8 - Catalog # AR-503-TTTJ
On Feb. 5, 2016, Arthrex sent Urgent Medical Device Voluntary Recall letters to doctors and distributors. The company instructed doctors and distributors to stop using the devices and return any that had not been implanted.
The recall ended on Dec. 14, 2016.
Tibial Tray Loosening and Other iBalance TKA Problems
In addition to typical problems that can occur after any surgery, such as infection, blood clots and surgery site pain, some patients have reported problems specific to iBalance TKA products, especially the tibial tray that was recalled in 2015.
The FDA's Manufacturer and User Facility Device Experience (MAUDE) database received several reports of device failures requiring revision surgery because of tibial plate loosening. In some cases, patients had both knees replaced.
Problems reported to MAUDE with iBalance knee implants include:
Loosening
Pain
Dislocation
Component migration
Instability
Stiffness
Swelling
Device failure
Infection
Some knee implant complications that may indicate device failure include pain, swelling, or difficulty moving the knee and walking.
One patient who had the iBalance TKA implanted in both knees in 2013 reported that two years after surgery, he started to have swelling and pain in his left knee. His doctor drained fluid from his knee three times, once every six months. Still, he suffered pain.
He reported that his knee would slip out of place and that the instability was so bad that sometimes he would fall. When he walked, both knees would shift. His doctor told him the cement was loosening and he would require revision surgery. He had revision surgery in 2018.
Lawsuits Say iBalance Knee Components Loosened
After the recall in 2015, several patients filed lawsuits against Arthrex. They claim the iBalance knee implant is defective in design and manufacture. Furthermore, lawsuits accuse Arthrex of being negligent and failing to warn surgeons and patients of the risks.
"[T]hey knew or should have known that their knee implant was unreasonably dangerous," according to a complaint filed on behalf of Mandy and Gary VanBibber.
Lawyers are accepting cases on behalf of people who have suffered injuries from an iBalance knee that was implanted before the Dec. 17, 2015 recall. If a person had revision surgery or their doctor told them they would need surgery because of tibial plate loosening, they may qualify for compensation.
Mandy VanBibber
Ohio resident Many Vanbibber had her iBalance knees implanted on Dec. 8, 2014. She had surgery with Arthrex components on both knees. Shortly after, she suffered pain, swelling and instability in her right knee. She also walked with an abnormal gait.
An X-ray showed component loosening had caused her pain and difficulty extending her knee. On July 12, 2016, she had revision surgery. Her surgeon said the component was so loose, "it came out by simply pulling on it."
VanBibber filed her lawsuit in 2017.
Angela Owen
On Nov. 6, 2015, Angela Owen had a total left knee replacement with an iBalance knee system. After, she suffered severe pain, swelling and numbness in her left knee.
Less than a year later, on April 18, 2016, she had revision surgery. During the surgery, the surgeon noted the tibial tray was extremely loose. The component was listed on Arthrex's recall list. Owen filed her lawsuit in 2019.
"The Arthrex iBalance implanted in Angela Owen failed due to loosening of the tibial tray. The tibial tray was defective in its manufacture in that the under surface of the tibial tray lacked the proper roughness and texture necessary to aid in adhesion to the bone," Owen's lawsuit said.
Please seek the advice of a medical professional before making health care decisions.
Share This Page:
How can we improve this page?
Thank You for Your Feedback
We appreciate your feedback. One of our content team members will be in touch with you soon.
We appreciate your feedback. One of our content team members will be in touch with you soon.
Who Am I Calling?
Calling this number connects you with a Drugwatch representative. We will direct you to one of our trusted legal partners for a free case review.
Drugwatch's trusted legal partners support the organization's mission to keep people safe from dangerous drugs and medical devices. For more information, visit our partners page.