Knee Replacement Lawsuits
Knee replacement lawsuits claim the devices loosened, became unstable and required revision surgery to correct the problems. Depuy Attune, Zimmer NexGen and Arthrex iBalance are among the knee implants named in lawsuits. In the largest knee replacement lawsuit settlement, Sulzer Medica paid $1 billion to settle 4,000 hip and knee implant cases.
Thousands of people have filed knee replacement lawsuits in recent years — most of which claim the devices loosened because of a design defect or other flaw.
Attorneys in Alabama filed the first lawsuit against Attune Knee Replacement manufacturer DePuy Synthes in September 2017. A steady stream of filings around the country followed. Lawyers estimate hundreds of patients may sue the Johnson & Johnson subsidiary in 2018.
There are no publicly announced Attune settlements. None of the cases has gone to trial, so there are no verdicts yet.
A federal panel combined the first 18 Zimmer NexGen Knee cases in an Illinois federal court in August 2011. There were more than 1,700 lawsuits in the MDL at one time but most were dismissed.
In February 2018, Zimmer announced a settlement in the remaining lawsuits. The exact amount of the settlement is unknown. The company and the patients who sued agreed to keep the amount confidential. As of November 2022, the MDL is now closed.
Though most of the recent lawsuits name DePuy and Zimmer, people have also claimed injuries from other models of knee replacements including B. Braun and Arthrex Inc.
At least 25 people sued B. Braun in a California court in 2017. All said they had to have revision surgery after their knee replacements failed.
After Arthrex Inc. announced a recall for its Arthrex iBalance Total Knee Arthroplasty Tibial Tray in 2015, patients who claimed the device loosened and led to revision surgery filed lawsuits.
Knee Replacement Manufacturers and Models Named in Lawsuits
Manufacturer
Model Name
Why People Are Suing
Arthrex
iBalance Knee
Loosening, defective tibial tray
B. Braun
Advanced Surface ceramic coated knees
Loosening due to cement failure
DePuy
Attune Knee System
Loosening and instability
Exactech
Optetrack Knee
Excessive wear and premature failure
Zimmer Biomet
NexGen

Persona
Premature loosening

Loosening due to defective screws
Stryker
Duracon Unicompartmental Knee System
Pain, instability, restricted motion
Lawsuits Claim Different Flaws Caused Loosening
People filed lawsuits over the DePuy Attune and Zimmer NexGen knees because the devices failed to attach to patients' bones, which made the knee replacements unstable. Patients needed revision surgery to repair the loose implants.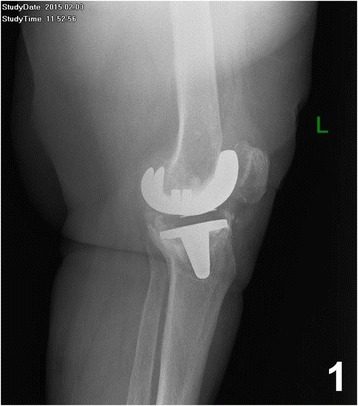 In 2010, Zimmer recalled 68,000 NexGen Knee components, warning that the knee replacement could loosen if the device was not fully cemented or a stem was not used. The U.S. Food and Drug Administration received more than 100 reports of the knees loosening prematurely.
The company recalled another 40,000 in 2014, citing a faulty connection in the knee system. It said threads on one part were "out of specification." Surgeons were supposed to screw a stem extension or plug into the threads, but the flaw could prevent a perfect fit. Over time, the joint could loosen.
DePuy's Attune knee has never been recalled, but people filed lawsuits over the implants claiming tibial loosening. They said the cement failed to bond the implant's base plate to the patient's tibia, which is one of the bones in the lower leg.
Arthrex recalled about 2,400 units of its iBalance TKA Tibial Tray in December 2015. According to the recall, the outer surface of the metal had a smooth texture which was different from previous textured parts. Patients who filed lawsuits said the tibial tray loosened which led to device failure and revision surgery.
Journey I BCS Knee Lawsuits
Lawyers are also accepting cases from people with Journey I BCS knee implants who've needed revision surgeries because of loosening of the device's femoral component. These complications are painful and surgery can be risky and costly.
The company's post-market surveillance data showed that people implanted with the first-generation Journey BCS Knee System had a revision rate of more than 1.5 times the average for hip implants.
Smith & Nephew issued a voluntary recall of its Journey I BCS femoral and tibial insert components in June 2018 — more than a decade after the device was first approved by the FDA.
"[P]atients that have been implanted with a first generation JOURNEY™ BCS Knee System may have a higher risk of requiring a revision earlier than they or their surgeon had expected."
"Our analysis of available post-market surveillance data suggests that patients that have been implanted with a first generation JOURNEY™ BCS Knee System may have a higher risk of requiring a revision earlier than they or their surgeon had expected," the company stated in a June 2018 Urgent Field Safety Notice.
But signs of problems with Smith & Nephew's first-generation Journey Bi-Cruciate Stabilized (BCS) Knee Replacement System were evident much earlier. In 2014, the Australian government sounded a warning about high failure rates associated with the device.
The company began phasing out the product around the same time. But it sold approximately 42,050 Journey I BCS Knee Systems globally before discontinuing the device.
If you had a Journey I BCS knee replacement in 2010 or later and are suffering from complications, you may eligible for compensation.
Largest Settlement Involving Knees
One of the largest settlements involving knee replacements was a $1 billion payment in 2002. Sulzer Medica agreed to pay $1 billion to settle roughly 4,000 lawsuits over its hip and knee implants.
Knee Replacement Settlement Payouts
Settlement amounts in the Sulzer Medica case averaged $200,000 per patient
The Swiss company recalled 25,000 joint implants in 2001 after about 200 people reported complications with the devices. The company estimated at least 17,000 people had already received the affected implants. About 90 percent of those patients were in the U.S.
The company determined that the parts had shipped with an oily residue on the implants. It prevented bone from adhering to the devices, allowing them to loosen. The Wall Street Journal reported that 561 patients who received Sulzer knees had to have their knees replaced by the time of the settlement.
Sulzer changed its name to Centerpulse after the recall. Zimmer acquired it in 2003 for $3.2 billion.
Questions Your Attorney May Ask
What complications have you experienced from your knee replacement device?
The most common knee replacement complications include swelling, pain and stiffness. Rare, more serious complications include loosening, bone or device fractures, infection and the need for revision surgery.
When did you have your knee replacement surgery?
There's a statute of limitations for knee replacement cases that varies depending on the state in which you live. Knowing when your surgery took place and when you started noticing complications from the device can help your attorney build your case.
What brand is your knee replacement device?
Several knee replacement manufacturers have faced allegations that their devices caused serious complications. Among the brands named in lawsuits are Arthrex's iBalance total knee arthroplasty system and DePuy's Attune knee system.
Has a recall been issued for your specific knee implant?
Knee replacement devices have been recalled for a variety of reasons, including faulty design, improper fit, loosening, early wear, packing errors and co-mingled components. Together, DePuy Synthes, Zimmer Biomet, Stryker, Smith & Nephew and Wright Medical have issued nearly 1,000 knee replacement recalls.
What have you been doing to manage the pain associated with your knee implant?
Let your knee replacement lawyer know if you've been doing physical therapy or at-home exercises to manage your pain. Knee pain can also have an emotional impact on your life, so be prepared to discuss what you've been doing to combat the emotional effects you've been dealing with post surgery.
Please seek the advice of a medical professional before making health care decisions.
Share This Page:
How can we improve this page?
Thank You for Your Feedback
We appreciate your feedback. One of our content team members will be in touch with you soon.
We appreciate your feedback. One of our content team members will be in touch with you soon.
Who Am I Calling?
Calling this number connects you with a Drugwatch representative. We will direct you to one of our trusted legal partners for a free case review.
Drugwatch's trusted legal partners support the organization's mission to keep people safe from dangerous drugs and medical devices. For more information, visit our partners page.