In recent years, several complaints have emerged over knee replacement devices. They include allegations that some popular knee replacement components have failed prematurely or loosened, leading to injuries such as infection, inflammation and bone or muscle damage. Some knee implant makers have been sued.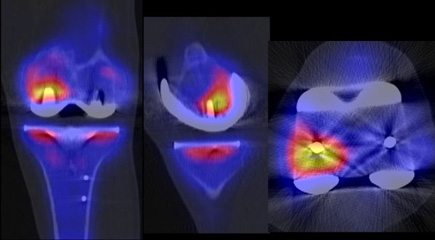 Premature knee replacement loosening can lead to infection, inflammation, and pain
These issues can force manufacturers of artificial knee implants to recall products or components. In most cases, a company recalls a medical device on its own when it learns there may a defect. In some instances, a manufacturer will issue a recall after the FDA raises concerns or requests a recall.
A recall of an implanted device, such as an artificial knee, doesn't always mean that the devices have to be removed (explanted) from a patient. Often, when an implanted device has the potential to fail unexpectedly, companies will tell doctors to contact their patients to go over the risks of removing the device or leaving it in place.
How Are Knee Replacement Recalls Determined?
By law, companies must notify the FDA when they correct or remove a product on the market. The agency will then review the strategy the company proposes to address the problem and notify the public.
The FDA divides recalls into three classes:
Class I: "A situation in which there is a reasonable probability that the use of or exposure to a violative product will cause serious adverse health consequences or death."
Class II: "A situation in which use of or exposure to a violative product may cause temporary or medically reversible adverse health consequences or where the probability of serious adverse health consequences is remote."
Class III: "A situation in which use of or exposure to a violative product is not likely to cause adverse health consequences."
Once classified, the FDA updates its Medical Device Recall Database and notifies the public in its weekly Enforcement Report. The FDA posts separate press releases or public notices for all Class I recalls and some Class II and Class III recalls.
The Medical Device Recall Database is again updated after the FDA terminates or closes a recall.
Top Companies Responsible for Most Recalls
According to the Consumers Union, a nonprofit consumer-advocacy organization, a total of 709 knee implant device or component recalls were filed from February 2003 to May 2013.
The majority (619) came from the three largest orthopedic manufacturers in world:
Zimmer (224)
DePuy (277)
Stryker (118)
Also issuing recalls were Biomet with 75, Smith & Nephew with 11 and Wright with 4.
DePuy Recalls
DePuy, a subsidiary of Johnson & Johnson, had the most Class I recalls of all six companies in the study, with four. One of the most significant involved DePuy's Limb Preservation System (LPS).
In February 2013, the FDA issued DePuy a recall of the company's LPS Diaphyseal Sleeve, a sleeve component that allows surgeons to correct defects in the knee's soft tissue and bones. The FDA determined the sleeve may not be able to handle potential physiologic loads during normal patient activities, which could result in fracture of the sleeve at the taper joint and potentially result in loss of function, loss of limb, infection, compromised soft tissue or death.
Fact
DePuy's LPS Diaphyseal Sleeve was recalled in 2013 after the FDA found it may not be able to handle physiologic loads during activities.
Prior to the LCS sleeve recall, DePuy recalled its LCS Knee Implant-Meniscal devices because of label errors, which stated the wrong size.
The company later recalled a model sold outside the United States, the LCS Duofix Femoral Component, for more serious reasons. A substance used in manufacturing called alumina had lodged into joint surfaces, causing pain and swelling in patients who received the implant. The product was also linked to increased revision rates, or follow-up surgeries, required to adjust or replace implants if they fail.
In 2010, DePuy recalled its PFC Sigma Knee Systems after the FDA warned the products didn't have proper approvals. The company claimed the products properly bypassed approval procedures because they were custom-made devices, but the FDA disagreed and sent DePuy a warning letter, which led to the recall.
Zimmer Recalls
Zimmer, the largest knee implant maker in the world, has issued 224 recalls of its knee replacement systems. One of the recalls involved the Persona Knee line of implants, which the FDA wared could loosen and cause complications. This was a class II recall for all lots and sizes – more than 11,000 in total – of the Persona Trabecular Metal Tibial Plate knee implant.
Another recall involved nearly 70,000 MIS Tibial components, also because of loosening. And in 2014, 40,000 NexGen knee implants with defective screws were recalled.
Stryker Recalls
Of Stryker's 118 recalls, 95 were Class II, and over two-thirds were implanted rather than procedural devices. Damaged components and early wear of tibial inserts were among the most common reasons for the recalls.
On April 10, 2013, a Class I recall was issued for Stryker's ShapeMatch Cutting Guides, which were single-use, disposable cutting guides intended to assist in the positioning of total knee replacement (arthroplasty) and the marking of the bone before cutting.
The recall was due to software defects that resulted in wider cutting ranges and displayed parameters that may not have matched the guides produced, including the depth of resection and the angle of the cut.
Prior to the recall, the FDA received 44 reports of incidents related to the ShapeMatch guides, which stopped being available on the market in November 2012. In addition to the devices and components mentioned above, the following knee products have also raised concerns, from labeling errors to durability.
Knee products that have raised concerns include:
Zimmer: NexGen LPS, CR and MIS; Natural Knee System
Stryker: Scorpio CR and PS components*; Duracon Total Knee*; Unicompartmental Knee System*
Smith & Nephew: Oxinium Genesis II and Profix II*; Journey Uni Tibial Baseplate*
Biomet: Vanguard CR*
*Denotes products that have been partially or completely recalled
Common Reasons for Knee Replacement Recalls
Recalls are issued when a medical device is defective, when it could be a risk to health or both.
Common reasons for recalls range from minor to serious. Minor issues include sizing, where the wrong sized tools — such as screws — may not fit properly with other components, causing delays during surgery. Missing or mislabeled components and assembly difficulties can also lead to recalls, delaying surgery.
Serious reasons for a recall include:
Possible Fracturing – Recalled components, including anchors, may fracture during regular activities, causing the need for revision surgery.
Incomplete Seal – When a proper "seal" doesn't occur between the components and the bones, it can result in oxidation and affect the performance of the polyethylene insert.
Missing Features – If a device is missing specific components or features, such as a softer surface of the head of the implant, it can lead to more wear and tear and shorten the life of the implant.
Packaging Issues – Sometimes this could be minor (missing parts), but it can also be serious, such as sterility issues, which could lead to infection. Also, some mislabeled or missing components may go unnoticed, which can lead to serious complications and faster wear on the implant.
---
Matt Mauney is a writer and researcher for Drugwatch.com. Before joining the Drugwatch team, he spent 10 years in journalism working for various newspapers and news websites. Matt has a degree in journalism with a double minor in broadcasting and public relations from Georgia Southern University.
U.S. Food and Drug Administration. (2017, January 3). What is a Medical Device Recall? Retrieved from https://www.fda.gov/MedicalDevices/Safety/ListofRecalls/ucm329946.htm
U.S. Food and Drug Administration. (2017, May 1). Medical Device Recalls. Retrieved from https://www.accessdata.fda.gov/scripts/cdrh/cfdocs/cfres/res.cfm
Gann, C. (2012, February 10). Knee Replacements Double in 10 Years, Study Says. Retrieved from http://abcnews.go.com/blogs/health/2012/02/10/knee-replacements-double-in-10-years-study-says/
U.S. Food and Drug Administration. (2012, January 11). Medical & Radiation Emitting Device Recalls: Class 2 Recall Eius Unicompartmental Knee System.
Meier, B. (2010, June 20). Surgeon vs. Knee Maker: Who's Rejecting Whom? Retrieved from http://www.nytimes.com/2010/06/20/business/20knee.html
In Re Zimmer NexGen Knee Implant Products Liability Litigation, MDL No. 2272, Transfer Order (J.P.M.L. Aug. 8. 2011).
Gibbs, G. (2003, September 18). Knee implant recall hits Smith & Nephew. Retrieved from http://www.theguardian.com/business/2003/sep/18/6
ConsumersUnion. (2013, September 9). A Summary of Knee Recalls Consumers Union Safe Patient Project. Retrieved from http://safepatientproject.org/wordpress/wp-content/uploads/2013/09/Knee-Recall-Summary-final-9-9-13.pdf
U.S. Food and Drug Administration. (2013, February 22). DePuy Orthopaedics LPS Diaphyseal Sleeve: Class I Recall-Taper Connection May Not Accommodate Physiologic Loads. Retrieved from http://www.fda.gov/
Are you feeling pain or discomfort after receiving a knee implant?