Breaking News: Takeda Settles Actos Lawsuits for $2.37 Billion
Fact-Checked
Editors carefully fact-check all Drugwatch content for accuracy and quality.
Drugwatch has a stringent fact-checking process. It starts with our strict sourcing guidelines.
We only gather information from credible sources. This includes peer-reviewed medical journals, reputable media outlets, government reports, court records and interviews with qualified experts.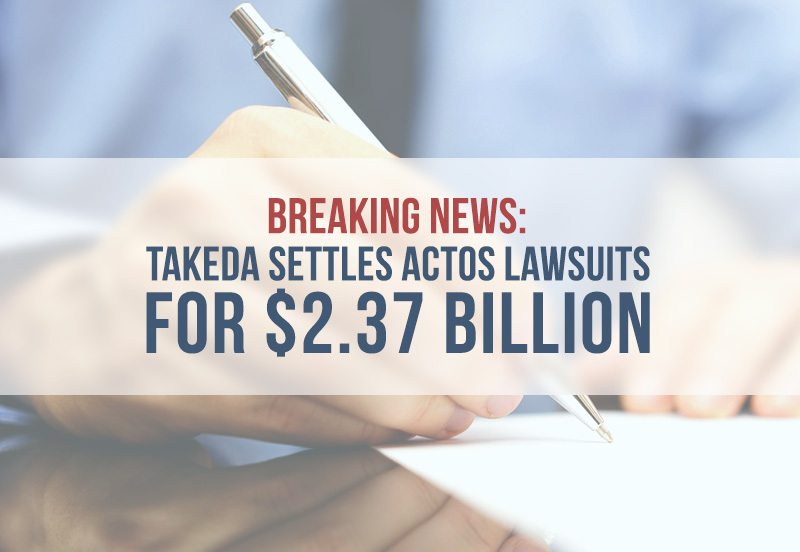 After several years of hard-fought litigation, Takeda Pharmaceutical Company and its American subsidiary, Takeda Pharmaceuticals U.S.A., this week settled thousands of lawsuits in one of the largest drug company payouts in U.S. history.
The Japanese drug company agreed to pay $2.37 billion to plaintiffs who claimed the company's blockbuster Type 2 diabetes drug, Actos (pioglitazone), gave them bladder cancer. Complaints also said that the company hid the risk from patients and doctors and failed to warn the public.
The drug maker announced the settlement Wednesday after its board of directors signed off on it. When 95 percent of plaintiffs opt into the settlement, the amount available to distribute to plaintiffs will be $2.37 billion. If 97 percent opt in, the number jumps to $2.7 billion.
Despite the settlement, Takeda continues to stand by its medication. "Takeda's decision to settle does not change the company's continued commitment to Actos," the company said in a release. The company said it settled the cases to "reduce the uncertainties of complex litigation."
Eight trials related to Actos have gone to juries, and plaintiffs won five of them, although judges subsequently overturned two of those verdicts in favor of the drug maker.
Takeda said these lawsuit claims had no merit and that Actos's benefits against Type 2 diabetes outweighed any risks associated with the medication. Under the agreement, Takeda does not acknowledge any liability.
Plaintiff's attorneys – co-lead counsel Paul J. Pennock of Weitz and Luxenburg and Richard Arsenault of Neblett, Beard and Arsenault – are pleased with the outcome.
"From the outset of this litigation, we made it clear that the defendants needed to accept responsibility and this settlement goes a long way toward achieving that goal," Pennock said. "The handling of this litigation by my co-lead counsel Richard Arsenault has been masterful, and I am proud to have served at his side these last three years."
Legal experts say not all plaintiffs may agree to the settlement, and Takeda set aside extra money for additional settlements.
"The people most likely to get the big verdict are not likely to take this money. And that's why Takeda put $300 million in charges above the $2.4 billion set aside for settlements." Erik Gordon, professor at University of Michigan Ross School of Business told the Wall Street Journal.
The agreement is intended to resolve nearly 9,000 bladder cancer claims. The allocation of funds will be determined by a Special Master appointed by the court.
More than 4,000 federal cases were consolidated under Judge Rebecca Doherty in the Western District of Louisiana in MDL No. 2299. The majority of the plaintiffs had bladder cancer they say was caused by Actos.
$9 Billion Jury Verdict Against Takeda
The settlement represents the second time in two years that the Japanese drug maker absorbed a multi-billion-dollar hit. This one was much smaller than the first.
Last year, Takeda lost a jury trial in Louisiana and was ordered to pay $6 billion to former Actos user Terrence Allen, who blamed the drug for giving him bladder cancer. Allen was awarded $1.5 million in compensatory damages and $6 billion in punitive damages. Eli Lilly, who marketed the drug, was ordered to pay $3 billion. A judge later reduced the total award to $38.6 million.
Wednesday's agreement ranks among the largest product-liability pharmaceutical settlements in U.S. history.
In 2007, Merck paid $4.85 billion to claimants in cases related to Vioxx, a pain medication that was linked to a risk for heart attacks. And since 1999, Wyeth (now part of Pfizer) agreed to series of settlements totaling more than $20 million to dispatch of lawsuits about the diet pill fen-phen, which was also linked to heart attacks.
Takeda Never Recalled
Litigation against Takeda related to Actos and bladder cancer began in 2011 when a study surfaced linking the medication to an increased risk of bladder cancer prompting French and German health officials to ban the drug. Then, in 2012, a study in BMJ showed long-term Actos users had an 83 percent increased risk of the deadly cancer.
Despite the growing number of lawsuits and public concern about its diabetes medication, Takeda never issued a U.S. recall of it. Other countries banned the medication.
The drug maker in 2014 released the results of a company-funded 10-year study. While it did not release all the details, it said: "The 10-year final analysis did not show any statistically significant findings of increased risk of bladder cancer with long term use of pioglitazone."
Several other studies, including Takeda's own five-year interim study, showed an increased risk. Patients who took the drug for more than a year had double the risk of those who did not take the drug.
Because of the settlement, the company will take a historic loss – its first since it appeared on Japan's Nikkei stock exchange in 1949, Bloomberg reported. The company's stock fell by about 5.6 percent on news of the payout. The drug maker also expects a loss of about $1.22 billion in the fiscal year.
Meanwhile, plaintiff's attorneys applaud the defendant for agreeing to settle claims and say it is a victory for those injured by the drug.
"We are pleased that Takeda has agreed to provide $2.4 billion to compensate thousands of deserving bladder cancer victims," Arsenault said. "After years of hard fought and contentious litigation, the defendants have finally stepped up to the plate and we applaud that effort."
Share This Page:
How can we improve this page?
Thank You for Your Feedback
We appreciate your feedback. One of our content team members will be in touch with you soon.
We appreciate your feedback. One of our content team members will be in touch with you soon.