Actos
Actos (pioglitazone) is a diabetes drug prescribed alongside diet and exercise to control blood sugar levels in people with Type 2 diabetes. A thiazolidinedione, or glitazone, Actos may be used alone or with other diabetes drugs.
Actos lowers blood sugar by increasing the body's sensitivity to insulin and reducing the amount of glucose the liver releases. This allows the body to better remove excess blood sugar.
Its manufacturer, Takeda Pharmaceuticals America Inc., makes two additional versions of the drug that combine the active ingredient pioglitazone with metformin: Actoplus Met and Actoplus Met XR (extended release). Two other products combine pioglitazone with other diabetes drugs: glimepiride (Duetact) and alogliptin (Oseni).
The Food and Drug Administration (FDA) approved Actos in 1999, Actoplus Met in 2005, Actoplus Met XR in 2009. Duetact in 2006, and Oseni in 2013.
Eli Lilly partnered with Takeda to market Actos, and it became one of the most successful diabetes medications of all time. In 2007, it ranked as the world's best-selling diabetes drug after studies linked rival drug Avandia to a higher risk of heart attack. Both come from the same family of drugs: thiazolidinediones or TZDs.
Before the medication's patent expired in 2011, it had brought in $3.58 billion in United States sales in 2010. The drug's sales made up 27 percent of Takeda's revenue.
However, numerous studies and a review by the FDA linked higher dosages and prolonged use of the drug to an increased risk of bladder cancer.
In its 2015 annual report, Takeda said it had set aside $2.7 billion to cover the costs of settling Actos lawsuits that blamed the drug for bladder cancer and other injuries. Despite the lawsuits and FDA review, doctors can still prescribe the drug in the United States.
Meanwhile, health regulators in Germany and France ordered Takeda to pull the drug off the market in 2011 after an analysis of a company-sponsored study showed an increased risk of developing bladder cancer or heart problems. The government in India also banned the drug.
Important Information on Taking Actos
Actos is meant to be used along with diet and exercise to improve blood sugar control in adults with Type 2 diabetes. Depending on how well your body naturally controls blood sugar, your doctor may prescribe pioglitazone by itself or with other diabetes medications.
The medicine comes in a tablet, and you should take it only as directed by your doctor. Instructions in the drug's label say take it once a day with or without food.
Typically, the dose starts at 15 mg or 30 mg, but some people may require a higher dose. Doctors can increase the dose by 15 mg at a time up to a maximum of 45 mg daily.
One 2022 study noted that for edema, weight gain and heart failure, the risk estimates for pioglitazone were lower for subjects taking less than 45 mg daily. The researchers concluded that lower doses of pioglitazone appear to confer similar benefits with fewer adverse effects than the recommended dose.

Do not change your dose unless your doctor tells you to. Let your doctor know if you are in an accident, undergo surgery, or develop a fever or an infection. Experiences like these can put added stress on your body, and your doctor may need to alter your dose.
It's important to continue to follow your diet and exercise regimen and routinely test your blood sugar. Your doctor will likely test your hemoglobin A1C to gauge whether the medication is working. Your doctor should also examine your eyes on a regular basis because the medicine can cause a build-up of fluid in the eyes and affect your vision.
Risks to Discuss with Your Doctor Before Starting Treatment
Before prescribing Actos, your doctor should order certain blood tests, including ones that check for liver problems. They may decide against prescribing the drug to patients with certain conditions, so it's important to tell your doctor about your medical history.
Let your doctor know if you have heart failure, liver problems, Type 1 diabetes, or diabetic ketoacidosis in the past. Patients with Type 1 diabetes or who have had diabetic ketoacidosis in the past should not take Actos, nor should children younger than 18 years old. Patients with heart failure or liver problems should be watched carefully in case these conditions worsen while taking Actos.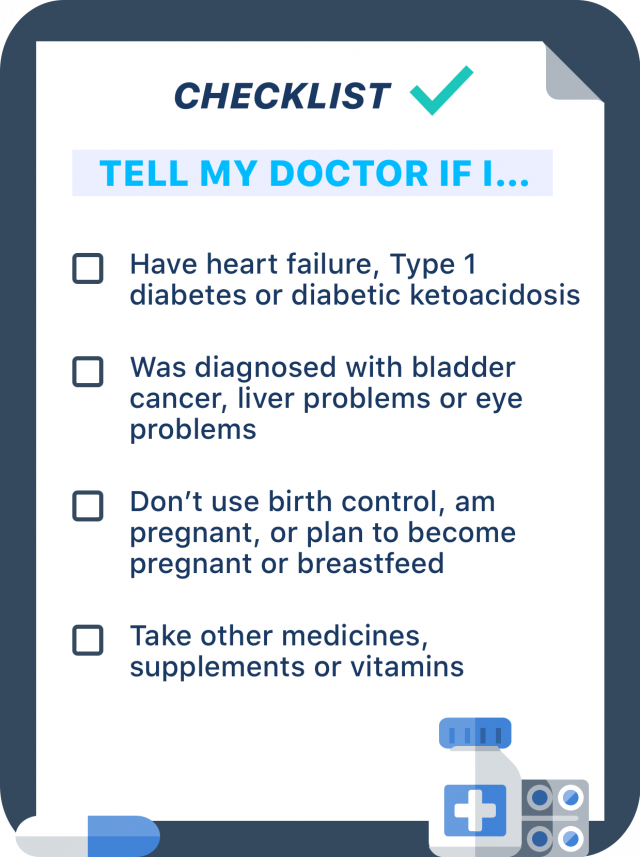 Also tell your doctor if you have been diagnosed with bladder cancer or macular edema, which is a diabetic eye disease that causes swelling in the back of the eye.
Pioglitazone can increase the chances of becoming pregnant in some people and can harm your unborn baby. The medicine also passes into breast milk and can affect a nursing baby.
Talk to your doctor about birth control options and let them know if you are pregnant or plan to become pregnant, or are breastfeeding or plan to breastfeed.
Other medicines, vitamins or supplements you take can interact with pioglitazone and cause problems. For example, combining Actos with insulin or other antidiabetic medications can increase your risk of developing very low blood sugar, so a doctor may reduce the dose of the other diabetes drug.
Show your doctor or pharmacist a list of everything you take before you start using a new medication, so they can determine whether to adjust your dose or prescribe a different treatment.
Potential alternatives to Actos include Amaryl (glimepiride), Glucotrol (glipizide) and DiaBeta (glyburide). Prandin (repaglinide), Precose (acarbose) or Symlin (pramlintide) may also be substitutes for pioglitazone. As with Actos, these drugs can either be used alone or with another medication.
Common Side Effects
The most common side effects reported during Actos clinical trials were upper respiratory tract infection, headache, sinus infection, muscle pain and sore throat.
Other reported side effects included swelling, weight gain, back pain, dizziness, gas and diarrhea. The drug's label says to call your doctor if you experience these side effects and they get worse or don't go away.
Actoplus Met and Actoplus Met XR can cause the same side effects as Actos, but they can also cause side effects of metformin such as lactic acidosis, a life-threatening condition that occurs when too much lactic acid builds up in the body. Duetact can cause the same side effects as Actos, but it can also cause side effects of glimepiride such as very low blood sugar. Oseni can cause the same side effects as Actos, but it can also cause side effects of alogliptin, such as pancreas or kidney problems.
As of September 2019, the FDA Adverse Events Reporting System (FAERS) Public Dashboard showed 20,135 reports of complications possibly related to Actos since 1999. Of these, 16,404 were flagged as serious, including 2,725 deaths. The FDA points out that the medication may not have been the direct cause of the complications or deaths.
Congestive Heart Failure Black Box Warning
Actos has a black box warning for congestive heart failure. A black box warning is the most serious type of warning the FDA requires on a drug label.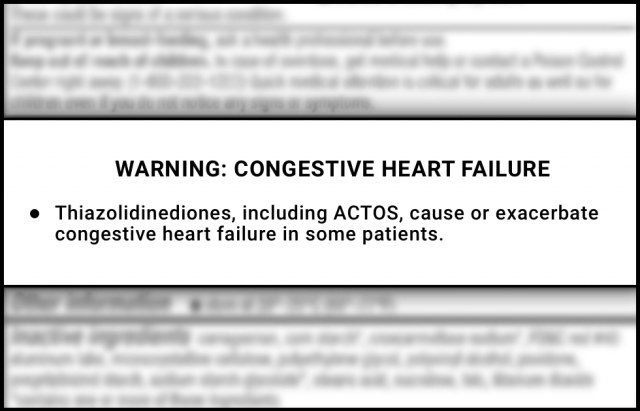 The boxed warning says Actos and other TZDs can cause fluid to buildup in the body when used alone or with other antidiabetic drugs, particularly insulin. This can lead to congestive heart failure or make the condition worse in some patients.
Doctors should carefully monitor patients for signs of heart failure such as rapid weight gain, trouble breathing, or swelling. This is especially the case after a patient first starts treatment or after dose increases.
Combining the drug with insulin may also increase the risk. And so can using the drug if you have New York Heart Association (NYHA) Class III or IV heart failure (more severe forms of heart failure).
Because of the risk, the drug is not recommended for patients with symptoms of heart failure or NYHA Class III or IV heart failure.
The FDA based this warning on clinical trials Takeda had conducted before it released the drug. In one study called the PROactive trial, 5,238 patients with Type 2 diabetes and preexisting heart disease were treated with Actos or a placebo. According to the results, more pioglitazone patients experienced a serious heart failure event than those who had taken the placebo.
In addition, congestive heart failure caused more people to drop out of the trial than any other serious adverse event. About 1.3 percent of pioglitazone patients withdrew from the trial because of the side effect compared to 0.6 percent of patients who had taken a placebo.
FDA Bladder Cancer Review
The FDA alerted the public about a possible risk of bladder cancer in September 2010 and in June 2011 based on results from the first five years of a 10-year study of whether Actos is associated with an increased risk of bladder cancer.
In December 2016, the agency updated the labels of all drugs that contain pioglitazone to warn that an increased risk of bladder cancer has been shown in some studies, but not all. While Takeda's 10-year study ultimately did not find an increased risk, the PROactive clinical trial and a study using data from the United Kingdom did. The agency also noted early animal studies had shown bladder tumors in rats.
The updated drug labels recommended doctors not prescribe the drugs to patients with active bladder cancer and use caution when prescribing the drugs to patients with a prior history of bladder cancer.
"Overall, we conclude that pioglitazone may be associated with an increased risk in urinary bladder cancer, and we have updated the drug labels to include information about these additional studies."
"Overall, we conclude that pioglitazone may be associated with an increased risk in urinary bladder cancer, and we have updated the drug labels to include information about these additional studies," the FDA said.
According to the most recent data from the FDA, bladder cancer is the most frequently reported reaction to Actos. With more than 8,600 reports, it accounts for 46 percent of all adverse events reported to the FAERS database involving the drug.
Recent Bladder Cancer Studies
2019

A review and meta-analysis published in Diabetology International found a "small but statistically significant" increase in the risk of bladder cancer in patients who had ever used pioglitazone compared to patients who had never used the drug. The authors concluded that alternative explanations for this increased risk could not be ruled out.

2018

A review and meta-analysis published in Cancer Medicine found a "slightly but significantly increased risk of bladder cancer." The authors also found increased risk was tied to higher doses and prolonged use.

2017

A study published in Diabetes, Obesity and Metabolism analyzed Medicare data from nearly a quarter-million beneficiaries. Researchers found a "small absolute increase in risk of bladder cancer" among Actos users compared to people taking other diabetes drugs. They reported the increased risk appeared within the first two years of drug use and continued to increase the longer people took pioglitazone.

2016

A population-based cohort study published in the British Medical Journal found pioglitazone was associated with an increased bladder cancer risk. The researchers looked at medical records of 145,000 people treated with different diabetes drugs in the same class. They found an increased risk and said it was specific to pioglitazone.
Fracture and Liver Failure Risks
The PROactive clinical trial also found an increase in the number of women who took pioglitazone and had bone fractures. Fractures were most likely to happen in the hands, forearms, feet, ankles, and legs, according to information in the drug's label.
The trial followed participants for nearly three years, and researchers started noticing the difference in female patients after the first year. The trial did not see the same increased risk for men who took the drug.
BONE FRACTURES
5.1 percent of women who took Actos during the PROactive trial had bone fractures compared to 2.5 percent of women who took a placebo.
A more recent study published in The Journal of Clinical Endocrinology & Metabolism in 2017 also found an increased risk of fractures among people who had taken the drug. The clinical trial followed 3,876 stroke patients for roughly five years.
Researchers found 8.8 percent of those who had taken a placebo had fractures during that time. But those taking pioglitazone had increased relative risks ranging from 47 percent to 60 percent, depending on the type of fracture.
However, a combined analysis of several studies from 2018 did not find an association with pioglitazone and fracture risk.
After Actos became available in the United States, the FDA and Takeda received reports of some fatal and nonfatal cases of liver failure. The drug's label says there is no way to definitively prove that pioglitazone does not cause liver issues.
It advises doctors to "use caution in patients with liver disease." It also tells them to test each patient's liver prior to prescribing the drug and to monitor each patient for signs of liver damage, including fatigue, loss of appetite, right upper abdominal discomfort, dark urine, or yellowed skin (jaundice).
Please seek the advice of a medical professional before making health care decisions.
Share This Page:
How can we improve this page?
Thank You for Your Feedback
We appreciate your feedback. One of our content team members will be in touch with you soon.
We appreciate your feedback. One of our content team members will be in touch with you soon.
Who Am I Calling?
Calling this number connects you with a Drugwatch representative. We will direct you to one of our trusted legal partners for a free case review.
Drugwatch's trusted legal partners support the organization's mission to keep people safe from dangerous drugs and medical devices. For more information, visit our partners page.