Weed-Killer Roundup 'Probably' Causes Cancer
Fact-Checked
Editors carefully fact-check all Drugwatch content for accuracy and quality.
Drugwatch has a stringent fact-checking process. It starts with our strict sourcing guidelines.
We only gather information from credible sources. This includes peer-reviewed medical journals, reputable media outlets, government reports, court records and interviews with qualified experts.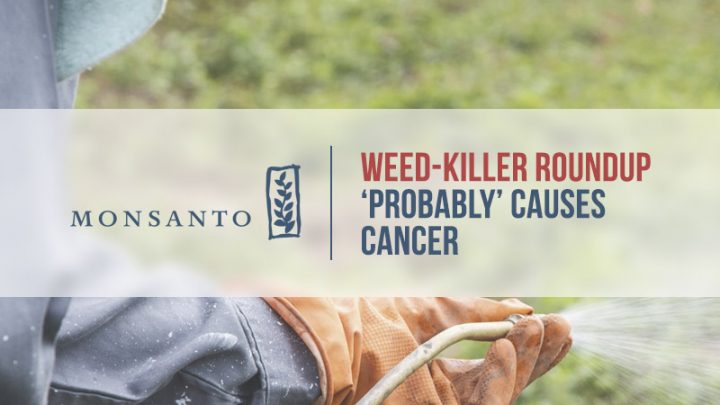 The World Health Organization is declaring the main ingredient in Monsanto's weed killer Roundup "probably" causes cancer.
After decades of debate, reversed decisions and protests, the WHO's International Agency for Research and Cancer listed Roundup's ingredient glyphosate in Group 2A on its list of agents that may cause cancer. A Group 2A listing means the ingredient "is probably carcinogenic to humans."
The listing means glyphosate has shown limited evidence of cancerous effects in humans and sufficient evidence of cancerous effects in animal studies.
"All three lines of evidence sort of said the same thing, which is we ought to be concerned about this," the committee chairman, Aaron Blair, told The New York Times.
Blair is a retired epidemiologist from the U.S. National Cancer Institute. He chaired a group of 17 reviewers from around the world which unanimously agreed to classify glyphosate as "probably" cancerous.
Glyphosate is the most-produced and most-used herbicide in the world. The use of the chemical increased drastically after the introduction of genetically-modified plants – known as "Roundup Ready" crops – across the globe. Researchers found glyphosate in the air, water and food in settings where the product was sprayed, according to the WHO.
"We don't know how IARC could reach a conclusion that is such a dramatic departure from the conclusion reached by all regulatory agencies around the globe," Philip Miller, Monsanto's vice-president for global regulatory affairs, said in a press release.
In a press release, the company argued:
IARC's classification is not a study. There is no new data here.
Relevant, scientific data were excluded from review.
The conclusion is not supported by scientific data.
IARC's classification does not establish a link between glyphosate and an increase in cancer.
Monsanto introduced glyphosate in 1974 as the top ingredient in its Roundup products. It's used in more than 160 countries and is used on the majority of the corn and soybean crops in the U.S. The crops were genetically-modified to resist the effects of glyphosate and are referred to as "Roundup Ready."
Monsanto made billions of dollars annually from the products, including more than $2 billion in 2014 despite the sale of generic glyphosate. The patent for the chemical expired in 2000, according to Reuters.
This isn't the first time Monsanto, Roundup and glyphosate are under scrutiny. Studies dating back to the 1980s found possible links between glyphosate and cancer.
That's why farmers, agricultural workers, landscapers and gardeners who developed cancer after spending years working with the herbicide are filing lawsuits against Monsanto. The plaintiffs claim Monsanto failed to warn of the risks of its weed killer and caused them to develop cancer.
Decades of Roundup Cancer Suspicions
In 1985, members of the U.S. Environmental Protection Agency's Toxicology Branch evaluated the data on glyphosate and determined it was a "Category C oncogene." That meant it was an indoor or outdoor non-food product that could cause cancer. However, the EPA reversed its ruling after revaluating the same studies in 1991.
The EPA found findings that laboratory mice developed tumors after being exposed to glyphosate were statistically insignificant. It moved glyphosate to Category E, meaning there was no evidence of carcinogenicity in humans, according to the Times.
After the WHO announced glyphosate was "probably carcinogenic" in 2015, the EPA announced it would update its findings. The EPA was working with Canadian regulators to assess the safety and effectiveness of glyphosate.
"The agency plans to re-evaluate risks from glyphosate and certain inert ingredients to humans and the environment during the registration review process," the EPA told Reuters in March.
World Health Organization Warns Glyphosate 'Probably Carcinogenic'
In March 2015, the WHO officially announced the addition of glyphosate and other herbicides to Group 2A. The IARC recommended the listing after finding evidence of non-Hodgkin lymphoma in humans in a review of studies published during the last 15 years in the U.S., Canada and Sweden.
Most of the exposure to glyphosate came from the agricultural industry. The organization also found evidence that glyphosate caused cancer in animals.
In a new evaluation of the EPA's study, the IARC determined glyphosate had carcinogenic effects on laboratory mice. In the study, three out of 50 mice developed a rare type of kidney cancer. The cancer is so rare the WHO was alarmed.
"They literally don't occur, but they occurred when rodents were dosed with this stuff," Blair told the Times. The group found similar results when evaluating several other animal studies.
Additionally, the IARC found evidence of DNA and chromosomal damage in human cells when studying residents of a community near locations where glyphosate was sprayed.
The WHO classification caused several ramifications, from state listings of the chemical as cancerous to lawsuits.
California to List Glyphosate as Cancer Causing
The state of California's Office of Environmental Health Hazard Assessment provided notice in September that it would list glyphosate as cancer-causing under an initiative to inform residents of cancer-causing chemicals called Proposition 65.
The notice received more than 8,000 comments including a 17-page comment from Monsanto. The comments included both supporters and opponents of the listing.
"A listing of glyphosate under Proposition 65 has the potential to deny farmers and public agencies the use of this highly effective herbicide, an herbicide whose use promotes the health, well-being, safety, and environment of Californians," Monsanto wrote in its comments letter.
However, public health groups including farmer and environmental groups sent letters supporting the listing, according to Reuters.
Other states are taking action too. A councilwoman in Hawaii recently proposed a bill that would outlaw the use of glyphosate in public parks, along county roads, bikeways, sidewalks, trails and waterways by July 1, 2016.
Monsanto's History of Legal Troubles
Glyphosate isn't the first herbicide to land Monsanto in legal troubles. The company is still fighting claims in court involving its polychlorinated biphenyls (PCBs). The chemicals are carcinogens, according to the WHO.
Monsanto faces more than 700 lawsuits from people claiming exposure to the herbicides in the 1970s caused them to develop non-Hodgkin lymphoma. The chemical is no longer used in the U.S.
Plaintiffs recently filed the first lawsuits claiming Roundup's ingredient glyphosate caused cancer.
In one case, Judi Fitzgerald claimed she was exposed to glyphosate while working as a grower's assistant in New York from 1994 to 1998. She claims Roundup was regularly sprayed indoors and outdoors and she could smell the herbicide in the air while outside.
A doctor diagnosed Fitzgerald with chronic lymphocytic leukemia in 2012. She was forced to quit work and relocate to Virginia. She is seeking reasonable compensation and punitive damages in court.
In another case, Enrique Rubio claimed he was exposed to Roundup while picking vegetables in Oregon from 1986 to 1988, in California from 1988 to 1993 and in Texas from 1993 to 1995. He had to quit work in 1995 after being diagnosed with bone cancer. His lawsuit also seeks compensation and punitive damages.
Both lawsuits claim Monsanto knew of the cancer-causing properties of glyphosate for decades, but the company failed to warn of the risks of its products and falsely advertised them as safe.
Glyphosate is also the ingredient in household Roundup products. Lawsuits and studies have only found cancerous effects on people exposed to glyphosate regularly – like those working in the agricultural or landscaping industries. However, the WHO's listing suggests exposure to glyphosate from the household products could cause cancer too.
Share This Page:
How can we improve this page?
Thank You for Your Feedback
We appreciate your feedback. One of our content team members will be in touch with you soon.
We appreciate your feedback. One of our content team members will be in touch with you soon.