Levaquin Users Sue J&J for $800M for Hiding Side Effects
Fact-Checked
Editors carefully fact-check all Drugwatch content for accuracy and quality.
Drugwatch has a stringent fact-checking process. It starts with our strict sourcing guidelines.
We only gather information from credible sources. This includes peer-reviewed medical journals, reputable media outlets, government reports, court records and interviews with qualified experts.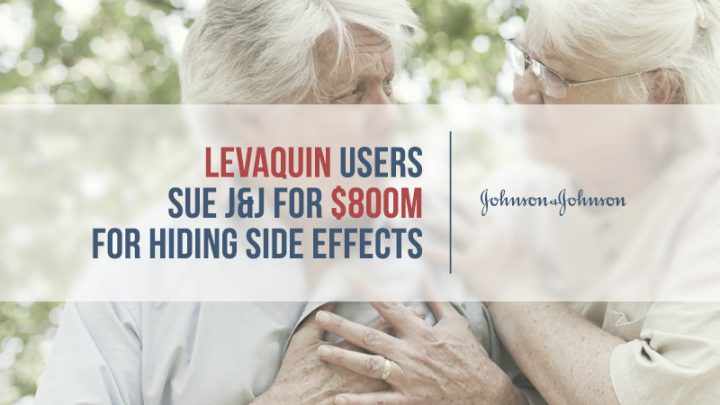 Five former Levaquin users filed a lawsuit against Johnson & Johnson and its Janssen unit claiming the drug giant deliberately downplayed side effects of the medication to boost profits. The plaintiffs' lawsuit said J&J mislabeled and misbranded the popular antibiotic, causing "significant harm and/or death to consumers of Levaquin, including plaintiffs."
In addition to J&J, the plaintiffs name additional defendants, including former FDA commissioner Margaret Hamburg. The suit falls under the under the federal Racketeer Influenced and Corrupt Organizations (RICO) act, the law used to prosecute organized crime. Plaintiffs seek more than $800 million, about $120 million in compensatory damages and around $750 million in punitive damages — damages meant to punish companies and discourage the same kind of behavior in the future, according to Fierce Pharma.
The plaintiff's attorney, Larry Klayman, argues that the defendants worked together to mislabel and misbrand Levaquin. Doctors use Levaquin and other drugs in the same class called fluoroquinolones to treat bacterial infections. They are popular because they treat a wide variety of illnesses from urinary tract to respiratory infections.
In November 2015, the FDA's Antimicrobial Drugs Advisory Committee (ADMAC) and the Drug Safety and Risk Management Advisory Committee called for a black box warning, the agency's strongest warning, for all fluoroquinolones.
The class of drugs is linked to several disturbing side effects, including tendon damage, peripheral neuropathy, heart problems and skin conditions.
"We … believe our actions regarding the medicine have been appropriate, responsible and in the best interests of patients," J&J told FiercePharma in an email.
Studies Link Fluoroquinolones to Serious Side Effects
One of the plaintiffs who filed the lawsuit against J&J, Terry Aston of Baltimore, described how the side effects she suffered from Levaquin changed her life.
"I'm tired all the time," Aston said. "I have to really push to get anything done. I have pain everyday, all day throughout my body. I can't lift things like I used to."
At the FDA hearing in November, more than 30 people spoke at the meeting and said they "lost years from their lives" because of side effects, Medscape reported.
Side effects currently mentioned in medication warnings include:
Tendonitis
Tendon rupture
Central nervous system effects
Peripheral neuropathy
Myasthenia gravis exacerbation
QT prolongation and Torsades de Pointes
Phototoxicity
Hypersensitivity
Recently, new studies linked the antibiotics to yet more concerning side effects: aortic dissection and aortic aneurysm. Dissection causes tears and an aneurysm causes bulges in the aorta — the largest blood vessel in the body that brings blood from the heart to other organs. Two 2015 studies published in JAMA and BMJ found a two-fold and three-fold increased risk of aneurysm in patients treated with the antibiotics, respectively.
Fluoroquinolone Lawsuits and Troubled History
J&J already faced thousands of lawsuits linked to Levaquin. In the first case to make it to trial, a jury ordered the company to pay $1.8 million to a plaintiff who said the drug maker failed to warn about side effects. There are still federal Levaquin cases pending in multi-district litigation (MDL) in the U.S. District Court of the District of Minnesota and more in State Court in New Jersey. The drug maker settled 845 of these cases in 2012.
The troubled history of fluoroquinolones spans decades.
As early as 1996, the D.C.-based watchdog group Public Citizen petitioned for warnings on fluoroquinolones. In 2006, the group petitioned the FDA for black box warnings for tendon rupture and tendinitis. In 2008, Public Citizen filed suit against the FDA for failing to answer their petition. Eventually, the agency agreed to require manufacturers to place the black box warning.
Despite these concerns, some physicians agree fluoroquinolones are still a viable treatment option or some patients.
"I actually do think there is a role for these antibiotics in cases of sinusitis. I think part of the problem is that the recommendations that are out there are not being followed," Monica E. Parise, MD, chief, Parasitic Diseases Branch, Centers for Disease Control and Prevention told Medscape after the FDA panel meeting. Parise was one of the voting members of the panel.
In the meantime, there are about 350 lawsuits pending in a fluoroquinolone MDL in the U.S. District Court of the District of Minnesota before Chief Judge John R. Tunheim.
Share This Page:
How can we improve this page?
Thank You for Your Feedback
We appreciate your feedback. One of our content team members will be in touch with you soon.
We appreciate your feedback. One of our content team members will be in touch with you soon.