FDA Warns Abilify Can Cause Impulsive Gambling
Fact-Checked
Editors carefully fact-check all Drugwatch content for accuracy and quality.
Drugwatch has a stringent fact-checking process. It starts with our strict sourcing guidelines.
We only gather information from credible sources. This includes peer-reviewed medical journals, reputable media outlets, government reports, court records and interviews with qualified experts.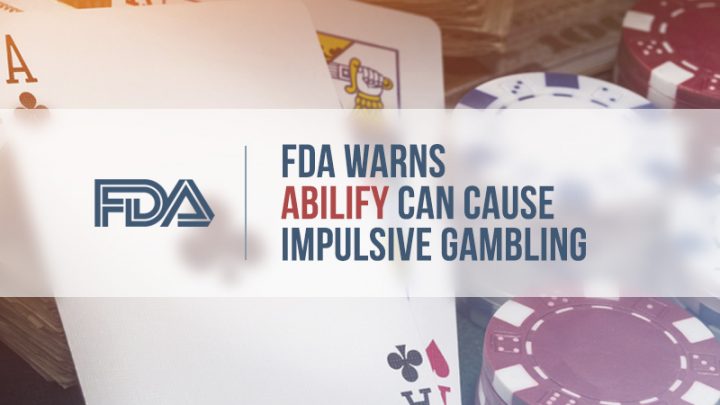 The U.S. Food and Drug Administration warned that a popular antipsychotic medication used to treat a variety of mental disorders can cause impulsive behaviors in patients.
On May 3, 2016 the FDA released a safety communication warning patients and doctors that Abilify (aripiprazole) — also sold as Abilify Maintena, Aristada and generics — may cause uncontrollable urges to gamble, binge eat, have sex and shop. According to the agency, the urges stopped after patients reduced their dose of the drug or stopped taking it. While the FDA said these are rare, "they may result in harm to the patient and others if not recognized."
Prior to the announcement, the drug's manufacturers only reported incidences of compulsive gambling on the warning label.
"This description does not entirely reflect the nature of the impulse-control risk we identified," the FDA said.
The warning affects millions of Americans who take Abilify. In 2015 alone, U.S. doctors wrote 1.5 million prescriptions for the drug used to treat depression, schizophrenia, bipolar disorder and irritability associated with autism. Manufactured by Otsuka Pharmacuetical Co. and marketed by Bristol-Myers Squibb, the antipsychotic was the top selling drug in the U.S. in 2013 with over $6.4 billion in sales.
The agency said it was adding warnings to the medication insert and drug's label for the additional impulse-control problems.
Abilify Linked to Compulsive Gambling
According to the FDA's announcement, pathological gambling was the most common impulse behavior connected to Abilify.
The agency reported about 184 cases of impulsive behaviors associated with the drug in the FDA Adverse Event Reporting System (FAERS) since its approval in 2002 through January 2016. Of those reports, 167 were in the U.S. and affected adults and children. Gambling accounted for 164 cases. The FDA reported that none of the patients suffered from substance abuse disorders or mania when they developed impulsive behavior symptoms after taking Abilify.
There are several studies linking the antipsychotic to these behaviors, especially gambling.
One 2013 study by Gaboriau et al. published in Addictive Behaviors analyzed data from eight cases of Abilify-related gambling. Researchers found the drug's connection to gambling was "possible" in seven of the eight patients. Another study in 2011 published in Current Drug Safety found patients had no history of gambling prior to taking Abilify.
Impulse Behaviors Caused by Drugs Not Rare
While the FDA says these side effects are rare, some experts don't agree.
In 2013, Thomas Moore of the Institute of Safe Medication Practices authored a study published in JAMA Internal Medicine. Moore and colleagues looked at the effect of Parkinson's drugs, drugs that alter levels of dopamine in the body similarly to drugs like Abilify. According to him, these impulse behaviors are not rare.
"These psychiatric side effects appear to occurring among at least 10% of patients," Moore told HealthDay. "If you compare that with, say, the risk of suicide among patients who take antidepressant drugs, this is much higher. It's an astronomical rate, in terms of adverse event risk."
Bristol-Myers and Otsuka could also be facing mounting lawsuits filed by people who took Abilify and suffered from impulse behaviors. Some plaintiffs say the crushing debt they incurred because of impulse gambling ruined their lives.
Share This Page:
How can we improve this page?
Thank You for Your Feedback
We appreciate your feedback. One of our content team members will be in touch with you soon.
We appreciate your feedback. One of our content team members will be in touch with you soon.