Abilify
Abilify (aripiprazole) is an antipsychotic medicine used to treat schizophrenia, bipolar disorder, Tourette syndrome and irritability associated with autism. It may be used in combination with an antidepressant to treat depression.
Abilify is part of the second generation of antipsychotic medicines, which also includes Risperdal (risperidone) and Symbyax (olanzapine and fluoxetine). These medications are known as atypical antipsychotics.
Most other drugs in this class block chemical receptors for dopamine or serotonin in the brain. These two neurotransmitters are responsible for a large portion of psychiatric symptoms and behavior.
But aripiprazole works differently. It either enhances or inhibits both dopamine and serotonin levels to keep a balance. Doctors call it a dopamine-serotonin system stabilizer. That effect makes it a useful tool to prescribe alongside other medications to enhance their effectiveness.
Did You Know?
Abilify is part of a group of drugs called atypical antipsychotics, or second generation antipsychotics.
Otsuka Pharmaceutical Co. makes the brand name medication in tablets. The company also makes Abilify Maintena, an extended-release injection for patients with schizophrenia or bipolar disorder.
Bristol-Myers Squibb Company makes Abilify in an orally disintegrating tablet, oral solution and injection.
The Food and Drug Administration approved aripiprazole in 2002. Otsuka's patent expired in 2014, and the FDA approved the first generic versions in 2015.
About the same time, studies identified the drug as a possible source of impulse-control problems. These potential Abilify side effects include compulsive gambling, overeating and uncontrollable sexual urges.
FDA-Approved Uses
The FDA first approved Abilify in 2002 for the treatment of schizophrenia in patients older than 13. The agency has since approved it to treat symptoms of other mental health, developmental and nervous system disorders in adults, adolescents and children as young as 6 years old.
The tablets and oral solution have five approved uses. The injections are indicated only for agitation associated with schizophrenia or bipolar mania. One 2022 study recommended considering aripiprazole as the first treatment option in the early stages of schizophrenia for patients with affective symptoms.
FDA Approval Timeline: Abilify Oral Formulations
2002

The FDA approves aripiprazole for treatment of schizophrenia after clinical studies of more than 1,000 patients showed significant improvements in the positive and negative symptoms of schizophrenia.

2005

The FDA expands use to include treatment of bipolar disorder after clinical trials demonstrated significant improvement in the symptoms of acute manic or mixed episodes.

2007

The FDA approves the use of Abilify along with antidepressants for treatment of major depressive disorder after studies demonstrated significant improvement in symptoms among adult patients with a primary diagnosis of the condition.

2009

Aripiprazole wins approval as a treatment for irritability associated with autistic disorder based on study results.

2014

The FDA approves the drug for treatment of Tourette's disorder after two trials established its effectiveness in children with the disorder.
Doctors also prescribe the medication for off-label uses, which are uses that lack FDA approval. These included insomnia, delusional disorders and anxiety spectrum disorders. Medical researchers are conducting clinical trials to see if aripiprazole deserves approval as a treatment for a broader range of maladies.
Meanwhile, Bristol-Myers Squibb agreed in 2016 to pay $19.5 million to settle allegations that it marketed Abilify to seniors with dementia and Alzheimer's disease even though the drug wasn't approved for those uses.
Use with Antidepressants
One of Abilify's approved uses is to treat major depressive disorder in combination with antidepressants. When the FDA approved this use in 2007, it helped propel the drug to its blockbuster status.
Antipsychotic drugs like aripiprazole primarily manage psychosis, a mental disorder in which the mind loses touch with reality. Antidepressants treat other mental health conditions such as depression, insomnia or anxiety.
Since aripiprazole gained approval, a series of studies have looked into how it works with different antidepressants in treating major depressive disorder.
Studies that Combine Abilify with Antidepressants
Combined with Zoloft

A preliminary study published in the Journal of Clinical Psychopharmacology in 2011 found low doses of aripiprazole could increase the effectiveness of regular doses of Zoloft (sertraline) in treating major depressive disorder.

Combined with Wellbutrin

Preliminary research published in The Annals of Pharmacotherapy in 2008 found Abilify given in small doses at the same time as Wellbutrin (bupropion) resulted in rapid improvement in depressed patients.

Combined with Prozac

A 2008 examination of two studies found aripiprazole combined with an antidepressant such as Prozac is an effective strategy for some patients with major depressive disorder. The findings published in The Primary Care Companion to The Journal of Clinical Psychiatry related to patients who didn't respond to antidepressants alone.

Combined with Lexapro

A seven-week study of Abilify combined with Lexapro (escitalopram) concluded the combination seems to be an effective and safe treatment for major depressive disorder. The study, however, included only 16 patients. Just 13 patients completed the study. Researchers published their findings in February 2009 in the Journal of Clinical Psychopharmacology.
Experts Question Benefits of Combination Treatment
Critics say the initial studies that won FDA approval for the combination treatment were too short or had too few participants. The FDA approval was based on studies that lasted just six weeks.
Dr. Steven Woloshin, a professor at Dartmouth Medical School, told Consumer Reports in 2010 that the trials failed to shed any light on the long-term effects of the combination treatment. Consumer Reports found aripiprazole is "just as likely to induce a bad side effect as it is to help rid depression."
It reported that in one of the trials, the combination successfully treated depression in 25 percent of patients compared with 15 percent who had been given a placebo. But 26 percent of the Abilify group experienced a movement disorder called akathisia. Just 4 percent of those taking the placebo developed the same side effect.
Julie Donohue, an assistant professor at the University of Pittsburgh Graduate School of Public Health told Consumer Reports it's only "a minority of patients who respond to the treatment." Meanwhile, aripiprazole can cause side effects such as the movement disorder tardive dyskinesia.
Compulsive Behavior and Other Side Effects
Atypical antipsychotics carry a lower risk of movement disorders, such as Parkinsonism. But they have a higher risk of metabolic side effects. These include increased blood sugar, blood pressure and cholesterol.
Abilify, particularly, is linked to several serious side effects. These range from weight gain to compulsive behaviors. These have been highlighted in news coverage. They are also the subject of hundreds of Abilify lawsuits.
Some side effects of aripiprazole include:
Nausea
Vomiting
Insomnia
Compulsive gambling
Compulsive shopping
Hypersexual activity
Suicidal thoughts
Weight gain
Tardive dyskinesia (uncontrollable body movements)
Warnings and Precautions
Black box warnings are the most serious drug label warnings the FDA requires. Abilify has two. One warns of suicidal thoughts among children, adolescents and young adults who take aripiprazole. The other warns elderly dementia patients who take the drug have a higher risk of death.
The label advises users to be cautious in operating heavy machinery or even driving until they know how aripiprazole affects them. It can make people sleepy. And researchers are unsure how it affects fetuses or breastfeeding infants. The label cautions pregnant and nursing women to talk to their doctor before starting the drug.
How and When to Take Abilify
Patients should ask their doctor how and when to take Abilify. They should not change how they take the medicine or stop taking it without first talking to their doctor.
Tablets come in six different dosages. The actual dose a doctor prescribes is based on the patient's particular condition.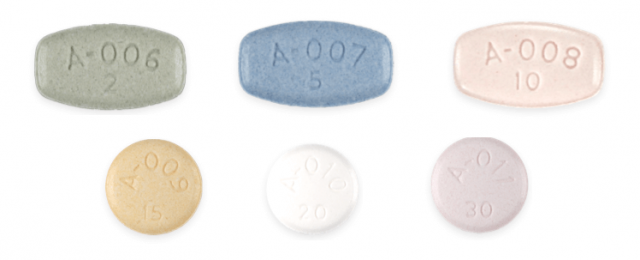 The medication guide instructs patients to swallow the tablets whole. Patients can take the medicine with or without food.
A patient who misses a dose should take the missed dose as soon as they realize it. But if it's almost time for the next dose, wait and take the next dose at the regular time.
Conditions and Recommended Dosages
CONDITION
RECOMMENDED DAILY DOSAGE
Schizophrenia
Adults: 10 mg to 15 mg

Adolescents (ages 13 to 17): 10 mg
Bipolar Mania
Adults: 15 mg (or 10 mg to 15 mg when used with lithium or valproate)

Children (ages 10 to 17): 10 mg
Major Depressive Disorder (in combination with antipsychotic drugs)
Adults: 2 mg to 5 mg (with adjustments up to 15 mg)

Children (ages 6 to 17): 5 mg to 10 mg
Tourette's Disorder
Children (ages 6 to 18): 2 mg to 20 mg (depending on patient's weight)
Irritability Associated with Autistic Disorder
Children (ages 6 to 17): 5 mg to 15 mg
Doctors may start patients on as little as 2 mg at first and may increase the dose to as much as 30 mg a day depending on the patient's circumstance and condition.
The maximum daily dose for the injection is 30 mg. Instructions say to wait at least two hours between doses.
Drug and Alcohol Interactions
Aripiprazole interacts with many other drugs, and these interactions can lead to serious complications. For example, the Prescribers' Digital Reference says people should generally avoid taking Abilify with Adderall, an amphetamine doctors prescribe to treat attention deficit hyperactivity disorder.
Before taking Abilify, make sure your doctor and pharmacist are aware of all the drugs and supplements you already take.
Examples of drugs that interact with aripiprazole:
Strong CYP3A4 inhibitors such as the antifungal drug itraconazole and the antibiotic clarithromycin
Strong CyP2D6 inhibitors such as the anti-malaria drug quinidine and the antidepressants Prozac and Paxil
Strong CYP3A4 inducers such as the anticonvulsant carbamazepine and the antibiotic rifampin
Benzodiazepines such as lorazepam
Hypertension drugs
This is not a full list of drugs that interact with aripiprazole. The medication guide recommends patients make a list of all medicines they take and show it to their doctor before starting any new medicine.
Otsuka cautions people on aripiprazole to avoid drinking alcohol because it can worsen drowsiness caused by the medication. On the other hand, a 2008 study in Alcoholism: Clinical and Experimental Research found the drug may be useful in treating alcoholism because it decreased the euphoric effects of alcohol.
Please seek the advice of a medical professional before making health care decisions.
Share This Page:
How can we improve this page?
Thank You for Your Feedback
We appreciate your feedback. One of our content team members will be in touch with you soon.
We appreciate your feedback. One of our content team members will be in touch with you soon.
Who Am I Calling?
Calling this number connects you with a Drugwatch representative. We will direct you to one of our trusted legal partners for a free case review.
Drugwatch's trusted legal partners support the organization's mission to keep people safe from dangerous drugs and medical devices. For more information, visit our partners page.