Report: FDA Rules Allow Device Makers to Hide Adverse Events
Fact-Checked
Editors carefully fact-check all Drugwatch content for accuracy and quality.
Drugwatch has a stringent fact-checking process. It starts with our strict sourcing guidelines.
We only gather information from credible sources. This includes peer-reviewed medical journals, reputable media outlets, government reports, court records and interviews with qualified experts.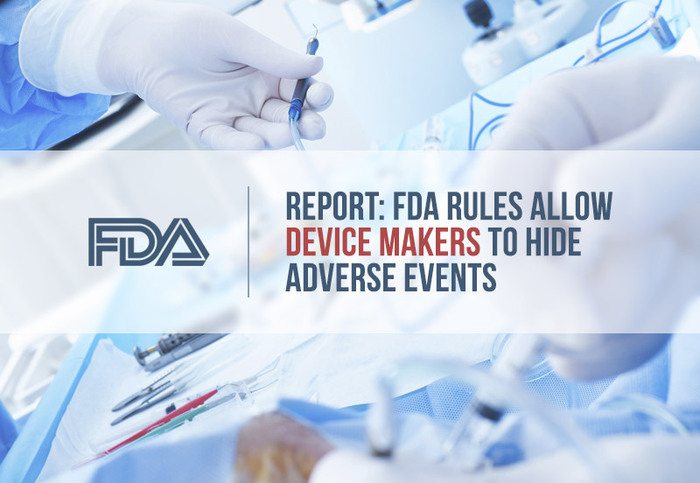 The U.S. Food and Drug Administration created a program that allows medical device makers to hide adverse events and report them years later, the Star Tribune reported.
Doctors and patients should be able to use this data to make informed decisions about treatment options, but companies like Johnson & Johnson, Stryker and Zimmer routinely reported adverse events late, summarized findings or hid them from the public. The Star Tribune's report uncovered hundreds of thousands of such incidents.
According to law, device makers have 30 days to report adverse events linked to a device to the FDA. These products include drug pumps, pacemakers and hip and knee implants. But many companies report late — in some cases, years after the events happened — and the FDA created a "retrospective summary reporting program" for these offenders. This allows medical device makers to summarize past-due reports without providing details. But no real description of the program exists, and there is no law that authorizes it, the Tribune reported.
Some companies claim reporting the adverse events exposes trade secrets, and the FDA lets them keep these reports confidential. For instance, the agency allowed Baxter International to keep 75,000 malfunction reports of its Colleague drug pump confidential until the Tribune exposed the numbers.
Baxter claimed the hidden reports did not involve injuries or impact patients, but it is difficult for outsiders to truly assess the problems themselves because this data is invisible to the public.  The pump in question was later recalled.
Summary Reporting May Lead to Manufacturer 'Bad Behavior'
Critics say this type of reporting gives patients and physicians an incomplete picture of a device and may encourage "bad behavior" on the part of medical device companies.
"Retrospective summary reporting is a mechanism that seems to benefit bad behavior when manufacturers are behind on adverse event reporting," Madris Tomes, founder and CEO of Device Events, told Drugwatch. "And when the FDA goes on to often redact the number of injuries as a trade secret, physicians have no way of assessing the risk profile of a device, and patients don't have access to information they need to make critical decisions about their own health."
Tomes' software provided Tribune reporters with a means to search FDA databases for reports of adverse events. These reports are difficult to obtain and require specific "marker" reports. Then, the full details are only available through the Freedom of Information Act. It took the Tribune 13 months to get information on Medtronic's Infuse implant. The company also filed retrospective reports for 27 different devices, the Tribune found. Eric Epperson, a spokesman for Medtronic, told the Tribune the reports do not mean that Infuse caused the problem.
Retrospective summary reporting needs "to be halted in the interest of public safety and transparency," Tomes told Drugwatch.
Devices in Summary Reports Involved in Lawsuits
The FDA defended its practice. Agency spokespeople told the Tribune the summaries involve only well-known issues and requiring more documentation would waste resources.
But devices in many of the reports were involved in recalls or litigation.
For example, Medtronic got permission to summarize adverse events linked to its Infuse Bone Graft. The product racked up hundreds of lawsuits filed by people who say the graft injured them.
J&J's Ethicon summarized adverse events linked to its TVT transvaginal mesh bladder sling and reported them late. Ethicon currently faces more than 33,500 federal lawsuits for its mesh products. Plaintiffs say the mesh caused them serious injuries like organ perforation, chronic pain and hemorrhaging. About seven companies face mesh lawsuits and the litigation is one of the largest in history.
Two knee and hip implant manufacturers — Stryker and Zimmer — are also among the companies who made the most use of the retrospective program. Stryker filed retrospective summary reports for its Accolade TMZF hip stem, and the company recalled the product on multiple occasions for manufacturer and packaging errors. Lawsuits linked to the product are also beginning to trickle in.
Dr. David Challoner, who led an Institute of Medicine team that studied adverse-event reporting problems in 2011, told the Tribune companies have incentives not to report on popular products.
"Everybody who's in a position to identify or question an adverse or unexpected clinical event is motivated not to report it, everyone except the patient who has a question about what the hell is going wrong," Challoner said.
Share This Page:
How can we improve this page?
Thank You for Your Feedback
We appreciate your feedback. One of our content team members will be in touch with you soon.
We appreciate your feedback. One of our content team members will be in touch with you soon.