GSK Could Have Warned About Zofran Birth Defects, Families Say
Fact-Checked
Editors carefully fact-check all Drugwatch content for accuracy and quality.
Drugwatch has a stringent fact-checking process. It starts with our strict sourcing guidelines.
We only gather information from credible sources. This includes peer-reviewed medical journals, reputable media outlets, government reports, court records and interviews with qualified experts.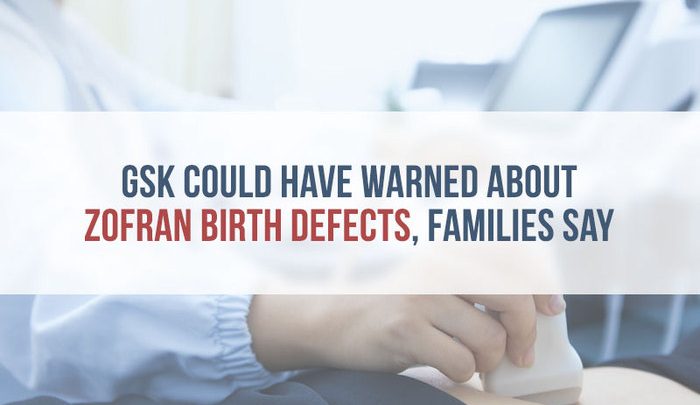 Families who filed lawsuits against GlaxoSmithKline say a new label for Zofran (ondansetron) shows the drugmaker could have warned about birth-defect risks sooner.
The lawsuits allege the new label links the anti-nausea drug to cardiovascular and cleft-palate birth defects for the first time. However, the new label available on the U.S. Food and Drug Administration's website states: "Available data do not reliably inform the association of ZOFRAN and adverse fetal outcomes." It also says the findings are "inconsistent" and have "important methodological limitations."
The previous label didn't include warnings about those possible side effects because, according to GSK, the language wasn't approved by the FDA, Law 360 is reporting.
The FDA only approved the drug to treat nausea and vomiting in chemotherapy, radiation and surgery patients.
However, GSK marketed Zofran for nausea in pregnant women even though it was not FDA-approved for use in expectant mothers, lawsuits allege.
Another company, Novartis, acquired the rights to market Zofran in 2015 and released the new label.
GSK submitted this new label to the court for evidence in a maneuver to limit what records it must release in the lawsuits, omitting what it may have known about the drug's risk, plaintiff say.
The list of birth defects linked to the drug in studies and lawsuits is long and includes:
Mental problems
Cleft lip and palate
Heart defects
Club foot
Stomach problems
Hearing problems
Skull deformities
"Moreover, GSK's filing blatantly sidesteps the actual risk information in the 2016 Novartis label," the families said in a Law 360 report. "Conspicuously absent from the GSK summary are the two facts identified in the label acknowledging that a doubling of the risk for cardiac septal defects and cleft palate defects was revealed in separate studies."
GSK Targeted Pregnant Women
While the FDA only approved Zofran to help cancer patients or surgery patients with nausea from treatments, GSK also realized it could be used to treat morning sickness. Lawsuits accuse GSK of illegally marketing the drug to expectant mothers.
"Plaintiffs need to discover what GSK knew and when it knew it. What kind of representations was GSK actually making to doctors and women while this risk information was knowable?" the families said in court filings. "What systemic efforts were being made within GSK to push Zofran to pregnant women, despite the fact that the FDA never approved its use for pregnant women?"
In 2012, GSK faced federal charges of illegal marketing and fraud for a number of its medications, including Zofran. The drug giant paid a total of $3 billion to settle civil and criminal allegations.
According to the U.S. Department of Justice (DOJ), "GSK agreed to plead guilty to a three-count criminal information, including two counts of introducing misbranded drugs, Paxil and Wellbutrin, into interstate commerce and one count of failing to report safety data about the drug Avandia to the Food and Drug Administration (FDA)."
With regards to Zofran, the DOJ alleged that GSK promoted the drug for unapproved uses from 2002 to 2004. The practice caused a number of false claims to be filed with federal healthcare programs, DOJ said. Of the $3 billion, GSK paid $1.043 billion to settle the civil allegations for a number of drugs, including Zofran. The company was not criminally charged for allegations related to Zofran, nor did it admit wrongdoing.
Currently, about 300 federal lawsuits are pending before U.S. District Judge F. Dennis Saylor in Massachusetts.
Share This Page:
How can we improve this page?
Thank You for Your Feedback
We appreciate your feedback. One of our content team members will be in touch with you soon.
We appreciate your feedback. One of our content team members will be in touch with you soon.