Zofran
The anti-nausea drug Zofran is approved for the prevention of nausea and vomiting caused by cancer chemotherapy, radiation and surgery. Doctors also prescribe the medication to treat morning sickness, though studies offer conflicting results about its potential for causing birth defects.
While Zofran (ondansetron) and its spinoff Zuplenz are prescription medications approved to prevent some of the more unpleasant side effects of cancer treatment, doctors have increasingly prescribed Zofran for off-label — or unapproved — uses such as treating stomach problems in children and morning sickness in expectant mothers.
First in Class to Go to Market
In 1991, the U.S. Food and Drug Administration (FDA) approved Zofran, making it the first in a class of new drugs called 5-HT3 receptor antagonists to hit the market.
GlaxoSmithKline developed, manufactured and sold the drug. The company's patent for Zofran expired at the end of 2006, and the FDA approved generic versions of ondansetron from several vendors soon after. In 2015, GlaxoSmithKline sold the rights to Zofran, along with the rest of its oncology portfolio of medications, to Novartis.
There are several 5-HT3 receptor antagonists including:
Aloxi (palonosetron)
Anzemet (dolasetron)
Granisol (granisetron)
Kyrtil (granisetron)
Sancuso (granisetron)
Sustol (granisetron)
Zofran (ondansetron)
Zofran ODT (ondansetron)
Zuplenz (ondansetron)
MonoSol Rx developed a closely related drug, Zuplenz, and first sold it in October 2010. The medication comes in 4 and 8 mg soluble film doses that dissolve on the tongue without water.
How Zofran Works
Zofran and other 5-HT3 receptor antagonists are considered antiemetic agents. Antiemetic agents are any drugs that prevent vomiting or nausea including over-the-counter antihistamines (Benadryl, Dramamine) or bismuth subsalicylate (Pepto-Bismol, Kaopectate).
Antihistamines prevent vomiting and nausea from sickness by blocking the inner ear's messages to the brain. Bismuth subsalicylate works by coating the stomach lining. Zofran works differently.
As the class name suggests, Zofran targets 5-HT3 receptors in the body. These receptors exist in both the central and peripheral nervous system, and when joined with a neurotransmitter called serotonin, they can cause nausea and vomiting.
Serotonin is produced largely in the gastrointestinal tract. When a patient undergoes cancer treatment, radiation or chemotherapy drugs can cause specialized cells in the intestine to release serotonin. Zofran and the other 5-HT3 receptor antagonists work by preventing this serotonin from binding to 5-HT3 receptors.
Types of Zofran
When it first gained FDA approval in 1991, Zofran came in the form of an injection for intravenous (IV) use. Over the years, the FDA has approved various oral forms of the drug.
Zofran Injection, 2mg/L (approved 1991)

Zofran Injection is a clear, colorless solution for intravenous use. It is available as a 2 mL single dose and a 20 mL multi-dose vial.

Zofran Tablets, 4 mg and 8 mg (approved 1995)

Zofran tablets are oval-shaped, film-coated tablets engraved with "Zofran" on one side. They are available in 4 mg and 8mg doses. The 4 mg tablets are white with "4" engraved on one side. The 8 mg tablets are yellow with "8" engraved on one side.

Zofran Premixed Injection, 32 mg (approved 1995; recalled 2012)

In 2012, the 32 mg Zofran Premixed Injection was pulled from the market because of the potential for serious cardiac risks, according to the FDA. The drug was sold pre-mixed in solutions of either dextrose or sodium chloride in plastic containers.

Zofran Oral Solution, 4mg/5mL (approved 1997)

Zofran oral solution comes in a 50-mL bottle, is a clear, colorless to light yellow liquid with a strawberry odor.

Zofran Orally Disintegrating Tablets 4mg, 8mg (approved 1999)

Zofran ODT Orally Disintegrating Tablets are white, round tablets. Like the Zofran regular tablets, the disintegrating tablets are available in 4 mg and 8 mg doses. The 4 mg tablets feature "Z4" on one side; the 8 mg feature "Z8."
Zofran's label recommends adult patients take the first dose of ondansetron 30 minutes before they start chemotherapy, one to two hours before they start radiation therapy, or one hour before undergoing surgery. Patients sometimes take additional doses one to three times a day during chemotherapy or radiation therapy and for 1 to 2 days after they finish their treatment.
Drug Interactions
Certain drugs may increase the risk of serious side effects when used with Zofran, Zuplenz or generic ondansetron.
These drugs include:
Apomorphine
Phenytoin, carbamazepine and rifampin
Tramadol
Selective serotonin reuptake inhibitors (SSRI) and serotonin and norepinephrine reuptake inhibitors (SNRI)
Temazepam
Drugs affecting the cytochrome P-450 drug-metabolizing enzyme
Side Effects
Zofran is linked to possible side effects, some of which are serious, including serotonin syndrome and QT interval prolongation.
Serotonin Syndrome

Serotonin Syndrome occurs when too much serotonin is present in the body. It is a serious condition that can be life-threatening. Symptoms include high fever, irregular heartbeat, agitation, dizziness, tremor, seizures and unconsciousness.

QT Interval Prolongation

Zofran can affect the electrical activity in the heart, causing erratic heart rhythms (ie, arrhythmias) that can be fatal. According to the drug's label, electrocardiogram (ECG) monitoring is recommended in patients with conditions such as congestive heart failure or arrhythmia.
Other Serious Side Effects Include:
Blurred vision
Vision loss
Shortness of breath
Confusion
Excessive sweating
Coma
Seizures
Loss of consciousness
Chest pain
Hives or rash
Swelling
More Common Side Effects Include:
Headache
Constipation
Diarrhea
Tiredness
Chills
Drowsiness
Weakness
FDA Drug Safety Communications & Zofran Recall
In 2012, the 32 mg intravenous dose of Zofran was pulled from the market due to concerns that it could trigger QT interval prolongation, a heart rhythm disorder that could lead to an abnormal and potentially fatal heart rhythm called Torsades de Pointes. Prior to the recall, the FDA released Drug Safety Communications alerting the public to the cardiovascular safety concerns.
Abnormal Heart Rhythms
In September 2011, the FDA announced it made changes to Zofran's label and required the manufacturer of Zofran to conduct "a thorough QT study to assess the potential for the drug to prolong the QT interval."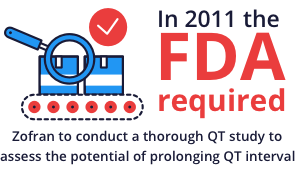 The FDA had previously noted that ondansetron could increase the risk of developing QT interval prolongation. The agency also pointed to articles published in the medical literature that describe QT interval prolongation with ondansetron.
Previous versions of the ondansetron labels included a warning about QT interval prolongation. The FDA added a new warning to avoid the use of ondansetron in patients with congenital long QT syndrome because these patients are at particular risk for developing Torsade.
According to the safety communication, patients at particular risk for developing Torsade include:
Patients with underlying heart conditions, such as congenital long QT syndrome
Patient who are predisposed to low levels of potassium and magnesium in the blood
Patients taking other medications that lead to QT prolongation
Clinical Study Results
The FDA released another Drug Safety Communication in June 2012, informing health care professionals and the public that preliminary results from a clinical study suggested that a 32 mg, single intravenous dose of Zofran may cause QT interval prolongation. As a result, GlaxoSmithKline removed the 32 mg, single intravenous dose from the drug's label.
The updated label said the drug could be used in adults and children with chemotherapy-induced nausea and vomiting at a dose of 0.15 mg/kg administered every four to eight hours for three doses; however, no single intravenous dose should exceed 16 mg.
Zofran Recall
In December 2012, the FDA notified health care professionals that the 32 mg, single intravenous dose of Zofran would no longer be marketed because of the potential for serious cardiac risks. The FDA said in its Drug Safety Communication that it was working with the manufacturers of all 32 mg dose ondansetron injectable products (brand and generic) to recall them from the market. The drugs were sold pre-mixed in solutions of either dextrose or sodium chloride in plastic containers.
List of ondansetron products voluntarily withdrawn from the U.S. market
| Generic Name | Company |
| --- | --- |
| Ondansetron Hydrochloride Injection, USP premix in Intravia Plastic Container | All |
| Ondansetron Hydrochloride and Dextrose in Plastic Container | All |
| Ondansetron Hydrochloride and Dextrose in Plastic Container | All |
Zofran Use in Expectant Mothers
Although Zofran, Zuplenz and the generic ondansetron are FDA-approved only for use in treating nausea and vomiting after chemotherapy or radiotherapy or after surgery, many doctors prescribe them for off-label uses, including treatment of morning sickness in expectant mothers.
Many pregnant women experience nausea and vomiting during pregnancy (NVP), commonly referred to as morning sickness. The most serious form of NVP, called hyperemesis gravidarum (HG), can lead to malnutrition and dehydration — health reactions dangerous for both the mother and the baby. NVP is most serious during the first trimester, which is a critical period in the baby's development. Many mothers rely on anti-nausea drugs to get them through the first few weeks.
Recognizing a new market of patients for its drug, GlaxoSmithKline advertised to doctors and mothers-to-be looking for relief from these symptoms.
'Escalating Use of Ondansetron' Among Pregnant Women
Ondansetron use increased from less than 1 percent of pregnancies in 2001 to 22.2 percent in 2014, according to an FDA article published in February 2017. The agency attributed much of the increase to oral ondansetron beginning in 2006.
FDA staff assessed ondansetron and other antiemetic use among pregnant women delivering live births between 2001 and 2015. In over 2.3 million pregnancies, the prevalence of ondansetron was 15.2 percent, according to the FDA. Use was highest in the first trimester.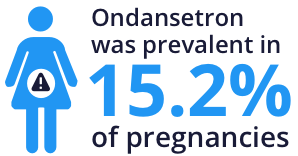 "We observed a marked increase in ondansetron use by study year, prescribed to nearly one-quarter of insured pregnant women in 2014," the agency said. "Given the widespread use of ondansetron in pregnancy, data establishing product efficacy and methodologically rigorous evaluation of post-marketing safety are needed."
Zofran and Birth Defect Studies
Studies have given conflicting results about the potential for Zofran to cause birth defects. Until the FDA changed its letter rating system in 2015, Zofran, Zuplenz and the generic ondansetron were labeled as Pregnancy Risk Category B, meaning there is no evidence of risk to humans.
Still, experts say the possibility exists for Zofran to have an effect on a developing fetus because it easily crosses the placental barrier. It has also been found to take longer to leave neonatal bodies immediately after birth than it does the mother's body.
As of 2022, studies and lawsuits filed by mothers and families of injured babies, a number of birth defects are linked to the medication. These include:
Cleft Palate
In 2012, a large study by Boston University's Slone Epidemiology Center and the Centers for Disease Control and Prevention found "possible risks" of ondansetron, particularly for cleft palate. The researchers looked at data from the National Birth Defects Prevention Study (NBDPS), a multi-site population-based case-control study, and found statistical evidence that they said "could be chance findings, [but] warrant further investigation."
Cardiac Septum Defect
The following year, researchers led by Bengt Danielsson reviewed data from the Swedish Medical Birth Register and the Swedish Register of Prescribed Drugs to identify more than a thousand infants delivered to women who had taken ondansetron in early pregnancy between 1998 and 2012. They then performed statistical analysis on the incidence of congenital malformations and found a "low but increased risk" associated with ondansetron for "a cardiac septum defect," but "no statistically significantly increased risk for a major malformation."
Congenital Heart Defects
Two 2013 studies that both used data from the Medical Birth Registry and National Patient Register in Denmark yielded conflicting results regarding ondansetron and birth defects. The first study published by Dr. Pasternak in the New England Journal of Medicine looked at data collected between 2004 and 2011. The average age of the fetus at exposure was 10 weeks, by which time most of the danger of malformations had passed. The study concluded, "Ondansetron taken during pregnancy was not associated with a significantly increased risk of adverse fetal outcomes."
The second study by Dr. Andersen, using data from the same sources but from 1997 to 2010, "found a doubling in the prevalence of major congenital heart defects in children whose mothers redeemed a prescription of ondansetron in the first trimester of pregnancy." The study cited in particular failures of the heart to form properly called atrial septal defects, ventricular septal defects and atrioventricular septal defects.
A 2014 review article by Dr. Gideon Koren published in American Journal of Obstetrics and Gynecology highlights the risks of pregnant women taking Zofran and conflicting studies that cannot rule out dangers to a fetus. Dr. Koren highlights a study by Dr. Andersen that was published in August 2013 and found a "2-fold increased risk of cardiac malformations with ondansetron (Zofran), leading to an overall 30 percent increased risk of major congenital malformations." The study by Dr. Andersen was based on data from the Danish Birth Registry (including over 800,000 pregnant women) collected between 2004 and 2011.
Kidney Malformations
A different 2013 study by Dr. Colvin, which looked at birth records in Western Australia between 2002 and 2005, "did not detect any adverse outcomes from the use of ondansetron in pregnancy but could not conclude that ondansetron is safe to use in pregnancy." While "the study was too small to assess risks of individual birth defects" (only 251 births associated with the drug out of almost 97,000 births total) the researchers found a six-fold increase in the risk for kidney malformations associated with ondansetron.
Ondansetron Use for Hyperemesis Gravidarum
Results of the latest study of ondansetron use for hyperemesis gravidarum (HG), published in 2016, contradicted many of the earlier studies. Researchers led by Marlena Fejzo of the UCLA Department of Medicine collected information on more than a thousand women exposed to ondansetron during pregnancy and compared to control groups of women with a history of HG but no ondansetron exposure and women with neither a history of HG nor ondansetron exposure. Not only did they not find an association between the drug and birth defects, but they also found evidence suggesting that women who took Zofran were less likely to have a miscarriage or a stillbirth.
Studies also link the following birth defects to Zofran:
Mental problems
Physical deformities
Hearing Loss
Vision problems
Abnormal blood pressure
Stomach problems
Cleft lip
Club foot
Webbed toes
Skull deformities
Review of Eight Studies
A review of eight previous studies in 2016 noted that the three largest studies showed no increased risk for birth defects, while two studies "demonstrated a slightly increased risk of cardiac defects specifically … a finding that was not replicated in other studies."
"The most consistent association (if any) appears to be a small increase in the incidence of cardiac abnormalities, the bulk of which are septal defects," the study's author Shaun Carstairs wrote.
Carstairs concluded "the overall risk of birth defects associated with ondansetron exposure appears to be low."

An updated review of 9 studies in 2019 found results similar to the 2016 review of 8 studies with regard to the low risk of fetal malformations in women who took Zofran during pregnancy. Authors of the 2019 review concluded that the use of ondansetron during pregnancy was "not associated with a significant increase in rate of major or selected subgroups of malformations". However, authors recommended "continued surveillance" of the effects of this drug on the fetus during pregnancy.
Alternatives to Zofran
A 2014 study in the American Journal of Obstetrics & Gynecology says 97.7 percent of prescriptions for the treatment of nausea and vomiting in pregnancy in the U.S. "are with medications not labeled for use in pregnancy, not indicated for nausea and vomiting in pregnancy, and not classified as safe in pregnancy by the Food and Drug Administration." That group includes Zofran, Zuplenz and ondansetron.
As an alternative, those with morning sickness can turn to a combination of doxylamine and pyridoxine, which the FDA approved in 2013 specifically to treat nausea and vomiting in pregnancy. It's available under brand names such as Bonjesta and Diclegis in the U.S. and Diclectin in Canada.
Off-label Prescribing
While doxylamine/pyridoxine is the only FDA-approved medication for morning sickness, doctors continue off-label prescribing for other medications. First-line alternatives include antihistamines diphenhydramine and meclizine, which were deemed Pregnancy Risk Category B.
Second-line alternatives include anti-emetic medications such as dopamine antagonists Reglan (metoclopramide), Compazine (prochlorperazine), Phenergan (promethazine), and Inapsine (droperidol). However, all of those medications were in the FDA's Pregnancy Risk Category C, a higher-risk classification that designates drugs for which animal studies have shown adverse effects on the fetus, but there are no adequate studies of use on pregnant women.
Some doctors also suggest dimenhydrinate, the over-the-counter medication found in Dramamine, to treat morning sickness, which also falls in Pregnancy Risk Category B.
In accordance with the FDA's Pregnancy and Lactation Labeling Rule, Zofran is not assigned a Pregnancy Category. An increased risk of adverse effects to the fetus has been shown in women who took Zofran, especially during the first trimester of pregnancy. It is recommended to only use Zofran during pregnancy if safer alternative drugs have not been successful.
Please seek the advice of a medical professional before making health care decisions.
Share This Page:
How can we improve this page?
Thank You for Your Feedback
We appreciate your feedback. One of our content team members will be in touch with you soon.
We appreciate your feedback. One of our content team members will be in touch with you soon.
Who Am I Calling?
Calling this number connects you with a Drugwatch representative. We will direct you to one of our trusted legal partners for a free case review.
Drugwatch's trusted legal partners support the organization's mission to keep people safe from dangerous drugs and medical devices. For more information, visit our partners page.