First Xarelto Bellwether Trial Ends in Favor of Drugmaker
Fact-Checked
Editors carefully fact-check all Drugwatch content for accuracy and quality.
Drugwatch has a stringent fact-checking process. It starts with our strict sourcing guidelines.
We only gather information from credible sources. This includes peer-reviewed medical journals, reputable media outlets, government reports, court records and interviews with qualified experts.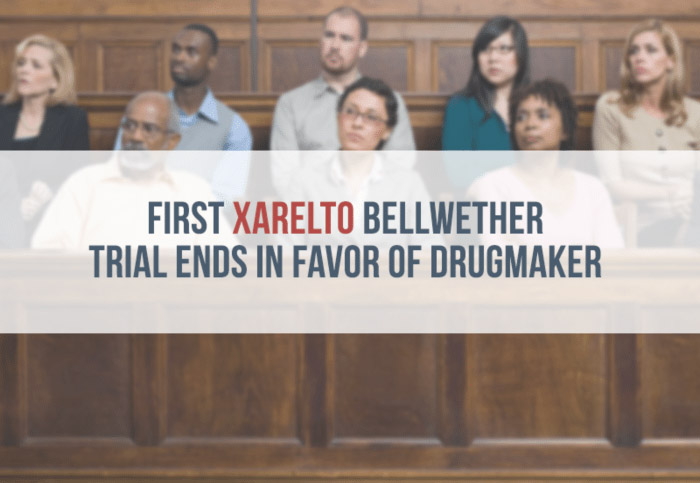 A federal jury in New Orleans recently sided with drugmakers Bayer AG and Johnson & Johnson in the first bellwether trial from plaintiffs alleging they were harmed by the blood-thinning drug Xarelto.
Joseph Boudreaux, 75, of Louisiana blamed the drugmakers for life-threatening bleeding after taking the drug.
He is the first in a series of four Xarelto bellwether cases (test trials) set to take place this summer in a consolidated legal action called a multidistrict litigation that involves nearly 20,000 plaintiffs.
The verdicts in these trials will assist other plaintiffs and the drug companies assess potential outcomes and values of similar claims in pending litigation.
The companies said their victory supports their position that Xarelto is a safe and effective drug.
Boudreaux's lawsuit claimed he suffered gastrointestinal bleeding that left him hospitalized for one week in the intensive-care unit (ICU) after being prescribed Xarelto for atrial fibrillation (an irregular heartbeat that causes poor blood flow).
Xarelto Designed to Fight Blood Clots
Xarelto was intended to lower Boudreaux's risk of having a stroke, but instead, less than one month into taking Xarelto, Boudreaux developed internal bleeding so severe that he required several blood transfusions and other medical interventions, such as multiple heart procedures.
Xarelto (rivaroxaban) is an anticoagulant (blood thinner, or a substance that prolongs clotting times) among a new class of drugs, including Pradaxa and Eliquis, and similar to Coumadin, or warfarin.
It is used to treat heart problems like Boudreaux's, and to reduce the risk of potentially life-threatening blood clots, such as those seen in patients with deep vein thrombosis (a blood clot in a deep vein, most commonly in the legs) or pulmonary embolism (a blood clot in an artery in the lung).
But the company is also accused of falsely promoting Xarelto as a more effective drug than Coumadin in preventing strokes, as well as the easier choice in medicine. Patients taking Coumadin are required to undergo regular monitoring and blood testing, while Xarelto patients do not share the same requirement.
FDA: 400 Deaths Linked to Xarelto
Plaintiffs claimed in their lawsuits that the manufacturers of Xarelto intentionally hid or minimized risks to patients taking the drug. They also alleged that they were unaware of the medication's potential to cause irreversible bleeding in the skull (cranium), stomach and intestines (gastrointestinal tract) due to the manufacturers' failure to warn or advise the public of such dangers.
While Coumadin's blood-thinning effects can be controlled, plaintiffs argue that there is no antidote to the potentially dangerous internal hemorrhaging effects of Xarelto.
According to FDA reports, the use of the drug has been associated with nearly 400 deaths.
Florence Bourgeois was one of those who died as a result of internal bleeding that could not be stopped after taking Xarelto. Her three children are among the other approximately 18,000 plaintiffs suing Johnson & Johnson and Bayer AG.
The lawsuits filed in various locations throughout the United States have been consolidated into one case for U.S. District Judge Eldon Fallon in New Orleans.
A spokesperson for Johnson & Johnson said that the verdict in favor of the drugmakers was attributed to the facts of the case, and that it further confirmed the appropriateness of the medication's prescribing information.
Bayer commented that the verdict additionally confirmed the "safety and efficacy" of Xarelto, and that it's backed by its FDA-approved label and other scientific evidence.
Xarelto Called Safe Alternative
Controversy surrounding the results of certain Xarelto clinical trials cropped up following the voluntary recall of a device called INRatio, used to monitor blood clotting time. The device is most commonly used by patients taking warfarin. The device was recalled by its manufacturer Alere in July 2016, due to its potential to provide inaccurate results.
The FDA conducted its own analyses to assess the impact the malfunctioning device may have had on the validity of the ROCKET-AF study results for Xarelto. But the federal agency concluded that the effects on strokes or bleeding, including bleeding in the head, were minimal, and maintained that "Xarelto is a safe and effective alternative to warfarin in patients with atrial fibrillation."
However, an article published on the FDA's website in 2015, broached the topic of whether the FDA should approve an anticoagulant drug such as Xarelto, without an antidote to bleeding risks. The article concluded that while there is "much interest" in developing such reversal agents, the agency has determined that the benefit of preventing strokes outweighs the bleeding risks, even in cases where it can cause "significant morbidity (injury)."
The next bellwether trial in the Xarelto litigation is scheduled for May 30. Attorneys for Boudreaux said that they will use the defeat as a learning experience and "press forward with the legal claims of thousands of innocent victims."
Other Xarelto cases filed in state courts are still pending in Pennsylvania and Delaware.
Share This Page:
How can we improve this page?
Thank You for Your Feedback
We appreciate your feedback. One of our content team members will be in touch with you soon.
We appreciate your feedback. One of our content team members will be in touch with you soon.