Xarelto
Doctors prescribe Xarelto (rivaroxaban) to prevent blood clots and strokes. It requires no blood testing and comes in a once-a-day pill. The drug may cause internal bleeding that leads to hospitalization and death. In May 2018, the U.S. Food and Drug Administration approved the first and only antidote, which was expected to be generally available in early 2019.
Xarelto is described as a "next generation" blood thinner. The drug can help reduce the risk of developing blood clots. Blood clots can travel through the bloodstream to the brain and cause strokes.
The FDA approved Xarelto in November 2011 to reduce the risk of stroke and systemic embolism in people with non-valvular atrial fibrillation. The common heart disorder affects more than 3 million Americans. It results in irregular heart rhythm and can lead to strokes.
The FDA approved Xarelto to treat deep vein thrombosis and pulmonary embolism in November 2012. The agency also approved the drug to reduce the risk of both conditions recurring.
As of 2022, doctors have written more than 13 million Xarelto prescriptions in the U.S.
Xarelto became the most-prescribed blood thinner in its class in the country.
But, Xarelto can cause serious and sometimes deadly bleeding. Studies show Xarelto results in the same rate of adverse bleeding events as warfarin. Warfarin is an older version of a blood thinner.
Until recently, Xarelto had no approved antidote to reverse bleeding in patients. The FDA gave its approval for AndrexXa, the first and only antidote for Xarelto's uncontrolled bleeding, in May 2018. The maker said it expects to have AndrexXa available for the general market by early 2019.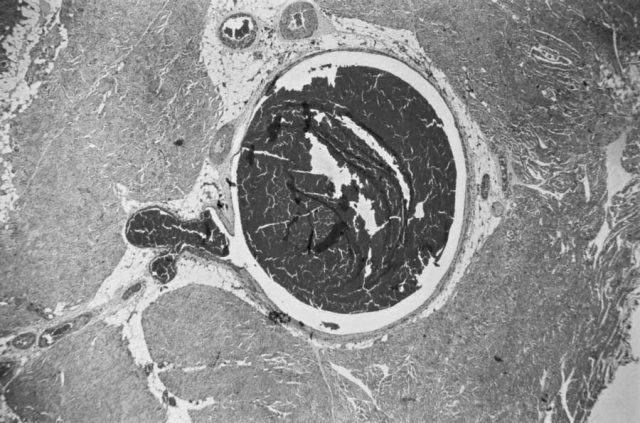 How Does Xarelto Work?
Xarelto (rivaroxaban) is a prescription blood-thinning medicine that targets Factor Xa (FXa), inhibiting its effect on the formation of blood clots in a patient's arteries or veins. Factor Xa is the active form of Factor X, an enzyme that is synthesized in the liver and assists in coagulation, or clotting of the blood, changing it from a liquid to a gel.
This process is dependent upon vitamin K, which is what blood thinners such as warfarin (brand name Coumadin) act to interfere with, along with several other blood-clotting factors. Xarelto is considered a selective anticoagulant in that it only interferes with the one factor, Factor Xa, thereby interacting with less of the body's natural functions.
Despite its categorization as a "blood thinner," Xarelto, and other similar drugs, do not actually thin a patient's blood. Therefore, it cannot dissolve existing clots. But it can serve to prevent or reduce blood clotting, and can assist in preventing existing clots from growing larger and causing more serious problems for the patient.
What Does Xarelto Treat?
Xarelto (rivaroxaban) is indicated to reduce the risk of stroke and systemic embolism in patients with nonvalvular atrial fibrillation (an irregular heartbeat) by preventing the formation of blood clots. It is also used as a treatment and maintenance drug for deep vein thrombosis (DVT) (a blood clot that forms in a vein deep in the body, usually in the lower leg or thigh), which may lead to pulmonary embolism (PE) (a sudden blockage in an artery of the lung) in patients having knee or hip replacement surgery.
Nonvalvular Atrial Fibrillation
Atrial fibrillation (AF) is the most common type of arrhythmia, or irregular heartbeat. If a patient has an arrhythmia, it means there is a problem with the speed or rhythm of their heartbeat. "Nonvalvular" means AF is not caused by a heart valve problem.
The cause of AF has to do with a disorder in the heart's electrical system. A test called an electrocardiogram (EKG) can assist in the diagnosis of AF by showing the electrical waves of a patient's heart. Complications of the condition can include an increased risk of stroke, chest pain, heart attack or heart failure, which can lead to death. Treatment of AF may include medications and/or other procedures designed to restore the heart's normal rhythm.
Some patients with AF may not experience any signs of the disease.
Others may experience the following symptoms:
Palpitations (or an abnormal rapid heartbeat)
Shortness of breath
Weakness or difficulty exercising
Chest pain
Dizziness or fainting
Fatigue
Confusion
Deep Vein Thrombosis (DVT) and Pulmonary Embolism (PE)
Deep vein thrombosis (DVT) is a condition in which a blood clot forms in a vein deep within the body. DVT typically occurs in the large veins in the lower legs and thighs, but it can also occur in other deep veins, such as in the arms and pelvis (also called the pelvic region located between the abdomen and the thighs). If the vein swells, it is referred to as thrombophlebitis.
DVT is most common in individuals over 60. However, blood clots can occur at any age.
Some factors that increase the risk of the condition may include:
Sitting still for a long time
Prolonged bed rest such as during a long hospital stay or paralysis
Personal or family history of deep vein thrombosis or pulmonary embolism
Heart failure
Certain medications, such as estrogens and birth control pills
Other health conditions, such as cancer, certain autoimmune disorders (including lupus), and too many blood cells being made by the bone marrow, causing the blood to be thicker than normal (polycythemia vera)
Obesity
Cigarette smoking
Having a long-term catheter in a blood vessel
Fractures of the pelvis or legs
Recent surgery (most commonly hip, knee or female pelvic surgery)
Blood clots, including a DVT, can affect blood flow causing changes in skin color (redness), leg pain, swelling of the leg (edema), and skin that feels warm to the touch or is tender over the affected vein.
Other serious problems can result in patients if a DVT breaks loose and travels through the bloodstream to the lung. A sudden blockage in an artery in the lung is called a pulmonary embolism (PE). PE can cause permanent damage to the affected lung, low oxygen levels in a patient's blood and damage to other organs in the body due to a lack of oxygen supply. In instances where the clot is large or there are multiple clots present, PE can even result in death.
About 50 percent of individuals who have PE are unaware that they are affected by the potentially life-threatening condition. Symptoms can include shortness of breath, chest pain or coughing up blood. The goal of treatment is to break up any existing clots and to prevent new clots from forming.
Side Effects
Xarelto (rivaroxaban) is not without side effects, some of which can be serious and potentially life-threatening. Xarelto has been linked to adverse bleeding events because blood thinners reduce clotting. Patients taking this medication are more likely to bruise easily and it may take longer for bleeding to stop.
However, these bleeding events can become more serious and can even result in death.
Patients should seek medical treatment right away if they experience any of the following symptoms:
Unexpected bleeding or bleeding that lasts a long time, such as:

Nose bleeds that happen often
Unusual bleeding from the gums
Menstrual bleeding that is heavier than normal or vaginal bleeding

Bleeding that is severe and cannot be controlled
Red, pink or brown urine
Bright red or black stools that look like tar
Coughing up blood or blood clots
Vomiting blood or vomiting what resembles "coffee grounds"
Headaches, dizziness or weakness
Pain, swelling or new drainage at wound sites
Post-marketing reports also noted incidences of thrombocytopenia (deficiency of platelets in the blood), hepatitis (inflammatory condition of the liver) and Stevens-Johnson syndrome (SJS) (a severe skin reaction).
Other side effects of Xarelto may include:
Muscle spasms
Wound complications
Fatigue or tiredness
Pain in arm or leg
Rash
Itching
Difficulty breathing or swallowing
Hives
Black Box Warnings and Precautions
Initial labeling for Xarelto, as a part of its FDA approval in 2011, included two boxed warnings, also commonly known as "black box warnings," that have remained throughout numerous label changes, including efforts to strengthen the existing warnings for consumers. According to the FDA, a black box warning "appears on a prescription drug's label and is designed to call attention to serious or life-threatening risks."
The first warning advises patients taking Xarelto not to prematurely discontinue its use, as doing so may result in an increased risk of adverse thrombotic events, such as stroke. The manufacturer of the blood thinner also notes that in clinical trials involving patients with atrial fibrillation (AF), an increased risk of stroke has been observed in such individuals when switching from Xarelto to warfarin. The label directs that if use of the anticoagulant medication is discontinued for a reason other than bleeding or end of treatment, patients should strongly consider the use of another blood thinner in Xarelto's place.
The second black box warning advises patients of the potential for epidural or spinal hematomas (a collection, or "pooling," of blood outside the body's blood vessels) to occur in individuals receiving neuraxial anesthesia (such as an epidural) or undergoing a spinal puncture. The warning further states that these hematomas can result in long-term or permanent paralysis, and that patients at risk should be routinely monitored for signs and symptoms of neurological impairment.
Lastly, the label points to bleeding as a serious side effect, which can even lead to death. Taking certain medications, including certain painkillers known as NSAIDs (or non-steroidal anti-inflammatory drugs), aspirin, and certain antidepressants including selective serotonin reuptake inhibitors (SSRIs) or serotonin norepinephrine reuptake inhibitors (SNRIs), along with Xarelto, can increase a patient's risk for bleeding.
New Antidote for Bleeding
Portola Pharmaceuticals makes AndrexXa. Portola estimates 90,000 people are admitted to hospitals in the U.S. every year because of bleeding from taking drugs like Xarelto and Eliquis. In May 2018, Portola was given the go-ahead to market AndrexXa for patients taking those drugs who experience uncontrolled bleeding.
Fact
Portola says it expects to have AndrexXa available for the general market by early 2019.
In early 2015, the FDA designated Andexxa "a breakthrough therapy."
This means early evidence indicated that it was representative of "a substantial improvement" over existing therapies. It also means the drug would assist in the acceleration of the development and review of other drugs for serious or life-threatening conditions.
The New England Journal of Medicine (NEJM) published data in December 2015 from a study conducted by Portola.
In August 2016, the FDA announced it would not approve AndrexXa. The agency said it needed more data.
But a year later, in August 2017, the FDA accepted Portola's newly submitted application. In December 2017, Portola announced the FDA had extended its time to review the application until May 2018.
FDA Investigates Faulty Clinical Trial
In 2016, questions surfaced regarding the validity of the clinical trial, titled ROCKET-AF, largely used in the approval of Xarelto by the FDA. The agency launched an investigation into the matter following the July 2016 recall of a device called the Alere INRatio, used to monitor warfarin therapy in the control group of the study. The FDA acknowledged that the ROCKET-AF clinical trial "provided the primary data to support the 2011 approval of the blood thinner drug Xarelto (rivaroxaban)."
The device used to test for blood clotting during the ROCKET-AF clinical trials was recalled due to its propensity to provide falsely low results. CBS News reported that the manufacturer of the faulty device confirmed that "the problem dated back to 2002." Even though the study results showed that there was no significant difference between warfarin and Xarelto in the risk of major bleeding (although bleeding in the brain and fatal bleeding was shown to occur less often in patients taking Xarelto), the fear was that the device's flaw could have skewed those results, making Xarelto seem like the safer choice compared to warfarin when that might not be the reality.
Faulty Equipment
The device used during the ROCKET-AF clinical trials was recalled due to its propensity to provide falsely low results.
However, following the completion of what the FDA described as "a variety of analyses to assess the impact that this faulty monitoring device had on the ROCKET-AF study results," the agency determined that the effects on strokes and bleeding, including bleeding in the head, were minimal in patients taking Xarelto. The agency further concluded that "Xarelto is a safe and effective alternative to warfarin in patients with atrial fibrillation."
In October 2017, Bayer and Janssen announced they were halting another clinical study into the effectiveness and safety of Xarelto for the secondary prevention of stroke and systemic embolism in patients with a recent embolic stroke of undetermined source. The phase III clinical study ended early because it showed no better results "and had little chance of showing overall benefit" compared to treatment with low-dose aspirin.
Administration and Dosing Information
Xarelto comes in three different dosage forms and strengths, including 10-, 15- and 20-milligram tablets. The 10- and 15-milligram tablets are both round and red, with the weaker strength exhibiting a lighter red hue. The 20-milligram tablets are triangle-shaped and dark red.
For patients with atrial fibrillation (AF), Xarelto is typically taken once a day with an evening meal. A patient taking Xarelto for the treatment of AF should never stop taking the medication without first talking to their doctor, as it can increase the risk of the individual having a stroke or forming blood clots in other parts of the body.
Dosage Recommendations
The normal recommended dose of Xarelto for otherwise healthy patients with AF is 20 milligrams. For patients with elevated creatinine levels, or impaired kidney functioning, a lesser daily dose of 15 milligrams is recommended.
The recommended dose of Xarelto for the treatment of DVT and/or PE is 15 mg taken orally twice daily with food for the first 21 days. After this initial treatment period, the recommended dose of Xarelto is 20 mg taken orally once daily with food, at approximately the same time each day.
The recommended dose of Xarelto for reduction in the risk of recurrence of DVT or PE is 20 mg taken orally once daily with food at approximately the same time each day.
In patients taking Xarelto for prevention of deep vein thrombosis (DVT), which could result in pulmonary embolism (PE) following certain surgical procedures, the recommended daily dose is 10 milligrams taken once a day, with or without food. The initial dose should be taken at six to 10 hours after surgery once the patient has been stabilized (or body functions have returned to normal).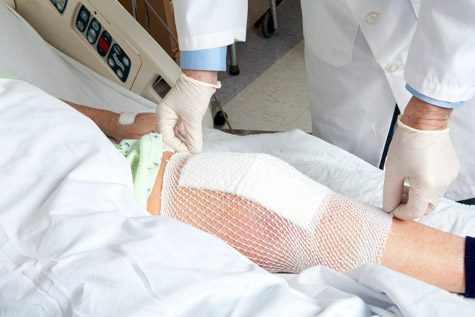 Treatment with Xarelto should continue in patients who are taking the drug following a hip replacement surgery for a recommended duration of 35 days. For patients undergoing knee replacement surgery, Xarelto should be continued for 12 days following surgery. A patient's doctor will ultimately decide how long his or her patient should continue to take Xarelto following surgery.
Sometimes a patient's doctor may ask them to stop taking Xarelto for a short time prior to certain surgeries, medical or dental procedures. The doctor will also inform the patient when it is considered safe to resume treatment with the blood thinner medication.
Overdose
It is possible to overdose on Xarelto (rivaroxaban) by consuming large amounts of the drug. If an overdose is suspected, patients are urged to seek immediate treatment as potentially life-threatening bleeding complications can occur. Due to Xarelto's high plasma protein binding, the drug is not dialyzable, meaning dialysis cannot be used to remove the medication from the patient's blood. Since there is currently no specific antidote generally available to reverse bleeding in patients taking Xarelto, activated charcoal may be used to reduce absorption of the drug.
Mild cases of overdose may not result in any symptoms. Since there is currently no easy or overall effective way to treat a Xarelto overdose that results in bleeding, treatment is likely to be largely symptomatic and supportive, minimizing complications that occur rather than preventing them.
Symptoms of an overdose may include:
Vision or speech changes
Vomiting blood
Severe headache
Weakness or numbness in an arm or leg (this may be a sign of bleeding in the brain)
Easy bruising
Black, tarry stools or bright red blood in the stool (this may be a sign of gastrointestinal bleeding)
Dental Procedures and Xarelto
Due to concerns related to bleeding risks, it is sometimes suggested that patients discontinue the use of Xarelto prior to undergoing certain dental procedures. The European Heart Rhythm Association issued a 2015 consensus guideline (updating a prior 2013 guideline), suggesting that certain procedures, such as the extraction of one to three teeth, periodontal surgery, abscess incisions or implant positioning, do not necessarily require patients to discontinue the use of Xarelto.
A 2015 narrative review concluded that with "limited dental surgery" continuing the regular dose of Xarelto or postponing the timing of the daily dose to either follow the dental treatment or skipping one daily dose altogether, may be the most conservative and beneficial options for the patient taking Xarelto. The author of the narrative pointed out that clinical trials would need to be conducted to confirm the findings.
Review Findings
All authors agree that any recommendations regarding Xarelto and dental work are purely subjective due to a lack of clinical studies.
Another narrative issued the same year confirmed the advice offered by the first narrative author, but also addressed the need to consider other supplements or drugs the patient may be taking together with Xarelto that could increase the patient's risk for bleeding and resultant complications.
With the inclusion of a 2013 systematic review as well, the overall recommendation was to advise patients not to take Xarelto one to three hours prior to dental treatment. All of the authors acknowledged that no clinical studies or guidelines have been published to directly address the treatment management considerations of patients taking Xarelto while undergoing various dental procedures, so any recommendations made are purely subjective.
The general consensus, according to the American Dental Association (ADA), seems to be that with the newer target-specific anticoagulant medications, no change to the treatment regimen is required for patients undergoing dental treatments. But the ADA suggested that in order to be cautious, dental practitioners should consult a patient's physician to assess the safety for each individual patient, and that when suggesting any modification to a patient's medication regimen prior to dental surgery, that it be done in conjunction with consultation of the patient's primary care doctor.
Drug Interactions and Contraindications
Certain prescription and nonprescription medications, as well as certain vitamins and herbal supplements, may interact with the way Xarelto works, causing it to be less effective or increasing a patient's risk for dangerous bleeding events and other side effects.
Patients taking any of the following medications or supplements should avoid the use of Xarelto:
Nizoral (ketoconazole)

Antifungal medication used to treat infections caused by fungus

Onmel, Sporanox (itraconazole)

Used to treat fungal or yeast infections

Norvir (ritonavir)

A drug prescribed for the treatment of HIV in combination with other medications

Kaletra (lopinavir/ritonavir)

An antiretroviral fixed dose combination drug used to treat and prevent HIV/AIDS

Crixivan (indinavir)

Prescribed for the treatment of HIV

Carbatrol, Equetro, Tegretol, Tegretol-XR, Teril, Epitol (carbamazepine)

Anticonvulsant medication used to treat seizures and nerve pain as well as bipolar disorder

Dilantin-125, Dilantin (phenytoin)

Used to treat seizures

Solfoton (phenobarbital)

A medication used to control epilepsy and seizures long-term

Rifater, Rifamate, Rimactane, Rifadin (rifampin)

This medication eliminates bacteria that causes tuberculosis (TB)

St. John's wort (Hypericum perforatum)

This herbal supplement has been used to treat a variety of health conditions, but it is most commonly used today for the treatment of depression
Taking Xarelto along with painkillers, such as aspirin and non-steroidal anti-inflammatory drugs (NSAIDs), or other anticoagulants, can increase a patient's risk of bleeding.
Xarelto is also contraindicated, meaning not advisable, for use by patients with active bleeding conditions or severe hypersensitivity (allergic reaction, such as anaphylaxis) to Xarelto (rivaroxaban) or any of its other ingredients.
Xarelto In Certain Populations
Certain individuals considering taking Xarelto may be at an increased risk for resulting complications. These individuals can include patients who have ever had bleeding problems, patients who have liver or kidney problems, or patients with other medical conditions.
The drug's overall safety and efficacy has not been adequately studied in pregnant women, and dosing for pregnant women has not yet been established. Women with high-risk pregnancies may be at an increased risk of bleeding and premature delivery. In animal studies, maternal bleeding and maternal and fetal death occurred during labor and delivery at a dose of 40 milligrams/kg of Xarelto. Therefore, Xarelto should be used during pregnancy only if the potential benefit justifies the potential risk to mother and fetus.
Breastfeeding Risk
It is unknown if Xarelto is passed to infants in human milk when mothers are breastfeeding. Its active ingredient, rivaroxaban, was excreted into the milk of lab rats during clinical studies. There is the potential for
serious side effects
to occur in nursing infants exposed to Xarelto.
The safety and effectiveness of Xarelto use in children has not yet been established.
Other Blood Thinners
Warfarin, marketed under the brand names Coumadin and Jantoven, has been the primary anticoagulant (blood thinner) drug available to patients since its approval. However, since 2010, the FDA has approved four new oral anticoagulant drugs, including, in order, Pradaxa (dabigatran), Xarelto (rivaroxaban), Eliquis (apixaban) and Savaysa (edoxaban).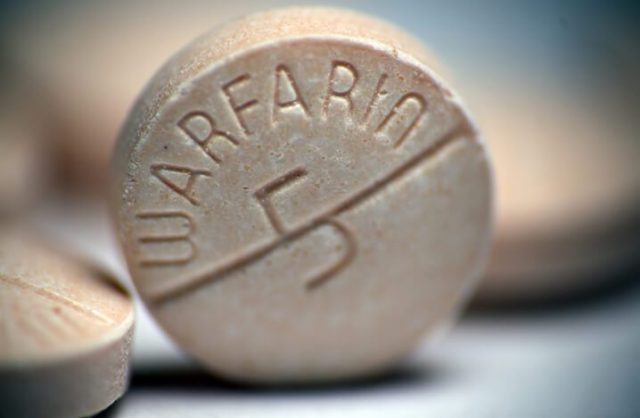 All four of these anticoagulants work to effectively reduce a patient's overall risk of stroke associated with atrial fibrillation (AF); but they can also cause bleeding, and only two of the blood thinner drugs (warfarin and Pradaxa) currently have antidotes available to reverse this adverse effect.
Across the board the FDA concluded that all four anticoagulants in the new generation of blood thinners are equivalent to, or more effective than, warfarin in preventing strokes. Still, the availability of an antidote may be a game-changer for some patients when considering which medication to take.
Other benefits of this new wave of blood thinners over the tried-and-true warfarin include fewer interactions with food and other drugs, a more rapid onset, freedom from the need to undergo periodic blood testing, and a substantially reduced risk of bleeding into the brain resulting in hemorrhagic stroke (a type of stroke that is not caused by blood clots that go into the brain, such as those found in AF patients).
Please seek the advice of a medical professional before making health care decisions.
Share This Page:
How can we improve this page?
Thank You for Your Feedback
We appreciate your feedback. One of our content team members will be in touch with you soon.
We appreciate your feedback. One of our content team members will be in touch with you soon.
Who Am I Calling?
Calling this number connects you with a Drugwatch representative. We will direct you to one of our trusted legal partners for a free case review.
Drugwatch's trusted legal partners support the organization's mission to keep people safe from dangerous drugs and medical devices. For more information, visit our partners page.