Grey's Anatomy: What Meredith Yells While Trying to Save April
Fact-Checked
Editors carefully fact-check all Drugwatch content for accuracy and quality.
Drugwatch has a stringent fact-checking process. It starts with our strict sourcing guidelines.
We only gather information from credible sources. This includes peer-reviewed medical journals, reputable media outlets, government reports, court records and interviews with qualified experts.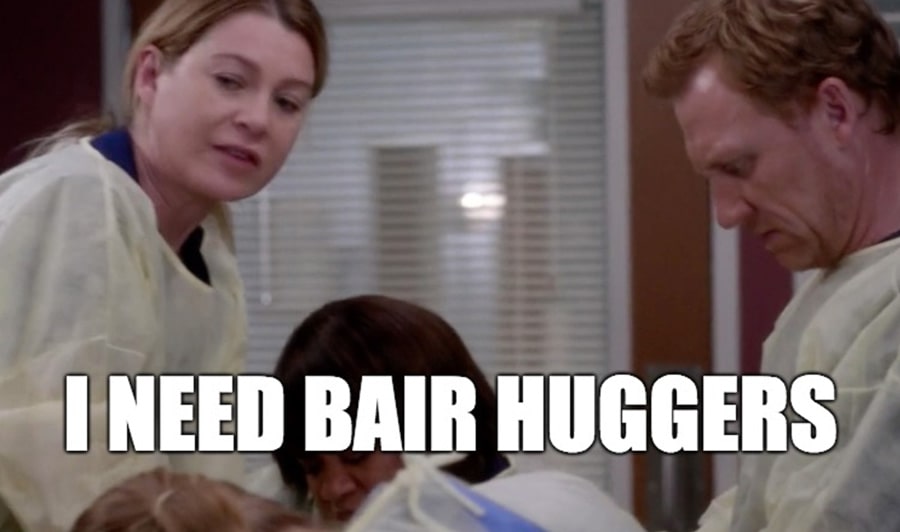 No, Dr. Meredith Grey did not ask for "bear huggers" to save a colleague's life on this week's Grey's Anatomy episode. Sure, a hug can make you feel better. But no bear hug in the world will bring someone back from hypothermic shock.
The title character of the ABC TV drama was calling out for Bair Huggers. The brand-name, forced-air warming blankets stabilize patients' body temperature. But studies — and lawsuits — suggest the devices can spread infections.
In the show, Grey (Ellen Pompeo) was trying to save Dr. April Kepner's (Sarah Drew) life. Kepner had fallen into freezing water. Her body temperature had dropped.
Grey and the staff of Grey Sloane Memorial Hospital were fighting to save her life. To do that, they needed to raise Kepner's body temperature.
"I need Bair Huggers and warm saline!" Grey shouted to staffers off camera.
Can Bair Huggers Help April Kepner Survive?
Bair Huggers would be a logical medical device to save Kepner's life. An article in the journal American Family Physician cited Bair Huggers for the role. It called the devices "perhaps most effective active external rewarming method" for hypothermia.
Kepner needed both internal and external warming to come out of hypothermic shock. Warm saline would handle the internal part of the job. Bair Huggers would take care of the external part.
6 Things You Should Know About Bair Huggers
Thousands of hospitals around the world use Bair Hugger devices. But people blame the devices for serious infections.
Here are some things to know about Bair Huggers.
1. Bair Huggers Are Forced-Air Warming Blankets
Bair Huggers force air into inflatable warming blankets. The warm air never touches a patient's body. But it heats the body through the blankets, bringing body temperature to normal.
2. Bair Huggers Are Usually Used in Routine Surgery
Hospitals use Bair Huggers most often for surgery, not cases of accidental hypothermia. A patient's body temperature can drop dangerously low during surgery. The devices help keep the body temperature normal. Knee and hip replacements are common surgeries using Bair Huggers.
3. Manufacturer Recalled Thousands of Bair Huggers This Year
Manufacturer 3M recalled 165,000 Bair Hugger warming blankets in January 2018. A Field Safety Notice warned that some blankets did not inflate. It said partially inflated blankets could cause dangerous body temperature changes during surgery.
4. Studies Suggest Bair Huggers Can Spread Infection to Patients
At least three studies suggest Bair Huggers pose an infection risk during surgery. Air from the devices never touches patients. But studies suggest the devices stir up bacteria below operating tables. Air currents then carry the bacteria into open surgical wounds. 
5. Bair Huggers Named in Thousands of Lawsuits
As of April 2018, there were more than 4,300 lawsuits over Bair Hugger devices. Some patients claim they developed serious Bair Hugger complications. Lawsuits claim patients needed more surgeries to remove infected tissue. Others had limbs amputated to stop infections. Bair Hugger manufacturer 3M argues the devices are safe. It says hospitals have performed more than 200 million surgeries with the devices.
6. About 80 Percent of U.S. Hospitals Use Bair Huggers
Despite studies and lawsuits, four in five U.S. hospitals still use Bair Huggers. The devices have been on the market since 1987. They dominate the market for warming therapy during surgery.
Did April Die in Grey's Anatomy? Spoilers Ahead.
Fans have known for weeks that actress Sarah Drew is leaving the series. How her character would exit was up in the air. And it didn't look good when Kepner reached Grey Sloan without a heartbeat.
"She's not dead until she's warm and dead," Grey declared as she started CPR.
That puts a lot of pressure on Bair Hugger and warm saline. In this case, the Bair Hugger played its part in a hospital drama. Though, it was bypass and Dr. Maggie Pierce's skills that stole the show. April survived for the final episode. Stay tuned.
Share This Page:
How can we improve this page?
Thank You for Your Feedback
We appreciate your feedback. One of our content team members will be in touch with you soon.
We appreciate your feedback. One of our content team members will be in touch with you soon.