Can Vaping Make COVID-19 Risks Worse?
Fact-Checked
Editors carefully fact-check all Drugwatch content for accuracy and quality.
Drugwatch has a stringent fact-checking process. It starts with our strict sourcing guidelines.
We only gather information from credible sources. This includes peer-reviewed medical journals, reputable media outlets, government reports, court records and interviews with qualified experts.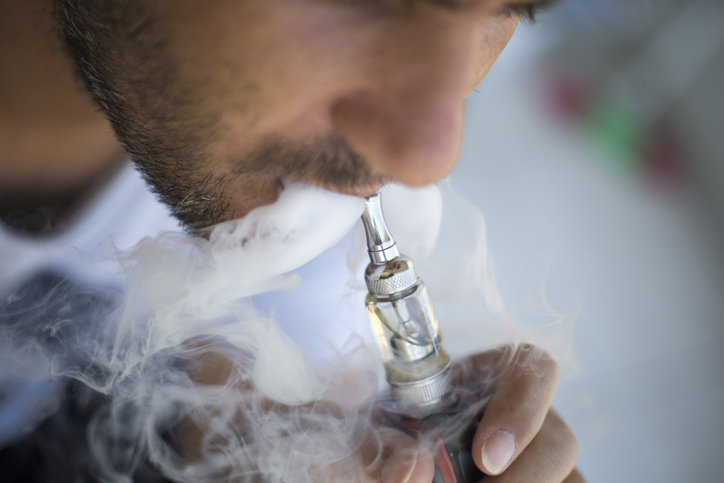 Vaping may create underlying health issues for Juul and other e-cigarette users that make them more likely to suffer severe complications of COVID-19, according to the U.S. Food and Drug Administration.
In an email to Bloomberg news, FDA spokesman Michael Felberbaum likened smoking and vaping to other underlying conditions that increase risks from the novel coronavirus, including lung and heart conditions.
U.S. Surgeon General Jerome Adams and other public health experts have speculated that vaping may be part of the reason the United States has seen higher percentages of young people diagnosed with COVID-19 than other countries.
People between the ages of 18 and 44 accounted for more than 40 percent of New York City's confirmed coronavirus cases as of April 1, 2020.
Because the coronavirus that causes COVID-19 has only been around for a few months, there is little research into how vaping and the virus may interact. But health professionals warn it makes sense that vaping can make the lungs ripe for infection.
What We Know About Vaping and COVID-19
Vaping can cause inflammation and weakness to tissue that makes the lungs open to infection. And COVID-19 is an infection that attacks the lungs, killing lung cells and tissue in its wake, according to the American Lung Association.
Research also suggests that the vapor from Juul and other e-cigarettes harms lung cells and decreases their ability to ward off infection, according to the National Institute of Drug Abuse.
"Because it attacks the lungs, the coronavirus that causes COVID-19 could be an especially serious threat to those who smoke tobacco or marijuana or who vape," Dr. Nora Volkow, the institute's director, wrote in a blog post on the agency's website.
Lung injuries and respiratory problems are among the most serious e-cigarette side effects. Both are among the underlying conditions that may worsen COVID-19 infections. Juul and other e-cigarettes also contain high levels of nicotine, which has been linked to weakened immune systems. And medical professionals say there is evidence that chronic vaping can weaken a person's ability to fight off a viral infection in the lungs.
COVID-19 and the Vaping-Related EVALI Outbreak
Dr. Alok Patel, a Columbia University pediatrician, told ABC News that people who vape are in the "high-risk bracket" of underlying conditions for COVID-19, citing the most serious vaping-related side effect — EVALI. 
He pointed out that EVALI is solid evidence of vaping's ability to cause direct damage to the lungs that can make e-cig users more vulnerable to COVID-19.
EVALI stands for e-cigarette, or vaping, product use-associated lung injury. An outbreak in 2019 sent more than 2,800 to the hospital and killed 68 others across the United States. The disease caused permanent lung damage and resulted in at least one patient needing a double lung transplant.
COVID-19 attacks the same parts of the lungs as EVALI does. This could place EVALI survivors, or those experiencing both conditions at the same time, at much greater risk.
Side Effect Information
Vaping may cause severe lung injuries and respiratory problems. Learn more about the side effects associated with Juul and other e-cigarettes.
Taking Advantage of Social Distancing to Quit Vaping
Some health care and addiction experts say this time of social distancing may be an opportunity for people trying to figure out how to quit vaping. This can be especially true for teens who vape.
Parents can use current events to discuss lung health and draw connections between the coronavirus and the potential for lung damage from vaping. 
Families with multiple smokers or e-cig users can use stay-at-home time to work as a family to all quit vapes, cigarettes and other tobacco products.
And social distancing from friends who vape, or places where e-cig users like to vape, can also be part of the toolkit for quitting.
Share This Page:
How can we improve this page?
Thank You for Your Feedback
We appreciate your feedback. One of our content team members will be in touch with you soon.
We appreciate your feedback. One of our content team members will be in touch with you soon.