Study: Quartz Countertop Manufacturing Linked to Silicosis
Fact-Checked
Editors carefully fact-check all Drugwatch content for accuracy and quality.
Drugwatch has a stringent fact-checking process. It starts with our strict sourcing guidelines.
We only gather information from credible sources. This includes peer-reviewed medical journals, reputable media outlets, government reports, court records and interviews with qualified experts.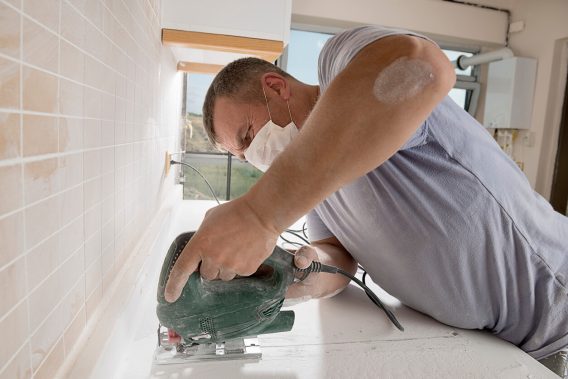 According to a study published in July in the journal JAMA Internal Medicine, working with quartz poses an increased risk of developing silicosis, a serious lung disease. 
Workers fabricating countertops are often exposed to silica dust contained in quartz. While quartz is a naturally occurring mineral, the material used for countertops such as engineered quartz contains more silica than natural stone like granite.
The study found 52 cases of irreversible lung damage among workers who make quartz slabs for home countertops. Ten of the workers died, while three others had to undergo lung transplants. Across the U.S., at least 100,000 workers are at risk of developing silicosis or fibrosis because of silica dust exposure. Meanwhile, sales of quartz stone countertops have risen more than 600% in the last decade.
Nearly all of the sickened people in the study were Latino men who had emigrated to the United States. One of the workers is Ever Ramón. He started coughing and struggling with phlegm after 16 years of fabricating countertops. In a workplace safety video he talked about the day he found out that his lungs were badly damaged. "I never imagined that my work would harm me so much," said Ramón.
New Regulations Ahead
The California Occupational Safety and Health Standards Board recently voted to expedite new regulations to prevent workers from breathing in dust that contains high amounts of silica. Across the country, OSHA already requires fabrication shops to use "dust controls" to limit workers' exposure to silica dust. This includes saws with built-in systems that apply water to the blade to prevent dust from flying into the air. Some say more needs to be done. 
"I personally have not seen a way that it can be safely done, and I think that we need to really be raising the alarms about how many workers are getting sick from this," Jenny Houlroyd, an industrial hygienist at Georgia Tech, told NBC News.
A spokesperson for Cal/OSHA told National Public Radio that plans are also being made to create an emergency temporary standard proposal later this year. The goal will be to make changes to the stone fabrication industry in hopes of mitigating the risk of developing silicosis. The Los Angeles County Board of Supervisors is also considering a full ban of quartz for countertops. 
"This is something that we've had, if you will, flashing warning lights about for some time," David Goldsmith, an occupational and environmental epidemiologist at George Washington University, told NPR.
Dangers of Silica Dust
Quartz countertops are just one of many everyday products that can cause the inhalation of silica dust during manufacturing. Other items include:
Bricks

Ceramics

Clay

Cleansers

Concrete

Construction materials

Glass

Granite

Plaster

Rocks

Sand

Skin care products

Soil
Low levels of silica aren't harmful. Experts say homeowners who have these materials in their homes are at very low risk. The main concern is for those who are exposed to large amounts of silica dust on a regular basis. 
"Silicosis can be acute with symptoms of cough and shortness of breath in weeks to months after heavy exposure, or chronic in which lung scarring, shortness of breath and cough occur over years of exposure," Dr. David Center of Boston University told Boston.com. 
Silicosis develops when silica dust enters the lungs and eventually causes inflammation. That later creates scar tissue, making it difficult to breathe. There is no cure for silicosis, but treatments are available. 
Share This Page:
How can we improve this page?
Thank You for Your Feedback
We appreciate your feedback. One of our content team members will be in touch with you soon.
We appreciate your feedback. One of our content team members will be in touch with you soon.