Talc is a naturally occurring mineral made up of magnesium, silicon, oxygen and hydrogen. It's mined from rock deposits found around the world. The rocks are crushed, dried and milled into a fine, soft, white powder, known as talcum powder.
Fact:
Talc can be found in many baby powders, foot powders, medicated powders, cosmetics and intimate hygiene products.
When finely ground, talc absorbs moisture, oils and odor, and it serves as a lubricant, providing soft, slippery surfaces that reduce friction. It also produces an astringent effect with human skin.
These properties make talcum powder an attractive ingredient to the personal care industry, which uses talc as an ingredient in common products that prevent skin irritation, chafing and body odors. Many baby powders, foot powders, medicated powders, cosmetics and intimate hygiene products contain talc. And about 40 percent of women are said to regularly use talcum powder.
Talcum Powder Uses
The use of talc can be traced as far back as ancient Egypt. Ancient Assyrians and Native Americans also used talc for a variety of purposes.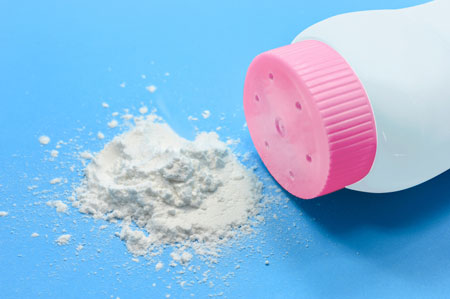 For generations, talcum powder was a fixture in bathrooms and nurseries
Talcum powder was first introduced in the 19th century to alleviate skin irritation caused by medical plasters (protective dressings). Consumers soon noticed that talc was also helpful in calming diaper rash, and in 1893, Johnson & Johnson debuted Johnson's Baby Powder.
For generations, talcum powder was a fixture in American bathrooms and nurseries, and it was assumed to be an innocuous and soothing substance. Parents, caregivers and nurses dusted the bottoms of infants as an inexpensive and effective way to treat diaper rash and other minor irritations.
Over time, product lines evolved, and women became a target market. Manufacturers targeted women by pitching talcum powder as a way of staying cool, comfortable and free of vaginal odors. It grew routine for women to dust their private parts, underwear and sanitary napkins with talcum powder, a practice associated with cleanliness and freshness in the minds of many Americans. At times, talcum powder was also used with diaphragms for birth control and was once found in a number of condoms.
Skin-care product developers also put the silky substance in face powders (both loose and pressed), powdered eye shadow and blush products to absorb moisture, prevent caking, make makeup more opaque and to improve the feel of a product. Talc is also an additive in tablets, chewing gum and some rice.
Products containing talc include:
Body Powder
Johnson's Baby Powder
CVS Brand Baby Powder
Rite Aid Baby Powder
Anti Monkey Butt Powder
Assured Shower & Bath Absorbent Body Powder
Angel of Mine Baby Powder
Family Dollar Mild Baby Powder
Shower to Shower Morning Fresh Absorbent Body Powder
Blush
Maybelline New York Expert Wear Blush Gentle Rose
N.Y.C. New York Color Cheek Glow Powder Blush West Side Wine
NARS Blush Torrid
Eye Shadow
Physician's Formula Shimmer Strips Custom Eye Enhancing Shadow & Liner Hazel Eyes
Black Radiance Eyeshadow Quartet Retro Chic
Stila Eye Shadow Trio Venus
Dior 5-Colour Iridescent Eyeshadow Petal Shine
Foundation
Black Opal True Color Liquid Foundation Heavenly Honey
Laura Mercier Foundation Powder Number 2
Face Powder
LA Colors Pressed Powder Nude
Revlon Color Stay Pressed Powder Fair
Cover Girl TruBlend Mineral Loose Mineral Powder Translucent Fair
Physician's Formula Summer Eclipse Bronzing & Shimmery Face Powder Moonlight/Light Bronzer
Wet n Wild Bronzer Light/Medium
Iman Luxury Pressed Powder Clay Medium Dark
Coty Air Spun Loose Face Powder Translucent
Black Opal Color Fusion Powder Mosaic Raspberry Bronzer
Black Radiance Pressed Powder Rich Mahogany Acajou Riche
Posner Finishing Touch Pressed Powder Honey Beige
N.Y.C. New York Color Loose Face Powder Translucent
Almay Nearly Naked Loose Powder Light/pale
Clinique Stay Matte Sheer Pressed Powder Invisible Matte
BeneFit Hello Flawless Custom Powder Cover-Up for Face SPF 15 Me Vain? Champagne
Smashbox Fusion Soft Lights Intermix Pressed Powder Baked Stardust
Guerlain Meteorites Poudre de Perles Illuminating Perfecting Pressed Powder Mythic Parfait
Urban Decay Baked Bronzer Gilded
Shower to Shower Powder
Shower to Shower is a line of body powders made mostly of cornstarch and talc. The absorbent body powders are marketed as after-shower body powers for adults that deliver "long-lasting freshness" and keep users "feeling drier longer."
Johnson & Johnson was the original seller of Shower to Shower, and the body powders became known for the slogan, "Just a sprinkle a day helps keep odor away." After about 50 years, Johnson & Johnson sold Shower to Shower to Valeant Pharmaceuticals International Inc. in 2012.
Valeant continued to sell Shower to Shower in five time-release fragrances, including one specifically for men. All products were marketed for adults. Parents were instructed to consult with a pediatrician before using the powder on a baby.
Women who used Shower to Shower and developed ovarian cancer are now suing both Johnson & Johnson and Valeant after recent studies linked talcum-powder products to an increased risk of ovarian cancer.
Johnson & Johnson has lost multiple trials involving women who say they were diagnosed with ovarian cancer after using Shower to Shower for 30-plus years. The company continues to fight claims.
As of May 2017, Valeant faced 33 lawsuits involving Shower to Shower body powder acquired from Johnson & Johnson.
FDA, Talc & Asbestos
The U.S. Food and Drug Administration (FDA) monitors cosmetic products for potential safety problems and takes action when products on the market are found to be unsafe. However, there is no law that requires cosmetic companies to share their safety information with the FDA. In fact, unlike with medications and medical devices, cosmetic products do not undergo FDA review or approval before they go on the market.
Over the years, the FDA has received safety questions about talc and asbestos contamination.
Since the 1970s, the FDA has periodically received questions about talc's safety and whether products made with talc contain harmful contaminants, such as asbestos.
Asbestos is a cancer-causing substance. In its natural form, some talc contains asbestos. Both talc and asbestos are naturally occurring minerals and may be found near one another in the earth.
The International Agency for Research on Cancer (IARC), which is part of the World Health Organization (WHO), classifies talc that contains asbestos as "carcinogenic to humans."
The FDA says it's unacceptable for cosmetic talc to contain asbestos. Talcum products sold in the U.S. have been asbestos-free since the 1970s.
"To prevent contamination of talc with asbestos, it is essential to select talc mining sites carefully and take steps to purify the ore sufficiently," according to the FDA.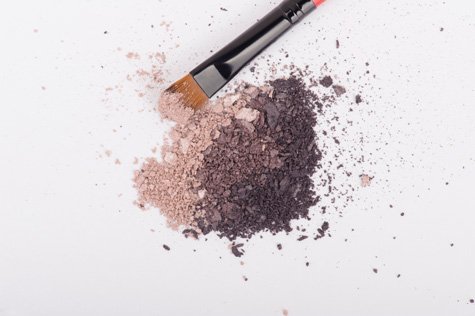 The FDA conducted a laboratory survey of cosmetic products containing talc for the possible presence of asbestos.
Because safety questions about the possible presence of asbestos in talc arise from time to time, the FDA contracted with AMA Analytical Services, Inc. (AMA) of Lanham, Maryland to conduct a laboratory survey of currently marketed cosmetic-grade raw material talc, as well as some cosmetic products containing talc.
The study, which ran from September 28, 2009 to September 27, 2010, found no signs of asbestos in the samples tested. However, the results were limited because only four talc suppliers submitted samples and the study only tested 34 products.
"For these reasons, while FDA finds these results informative, they do not prove that most or all talc or talc-containing cosmetic products currently marketed in the United States are likely to be free of asbestos contamination," according to the FDA.
Talc and Ovarian Cancer
Although there is some conflicting research, published medical studies indicate that talc-based powders are associated with ovarian cancer when used by women long term to keep moisture, odor and chafing under control around their vagina.
Studies show women who use talc products for intimate personal hygiene have a 20- to 30-percent greater risk of developing ovarian cancer.
IARC classifies the perineal (genital) use of talc-based body powder as "possibly carcinogenic to humans." And research shows women who dusted their groin area with talcum powder had a 20- to 30-percent greater risk of developing ovarian cancer than women who did not use talc products for intimate personal hygiene.
As a result, thousands of women with ovarian cancer have filed lawsuits against the pharmaceutical giant Johnson & Johnson, alleging that baby powder caused their disease. While baby powder and body powder manufacturers continue to make their products with talc, condom and surgical glove makers have stopped dusting their products with the mineral.
Talc and Other Diseases
Some scientists have found evidence linking talcum powder use to diseases other than ovarian cancer. The findings have prompted some health organizations and medical professionals to call for additional studies of talc and even to warn against its use.
Lung Cancer and Serious Respiratory Diseases
Talc can cause respiratory problems, especially in infants. For this reason, the American Academy of Pediatrics and a majority of private pediatricians discourage use of baby powders containing talc.
As powder is applied, particles of talc become airborne. When inhaled, these particles can cause wheezing, fast and shallow breathing, coughing and in some cases acute or chronic lung irritation, known as talcosis.
Breathing in talc can also cause pneumonia and trigger asthma symptoms in certain people. Some studies show an increased risk of lung cancer and other respiratory diseases in people with long-term exposure to talc such as miners and millers, according to the CDC. In addition, inhalation studies in female rats have demonstrated carcinogenicity, according to the National Toxicology Program.
Uterine Cancer and Cervical Cancer
According to the American Cancer Society more studies are needed to explore talc and the risk of uterine (endometrial) cancer. One study indicated that using talcum powder on genitals may increase the risk of uterine cancer; others have not found a link between talcum powder use and this type of cancer.
Scientists have also found traces of talc in cervical tumors, indicating there may be a link between the cancer and talcum powder use.
Talcum Powder Warning Labels
Despite the mounting evidence of serious health problems with genital use of talcum powder, major manufacturers of talcum powder products do not warn consumers of the potential dangers. Moreover, the U.S. government has not acted to remove the powders or add warning labels.
In 1994 and again in 2008, the nonprofit Cancer Prevention Coalition petitioned the FDA for talc warning labels. The FDA responded with a denial letter in 2014 that pointed to a lack of "conclusive evidence" to establish causality. However, the agency said it is possible talc "may elicit a foreign-body-type reaction and inflammatory response that, in some exposed women, may progress to epithelial cancers."
Johnson & Johnson product labels do not warn of studies linking baby powder and Shower to Shower talc products to ovarian cancer.
Johnson & Johnson's talc supplier added warning labels in 2006; however, Johnson & Johnson has yet to add similar warnings to its products. The company does have a warning label on baby powder that cautions against inhalation and notes that the powder is for external use only.
Multiple juries have said Johnson & Johnson is wrong in failing to warn consumers of studies linking its baby powder and Shower to Shower talc products to ovarian cancer. To date, the company has been named in more than 3,000 lawsuits. So far, Johnson & Johnson has lost four trials and has been ordered to pay more than $300 million. The company says it's appealing those jury verdicts.
Cornstarch-based Baby Powders vs. Talc-based Powders
Talcum powder and baby powder are not the same thing. Although some baby powders may be talc-based, not all of them contain the mineral.
Some baby powders and feminine hygiene powders use cornstarch as a substitute for talc. The cornstarch replaces talc as an absorbent, which is said to make the products safer. In fact, the American Cancer Society in 1999 advised women to use cornstarch-based products when dusting the genital area.
However, in January 2017, Jessica Alba's The Honest Company recalled its organic, talc-free baby powder, citing possible contamination that may cause eye and skin infections. Johnson & Johnson, which released a cornstarch-based baby powder in the 1970s, continues to defend the safety of its talc-based products.
Even though cornstarch-based baby powder has larger particles and is believed to be less harmful than talc-based powder, some doctors say to use as little of the powder as possible — if at all — and to make sure to apply the powder correctly.
It's important to keep the powder localized to the diaper and to avoid any area where the powder can be inhaled. One option is to put the powder on your hands and transfer it to the diaper; another is to gently sprinkle the powder onto the diaper.
Alternatives to Talc
Cornstarch is perhaps the most well-known alternative to talc. To date, there is no evidence linking cornstarch with any form of cancer, according to the American Cancer Society. Authors of a 2000 study titled "Perineal application of talc and cornstarch powders: evaluation of ovarian cancer risk" concluded "powder containing cornstarch exclusively is not predicted to be a risk factor for ovarian cancer."
Other ingredients used as alternatives to talc include:
Kaolin
Kaolin, or China clay, is naturally occurring white cosmetic clay. It has fine particles and is used as an absorbent, anticaking agent, bulking agent and skin protectant. Kaolin's overall hazard level is considered low. There is limited evidence of respiratory toxicity when used in products that can become airborne.
Arrowroot Powder
Also known as arrowroot flour or arrowroot starch, arrowroot powder is a fine white powder similar to cornstarch. It comes from the roots of the arrowroot plant, Maranta arundinacea. Arrowroot is used as a thickening agent in moisturizers and is said to give skin a soft and smooth feel.
Zinc Oxide
Zinc Oxide can protect against ultraviolet light and is best known as a mineral sunscreen. It is also used in mineral makeup as a thickener and whitener. It has good covering power and is mildly astringent. It has slight soothing capabilities and may adhere to the surface of the skin.
Boron Nitride
Boron Nitride diffuses light, can absorb excess oil in the face and disperses pigment evenly. For these reasons, it is an option for face powders and is used in cosmetics and personal care products as an oil absorbent. Its overall health hazard is considered low, with some concerns of enhanced skin absorption.
Rice Starch
Rice starch was widely used in face powders before it was replaced by talc. A major problem with rice starch is that it has a tendency to cake when there is moisture and cling to facial hair. It can also become sticky and promote bacterial growth. However, companies have developed modified starches that they say possess the benefits of untreated starch without the disadvantages.
Silk Powder
Silk powder is finely ground silk. It is a popular additive to cosmetics because of its ability to reflect light and UV rays, absorb and release moisture and absorb oil. It is used as a coloring agent in face powders and soaps. If inhaled or swallowed, silk powder can cause severe allergic skin reactions and systemic reactions.
Please seek the advice of a medical professional before making health care decisions.
Author
Emily Miller is an award-winning writer who has held editorial positions with reputable print and online publications around the U.S. As the editor of Drugwatch.com, Emily draws on her background as both a patient and a journalist to ensure her team of writers provides consumers with the latest and most accurate information on drugs, medical devices, procedures and related lawsuits. Emily holds five Health Literacy certificates from the Centers for Disease Control and Prevention as well as a Bachelor of Science in Journalism from the University of Florida. She is a member of The Alliance of Professional Health Advocates, the American Association for the Advancement of Science, the Society of Professional Journalists and the Society for Technical Communication.
---