Surgical Stapler Lawsuits
Surgical stapler lawsuits claim that surgical staplers malfunctioned and caused infections, serious injuries such as internal bleeding and organ damage, or death when used in operations. The largest surgical stapler lawsuit verdict was $80 million for a woman who suffered injuries during an operation that nearly killed her. As of 2019, the number of surgical stapler lawsuits is expected to climb.
This is an active lawsuit
See If You Qualify for a Surgical Stapler Lawsuit
If you suffered serious injuries from a surgical stapler, you may be entitled to compensation. Get a free case review today.
We value your privacy.
By clicking REVIEW MY CASE
, you agree to our
privacy policy
and
disclaimer
. After submitting, you will be contacted by one or more of Drugwatch's
trusted legal partners
(including autodialed and prerecorded calls or text/SMS messages). Msg. and data rates apply. Your consent to text messaging is not required for a case review and you may opt out of text messages at any time by texting STOP. This is legal advertising.
Surgical staplers, which are sometimes preferred to sutures for minimally invasive surgeries, can cause serious injuries by firing malformed staples into organs or other tissue in the body. Defective staplers may not fire all staples necessary to bind an incision, causing bleeding or leaving an incision unsealed.
The risk reclassification of these devices, product recalls and media reports about stapler malfunctions being hidden from the public are likely to drive an increase in surgical stapler lawsuits.
Attorneys are currently taking new cases. Settlements and verdicts in surgical stapler cases have ranged from $5 million to $80 million. As of November 2022, there have been no recent updates on these cases. They remain individual cases and haven't been consolidated.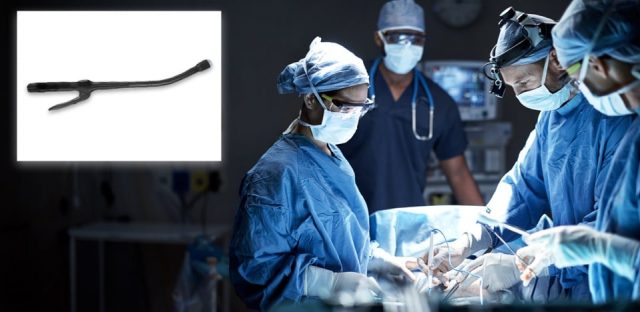 Injuries Claimed in Lawsuits
Surgical stapler lawsuits claim that malfunctioning devices caused severe injuries and prolonged surgery and may have required further surgical procedures. Some lawsuits claim faulty medical staplers resulted in patients' deaths.
Serious Injuries Caused by Surgical Staplers & Staples
Torn or damaged internal organs and tissues
Sepsis, a potentially fatal reaction to infection
Increased risk of cancer recurrence
Fistula formation, an abnormal connection between organs or other tissue in the body
Death
Bleeding
Did you suffer serious injuries or complications from a surgical stapler?
Manufacturers and Surgical Stapler Recalls
Medtronic, which acquired Covidien in 2014, and Johnson & Johnson subsidiary Ethicon control the vast majority of the surgical stapler market in the United States. The two companies produce 4 out of 5 surgical staplers used in American hospitals.
Surgical Stapler Manufacturers
Covidien (Medtronic)
Ethicon US (Johnson & Johnson)
3M
B. Braun Melsungen AG
Cardica
Care Fusion Corporation
CONMED
Frankenman International
Meril Life Science
Purple Surgical
Smith & Nephew
Stryker
U.S. Surgical
Welfare Medical
Reach Surgical
Zimmer Biomet
Manufacturing Defects Led to Recalls
Medtronic and Ethicon products account for some of the largest surgical stapler-related recalls in recent years. The two companies combined have recalled more than 3.4 million staplers, staples and components since 2013.
Recent Surgical Stapler & Staple Recalls
MANUFACTURER
YEAR
NUMBER RECALLED
PRODUCTS
REASON FOR RECALL
Ethicon
2019
92,496
Endo-Surgery Curved Intraluminal Stapler with Adjustable Height Staples

Endo-Surgery Endoscopic Curved Intraluminal Stapler with Adjustable Height Staples
Two patients were injured after devices misfired, cutting portions of their rectums.
Medtronic
2019
3,113,280
Endo GIA Articulating Reloads with TriStaple Technology
Missing components could affect staple alignment.
Medtronic
2018
171,271
Endo GIA "Auto Suture" Universal Articulating Loading Unit
Five people were injured related to missing components that could affect staple alignment.
Ethicon
2015
6,744
Endopath Echelon Flex Powered Vascular Staplers with Advanced Placement Tip and White Reloads
Inspections found certain staplers may not insert a full line of staples when fired.
Ethicon
2013
57,540
ECHELON 60mm Endoscopic Linear Cutter Reloads Black
Manufacturer identified a potential for reload damage that would prevent a complete line of staples firing.
Medtronic reported at least five people injured prior to a May 2018 recall. The companies often found manufacturing defects that could cause injuries.
In a 2019 recall of more than 3 million TriStaple reloads, Medtronic reported that a missing component had the potential for staples to fail, leading to "bleeding, anastomotic leak, peritonitis, or pneumothorax which can result in the potential for infection and/or sepsis."
Other defects leading to recalls had the potential to cause bleeding or the leaking of intestinal contents into surrounding body parts.
Surgical Stapler Risks Were Underreported for Years
Medical device manufacturers are required to report serious injuries and deaths related to the use of their products to the U.S. Food and Drug Administration. The FDA maintains a public database of reported medical devices problems. But the majority of surgical stapler complications reported between 2011 through 2018 were submitted to a hidden database.
While 41,000 malfunctions were reported to the public database, another 56,000 were concealed from public view. Among the 41,000 public reports, there were at least 366 deaths and more than 9,000 serious injuries related to surgical staplers in that eight year period. When reports from both databases were combined, the number of deaths rose to 412, and injuries rose to 11,181.
In 2016 alone, the FDA posted fewer than 100 stapler-related injury reports to the public MAUDE database. But nearly 10,000 reports were hidden from the public as so-called "alternative summary" reports, according to Kaiser Health News.
FDA Takes Action
When Kaiser Health News reported on the secret database in 2019, the FDA took quick steps to release the hidden reports and tighten regulations around surgical staplers.
FDA Actions on Surgical Staplers
TOUGHER REGULATION, April 24, 2019
NEW LABELING REQUIREMENTS, April 24, 2019
PUBLIC ADVISORY COMMITTEE, May 30, 2019

The FDA sought expert input on its analysis of all reported injuries.

LETTER TO HEALTH CARE PROVIDERS, June 5, 2019

The FDA sent out

a letter to doctors

, hospitals and others who routinely use surgical staplers. It warned about the high number of deaths and injuries related to staplers and provided recommendations to prevent patient injuries.
Verdicts and Settlements in Stapler Lawsuits
The largest surgical stapler verdict was nearly $80 million awarded by a California jury to a former police officer for life-threatening injuries from a defective stapler.
Three days after Florence Kuhlmann underwent surgery in 2012, doctors found her bowel had been stapled against her rectal wall. The blockage caused her bowel to rupture causing sepsis, a life threatening response to infection.
The problem was blamed on an Ethicon PPH 03 surgical stapler later involved in a company recall, according to her attorneys.
The jury awarded her $70 million in punitive damages and $9.8 million in compensatory damages. In 2018, an appeals court reduced the award to $19.6 million, citing a "constitutional maximum" for punitive damages.
$5.5 Million Settlement for Stapler-Related Death
In 2017, Ryan Strange of Illinois agreed to a $5.5 million settlement over the death of his wife due to a surgical stapler injury in 2013.
The lawsuit named Memorial Medical Center in Springfield, Ill., the Southern Illinois University School of Medicine's group practice doctors, and Covidien. All parties agreed to pay a share of the settlement.
Covidien agreed to pay $250,000 as its part of the wrongful death lawsuit. Medtronic acquired Covidien in 2014.
April Strange bled to death following surgery to remove a noncancerous mass on her liver. The stapler cut a blood vessel but failed to properly seal it, causing "massive blood loss, cardiac arrest related to the blood loss, and death the same day."
This risk has been cited as a reason behind surgical stapler recalls in recent years.
The stapler had been disposed of following surgery, and Covidien argued that there was no proof that Strange's death was a result of a defect in its product.
Potential Compensation for Surgical Stapler Injuries
Surgical stapler injuries can be serious or even deadly. They can cause people to be incapacitated for long periods of time or cost families their loved ones. People can seek compensation for both past and future injuries from these devices.
Past and Future Compensation in Surgical Stapler Lawsuits
Medical expenses
Funeral expenses for deaths resulting from stapler injuries
Pain and suffering, both physical and mental
Lost wages
Loss of earning capacity
Loss of enjoyment of life
Punitive damages to punish the manufacturer
People considering filing a surgical stapler lawsuit may wish to consult a lawyer who specializes in medical device cases. These types of lawsuits can be complex and involve issues of medicine, engineering and manufacturing as well as product liability law.
Questions Attorneys May Ask
How did your surgical stapler malfunction during your procedure?
People filing lawsuits against surgical stapler manufacturers claim the devices malfunctioned during surgery. The most common surgical stapler malfunctions reported to the FDA include misfiring or difficulty in firing, failure of the stapler to fire the staple and the user applying staples to the wrong tissue.
What complications did you experience?
The serious complications associated with surgical stapler malfunctions include torn or damaged internal organs and tissues, sepsis, increased risk of cancer recurrence and fistula formation. Let your attorney know if you've experienced these or any other serious complications.
When did these complications occur?
Surgical stapler complications can occur during surgery or show up days after the surgery. Be sure to let your attorney know when you first felt symptoms.
Has the surgical stapler device that was used during your procedure been recalled?
Medtronic and Ethicon, which have been responsible for producing the majority of surgical staplers in the U.S., have recalled more than 3.4 million surgical staplers and other related products. Contact your surgeon to find out if the surgical stapler that was used in your procedure has been part of these recalls.
Please seek the advice of a medical professional before making health care decisions.
Share This Page:
How can we improve this page?
Thank You for Your Feedback
We appreciate your feedback. One of our content team members will be in touch with you soon.
We appreciate your feedback. One of our content team members will be in touch with you soon.
Who Am I Calling?
Calling this number connects you with a Drugwatch representative. We will direct you to one of our trusted legal partners for a free case review.
Drugwatch's trusted legal partners support the organization's mission to keep people safe from dangerous drugs and medical devices. For more information, visit our partners page.