Tasigna
Tasigna is used to treat Philadelphia chromosome-positive chronic myeloid leukemia, or Ph+ CML, in accelerated and chronic phase. While it is more effective than Novartis' other drug Gleevec, Tasigna has more side effects, including prolongation of the QT interval and sudden death.
Tasigna (nilotinib) is an oral chemotherapy drug manufactured by Novartis. The U.S. Food and Drug Administration approved it in 2007.
Doctors prescribe the drug to treat a specific type of blood cancer called Philadelphia chromosome-positive chronic myeloid leukemia. They may also recommend the medication to patients who did not respond well to other cancer treatments, such as Gleevec (imatinib).
Did You Know?
Tasigna remains one of Novartis' top moneymaking drugs. It earned about $1.8 million in 2018.
The drug can cause several common side effects, such as nausea, itching, rash, fatigue, and headaches. It may increase the risk of blocked arteries, potentially fatal heart rhythms called torsade de pointes, and sudden death.
From 2007 to September 30, 2019, the FDA received 11,532 reports of serious side effects, including 3,100 deaths, involving Tasigna, according to the FDA Adverse Events Reporting System (FAERS) Public Dashboard.
As of 2022, people who took the drug and suffered heart or vascular problems, such as decreased blood flow to the legs, heart, and brain are filing Tasigna lawsuits.
Nilotinib's Effects on the Body
Tasigna's active ingredient, nilotinib, works by blocking cancer-growing proteins called tyrosine kinases. It belongs to a class of drugs called tyrosine kinase inhibitors, or TKIs.
Specifically, nilotinib works by blocking signals from the abnormal blood proteins that create leukemia cancer cells. Blocking cancer cell signals may stop cancer from spreading and may allow more healthy blood cells to grow, according to Novartis' Tasigna website.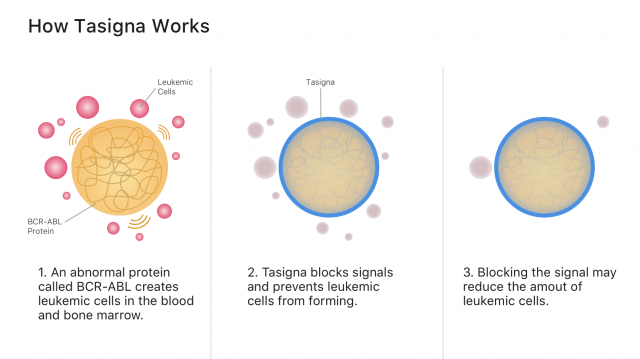 The goals of treatment with drugs like Tasigna are to achieve normal blood counts, to reduce and eliminate the Philadelphia chromosome, and to reduce and eliminate BCR-ABL1 gene expression, according to a 2011 study published in Cancer. Researchers call achieving a BCR-ABL1 of 0.1% or less a major molecular response, or MMR, to the medication.
Philadelphia chromosomes are abnormal chromosomes found in bone marrow cells, according to National Cancer Institute. They form when a piece of chromosome 9 and a piece of chromosome 22 detach and swap places. BCR-ABL1 refers to the gene sequence that forms on chromosome 22 where the piece of chromosome 9 affixes.
If a patient achieves an MMR after taking Tasigna for at least three years, their doctor may allow them to discontinue the drug.
Capsule Strengths and Twice-Daily Doses
Tasigna comes in 50 mg, 150 mg and 200 mg capsules to be taken by mouth.
For adults newly diagnosed with Philadelphia chromosome-positive chronic myeloid leukemia, the starting dose is 300 mg twice daily. For treatment-resistant adults, the recommended dose is 400 mg twice daily.
Tasigna Dosing Tip
People who cannot swallow Tasigna capsules may open each capsule and put the contents in a teaspoon of applesauce.
For children, the recommended dose based on body surface area is 230 mg/m2 twice daily, rounded to the nearest 50 mg dose. The maximum single dose for children is 400 mg.
Patients should take the drug twice daily approximately 12 hours apart with water on an empty stomach. They should not eat for at least two hours before and one hour after taking each dose.
Antacids and Other Substances that May Interact with Tasigna
Several drugs may interact with Tasigna. These include certain antacids, antibiotics, opioids and antidepressants.
The drugs may increase or decrease in effectiveness when combined with nilotinib. They may also decrease or increase blood concentrations of nilotinib.
The most dangerous interactions can cause an abnormal heart rhythm due to the prolongation of the QT interval. This may lead to sudden death. Grapefruit and certain herbal supplements (such as St. John's Wort) can also affect how the drug works in the body.
Potential Interactions with Tasigna
Potential Interactions with Tasigna
Atazanavir increased atazanavir exposure
Clopidogrel increased clopidogrel exposure
Darunavir increased nilotinib exposure
Digoxin increased QT interval
Fluoroquinolones increased QT interval
Fluoxetine increased QT interval
Grapefruit juice increased nilotinib exposure
Haloperidol increased QT interval
Ketoconazole increased QT interval
Licorice increased nilotinib exposure
Losartan increased losartan exposure
Metoclopramide increased QT interval
Metoprolol increased metoprolol exposure
Pioglitazone increased pioglitazone exposure
Risperidone increased QT interval
St. John's Wort decreased nilotinib exposure
Venlafaxine increased QT interval
Warfarin increased anticoagulation
This is not a complete list. Patients should inform their doctors of all medications and supplements they take.
Tasigna's prescribing information lists several precautions and warnings. People with hypokalemia (low potassium), hypomagnesemia (low magnesium) or long QT syndrome should not take this drug.
Nilotinib may be harmful to a fetus. Women who may become pregnant should use an effective form of birth control while taking Tasigna. Women should not breastfeed during treatment and for at least 14 days after their final dose.
The drug's capsules contain lactose, so patients who are lactose intolerant or have milk allergies should tell their doctors.
Tasigna vs Gleevec
Like Tasigna, Gleevec treats Philadelphia chromosome-positive chronic myeloid leukemia in accelerated and chronic phase, but it's approved for other uses as well. Novartis manufactures both drugs. The FDA approved Gleevec in 2001.
In clinical trials, twice as many adults who took Tasigna achieved MMR at one year compared to those who took Gleevec, according to the Tasigna label. About 93.7 percent of adults survived at least five years with Tasigna. This is just slightly higher than the 91.7 percent who survived with Gleevec.
In 2017, the FDA approved an addition to Tasigna's label that says patients with early phase chronic myeloid leukemia who have been taking the medication for at least three years may be eligible to stop taking the drug if their leukemia has responded to treatment according to specific criteria. Patients who take Gleevec don't have the same option.
"Patients diagnosed with CML generally face a lifetime of treatment to keep their leukemia from growing or recurring," Dr. Richard Pazdur, director of the FDA's Oncology Center of Excellence, said in a press release. "Today's approval shows that some patients may be able to stop treatment with Tasigna altogether if they are showing a strong response to therapy."
But Tasigna may result in more serious side effects than Gleevec. For example, Gleevec's labeling does not include a black box warning while Tasigna's labeling features a black box warning for QT prolongation and sudden death.
Please seek the advice of a medical professional before making health care decisions.
Share This Page:
How can we improve this page?
Thank You for Your Feedback
We appreciate your feedback. One of our content team members will be in touch with you soon.
We appreciate your feedback. One of our content team members will be in touch with you soon.
Who Am I Calling?
Calling this number connects you with a Drugwatch representative. We will direct you to one of our trusted legal partners for a free case review.
Drugwatch's trusted legal partners support the organization's mission to keep people safe from dangerous drugs and medical devices. For more information, visit our partners page.