Tasigna Side Effects
In Tasigna clinical trials, at least 20 percent of people treated with the chemotherapy drug suffered mild side effects such as diarrhea, headache, fatigue and runny nose. The drug has a black box warning for QT prolongation, a dangerous irregular heart rhythm that can lead to sudden death. Studies also show it may cause accelerated atherosclerosis, or hardening of the arteries.
Tasigna (nilotinib) side effects range from nausea, diarrhea and headaches to cardiovascular problems and irregular heartbeats that may lead to sudden death.
From 2007 to March 31, 2019, Americans reported 15,378 cases of adverse events related to Tasigna, according to the FDA Adverse Events Reporting System (FAERS). Of those, 10,779 were serious, including 2,853 deaths.
Lawsuits against Tasigna's manufacturer, Novartis, claim the company failed to warn the public about a dangerous side effect called atherosclerosis. The disease occurs when fatty deposits clog arteries, and it may lead to heart attacks, strokes and other complications.
Common Side Effects
Common side effects of Tasigna can happen immediately after taking the drug. These are typically less serious and may go away after a short time. In clinical trials, the most common side effects occurred in 20 percent or more of participants.
Common side effects include:
Anemia
Constipation
Cough
Diarrhea
Fatigue
Headache
Joint pain
Nausea
Night sweats
Pruritus (itchiness)
Raised body temperature
Rash
Stuffy or runny nose
Thrombocytopenia (low platelet count that may lead to increased bleeding and bruising)
Vomiting
Side Effects After Stopping Treatment
Stopping Tasigna may cause side effects. Patients who achieve good blood cell counts may decide to stop treatment. Doctors call this treatment free remission, or TFR.
People who try TFR may suffer more musculoskeletal problems after stopping the drug. These include pain in the muscles, arms, legs, joints, bones and spine. Patients who experience symptoms should inform their doctor.
Atherosclerosis
Studies reveal Tasigna may cause an accelerated form of atherosclerosis, though the drug's United States label does not warn specifically about this condition.
Atherosclerosis, or hardening of the arteries, happens when fatty deposits build up in the blood vessels. This decreases blood flow to other parts of the body and may lead to stroke or heart attack.
Treatment may include medications, surgeries, or diet and lifestyle changes.
Health Canada warned the public in 2013 about atherosclerosis-related conditions associated with Tasigna. A review of the Novartis global safety database revealed 277 cases of atherosclerosis reported between January 2005 and January 2013, according to the agency.
Peripheral Artery Disease: A Type of Atherosclerosis
Peripheral artery disease, or PAD, is a type of atherosclerosis that causes narrowing of the blood vessels in the legs, stomach, arms and head. PAD usually affects the legs. It can lead to pain, numbness and tissue death called gangrene.
A letter to the editor published in the peer-reviewed medical journal Leukemia in 2013 analyzed studies that had found PAD was more prevalent in people who used Tasigna versus a similar Novartis drug called Gleevec.
"The detrimental effect of nilotinib was evident despite a shorter duration of treatment," the letter's author Dr. A. Tefferi wrote.
Tefferi, a hematologist and internist with the Mayo Clinic, encouraged full disclosure to patients of the adverse events associated with drugs like Tasigna, including the risk of nilotinib-associated accelerated atherosclerosis.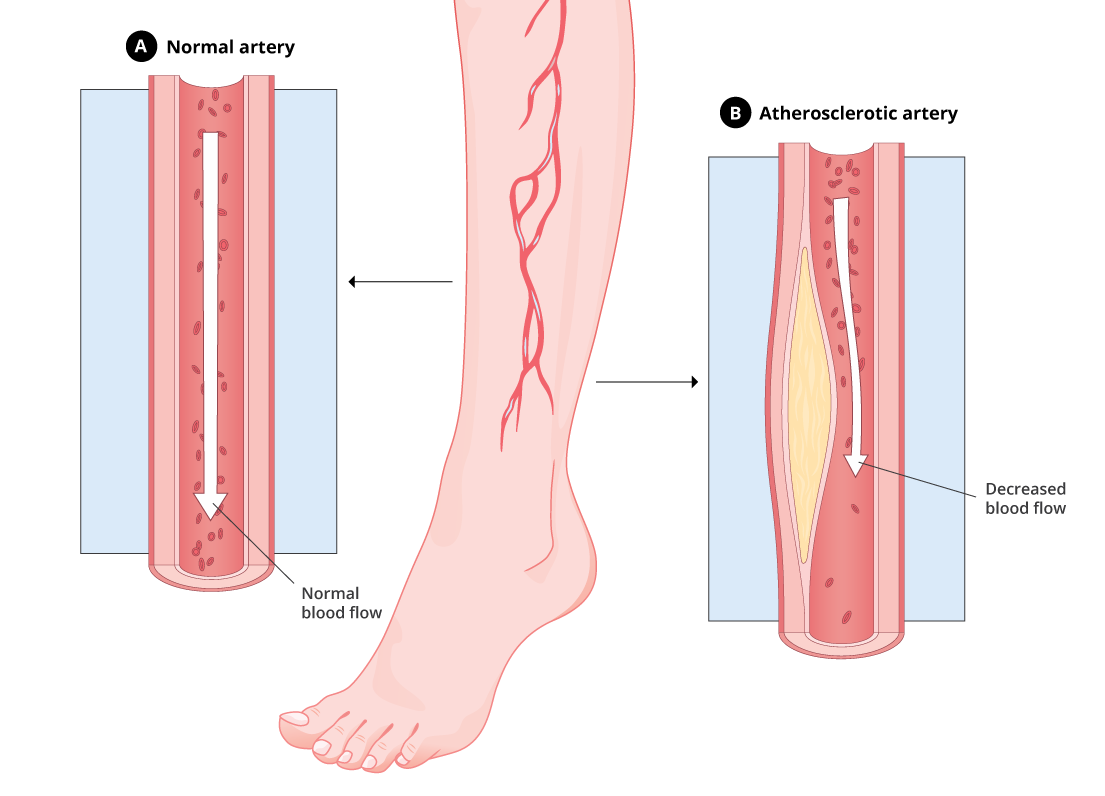 How Long Does It Take to Develop Atherosclerosis After Taking Tasigna?
Normally, atherosclerosis develops gradually over several years, but a paper published in Leukemia said some people developed accelerated atherosclerosis after just two and a half years of treatment with Tasigna.
The study screened 129 people for peripheral artery disease after treatment with Tasigna or Gleevec.
Researchers found that 26 percent of people treated with Tasigna as first-line therapy and 35.7 percent of patients treated with Tasigna as second-line therapy suffered PAD versus only 6.3 percent of patients treated with Gleevec as first-line therapy.
The negative effects also took a shorter time to develop with nilotinib. People who took Tasigna developed PAD after 30 months of treatment while those who took Gleevec and developed PAD had taken the drug for 102 months.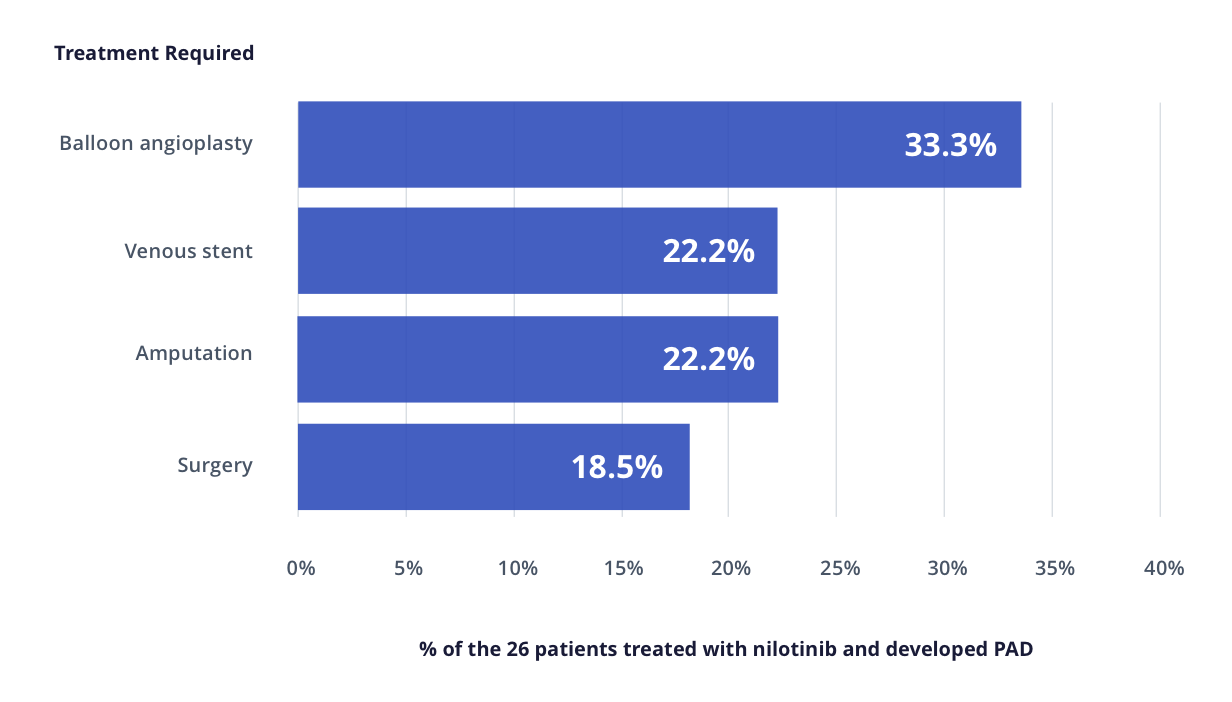 Depending on which arteries are blocked, atherosclerosis symptoms may affect the heart, brain, limbs or kidneys.
Myocardial Ischemia
Myocardial ischemia is another possible side effect of Tasigna. It occurs when blood flow to the heart is reduced.
Atherosclerosis affecting the coronary arteries is the most common cause of myocardial ischemia.
After lack of oxygen and blood starves the heart muscle, it begins to die. This leads to myocardial infarction, or heart attack.
Treatment for myocardial ischemia may include medication, surgery or diet and lifestyle changes.
According to the Tasigna medication insert, about 5 percent of people suffered ischemic heart disease-related cardiac events with the 300 mg dose in clinical trials. About 9.4 percent suffered the condition with 400 mg.
Did You Know?
A 2016 study found that the rate for myocardial infarction was the highest in people who took Tasigna versus other similar drugs.
Researchers studied 896 patients who took Tasigna or other similar drugs. They found that the rate for myocardial infarction was highest in people who took nilotinib, according to a study published in the Annals of Internal Medicine in 2016.
The most common symptom of myocardial ischemia is chest pain. It can feel like chest discomfort, heaviness, tightness or heartburn. Call 911 immediately if myocardial ischemia symptoms last for more than five minutes. This could mean a heart attack.
Black Box Warning for QT Prolongation
Tasigna carries a black box warning for the risk of QT prolongation and sudden death. Long QT syndrome is a condition that happens when heart rhythms become irregular because of abnormalities in the heart's electrical system. QT prolongation may lead to loss of consciousness or death.
Women and the elderly are more vulnerable to drug-induced QT prolongation, according to the Sudden Arrhythmia Death Syndromes Foundation.
Fact
The risk for QT prolongation increases if people take Tasigna with food. Avoid food for two hours before and one hour after taking Tasigna.
Some people may be born with abnormalities in their heart's electrical system, but a number of drugs may also cause this problem. The risk increases when people take Tasigna with strong CYP3A4 inhibitors. These drugs include clarithromycin, diltiazem, erythromycin, itraconazole, ketoconazole, ritonavir and verapamil.
According to Tasigna's website, people should undergo an electrocardiogram to check their heart's electrical activity before taking the drug, seven days after starting treatment, with any dose changes and throughout regular treatment.
Symptoms of QT Prolongation
Common symptoms of Long QT syndrome are sudden loss of consciousness and sudden death. These may occur without warning at any time during treatment with Tasigna.
Unlike a heart attack, QT prolongation does not cause chest pain or persistent shortness of breath.
In people who lose consciousness, the heart's rhythm may return to normal in about one minute and restore consciousness. If the rhythm fails to correct itself, the patient will need emergency medical attention to correct it.
Other Serious Side Effects
In addition to cardiovascular issues, such as atherosclerosis, myocardial ischemia and QT prolongation, Tasigna's medication guide warns of a few other serious side effects.
Low Blood Cell Counts
Low blood cells counts, including red and white blood cells as well as platelets, are common in people who take Tasigna. Patients should talk to their doctor right away if they experience symptoms of low blood counts, including fever, chills, weakness, shortness of breath, and bruising or bleeding.
Decreased Blood Flow
Tasigna may cause decreased blood flow to the legs, heart or brain. The medication insert does not explain the cause of decreased blood flow. Symptoms include: chest pain or discomfort; numbness or weakness; and change in skin color, coldness or pain affecting the leg.
Pancreas Inflammation (Pancreatitis)
Some people who took Tasigna developed pancreatitis, or swelling of the pancreas. Nilotinib may increase levels of lipase, an enzyme that helps break down fats in the blood. High levels of lipase usually indicate a problem with the pancreas.
Liver Problems
Tasigna can increase the risk of liver problems, especially in people with a history of liver problems. Symptoms of liver problems include stomach pain, yellowing of the skin or eyes, and dark-colored urine.
Tumor Lysis Syndrome
Tumor lysis syndrome may occur when cancer cells breakdown quickly after a patient takes Tasigna. It can lead to kidney failure and abnormal heartbeat. Some people may require kidney dialysis.
Bleeding
Some people who took nilotinib suffered bleeding problems. Some cases were severe and patients died. Watch for signs of bleeding, such as bruising or blood in urine and stool. Patients should inform their doctors immediately if they notice symptoms of bleeding.
Abnormal Growth or Development
It's possible that children who take Tasigna may suffer abnormal growth or development. The long-term effects of prolonged treatment with nilotinib in children are unknown.
Please seek the advice of a medical professional before making health care decisions.
How helpful was this page?
How can we improve this page?
How can we improve this page?