Vioxx (rofecoxib) was the second drug of its kind to enter the United States market, directly competing with Celebrex, manufactured by Monsanto and co-marketed by Pfizer Inc. and touted as the second-most-prescribed arthritis drug at the time. Merck introduced Vioxx as a part of a relatively new class of drugs known as COX-2 selective NSAIDs or COX-2 inhibitors, which boasted fewer gastrointestinal adverse effects than nonselective NSAIDs, such as ibuprofen.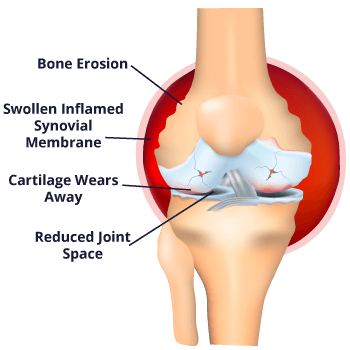 Vioxx treats Rheumatoid Arthritis, pictured above
Vioxx soared as one of the leading agents in providing patients with relief from the painful and bothersome symptoms of arthritis, including pauciarticular and polyarticular Juvenile Rheumatoid Arthritis (JRA). It was widely prescribed, used by millions worldwide and brought in billions of dollars in profits for Merck. So when new evidence surfaced that pointed to a new potential medical benefit of COX-2 inhibitors in the presumed elimination of colorectal polyps and prevention of colon cancer in individuals predisposed to develop such polyps, Merck launched an Adenomatous Polyp Prevention on Vioxx (APPROVe) trial to test the theory.
This study brought about some bad news for Merck. Results from the trial led to findings of increased risk of cardiovascular events, including heart attack and stroke, in patients taking Vioxx, especially for those taking it for more than 18 months, compared to those taking a placebo. Today, many scientists and academics continue to debate whether COX-2 inhibitors go easier on the gastrointestinal tract while actually putting patients' heart health at increased jeopardy.
With estimates of Americans affected by Vioxx ranging from 88,000 to 139,000, and about 30 to 40 percent of those numbers likely resulting in death, FDA Investigator Dr. David Graham described the episode as "a disaster;" one that is "unparalleled in the history of the United States" and that "constituted an unprecedented failure of the nation's system of drug approval and oversight."
However, top FDA official Dr. Sandra Kweder argued against Graham's calculations pointing out that those estimated deaths "are not real deaths," but rather based on data, "something you figure out on a spreadsheet." Kweder also asserted that Graham's assessment failed to recognize the benefits of Vioxx, such as it being the only NSAID offering a true gastrointestinal safety benefit. In fact, Merck's Chief Executive Officer (CEO) Ray Gilmartin said he wholeheartedly believed in Vioxx, even having his wife take Vioxx up until the day it was withdrawn from the market.
Selective Versus Nonselective NSAIDs
The claim that drugs in the COX-2 inhibitor class are less likely than their counterparts to cause severe gastrointestinal problems (such as bleeding) is due to the "selectivity" of the drug in only blocking the one form of cyclooxygenase responsible for pain and inflammation and not the second form, which is thought to actually help protect the stomach from ulcers.
Aspirin and ibuprofen, also belonging to the NSAID class of drugs, are nonselective; meaning they relieve pain by blocking the production of pain-signaling molecules, specifically called cyclooxygenase (COX) enzymes, both types 1 and 2.
NSAID Fact
Nonselective NSAIDs block the production of pain-signaling molecules to relieve pain.
When blocking the COX-2 type, patients will experience relief from pain felt in joints, muscles and other soft tissues. However, the COX-1 type, which is also blocked by nonselective NSAIDs, plays an important role in protecting the stomach lining. By blocking this type of enzyme, nonselective NSAIDs consequently increase the risk of stomach ulcers and gastrointestinal bleeding.
Conversely, selective NSAIDs work to avoid the adverse gastrointestinal effects by only blocking the COX-2 type. This primary benefit set NSAIDs like Vioxx and Celebrex apart from others, and thereby assisted in increased consumer interest and sales.
What Does Vioxx Treat?
Vioxx was a prescription medication used to relieve signs and symptoms of arthritis, acute pain in adults and painful menstrual cycles.
FDA – Approved Vioxx Uses:
Relief of the signs and symptoms of osteoarthritis
Relief of the signs and symptoms of rheumatoid arthritis in adults
Relief of the signs and symptoms of pauciarticular or polyarticular course Juvenile Rheumatoid Arthritis (JRA) in patients 2 years and older and who weigh 10 kg (22 lbs.) or more
Management of acute pain in adults
Treatment of primary dysmenorrhea
Acute treatment of migraine attacks with or without aura in adults
The safety and effectiveness of Vioxx were not established for cluster headache, which is present in an older, predominantly male, population. It was not recommended to be given to patients who had experienced asthma or urticarial or allergic-type reactions after taking aspirin or other NSAIDs. Additionally, Vioxx was not studied in children less than two-years-old or with a body weight less than 10 kg (22 lbs.).
Vioxx Dosages
Vioxx was administered orally. The lowest dose of Vioxx was recommended for each patient and was to be taken exactly as prescribed by a doctor. The dose depended on the condition being treated and other medical problems. Patients were advised not to change the dose of Vioxx or take extra doses unless told to do so by a doctor. Vioxx was to be taken with or without food.
Osteoarthritis
The recommended starting dose of Vioxx was 12.5 mg once daily. Some patients received additional benefit by increasing the dose to 25 mg once daily. The maximum recommended daily dose was 25 mg.
Rheumatoid Arthritis
The recommended dose was 25 mg once daily. The maximum recommended daily dose was 25 mg.
Pauciarticular and Polyarticular Course Juvenile Rheumatoid Arthritis
| | |
| --- | --- |
| Pediatric Patients | Daily Dose |
| ≥ 2 years to ≤ 11 years of age and ≥ 10 to < 42 kg | 0.6 mg/kg to a maximum of 25 mg* |
| ≥ 2 years to ≤ 11 years of age and ≥ 42 kg | 25 mg |
| ≥ 12 years to ≤ 17 years of age | 25 mg |
*Oral suspension dosage form was recommended. To improve dosing accuracy in smaller weight children, the use of 12.5 mg/5 mL oral suspension (2.5 mg/mL) was recommended.
Acute Pain and Primary Dysmenorrhea
The recommended dose of Vioxx was 50 mg once daily. The maximum recommended daily dose was 50 mg. Use of Vioxx for more than five days in management of pain was not studied, and chronic use of Vioxx 50 mg daily was not recommended.
Migraine with or without aura
The recommended starting dose of Vioxx was 25 mg once daily. Some patients received additional benefit with 50 mg as compared to 25 mg. The maximum recommended daily dose was 50 mg. The safety of treating more than five migraine attacks in any given month was not established, and chronic daily use of Vioxx for the acute treatment of migraine was not recommended.
Hepatic Insufficiency
Because of significant increases in both AUC and Cmax in patients with moderate hepatic impairment (Child-Pugh score: 7 – 9), the maximum recommended chronic daily dose was 12.5 mg. The efficacy of 12.5 mg in rheumatoid arthritis patients with moderate hepatic insufficiency was not studied.
Oral Suspension
Vioxx Oral Suspension 12.5 mg/5 mL could be substituted for Vioxx Tablets 12.5 or 25 mg, respectively, in any of the above indications.
Overdoses
No overdoses of Vioxx were reported during clinical trials. Administration of single doses of 1000 mg of Vioxx to six healthy volunteers and multiple doses of 250 mg/day for 14 days to 75 healthy volunteers did not result in serious toxicity.
Side Effects of Vioxx
Studies showed that patients taking Vioxx were at greater risk of heart attack and other cardiovascular problems than those taking older pain reliever alternatives, such as ibuprofen or naproxen, or those not taking any painkillers.
Common Side Effects:
Respiratory infections
Headache
Dizziness
Diarrhea
Nausea, vomiting and upset stomach
Heartburn
Stomach pain
Swelling of the legs and/or feet
High blood pressure
Back pain
Tiredness
Urinary tract infection
Serious Side Effects:
Serious stomach problems, such as stomach and intestinal bleeding
Serious allergic reactions, including swelling of the face, lips, tongue; trouble breathing such as chest tightness or shortness of breath; trouble swallowing; hives; wheezing; or shock (loss of blood pressure and consciousness)
Heart attacks and other serious cardiovascular events, such as blood clots
Serious kidney problems, including acute (sudden) kidney failure and worsening of chronic kidney failure
Severe liver problems, including hepatitis, jaundice and liver failure
Drug Interactions
Vioxx and certain other medicines (including nonprescription medicines) had the ability to affect each other, causing serious side effects.
Warfarin (Coumadin®)
Or any other similar blood thinner used within the past 10 days can increase risk of bleeding complications. Anticoagulant activity should be monitored. Bleeding events reported primarily in the elderly in association with increases in prothrombin time
Theophylline
A medicine used to treat asthma may increase plasma theophylline concentrations. This data means that rofecoxib may produce a modest inhibition of cytochrome P450 (CYP) 1A2 resulting in the potential for an interaction with other drugs metabolized by CYP 1A2, including amitriptyline, tacrine and zileuton
Rifampin
An antibiotic that is a potent inducer of hepatic metabolism. May decrease rofecoxib plasma concentration (effectiveness)
ACE inhibitors
Medicines used for high blood pressure and heart failure may diminish the antihypertensive effect of Angiotensin Converting Enzyme (ACE) inhibitors
Lithium
A medicine used to treat a certain type of depression may result in an increase in plasma lithium levels
Warfarin can increase the risk of bleeding complications when taken with Vioxx
Merck's Shaky History with Vioxx
Merck jumped into the market with Vioxx in hopes of securing a new winning product to make up for its projected decline in revenues that would inevitably come with the expiration of patent protection on four of its drugs bringing in total annual sales of approximately $5 billion. Vioxx got off to a fast start due to Merck's aggressive marketing practices. The company began distributing the prescription painkiller to pharmacies across the United States just two days after receiving its stamp of approval from the FDA. In the first four months of 2000, Merck spent $67 million on advertising for Vioxx, which was more than any company had ever spent to advertise any other drug.
Merck spent $67 million on advertising for Vioxx, the most any company spent on a drug.
Additionally, at the time of Vioxx's release, the expectations for sales of prescription arthritis drugs looked more than promising, with analysts projecting a surge from $7.2 billion worldwide to $13 billion by 2005. But even with Vioxx becoming Merck's second-biggest drug in 2001, Merck received lower-than-expected sales results that year with projections of only $3 billion versus an earlier forecast of $3.5 billion.
Furthermore, research presented to the FDA in early 2001, not even two years after Vioxx's release, provided information regarding potential safety concerns associated with the use of COX-2 inhibitors, specifically Vioxx. The study showed that patients taking Vioxx had a higher, yet still relatively low, risk of heart attack compared to those taking some of the older pain reliever alternatives. Although the risk was seemingly low, with millions taking the drug, the resulting heart attacks could still be quite significant with four heart attacks thought to occur per 1,000 patients. However, Merck denied claims that Vioxx increased a person's risk of heart attack instead asserting that other pain relievers, such as naproxen, actually decreased a person's risk of heart attack, resulting in misconstrued findings.
From A Vioxx Study
4 heart attacks occur for every 1,000 patients taking Vioxx.
In 2002, Merck agreed to revise its prescribing information for Vioxx to reflect the increased cardiovascular risks associated with the drug compared to older painkiller alternatives, such as naproxen, in response to results from the Vioxx Gastrointestinal Outcomes Research (VIGOR) study. In addition to the new warning, however, the FDA allowed Merck to include results from a study on its label flaunting benefits associated with the use of Vioxx in reducing certain gastrointestinal side effects, such as ulcers, compared to its older pain reliever substitutes.
Still, many became skeptical of the drug's high price (compared to those of its competitors), maintaining that no evidence existed to prove that Vioxx was any more effective at treating pain and inflammation than the more affordable over-the-counter (OTC) medications, such as ibuprofen and other anti-inflammatories. Many also began to believe that the primary selling point of COX-2 inhibitors, fewer side effects, specifically those pertaining to gastrointestinal symptoms, had been oversold. Stronger evidence was available to support Vioxx in this claim based on a one-year study of 8,000 patients. However, that same study also consequently revealed its higher rate of heart attacks and other cardiovascular risks.
Voluntary Market Withdrawal of Vioxx and FDA Action
In August of 2004, just six months after the FDA made the decision to extend Merck's marketing exclusivity of Vioxx following a supplemental new-drug application based on studies involving juvenile rheumatoid arthritis, Dr. Graham released some disturbing news for the future of the reigning drug. A study performed by the FDA investigator found that Vioxx increased the chance of heart attack and death from cardiac arrest significantly more that its number one rival, Celebrex. Furthermore, the study found that dosages of Vioxx in excess of the recommended daily dose of 25 milligrams more than tripled a patient's risk compared to individuals who had not consumed painkillers within the last two months.
A study found that excess dosages of Vioxx tripled a patient's risk of cardiac arrest.
A spokesperson for Merck disagreed with Dr. Graham's findings, citing that the study would carry more weight if it compared two groups of patients actually taking the medications for a set time period. However, the following month, despite Merck's continued denial of increased cardiovascular risks associated with its leading arthritis painkiller, the company made its announcement of a voluntary market withdrawal of the controversial drug on September 30, 2004, with roughly two million people worldwide still using the medication.
FDA Undergoes Congressional Interrogation
Following the voluntary withdrawal of Vioxx, the FDA responded to questions regarding its practices, specifically as to its expedited review process and its timeliness in conducting and stopping clinical trials when adverse information is found that potentially puts the public at risk. The FDA was also under scrutiny for what some described as its seemingly cozy relationship with Merck. It even came under Congressional interrogation at a Senate Finance Committee hearing with witnesses offering testimony describing how danger signals of Vioxx went ignored.
The FDA asserted that Vioxx received a six-month priority review due to the drug's potential for a significant therapeutic advantage over existing drug alternatives, specifically fewer gastrointestinal side effects such as bleeding. Additionally, while the APPROVe trial enrollment for Vioxx began in 2000, the FDA maintains that it was not stopped earlier because the results for the first 18 months of the trial did not show any increased risk of confirmed cardiovascular events on the drug.
Vioxx caused cardiovascular risks by increasing thrombus formations
However, questions still remain as to the FDA's dealings with Merck and its handling of Vioxx, and whether it used due diligence in protecting the public from the potentially dangerous effects of the drug. An article written by a professor of medicine and epidemiology and public health, among other academics, and published by the National Institutes of Health, calls attention to Merck's early suspicion of cardiovascular risk. The article alleged that even though scientists at Merck had knowledge that the drug might adversely affect the cardiovascular system by increasing thrombus formation, which acts in opposition to the balance of blood flow and clotting, none of the intervention studies submitted along with its new-drug application to the FDA in 1998 were designed to evaluate such risk. The professors claim that despite FDA concern, Merck was permitted to continue to obscure data in an effort to promote the drug's cardiovascular safety.
More Stringent Labeling for Selective and Nonselective NSAIDs
While Vioxx is no longer available for sale or purchase by prescription or otherwise, the FDA acknowledged that it did not request the recall of this drug. However, the FDA did assert that it will carefully review any proposal from Merck for resumption of marketing of Vioxx and would likely discuss the review with the new FDA Drug Safety Oversight Board and an Advisory Committee before making a final decision.
In any case, the demise of Vioxx resulted in more stringent rules imposed by the FDA on all manufacturers of COX-2 inhibitor drugs and OTC NSAIDs. The FDA requested that all manufacturers of OTC NSAIDs revise their labeling to include more specific information about potential gastrointestinal and cardiovascular risks, including information to assist consumers in the safe use of such medications.
Additionally, the FDA requested that all manufacturers of all marketed prescription NSAIDs, including Celebrex, a COX-2 selective NSAID, revise their labeling for their products to include a black box warning and a Medication Guide. The boxed warning is required to highlight the potential for increased cardiovascular risk as well as the serious and potentially life-threatening gastrointestinal bleeding that can be associated with such drugs.
Author
Kristin Compton is a medical writer with a background in legal studies. She has experience working in law firms as a paralegal and legal writer. She also has worked in journalism and marketing. She's published numerous articles in a northwest Florida-based newspaper and lifestyle/entertainment magazine, as well as worked as a ghost writer on blog posts published online by a Central Florida law firm in the health law niche. As a patient herself, and an advocate, Kristin is passionate about "being a voice" for others.
---