Some people who received Synvic-One knee injections suffered complications. Those who required medical attention might be able to sue the manufacturer Sanofi Genzyme.
Drugwatch's legal partners are currently accepting Synvisc-One knee injection cases. Patients who suffered from infection within one week after contaminated Synvisc-One knee injections may be eligible for compensation.
Contaminated syringes belonged to lot 7RSL021. Sanofi Genzyme initially distributed the syringes on Oct. 25, 2017. The company recalled the syringes on Dec. 11, 2017.
Sanofi Genzyme distributed the affected syringes to 36 states. That means people could file lawsuits in any of those states' courts. They may also file lawsuits in federal courts.
Patients may have needed an outpatient procedure such as cortisone injection or aspiration. Others may have been taken to the emergency room or admitted to the hospital. Lawyers are also accepting cases on behalf of people whose loved ones died after a Synvisc-One injection.
Status of Synvisc-One Lawsuits
Lawsuits over contaminated Synvisc-One injections are still in the early stages. There had been no major trials or verdicts as of February 2018. Sanofi Genzyme had not yet announced a global settlement.
A significant number of lawsuits are possible. A large number of lawsuits could allow a federal panel to combine them. This would allow people filing lawsuits to pool their resources.
Synvisc-One Knee Injection
Sanofi Genzyme's Synvisc-One is a gel packaged in a pre-filled syringe. It helps natural synovial fluid in the knee to relieve arthritis pain.
Synvisc-One provides a shock-absorbing cushion between the thighbone and shinbone in the knee. It can provide pain relief for up to six months.
The U.S. Food and Drug Administration approved Synvisc-One in February 2009.
Synvisc-One Knee Injection Recall
Recalled Synvisc-One Syringes
Lot Number: 7RSL021
Distributed: Oct. 25, 2017 through Nov. 7, 2017
Recall Issued: Dec. 11, 2017
Recall Expires: May 31, 2020
In early December 2017, reports of complications from the arthritis treatment spiked. Sanofi Genzyme investigated and discovered gram-negative bacteria in one lot of syringes.
On Dec. 11, 2017, the company issued a voluntary recall for 18,000 syringes. But by that time, more than 12,000 syringes in the lot had been in distribution for up to seven weeks.
To file a lawsuit, people may have to prove they received a Synvisc-One injection from the recalled lot between Oct. 25, 2017, and Dec. 11, 2017.
Synvisc-One Knee Injection Contaminated Syringes
Sanofi Genzyme sent out a recall letter to doctors about its investigation into contaminated syringes. It warned doctors to be "aware of the potential of a gram-negative [bacteria] infection."
Gram-negative bacteria include E. coli, Salmonella and several other hard to treat bacteria. The company did not specify exactly what type of bacteria its investigation discovered.
Injuries You Can Sue For in Synvisc-One Lawsuits
Synvisc-One injuries are generally related to infections caused by the bacterial contamination.
Injuries in lawsuits are not limited to physical problems. They can also include the cost of any medical treatment needed to treat the infection.
Contaminated Synvisc-One Injuries
Infection
Outpatient procedures (cortisone injection, aspiration)
Emergency room visit
Hospitalization
Death
Potential Settlements or Verdicts
People are just beginning to file lawsuits over contaminated Synvisc-One syringes. So there have been no large settlements or large verdicts yet. But there have been similar cases involving contaminated syringes in recent years.
Timeline of similar cases:
May 2014

New England Compounding Center paid $100 million to settle 751 lawsuits. Syringes became contaminated with fungal meningitis.

May 2016

B. Braun Medical paid $7.8 million to settle lawsuits and penalties. Pre-filled saline syringes infected patients in four states with Serratia marcescens. That is another gram-negative bacterium which can cause urinary or respiratory tract infections.
There are currently no active Synvisc-One class action lawsuits. Medical product lawsuits often are not suited for class action lawsuits. For one thing, class actions need all people taking part to have the same injury. Drug and device injuries can vary from person to person.
People injured after a Synvisc-One knee injection may have to file individual lawsuits.
How to File a Synvisc-One Knee Injection Lawsuit
Medical product lawsuits can be complex. People considering a Synvisc-One lawsuit should talk to a products liability lawyer. An attorney who specializes in medical products can best explain their legal options.
Most of these attorneys offer free consultation and do not charge a fee unless they win the case. People should ask any lawyer they talk to about call fees before talking with them.
To file a Synvisc-One lawsuit, people must show that an injection injured them. Injuries claimed in lawsuits are usually severe enough to need medical attention.
People may also have to show that they received an injection from the tainted lot between Oct. 25, 2017, and Dec. 11, 2017. People may be able to get this information from the clinic or hospital where they got the injection.
FDA Warnings
In 2001, the FDA warned Genzyme about problems at its Ridgefield, New Jersey, plant. The company made an earlier version of Synvisc at the time.
In its warning, the FDA said the company did not get FDA approval for making certain medical products. It also said that the company had not properly investigated product complaints.
The FDA told the company to fix problems at the plant or face severe consequences.
Reports of Synvisc-One Complications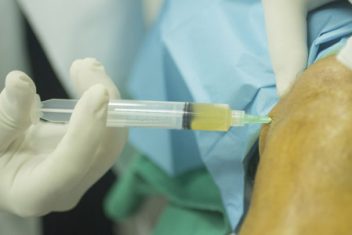 The first report of problems with Synvisc-One injections came in less than a month after the contaminated lot shipped.
A medical professional sent a report to the U.S. Food and Drug Administration. It said a patient developed excess fluid on the knee.
The health care provider had to drain the knee twice. A test of the fluid did not find gram-negative bacteria. But it did find an elevated white blood cell count (WBC). A high WBC usually means the body is making more white blood cells to fight an infection.
A woman reported she stumbled trying to stand up after getting an injection. She said her knee could not support her weight.