People who required medical attention within a week after receiving a contaminated Synvisc-One knee injection may have a strong case against the manufacturer, Sanofi Genzyme.
Contaminated syringes belonged to lot 7RSL021 and were initially distributed to 36 states on Oct. 25, 2017. Sanofi Genzyme recalled the syringes on Dec. 11, 2017.
People in any of the affected states can file lawsuits in the states' courts. They may also file lawsuits in federal courts.
Synvisc-One Recall
In early December 2017, reports of complications from the arthritis treatment spiked. Sanofi Genzyme investigated and discovered gram-negative bacteria in one lot of syringes. Gram-negative bacteria include E. coli, Salmonella and several other hard to treat bacteria.
The company did not specify exactly what type of bacteria its investigation discovered.
On Dec. 11, 2017, the company issued a voluntary recall for 18,000 syringes. But by that time, more than 12,000 syringes in the lot had been in distribution for up to seven weeks.
Recalled Synvisc-One Syringes
Lot Number: 7RSL021
Distributed: Oct. 25, 2017 through Nov. 7, 2017
Recall Issued: Dec. 11, 2017
Recall Expires: May 31, 2020
Sanofi Genzyme sent out a recall letter to doctors about its investigation into contaminated syringes. It warned doctors to be "aware of the potential of a gram-negative [bacteria] infection."
People seeking to file a lawsuit may have to prove they received a Synvisc-One injection from the recalled lot between Oct. 25, 2017, and Dec. 11, 2017.
Injuries from Contaminated Synvisc-One
Synvisc-One injuries are generally related to infections caused by the bacterial contamination.
You may be eligible for compensation for physical injuries and the cost of medical treatment, including:
Infection
Outpatient procedures (injection, aspiration)
Emergency room visit
Hospitalization
Death
Injured patients may have received an outpatient injection or aspiration with the contaminated product. Others may have received an injection in the emergency room or hospital. Lawyers are also accepting cases on behalf of people whose loved ones died after a Synvisc-One injection.
Settlements and Verdicts for Similar Injuries
People are just beginning to file lawsuits over contaminated Synvisc-One syringes, so there have been no large settlements or large verdicts.
But there have been other cases involving contaminated syringes in recent years:
May 2014

New England Compounding Center paid $100 million to settle 751 lawsuits after syringes became contaminated with fungal meningitis. The outbreak linked to the syringes was described as the worst of its kind in U.S. history. Among the plaintiffs were the families of 64 patients who died after receiving tainted steroid shots for back pain.

May 2016

B. Braun Medical paid $7.8 million to the federal government in penalties and forfeiture and to resolve criminal liability. Pre-filled saline syringes infected patients in four states with Serratia marcescens, a gram-negative bacterium that can cause urinary or respiratory tract infections.
According to the U.S. Department of Justice, B. Braun was aware of problems at the manufacturing plant even before it began purchasing syringes from it. B. Braun approved of changes to the sterilization process even after it received reports of the syringes changing colors. Under the terms of an agreement with the Justice Department, B. Braun said it would increase oversight of its product suppliers by conducting on-site audits of companies that design and make finished products that bear the B. Braun name on the label or logo and testing such products for sterility, identity and purity, as appropriate, on a periodic basis.
AmerisourceBergen Corp. (ABC), one of the nation's largest wholesale drug companies, agreed to pay $625 million in combined civil and criminal penalties to resolve allegations that it illegally repackaged injectable drugs for cancer patients, according to an announcement from the Justice Department on Oct. 1, 2018. The company was accused of improperly repackaging cancer drugs into prefilled syringes and distributing those syringes to doctors who treated vulnerable cancer patients.
Prosecutors said the company sought to profit from the "overfill" in the original FDA-approved vials by creating a pre-filled syringe program through a repackaging subsidiary that it claimed was a pharmacy. ABC purchased original vials from manufacturers, broke their sterility, combined the contents, and repackaged the drugs under conditions that were not sterile.
FDA Warns Genzyme About Earlier Version of Synvisc-One
In 2001, the FDA warned Genzyme about problems at its Ridgefield, New Jersey, plant. The company made an earlier version of Synvisc at the time.
In its warning, the FDA told the company to fix the problems, including obtaining approval for certain medical products and investigating product complaints, or face severe consequences.
Reports of Complications
The first report of problems with Synvisc-One injections came in less than a month after the contaminated lot shipped.
In November 2017, a medical professional sent a report to the U.S. Food and Drug Administration. It said a patient had developed excess fluid on the knee.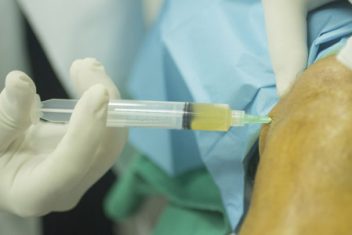 The health care provider had to drain the knee twice. A test of the fluid did not find gram-negative bacteria. But it did find an elevated white blood cell count, an indication that the body is making more white blood cells to fight an infection.
Three weeks later, a woman reported she stumbled trying to stand up after getting an injection. She said her knee could not support her weight.
Please seek the advice of a medical professional before making health care decisions.
How helpful was this page?
How can we improve this page?
How can we improve this page?