Vioxx Side Effects
Vioxx, a pain medication for arthritis, acute pain, and migraine headaches, was pulled from the market in 2004 after a study linked the drug to an increased risk of heart attacks and strokes. Other rare, but serious reactions to the drug included gastrointestinal (digestive tract) bleeding, severe allergic reactions, and kidney and liver problems. More common side effects included fluid buildup in the legs, upset stomach, heartburn and high blood pressure.
Vioxx (rofecoxib), a painkiller once commonly used for joint pain and arthritis, quickly became one of Merck's best-selling drugs after its debut in 1999. The drug was advertised as an effective pain medication for arthritis, acute pain, and migraine headaches with fewer gastrointestinal side effects than other drugs in the nonsteroidal anti-inflammatory drug (NSAID) class, which includes ibuprofen and naproxen.
But in 2004, the company removed the drug from the market amid concerns about cardiovascular risks, specifically heart attacks and strokes. After withdrawing Vioxx, Merck considered bringing the drug back and still had potential new drug applications pending. In September 2022, Merck voluntarily requested withdrawal of the applications, and FDA complied.
The drug's label had warned of other serious side effects, such as gastrointestinal bleeds, allergic reaction, and kidney and liver problems. It listed the most common side effects of Vioxx as respiratory infections, diarrhea, nausea and headache.
Cardiovascular Risks: Heart Attack and Stroke
Merck's decision to remove Vioxx (rofecoxib) from the market was based on information from a clinical trial called APPROVe (Adenomatous Polyp Prevention on Vioxx). This study compared the drug to a placebo to determine if a 25-mg dose of Vioxx could stop the return of colon polyps.
The trial was stopped early because the drug led to an increase in heart attacks and strokes. Results suggested the drug may have doubled the risk of a stroke or heart attack in patients.
During the trial, 2.4 percent of the 1,287 participants who took Vioxx suffered a serious cardiac event, including heart attack, chest pain (angina), or sudden death, compared with less than 1 percent of the patients who received a placebo.
A total of 15 patients (1.2 percent) given Vioxx had a stroke or transient ischemic attack (mini stroke), while 7 of the participants (0.5 percent) given placebo suffered from these events.
Some patients who took the drug also developed high blood pressure, fluid build-up known as edema and congestive heart failure, according to a 2005 report in the New England Journal of Medicine.
This increased risk of heart attack was initially determined to be linked to prolonged or chronic use of Vioxx, usually longer than 18 months. However, a study in a Canadian journal in 2006 found that approximately 25 percent of patients who suffered a heart attack experienced the event within two weeks of starting the drug.
Fact
The risk of suffering a heart attack while on Vioxx returns to normal within a month after stopping the drug, according a study by Canadian researchers.
At the time of settlement, Merck reported it faced "approximately 26,500 product liability lawsuits, involving approximately 47,275 plaintiff groups," according to its 2007 annual report. People who filed lawsuits alleged the drug caused them to suffer heart attacks and strokes. Merck settled those cases for close to $5 billion.
"Vioxx was thought by one FDA account to have caused more than 60,000 deaths from myocardial infarction — from heart attacks — and I couldn't figure out how is it that we as clinicians could be giving patients drugs that were unsafe and not be aware of the carnage we were causing," Jeanne Lenzer, associate editor at The BMJ told Drugwatch Podcast. "It took a good while for me to learn the answer to that question, but it turns out that it's quite possible. Doctors only see … maybe they have several thousand patients in their panel that they care for, and if an older man, say taking Vioxx, dies of a heart attack, we just assume, well he was old, and he's going die of a heart attack."
How Vioxx Raises Cardiovascular Risks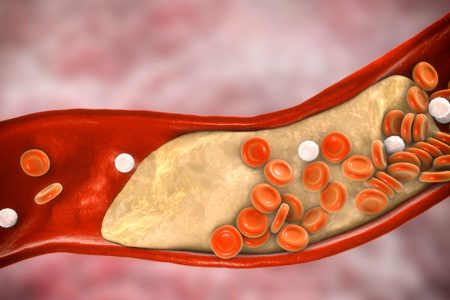 Since Vioxx's withdrawal from the market, numerous studies have attempted to explain why the drug increased heart attacks and strokes.
Researchers at the Perelman School of Medicine at the University of Pennsylvania concluded in 2012 that the drug's dangers likely stem from the way it suppresses a chemical called prostacyclin.
Prostacyclin is a prostaglandin, a hormone-like compound made from fats that helps to regulate blood pressure by relaxing the walls of blood vessels to increase blood flow. This change may affect blood pressure. The compound also reduces and removes blood clots.
Vioxx blocks the action of prostacyclin, and in doing so creates a "cardiovascular hazard", according to Dr. Garrett FitzGerald, chair of the department of pharmacology and director of the Institute for Translational Medicine and Therapeutics at the University of Pennsylvania. The hazard is similar to smoking or having diabetes.
Vioxx increases risk of heart problems by increasing blood pressure. It also contributes to the hardening of arteries, leading to decreased blood flow to the heart. Finally, Vioxx can loosen plaque build-up (hardened material made of substances, such as cholesterol and fat) in arteries leading to a heart attack.
Diarrhea and Nausea Among Most Common Side Effects
Upper respiratory infection was the most common side effect reported in patients taking Vioxx in clinical trials, which occurred in a similar amount of patients taking placebo. Diarrhea, nausea and other digestive problems were also commonly reported, although these occurred less frequently when compared to traditional NSAIDs, such as ibuprofen.
Reported Digestive Complaints During Clinical Trial
| | Vioxx (12.5 or 25 mg daily) | Ibuprofen (2400 mg daily) |
| --- | --- | --- |
| Diarrhea | 6.5 (percent of users) | 7.1 (percent of users) |
| Nausea | 5.2 | 7.1 |
| Heartburn | 4.2 | 5.2 |
| Dyspepsia | 3.5 | 4.7 |
| Abdominal Pain | 3.4 | 4.6 |
Nearly 4 percent of patients developed fluid buildup in their legs while using the drug and 3.5 percent developed elevated blood pressure, or hypertension.
Other minor side effects of Vioxx included headache, back pain, fatigue, flu-like illnesses, sinus infections, urinary tract infections, bronchitis and dizziness.
GI Bleeds, Kidney Impairment and Liver Problems
Although rare, Vioxx has caused serious gastrointestinal (GI) problems, including stomach and intestinal bleeding and tears. People who take the drug along with aspirin may be at a higher risk of such problems.
Individuals with a history of ulcers or prior episodes of GI bleeding have a 10-fold increased risk for developing a GI bleed than others do when taking NSAIDs. Other factors that may increase this risk include treatment with anticoagulants (blood thinners) and treatment with corticosteroids, such as prednisone. Smoking, drinking alcohol, older age and poor health can also increase a person's risk of a GI bleed.
GI bleeds associated with NSAIDs can be hard to recognize because only 20 percent of people develop symptoms.
Other rare but serious side effects associated with Vioxx included:
Kidney injury and/or kidney failure
Severe liver problems, including jaundice, hepatitis and liver failure
Serious allergic reactions, including anaphylaxis
Please seek the advice of a medical professional before making health care decisions.
Share This Page:
How can we improve this page?
Thank You for Your Feedback
We appreciate your feedback. One of our content team members will be in touch with you soon.
We appreciate your feedback. One of our content team members will be in touch with you soon.
Who Am I Calling?
Calling this number connects you with a Drugwatch representative. We will direct you to one of our trusted legal partners for a free case review.
Drugwatch's trusted legal partners support the organization's mission to keep people safe from dangerous drugs and medical devices. For more information, visit our partners page.