Families Sue GlaxoSmithKline Over Zofran
Heart defects, cleft palate, skull deformities — these are some of the birth defects mothers say resulted from their use of the anti-nausea drug Zofran during pregnancy. As a result, GlaxoSmithKilne (GSK), the company that originally marketed the drug, has been named in more than 500 actions in federal court.
The lawsuits against GSK involve allegations that the company unlawfully and fraudulently promoted Zofran as a way to treat morning sickness, a use not approved by the U.S. Food and Drug Administration (FDA). They also allege the company hid evidence of the medication's risks and failed to warn the public about those risks.
According to the lawsuits:
GSK had a duty to ensure its drug was safe before offering it to the public and failed to determine safety risks before selling it.
GSK failed to warn the public about dangerous side effects.
GSK promoted the drug as a safe treatment for morning sickness and hyperemesis gravidarum even though it was not approved for this use.
GSK misrepresented that animal studies showed the drug was safe, when in actuality the results showed abnormal bone growth and signs of toxicity.
GSK failed to properly evaluate all data and safety information on Zofran for use in pregnant women.
GSK produced a defective drug.
GSK falsely and fraudulently claimed Zofran was safe for pregnant women.
Zofran Prescribed for Morning Sickness without FDA Approval
In 1983, the maker of the only FDA-approved medication used to treat morning sickness withdrew the product, Bendectin, from the market, leaving pregnant women suffering from nausea and vomiting with no approved medical treatments.
Eight years later, in 1991, the FDA approved Zofran to help cancer patients with nausea and vomiting after chemotherapy or radiotherapy treatments or surgery. Some doctors whose patients suffered from morning sickness began prescribing Zofran to treat symptoms, even though it lacked FDA approval for that use. Because the medicine appeared to relieve symptoms, Zofran became popular.
Lawsuits allege GSK saw Zofran gaining popularity for morning sickness and began promoting it for that purpose, despite the fact that it's illegal to promote drugs for off-label use.
Zofran Prescriptions Increase
Use of ondansetron, the generic name for Zofran, to treat nausea and vomiting in pregnancy jumped from 50,000 monthly prescriptions in 2008 to 110,000 at the end of 2013, according to an article published in 2014 in the American Journal of Obstetrics and Gynecology. The surge occurred despite concerns regarding fetal safety.
An analysis by IMS Health found more than 21 million prescriptions for all uses of Zofran were filled in the U.S. in 2015, ProPublica reported. The amount of prescriptions is 10 times as many as in 2006.
Today, there are about 4 million pregnancies a year in the U.S. Some 1 million pregnant women in the country are exposed to ondansetron.

Ondansetron use during pregnancy rose from 50,000 monthly prescriptions in 2008 to 110,000 in 2013
Zofran Use Leads to Birth Defect Claims
Nausea or vomiting during pregnancy (NVP), commonly referred to as morning sickness, can cause malnutrition and endanger the mother and unborn baby. Women turned to Zofran or the generic version of the drug to keep them and their babies safe from those complications. However, some Zofran users say their babies suffered severe birth defects that render them forever dependent on their parents for care.
In February 2015, a Minnesota mother filed the first Zofran lawsuit after two daughters were born with congenital heart defects. More lawsuits quickly followed. The Zofran-related legal claims center on the cause of birth defects and whether the drug maker is liable for injuries suffered by babies whose mothers took the medication while pregnant.
Court documents show GSK knew as early as 1992 that Zofran presented "unreasonable risk of harm" to developing babies because the drug passes through the human placenta. Despite this knowledge, the drugmaker continued to market the drug to expectant mothers. The company even paid doctors to prescribe it, lawsuits allege.
Birth defects mentioned in lawsuits include:
Heart defects, including septal defects (holes in the heart)
Cleft lip
Cleft palate
Club foot
Craniosynostosis (skull deformities)
Some representative cases include:
Flynn v. GlaxoSmithKline
The first Zofran-related lawsuit was filed on February 12, 2015, in the U.S. District Court, Eastern District of Pennsylvania, by Minnesota mother Cheri Flynn on behalf of two children who were born with serious heart abnormalities. Flynn was prescribed Zofran early in her first trimester of pregnancy to control morning sickness. A daughter born in 2004 was developmentally delayed and had to undergo surgery in 2011 to repair a hole in her heart.  A second daughter, born in 2006, also suffered from a congenital heart defect.
LeClair v. GlaxoSmithKline
Four days after the first lawsuit was filed, Tomisha LeClair of Massachusetts filed the second. LeClair took Zofran to treat severe nausea and vomiting. Her daughter – identified as A.S. in court documents – was born in 2000 with several congenital defects, including several heart defects, facial dysmorphia, low set ears, hearing loss, webbed toes, sensitivity to light and an inguinal hernia. A.S. had 10 surgeries in 12 years to try to correct several abnormalities.
Kutzer v. GlaxoSmithKline
In July 2015, Angela and Brian Kutzer filed a claim that GSK paid doctors to promote and prescribe Zofran and made "false representations about the safety and efficacy" of the drug. The couple's son was born in 2007 with multiple defects, including a missing kidney and an incomplete vas deferens, the duct that conveys sperm from the testicle to the urethra. The latter may impact his ability to produce children.
Davis and Hanke v. GlaxoSmithKline
Ashley Davis and Charles Janke III filed suit in April 2016. Their son, identified as C.J., was born in 2007 with cleft palate and cleft lip after Ashley was prescribed and began taking Zofran early in her first trimester of pregnancy to alleviate and prevent morning sickness. The couple says that "C.J. has experienced a delay in his physical, language and psychological development and interference with speaking and dental development."
Zofran Lawsuits Move to Boston as Multidistrict Litigation
In less than a six month period, families filed Zofran lawsuits in federal courts across the country, including in Alabama, Arkansas, Louisiana, Massachusetts, Montana, New Jersey, Ohio and Texas.
In July 2015, GSK asked the Judicial Panel on Multidistrict Litigation (MDL) to centralize the lawsuits in Philadelphia. Plaintiffs in the cases agreed that centralization was warranted but disagreed about in which district the proceedings should take place. The judicial panel issued a court order in October 2015, transferring 12 Zofran lawsuits to the U.S. District Court of Massachusetts.
---
"Centralization will eliminate duplicative discovery; prevent inconsistent pretrial rulings; and conserve the resources of the parties, their counsel, and the judiciary."

- according to the judicial panels court order
---
Judge F. Dennis Saylor IV, the judge overseeing the MDL, appointed three veteran attorneys to lead the litigation against GSK: Kimberly Barone Baden of Motley Rice, Elizabeth Graham of Grant & Eisenhofer and Tobias Millrood of Pogust Braslow & Millrood.
Zofran Litigation Continues to Grow
By December 2015, more than 150 Zofran lawsuits had been centralized in the U.S. District Court of Massachusetts. That month, GSK filed a motion to dismiss the lawsuits. In January 2016, Judge Saylor ruled to allow more than 200 Zofran lawsuits to proceed, rejecting GSK's arguments for dismissal.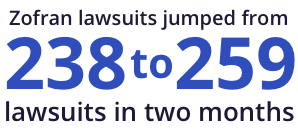 The number of Zofran lawsuits jumped to 238 by March 2016. Two months later, 259 actions had been brought under the MDL.
As of July 17, 2017, 507 total actions had been filed in the MDL; 389 actions were still pending. The discovery phase of the proceedings began in 2016. No trial date had been scheduled, and GSK had offered no settlements in pending cases in the MDL.
GSK Agrees to Pay $3 Billion
Prior to the wave of Zofran lawsuits in 2015, the U.S. Department of Justice had brought a lawsuit against GSK, alleging the company promoted certain forms of Zofran, approved only for post-operative nausea, for the treatment of morning sickness in pregnant women.
In 2012, GSK pleaded guilty to federal charges of fraud and illegal promotion of several drugs. GSK agreed to pay $3 billion to the U.S. and certain states as part of the legal settlement.
More than $2 million was allocated to Zofran and nearly $55 million was allocated for kickbacks for nine drugs, including Zofran.
According to the settlement agreement, during the period Jan. 1, 2002, through Dec. 21, 2004, GSK:
Knowingly promoted the sale and use of Zofran for a variety of conditions other than those for which its use was approved as safe and effective by the FDA (including hyperemesis and pregnancy-related nausea)
Made and/or disseminated unsubstantiated and/or false representations or statements about the safety and efficacy of Zofran concerning its use for conditions, including hyperemesis and pregnancy-related nausea
Offered and paid illegal kickbacks to health care professionals to encourage them to promote and prescribe Zofran, in violation of federal anti-kickback laws
The settlement was deemed the largest health care fraud settlement in U.S. history. Then-Deputy Attorney General James M. Cole called it "unprecedented in both size and scope."
FDA Issues Warning Letter
The Justice Department's lawsuit was not the first time GSK came under fire for its marketing of Zofran.
In March 1999, the FDA issued GSK a warning letter for distributing promotional materials that present "Zofran in a manner that is false or misleading because it lacks fair balance."
The agency's Division of Drug Marketing, Advertising and Communications (DDMAC) concluded promotional material for Zofran violated the Federal Food, Drug and Cosmetic Act because it "fails to present any information relating to the side risks associated with the drug."
The agency ordered GSK to "immediately cease distribution" of Zofran promotional material that lacks risk information.
Please seek the advice of a medical professional before making health care decisions.
Author
Emily Miller is an award-winning writer who has held editorial positions with reputable print and online publications around the U.S. As the editor of Drugwatch.com, Emily draws on her background as both a patient and a journalist to ensure her team of writers provides consumers with the latest and most accurate information on drugs, medical devices, procedures and related lawsuits. Emily holds five Health Literacy certificates from the Centers for Disease Control and Prevention as well as a Bachelor of Science in Journalism from the University of Florida. She is a member of The Alliance of Professional Health Advocates, the American Association for the Advancement of Science, the Society of Professional Journalists and the Society for Technical Communication.
---