Benzocaine is a topical pain reliever found in many over-the-counter products. It comes in creams, gels, liquids, ointments, pads, sprays, lozenges and swabs. Benzocaine is also available in prescription medications.
People use benzocaine products for their numbing effects. Products that contain benzocaine include Orajel, Americaine and Cetacaine.
Oral use of benzocaine products has been linked to a rare but serious blood condition called methemoglobinemia. This benzocaine side effect can be life-threatening. It happens when the amount of oxygen in the bloodstream becomes dangerously low.
As a result, the U.S. Food and Drug Administration issued a safety announcement in May 2018 stating that benzocaine oral drug products should not be used in children 2 and under. The FDA also directed a warning on the drug label about the link to methemoglobinemia.
Fact
The Food and Drug Administration warns against using benzocaine products for teething children under 2.
What Is Benzocaine & What Does Benzocaine Do to the Body?
Benzocaine is a chemical compound derived from para-aminobenzoic acid and ethanol. It is a white, odorless, crystalline powder.

Benzocaine acts on neuronal membranes. It blocks nerve signals in the body. Its numbing effects are completely reversible.
Benzocaine Uses
People use benzocaine to relieve pain or discomfort. Benzocaine is not recommended for long-term use.
Benzocaine gel, benzocaine cream and other benzocaine products can treat insect bites, minor burns and sunburn, minor cuts and scratches, and exposure to poison ivy, oak or sumac. Benzocaine also provides relief for canker sores, cold sores and fever blisters. It's also used to treat hemorrhoids and in sexual enhancement products to desensitize.
Benzocaine Overdose
A benzocaine overdose can be fatal. A doctor will be able to advise you on the proper dosage.
To avoid overdosing on a benzocaine product, do not use more than the minimum amount needed. Benzocaine can be absorbed into the bloodstream through the skin.
If you suspect an overdose, contact poison control or an emergency room right away.
Benzocaine Products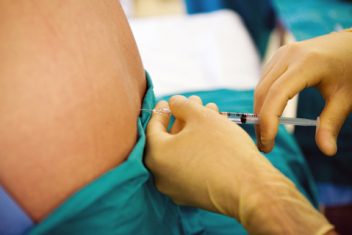 Benzocaine is the active ingredient in many over-the-counter analgesic products. Benzocaine gels and creams relieve pain, itching and other irritations. It also comes in sprays and lozenges that can treat mouth and throat pain.
Benzocaine also is an ingredient in prescription local anesthetics articaine, bupivacaine, chloroprocaine, lidocaine, mepivacaine, prilocaine, ropivacaine and tetracaine. These are given as an injection into the body area that needs to be numbed for minor procedures or surgeries. Medical professionals may also apply them directly to the skin or mucous membranes.
Some over-the-counter brand names of benzocaine-containing products include:
Anbesol
Topex
Orajel
Anacaine
Cetacaine
Orabase
Medicone
Americaine
Solarcaine
Hurricaine
Benzocaine Spray
Health care professionals often use sprays containing benzocaine to numb the mucous membranes of the mouth and throat during procedures. Such procedures include inserting instruments down the throat to view internal organs, and inserting breathing tubes and feeding tubes. Benzocaine products are not FDA-approved for these uses.
Benzocaine Precautions
An FDA safety communication and articles in National Library of Medicine list several precautions to follow when using products that contain benzocaine.
Precautions to Take with Benzocaine
Do not use benzocaine products if you have ever had methemoglobinemia.
Do not use more than the smallest amount of this medication needed.
Do not apply benzocaine more than four times a day.
Do not smoke while using benzocaine as it is inflammable.
Do not get products containing benzocaine in your eyes.
Avoid swallowing the gel, liquid or ointment.
Do not eat within an hour of applying benzocaine inside your mouth.
Do not apply benzocaine products to open wounds, burns, broken or inflamed skin.
When to Talk to Your Doctor About Benzocaine
In general, you should ask your doctor for guidance before you use benzocaine.
Talk to your doctor before using benzocaine if you are taking medicines containing nitrates, including nitroglycerin. Also discuss benzocaine use with your doctor if:
You have any blood disease or genetic enzyme deficiency
You have heart disease
You have lung or breathing problems, including asthma, bronchitis or emphysema
Benzocaine and Pregnancy
Benzocaine use during pregnancy is generally thought to be safe. Though, benzocaine use in pregnancy has not been studied thoroughly. You should talk to your doctor before using benzocaine if you are pregnant or may become pregnant.
Benzocaine 2018 FDA Warning
The FDA issued a safety bulletin on May 23, 2018, regarding over-the-counter benzocaine products used for teething and mouth pain. The bulletin also applied for prescription local anesthetics.
"These products carry serious risks and provide little to no benefits for treating oral pain, including sore gums in infants due to teething."
The agency noted the products can cause methemoglobinemia, "which can be life-threatening and result in death."
The FDA urged manufacturers of over-the-counter oral benzocaine products to add warnings to their label about methemoglobinemia. The agency urged label changes that also directed that the products not be used for teething or for any reason in children younger than 2.
Following the FDA announcement, attorneys began preparing benzocaine lawsuits against manufacturers. Benzocaine lawyers are accepting cases that involve infants, children and adults who developed methemoglobinemia after using over-the-counter oral health products that contain benzocaine.
Benzocaine, Methemoglobinemia & Other Side Effects
Methemoglobinemia is a very serious benzocaine side effect. Benzocaine can cause other side effects like skin reactions. These include severe burning or stinging in places you applied the medicine. Some people may have an allergic reaction to benzocaine.
Alternatives to Benzocaine for Teething Pain
The FDA says the risks outweigh any potential benefits of using benzocaine to treat teething pain in children under 2. The agency suggests following the recommendations of the American Academy of Pediatrics instead.
The academy says to gently rub or massage the child's gums with your finger. You can also give the child a firm, rubber teething ring. The academy says frozen teething rings get too hard and can cause more harm than good.
The academy also recommends against using teething tablets that contain the plant poison belladonna.
Please seek the advice of a medical professional before making health care decisions.
How helpful was this page?
How can we improve this page?
How can we improve this page?