Over-the-counter pain remedies traditionally used on teething babies and for minor injuries in children and adults are linked to a rare blood disorder that is sometimes fatal.
These remedies, including Orajel and Anbesol, contain benzocaine, a topical anesthetic. Benzocaine carries the risk of a condition called methemoglobinemia. This condition reduces the oxygen that is delivered to the cells in the body.
At least four people, including an infant, have died from methemoglobinemia (MetHb) linked to benzocaine, according to the U.S. Food and Drug Administration. Methemoglobinemia is pronounced met-he-mo-glo-bi-ne-mia.
Fact
At least one infant has died from methemoglobinemia linked to benzocaine.
The FDA is now warning against using benzocaine-containing products in infants. Infants are particularly vulnerable to methemoglobinemia.
The agency is also warning adults about the deadly side effect. Benzocaine is also the active ingredient in many topical medications used to treat conditions including poison ivy, insect bites, hemorrhoids and sunburn.
Other benzocaine effects include stinging, blistering, oozing, burning, itching, tenderness, redness, warmth, swelling or the presence of dry white flakes.
What Is Methemoglobinemia?
Methemoglobinemia is a serious and sometimes fatal blood disorder in which too little oxygen is delivered to cells. It occurs when there is too much methemoglobin in the blood.
Hemoglobin is a protein in red blood cells. It carries oxygen through the bloodstream. Typically, hemoglobin releases that oxygen to cells in the body.
But one type of hemoglobin – methemoglobin – doesn't release oxygen to the cells. When too much methemoglobin is produced in the body, the cells don't get enough oxygen.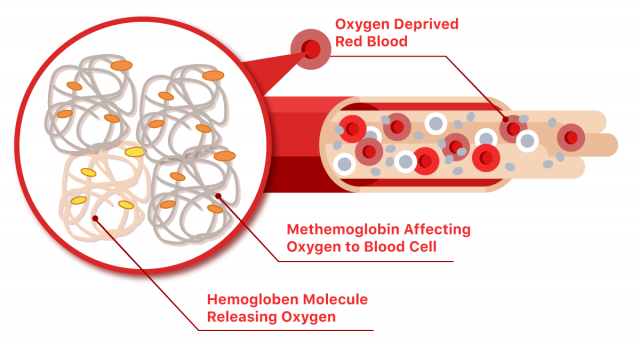 The amount of methemoglobin in the blood is measured on a scale called MetHb concentration. The normal level is between 0 and 3 percent. At levels of 3 to 10 percent, the patient's skin will appear blue-gray.
As the levels increase, the danger and the symptoms get worse. At 20 percent and higher, the patient may experience respiratory depression, altered consciousness, seizures and even death. MetHb levels of 40 percent and higher are considered life-threatening.
Benzocaine Methemoglobinemia
Benzocaine is described as one of the most common causes of acquired methemoglobinemia. Acquired methemoglobinemia is the kind that is not present at birth (congenital methemoglobinemia).
The FDA conducted a study to compare the ability of benzocaine and another local anesthetic, lidocaine, to make methemoglobin. The study showed that benzocaine created much more methemoglobin than lidocaine in a red blood cell model.
The FDA estimated that more than 400 cases of benzocaine-associated methemoglobinemia have been reported since 1971.
The agency said in 2018 that it had evaluated 119 cases of benzocaine-associated methemoglobinemia. The cases were reported to the FDA and identified in the medical literature between February 2009 and October 2017.
Fact
More than 100 cases of benzocaine-associated methemoglobinemia were reported to the FDA over 8 ½ years.
Of the 119 cases of benzocaine-associated methemoglobinemia:
Most were serious and required treatment
22 occurred in patients younger than 18 years
11 were in children under 2
4 involved patients who died, including one infant
Potentially hundreds of benzocaine lawsuits may be filed against manufacturers of these products.
FDA Benzocaine Warnings
In 2018, the agency told manufacturers to stop promoting benzocaine products for use in infants. The FDA also directed that warnings be placed on labels about the risk of methemoglobinemia.
The FDA first warned about the potential danger in 2006. The agency repeated the warning in 2011, 2012 and 2014.
Attorneys are accepting cases of infants, children and adults harmed by OTC products containing benzocaine, following the FDA's latest warning.
Methemoglobinemia Risk Factors
Some people are at increased risk of developing methemoglobinemia with benzocaine use. For example, the elderly may be more vulnerable.
People at greater risk of developing methemoglobinemia include:
Infants (FDA warns against benzocaine use in infants)
People who are elderly
People who have had methemoglobinemia in the past
People who have breathing problems such as asthma, bronchitis or emphysema
People with heart disease
People who smoke
People with certain inborn defects such as glucose-6-phosphodiesterase deficiency, hemoglobin-M disease, NADH-methemoglobin reductase (diaphorase 1) deficiency, and pyruvate-kinase deficiency
Methemoglobinemia Symptoms
The main symptoms of methemoglobinemia are chocolate brown colored blood and cyanosis. Cyanosis is a bluish color of the skin, particularly showing in the lips and fingers. Cyanosis is why methemoglobinemia is sometimes called "baby blue syndrome."
Other symptoms may appear as levels of methemoglobin rise. If someone experiences symptoms of methemoglobinemia, get emergency help immediately.
Symptoms of methemoglobinemia include:
Cyanosis (bluish color of the skin, lips and fingers)
Chocolate brown-colored blood
Shortness of breath
Rapid heart rate
Nausea
Fatigue
Headache
Loss of consciousness
Confusion or stupor
Vomiting
Excessive saliva
When Can Methemoglobinemia Symptoms Occur?
Symptoms of methemoglobinemia may appear within minutes or up to two hours after using benzocaine. According to the FDA, symptoms may occur after using benzocaine for the first time or after several uses. It can occur even if there is no benzocaine overdose.
How to Treat Methemoglobinemia
Milder cases of methemoglobinemia may not require treatment other than identifying and avoiding the cause. A doctor may use a medication called methylene blue to treat severe cases.
Methylene blue reduces the levels of methemoglobin in the blood. Doctors may also prescribe ascorbic acid to reduce the level of methemoglobin in the blood.
In some cases, methemoglobinemia may be severe enough to require a blood transfusion. Doctors may also use hyperbaric oxygen and exchange transfusions.
Diagnosing Methemoglobinemia
Doctors diagnose methemoglobinemia using a blood test.
Other Benzocaine Effects
Benzocaine products carry a number of side effects other than methemoglobinemia. If you or a loved one develops any side effects from benzocaine, you should discuss them with your doctor.
The possible side effects linked to benzocaine include:
Irritation
Red, sore eyes
Sore throat
Burning
Stinging
Itching
Sensitivity
Crusting
Blistering
Dryness
Flaking
Oozing
Swelling
Warmth
Redness
Tenderness
Worsening of pain
Benzocaine Allergic Reaction
Some people may experience an allergic reaction to benzocaine. If this happens, get emergency medical help right away.
Symptoms of benzocaine allergic reaction include:
Hives
Difficulty breathing
Swelling of the face, lips, tongue or throat
Please seek the advice of a medical professional before making health care decisions.
How helpful was this page?
How can we improve this page?
How can we improve this page?