Celexa is the brand name of a prescription antidepressant belonging to a family of drugs called selective serotonin reuptake inhibitors (SSRIs).
Like other SSRIs, Celexa works by increasing levels of a brain chemical called serotonin, which is linked to mood, sleep regulation and emotions. Celexa is approved for the treatment of major depression, but is also used off-label to treat anxiety disorders, obsessive-compulsive disorder, eating disorders and diabetic neuropathy.
Celexa comes in three sizes – 10mg, 20mg, and 40mg
Patients who use Celexa can begin to see significant changes in their mood after several weeks. Doctors generally expect to see remission in a patient's depression after a couple of months.
After Forest Laboratories introduced Celexa in 1998, it quickly became one of the most widely used antidepressants in the U.S., with more than 16 million prescriptions written each year. While it is still prescribed today, generic versions of the drug (citalopram) and Forest Laboratories' introduction of the similar drug Lexapro in 2002, Celexa's sales and use declined significantly.
Celexa was produced as a racemate, meaning it is a mixture of two stereoisomers — R-citalopram and S-citalopram. It is among the most selective among the SSRI class of antidepressants. In pharmacology, selectivity means the degree to which a dose of a drug produces the desired effect in relation to side effects. In addition to being a serotonin reuptake inhibitor, Celexa is also a mild inhibitor of histamine 1 receptors, which are expressed in the heart, smooth muscles, on vascular endothelial cells and in the central nervous system.
What Should People Know Before Taking Celexa?
According to controlled trials, Celexa is effective in maintaining an antidepressant response for up to 24 weeks following six to eight weeks of acute treatment. It may take several weeks before symptoms improve.
However, doctors who prescribe Celexa should carefully monitor patients on the usefulness of the drug on an individual basis. The recommended initial dose of Celexa is 20 mg daily, with an increase to a maximum dose of 40 mg each day. In 2012, the FDA said that Celexa is not recommended at doses greater than 20 mg a day in patients older than 60 years. Celexa is not approved for use in children and young people have had suicidal thoughts after first taking it.
People who have used an MAO (monoamine oxidase) inhibitor in the previous two weeks should not take Celexa to avoid a dangerous drug interaction.
Patients should always consult their doctor before stopping use of Celexa. It is important to work out a plan with your doctor to slowly "step-down" the dosage of any SSRI. Stopping suddenly can result in potentially dangerous withdrawal symptoms.
Suddenly stopping use can result in withdrawal symptoms, including:
Dysphoria (profound state of unease or dissatisfaction)

Irritability

Agitation

Dizziness
Sensory disturbances

Anxiety

Confusion

Headache

Insomnia
Patients should be monitored for these symptoms when discontinuing treatment.
Celexa is not considered an addictive antidepressant. However, some patients may abuse the drug by trying to elevate their mood and get high from taking more than the recommended dosage.
Physicians should carefully evaluate patients with a history of drug abuse and monitor them for signs of abuse or misuse.
Patients should inform their doctors of any history of these conditions before taking Celexa:
Heart conditions

Bleeding or clotting disorders

Seizures or epilepsy

Suicidal thoughts
Kidney or liver disease

Electrolyte imbalance

Bipolar disorder

Glaucoma
Common Side Effects of Celexa
The most common side effects of Celexa are nausea and vomiting, increase sweating, dry mouth and headaches. Insomnia and somnolence (drowsiness) are also common, appearing in 15 percent or more of patients in placebo-controlled clinical trials.
These side effects are more likely with higher doses, and side effects such as nausea, insomnia and drowsiness are likely to go away once the body adjusts to the medication. Like other SSRIs, men who take Celexa may experience abnormal ejaculation, a decreased libido and erectile dysfunction (impotence).
Celexa is not recommended for patients with heart conditions, low blood sugar (hypoglycemia) or low magnesium in the blood (hypomagnesemia).
Black-Box Suicide Warning
While Celexa is only approved by the FDA to treat depression in adults, doctors may prescribe it to adolescents as an off-label use.
SSRIs, including Celexa, increase the risk of suicidal thoughts and behaviors in children, adolescents and young adults in short-term studies of major depressive disorder and other mental disorders.
Risks were highest among patients younger than 18, with 14 additional cases of suicidal thoughts or behaviors compared to a placebo-controlled group.
Patients 25 and over taking Celexa saw one fewer case of suicidal thoughts or behaviors in the clinical trials, while patients 65 and older saw an even greater reduction in suicide risk, with six fewer cases.
Suicide is a known risk factor of depression and other mental disorders.
Like other SSRIs, Celexa's label carries a black-box warning for an increased risk of suicide. Black-box warnings are the strictest warnings put on prescription drugs by the FDA, and they are utilized when there is reasonable evidence of a serious hazard.
Celexa During Pregnancy, Link to Birth Defects, Autism
Studies link Celexa and other SSRIs to an increased risk of autism and several birth defects when taken during pregnancy.
Despite this, some doctors continue to prescribe Celexa to pregnant women, believing that untreated maternal depression could have even more serious effects.
First-trimester usage of SSRIs is linked to a slight increase in the risk of miscarriage. Studies also suggest that women who take SSRIs during that window may experience premature delivery or a baby with low birth weight. Late-pregnancy SSRI use can lead to withdrawal symptoms in the baby, including seizures, feeding difficulty and behavioral problems like constant crying. These symptoms are typically short-lived.
Link to Autism
Research remains mixed on the risk of autism from the use of SSRIs during pregnancy.
A 2015 study published in JAMA Pediatrics found Celexa and other SSRIs were linked to an increased risk of autism.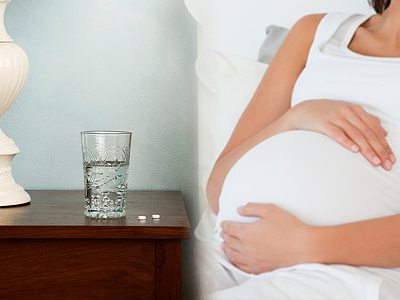 Studies show an increased risk of children with autism if SSRIs are taken during pregnancy
Researchers analyzed more than 145,000 health records of children born between January 1999 and December 2009. They found no increased risk of autism for children of mothers who took SSRIs in the first trimester of pregnancy, but they found an 87 percent increased risk if mothers took the antidepressants during the second or third trimester.
Three subsequent studies published in JAMA and JAMA Pediatrics in 2017 mirrored the nearly doubling of risk for autism. However, one of those, looking at 1.5 million infants, found the risk did not increase as much if other risk factors such as past psychological conditions of the mother and autism diagnoses in siblings.
Celexa and Birth Defects
Celexa and most other SSRIs fall under Class C pregnancy risk, which means they have shown harm to animal fetuses but there are insufficient studies of damage to human fetuses. Experts believe the risk of birth defects is low when women take Celexa while pregnant.
Newborn Heart Defects
In 2009, the American Psychiatric Association and the American College of Obstetricians and Gynecologists issued a joint report on SSRIs and the potential for heart defects in newborns.
Other studies have found links between SSRI use during pregnancy and an increased risk of persistent pulmonary hypertension of the newborn (PPHN). This disorder prevents the normal function of the infant's lungs from providing oxygen to the brain. It can be potentially fatal and even when treated, can result in long term health issues for the newborn.
A 2007 study published in the New England Journal of Medicine also linked SSRI use to an increased risk of three other birth defects:
Anencephaly – missing a portion of the brain or skull
Craniosynostosis – a birth defect to the skull causing it to fuse to early and requiring surgery to treat
Omphalocele – organs form outside the newborn's body which may require multiple surgeries to repair
Even though studies link Celexa and other SSRIs taken during pregnancy to increased risks of birth defects, the overall risk of birth defects remain small. Failure to treat depression during pregnancy can also result in serious health risks, including miscarriage and low birth weight. Pregnant women should consult with their doctor for the best balance of risk versus benefit in treating depression during pregnancy.
Pregnant women should never discontinue taking Celexa or any other SSRI without first talking with their doctor. Suddenly stopping an antidepressant can pose serious complications or life threatening risks to the mother and fetus.
FDA Warns of Heart Conditions Related to Celexa
In 2012, the FDA revised health warnings about Celexa regarding the drug's potential to disrupt normal heart function, especially in those taking higher dosages. Labels are now marked to warn people with heart conditions of this possibility.
QT Syndrome
Celexa increases the risk of Long QT syndrome, a condition that can lead to an abnormal heart rhythm condition called Torsade de Pointes, which can be fatal.
The FDA revision noted that any dose of Celexa or generic forms of the drug is not recommended for certain patients because of the QT prolongation risk. But because it may still be beneficial for some of these people to use Celexa, the agency changed the label to specifically caution these patients.
Label changes include:
Recommending discontinuation of Celexa in patients with persistent QTc measurements greater than 500 milliseconds. QT intervals measure the amount of time between waves of the heart's electrical cycle.
ECG monitoring in Celexa patients at high risk of QT prolongation.
The maximum recommended dose of 20 mg per day for patients 60 years of age or older.
In the label revisions, the FDA advises patients currently taking a dose greater than 40 mg per day to consult their health care professional and to seek immediate care if they experience an irregular heartbeat, shortness of breath, dizziness or fainting while taking Celexa.
Other Potential Serious Side Effects of Celexa
Other potential side effects associated with Celexa that may require emergency medical attention include serotonin syndrome and allergic reactions.
Serotonin syndrome is a potentially fatal condition occurs when too much serotonin exists in the brain. This generally occurs when two drugs that increase serotonin levels are taken together. Symptoms can include changes in mental condition (agitation or hallucinations), coma, muscle twitching, racing heartbeat, changes in blood pressure, fever, nausea or diarrhea, and stiff muscles.
MAOI Risk
Celexa patients taking Monoamine oxidase inhibitors (MAOIs) have an increased risk of serotonin syndrome.
Severe allergic reactions can be fatal. People allergic to Celexa may experience trouble breathing, facial swelling, or itchy welts or hives, accompanied by a fever and joint pain. People who have allergic reactions to Celexa should seek medical attention right away.
---
Terry Turner is an Emmy-winning former television journalist turned senior writer at Drugwatch. In more than 25 years of reporting, he has seen countless examples of how people armed with comprehensive, quality information have the power to make better decisions for their lives and holding those who harm them accountable.
Forest Laboratories. (2012). Celexa Prescribing Information.
Lundbeck. (2013). Products. Retrieved from http://www.lundbeck.com/global/brain-disorders/products
Kavyanjali, K. (2012, March 28).FDA Adds Warnings to Forest Labs' Celexa Label. Reuters. Retrieved from http://www.reuters.com/article/2012/03/28/us-forestlaboratories-idUSBRE82R0KE20120328
Singer, N. (2010, September 15). Forest, Maker of Celexa, to Pay More Than $313 Million to Settle Marketing Case. The New York Times. Retrieved from http://www.nytimes.com/2010/09/16/health/16drug.html
U.S. Food And Drug Administration.. (n.d.). Final Labeling: Celexa. Retrieved from http://www.fda.gov/ohrms/dockets/ac/04/briefing/4006B1_07_Celexa-Label.pdf
National Institutes of Health, National Library of Medicine. (2008). Celexa (citalopram hydro bromide). Retrieved from http://dailymed.nlm.nih.gov/dailymed/archives/fdaDrugInfo.cfm?archiveid=9121
U.S. Food and Drug Administration. (FDA). (2011). Public Health Advisory: Treatment Challenges of Depression in Pregnancy and the Possibility of Persistent Pulmonary Hypertension in Newborns. Retrieved from http://www.fda.gov/Drugs/DrugSafety/PostmarketDrugSafetyInformationforPatientsandProviders/DrugSafetyInformationforHeathcareProfessionals/PublicHealthAdvisories/ucm124348.htm
Forest Laboratories. (n.d.) Celexa ((citalopram hydrobromide) Tablets/Oral Solution. Retrieved from http://www.frx.com/pi/celexa_pi.pdf
Yonkers, K., Wisner, K., Stewart, D., Oberlander, T., Dell, D., Stotland, N., Ramin, S., & Chaudron, L. National Institutes of Health, National Center of Biotechnology Information. (2009). The Management of Depression During Pregnancy: A Report from the American Psychiatric Association and the American College of Obstetricians and Gynecologists. Retrieved from http://www.ncbi.nlm.nih.gov/pmc/articles/PMC3103063/
Gardner, A. (2009, September 26). Antidepressants Linked to Heart Defects in Newborns. Newsday. Retrieved from http://abcnews.go.com/Health/Healthday/antidepressants-linked-heart-defects-newborns/story?id=8676096
McCook, A. (2011, June 24). Some Small Risks to Antidepressants in pregnancy. Reuters. Retrieved from http://www.reuters.com/article/2011/06/24/us-risks-antidepressants-pregnancy-idUSTRE75N3WO20110624
Pedersen,, L., Henriksen, T., Vestergaard, M., Olsen, J., & Bech, B. (2009). Selective Serotonin Reuptake Inhibitors in Pregnancy and Congenital Malformations: Population Based Cohort Study. British Medical Journal, doi: BMJ 2009;339:b3569
U.S. Food and Drug Administration. (2011). Medication Guide. Retrieved from http://www.fda.gov/downloads/Drugs/DrugSafety/ucm088568.pdf
U.S. Food and Drug Administration. (2011). FDA Drug Safety Communication: Revised Recommendations for Celexa (citalopram hydrobromide) Related to a Potential Risk of Abnormal Heart Rhythms With High Doses. Retrieved from http://www.fda.gov/Drugs/DrugSafety/ucm297391.htm
Meier, B. (2004, June 26). Drug Maker Acknowledges Some Negative Test Results. The New York Times. Retrieved from http://www.nytimes.com/2004/06/26/business/drug-maker-acknowledges-some-negative-test-results.html
Harris, G. (2009, September 1). Document Details Plan to Promote Costly Drug. The New York Times. Retrieved from http://www.nytimes.com/2009/09/02/business/02drug.html
Pierson, R. (2009, March 20). Update 2-Depression Pill OK. Reuters. Retrieved from http://www.reuters.com/article/2009/03/20/forest-lexapro-idUSN2032438520090320
Centers For Disease Control. (n.d.). Facts About Ventricular Septal Defect. Retrieved from http://www.cdc.gov/ncbddd/heartdefects/VentricularSeptalDefect.html
National Institutes of Health, National Library of Medicine. (n.d.). Serotonin Syndrome. Retrieved from http://www.ncbi.nlm.nih.gov/pubmedhealth/PMH0004531/
Komaroff M.D., A. (2013, September 19). Weigh Risks of Depression Meds During Pregnancy. Montgomery County Courier. Retrieved from http://www.yourhoustonnews.com/courier/living/weigh-risks-of-depression-meds-during-pregnancy/article_a107fbe1-5f74-56e0-b0da-ea973859b724.html
Swaby, H. (1995). A Review of Pregnancy Outcome Following Exposure to Newer Antidepressants. Retrieved from http://www.antidepressantsfacts.com/review-pregnancy-ssri.htm
National Institute of Health. (2010). Mental Health Medications (12-3929). Retrieved from http://www.nimh.nih.gov/health/publications/mental-health-medications/nimh-mental-health-medications.pdf
Alwan, S., Reefhuis, J., Rasmussen, S., Olney, R., & Friedman, J. (2007). Use of Selective Serotonin-Reuptake Inhibitors in Pregnancy and the Risk of Birth Defects. New England Journal of Medicine, doi: 10.1056/NEJMoa066584
Black Dog Institute. (2012). Safety of Antidepressants and Breastfeeding. Retrieved from http://www.blackdoginstitute.org.au/docs/Safetyofantidepressantsinpregnancyandbreastfeeding.pdf
National birth defects prevention study. (2013). National Birth Defects Prevention Study (NBDS) Notable Studies 2007–2012. Retrieved from http://www.nbdps.org/research/recentfindings.html
NYU Langone Medical Center Department of Pediatrics. (2013). Persistent pulmonary hypertension of the newborn . Retrieved from http://pediatrics.med.nyu.edu/conditions-we-treat/conditions/persistent-pulmonary-hypertension-newborn
National Institute of Health. (2012) Craniosynostosis Repair. Retrieved from http://www.nlm.nih.gov/medlineplus/ency/article/007364.htm
Centers for Disease Control.. (2013) Facts About Anencephaly. Retrieved from http://www.cdc.gov/ncbddd/birthdefects/Anencephaly.html