Hernia Mesh Manufacturers
Hernia mesh manufacturers produce more than 70 different brands of mesh. A handful of companies dominate the U.S. market. Hernia mesh is part of a $48 billion industry that drives other medical device sales.
Hernia mesh manufacturers range from giant, well-established companies to small start-ups. Mesh manufacturers use different materials in different products.
These materials can provide different benefits. But they can also present different risks. Recurrence was the most common complication before the hernia mesh's invention. Research is mixed on how long a mesh hernia repair will last. A 2022 study followed 100 patients for ten years after a ventral abdominal hernia repair.
No recurrence was recorded after three years, while about 10% had a recurrence after roughly eight years. Two patients had a central breakdown of the mesh at about seven years. Mesh had stretched across the defect by an average of 21%. Mechanical testing showed that the mesh lost its elasticity at low forces.
Patients should talk to their surgeons about the mesh brand used for their surgeries. They should also ask the doctors about the brands' risks and benefits.
Major Hernia Mesh Manufacturers
A 2017 study identified more than 70 different types of hernia mesh on the market. While there is a long list of companies that produce hernia mesh, a handful of them dominate the U.S. market.
Major Manufacturers Producing Hernia Mesh Include:
B. Braun Melsungen, AG
Gore Medical
LifeCell Corporation
Medtronic
Lawsuit Information
Hernia mesh manufacturers have been named in multiple lawsuits claiming serious injuries as a result of mesh failure. Learn more about these lawsuits.
Atrium Medical Corporation
The C-QUR product line may be Atrium's best known hernia mesh. A fish oil-derived coating covers the plastic mesh. The coating creates a barrier to prevent adhesions. A patient's body absorbs the coating over time.
Atrium Medical Hernia Mesh Brands
C-QUR
Prolite
Prolite Ultra
Proloop
Vitamesh
Atrium recalled several C-QUR hernia mesh products in 2013 due to improper packaging. The company issued four recalls that included more than 145,000 units combined.
Atrium incorporated in 1981. MAQUET Cardiovascular acquired Atrium for $680 million in 2011. MAQUET is a GETINGE Group subsidiary.
Atrium manufactures and distributes products to over 60 countries. The company has home offices in New Hampshire. It also has offices in The Netherlands, Australia and Germany.
C.R. Bard
Bard Medical specializes in disease management. It makes several different types of hernia mesh including Composix Kugel meshes.
Bard recalled several of its Kugel hernia mesh products starting in 2005. The devices caused perforations and other internal injuries.
Bard faced more than 2,600 lawsuits over its Kugel patches. It settled them for $184 million in 2011.
Bard's headquarters is in Covington, Georgia. Becton, Dickinson and Company, better known as BD, acquired Bard in 2017 for $24 billion.
Bard Hernia Mesh Brands
3DMax
AlloMaxBard Soft Mesh
Bard Mesh Sheets
Composix
Dulex
MK Patch
OnFlex
PerFix Plug
Phasix Mesh
Sepramesh IP Composite
Ventralex
Ventralight
Ventrio
Visilex
XenMatrix Surgical Graft
B. Braun Melsungen, AG
B. Braun is a German company with U.S. offices in Pennsylvania. The company designed Omyra hernia mesh to prevent adhesion. It is the first single-layer, non-coated mesh of its kind.
B. Braun is the 13th largest medical device manufacturer in the world. The company began as a pharmacy in Melsungen, Germany, in 1839.
B. Braun Hernia Mesh Brands
Ethicon Inc.
Ethicon pulled its Physiomesh Flexible Composite hernia mesh off the market in 2016. The company cited higher than expected failure rates for the market withdrawal. It continued to manufacture other Physiomesh products.
Ethicon has recalled more than 18,000 units of its Proceed hernia mesh from 2005 to 2014. The company said packaging or other problems caused the mesh to lose its coating. This could allow adhesions between the mesh and internal organs.
Ethicon began manufacturing sutures and other wound closure devices in 1887. It has been a Johnson & Johnson subsidiary since 1949. Johnson & Johnson is the world's largest medical products company.
Ethicon Hernia Mesh Brands
FlexHD Structural
Physiomesh
Proceed
Proline
Ultrapure
Ultrapure Advanced
Vicky
XCM Biologic
Gore Medical
Gore Medical manufactures implantable devices and membranes used in medical devices. Gore's Dual mesh is the first hernia mesh with dual surface material. People have reported injuries associated with Dual mesh to the U.S. Food and Drug Administration.
Gore Medical is a subsidiary of W.L. Gore and Associates based in New Jersey. The parent company specializes in synthetic fiber products. It is best known for its waterproof and breathable Gore-Tex fabrics. Gore Medical even manufactures a Gore-Tex line of mesh.
Gore Medical Hernia Mesh Brands
Bio-A
Dual
Gore-Tex Soft Tissue Patch
Micromesh
Sinecure
LifeCell Corporation
LifeCell is an Allergan subsidiary based in New Jersey. It manufactures tissue repair products for reconstructive, urogynecologic and orthopedic surgeries. Allergan acquired the company in 2017 for $2.9 billion.
LifeCell manufactures biologic mesh including Alloderm and Strattice hernia meshes. Strattice's design allows fluid to flow through the mesh after implantation. The FDA has received reports blaming Strattice for patient injuries.
LifeCell Hernia Mesh Brands
Alloderm Select
Strattice
Medtronic
Medtronic manufactures a handful of different meshes for hernia repair. It developed ProGrip Self-Fixating Mesh for minimally-invasive surgery. The mesh does not need tacks to hold it in place.
Medtronic's headquarters are in Dublin, Ireland, and Fridley, Minnesota. It started as a medical equipment repair shop in 1949.
Medtronic's big breakthrough came when it developed a wearable, battery-powered pacemaker. Today, Medtronic has nearly 400 facilities and offices in 160 countries.
Medtronic Hernia Mesh Brands
Parietex
Permacol
ProGrip
Symbotex
Versatex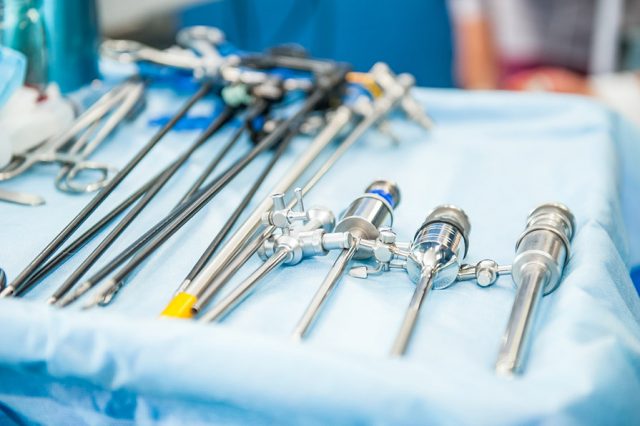 Hernia Mesh Is Big Business
A 2016 review estimated that doctors performed 20 million hernia surgeries worldwide every year. It found that hernia repairs created a $48 billion revenue stream in the U.S. alone.
Fact
About nine in 10 of U.S. hernia repairs use hernia mesh.
But hernia mesh is just the tip of the iceberg in hernia surgery spending. Mesh allows laparoscopic surgery for hernia repairs.
Laparoscopic surgery involves different minimally-invasive techniques. All need specialized surgical instruments.
Hernia mesh may cost as little as $50 for a single procedure. But some instruments can run in the tens of thousands of dollars.
Hernia Mesh Manufacturers Paid for Hernia Research
Two large hernia mesh manufacturers sponsored new international hernia surgery guidelines in 2018. Johnson & Johnson and Bard funded the guidelines which favor mesh over tissue-only surgery.
Fifty guideline authors and editors disclosed grants from the two companies. Fifteen of them also received money from companies that make hernia mesh-related devices.
The list included six other mesh manufacturers. It also included three companies that make devices for hernia mesh surgery.
Disclosures of Company Ties Included
Applied Medical
C.R. Bard
Cook Medical
Ethicon (a Johnson & Johnson company)
FEG/Dynamesh
Gore Medical
Insightra
Medtronic
Olympus
Stryker
The standards say hernia mesh should be surgeons' "first choice" for hernia repair. They instruct doctors to discuss alternatives with patients only after explaining mesh results.
Dr. Robert Bendavid practices at the University of Toronto and the Shouldice Hernia Hospital. He is critical of hernia mesh. He said the new guidelines "virtually eliminate pure-tissue repairs."
"Those of us who perform and promote pure-tissue repair have no industrial support," Bendavid told Drugwatch. He accused large mesh-related manufacturers of "buying surgeons, hospitals and research."
Please seek the advice of a medical professional before making health care decisions.
Share This Page:
How can we improve this page?
Thank You for Your Feedback
We appreciate your feedback. One of our content team members will be in touch with you soon.
We appreciate your feedback. One of our content team members will be in touch with you soon.
Who Am I Calling?
Calling this number connects you with a Drugwatch representative. We will direct you to one of our trusted legal partners for a free case review.
Drugwatch's trusted legal partners support the organization's mission to keep people safe from dangerous drugs and medical devices. For more information, visit our partners page.