Crestor
Crestor (rosuvastatin calcium) is a popular statin used along with diet and exercise to lower bad cholesterol by blocking liver enzymes. Doctors also prescribe the drug to slow plaque buildup in arteries and to prevent heart disease, heart attacks, strokes and other cardiovascular diseases.
Crestor is part of a family of cholesterol-lowering drugs known as statins that includes Lipitor, Zocor and Lescol. The medication is designed to work with proper diet and exercise to lower bad cholesterol and slow the buildup of fatty deposits in the walls or blood vessels, which may prevent heart attacks and strokes.
Rosuvastatin works in two ways:
It reduces the amount of cholesterol the liver produces by blocking a key enzyme.
It allows the liver to take in and break down cholesterol already in the blood.
The active ingredient is rosuvastatin calcium. Rosuvastatin has been shown to reduce the risk of heart attack and other heart-related adverse events over 1.9 years of use. But there have been no long-term studies examining the effects of taking it or any other statins for as long as 20 or 30 years, which is the length of time many people will take the medicine.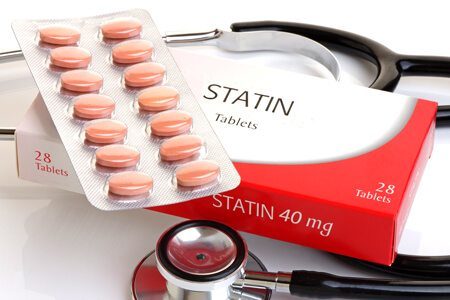 The U.S. Food and Drug Administration first approved the medication in 2003 for use in adults with high levels of "bad cholesterol" and a history of heart disease. In 2010, the FDA approved the drug for additional uses including prevention of heart attacks, strokes and certain heart-related procedures among fairly healthy people with elevated C-reactive protein (CRP) levels, which is a marker of inflammation.
AstraZeneca manufactures the drug, which is approved for use in more than 115 countries. Generic versions have been available since 2016.
Dosages and Precautions
Crestor comes in tablets that vary in color, shape and size depending on the dosage. Doses range from 5 mg to 40 mg taken once a day at any time, with or without food.
The usual starting dose is 10 mg to 20 mg once daily. But there are notable exceptions.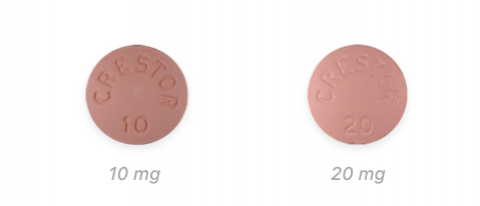 In March 2004, the FDA required updates to the drug's package insert to include new dosage instructions for patients with Asian ancestry. The change told doctors to consider starting Asian patients at just 5 mg once daily.
The drug's label cites studies that have shown rosuvastatin levels twice as great in Asian subjects compared to Caucasian patients who took the same dose. Such elevated levels can increase the risk of muscle damage.
The label warns that people with a known hypersensitivity to ingredients in the drug should not take it. Rosuvastatin is also not recommended for people with active liver disease, women who are pregnant or who may become pregnant, or nursing mothers.
Side Effects and Warnings
The most common side effects of Crestor may include muscle aches, weakness, abdominal pain, nausea and headache. The drug has also been associated with a risk of kidney and liver damage, and a possible increased risk of developing diabetes.
Let your doctor know if you experience unexplained muscle pain or weakness, or if you continue to have muscle problems even after your doctor has told you to stop taking Crestor. You should also alert your doctor if your urine is dark, your skin or eyes are yellowing, your stomach hurts or your appetite has changed. These could be signs of rare but serious skeletal muscle effects such as myopathy or rhabdomyolysis.
The FDA has required AstraZeneca to add warnings to Crestor's label based on clinical trials and postmarketing surveillance.
Required warnings include:
LIVER ENZYME ABNORMALITITES

Recommends doctors test liver enzymes before prescribing the medication and during treatment if the patient has symptoms of liver problems

BLOOD SUGAR INCREASES

Advises increases in blood sugar levels have been reported with use of statins

PROTEASE INHIBITOR DRUG INTERACTIONS

Cautions taking the drug with HIV or hepatitis C virus medicines called protease inhibitors may raise statin levels in the blood (This increases the risk for muscle injury, including rhabdomyolysis, which can result in kidney failure)
Recall Petition
Public Citizen petitioned the FDA in 2004 and 2005 to recall Crestor. The advocacy organization's health research group documented cases of patients who developed rhabdomyolysis after taking the drug.
Rhabdomyolysis is a severe form of muscle damage that can lead to permanent kidney damage, coma and sometimes death.
Public Citizen demanded the FDA recall the drug to prevent further incidents of rhabdomyolysis, kidney failure or kidney damage. The FDA denied the petitions, but the agency later required AstraZeneca to add warnings to the drug's label about a risk of developing rhabdomyolysis with acute renal failure.
In its 2017 annual report, AstraZeneca acknowledged it had faced several Crestor lawsuits over rhabdomyolysis and other injuries.
"In the US, AstraZeneca was defending a number of lawsuits alleging multiple types of injuries caused by the use of Crestor, including diabetes mellitus, various cardiac injuries, rhabdomyolysis, and/or liver and kidney injuries," the report stated. "AstraZeneca has resolved all active claims with regard to this matter."
International Safety Concerns
While most statins are very similar, Crestor is one of the two most powerful statins at reducing LDL, or "bad" cholesterol, levels. The other is Lipitor.
This increased potency has caused some regulatory bodies outside of the United States to approach Crestor's approval with caution. Higher doses and stronger statins pose a greater risk of rare but serious side effects, including a potentially life-threatening muscle disease called myopathy.
One 2022 clinical research study showed that 18% of patients in the rosuvastatin group achieved low-density lipoprotein cholesterol compared to 20% of patients on atorvastatin.
In June 2004, AstraZeneca released a revised package insert for use in the European Union.
"The changes to the European labeling are in response to postmarketing spontaneous adverse event reports in patients receiving Crestor and highlight certain patient populations who may be at an increased risk for serious muscle toxicity (myopathy) associated with Crestor use, especially at the highest approved dose of 40 mg," the FDA said in a public health advisory.
Lingering safety concerns prompted Germany, Norway, Poland, Malta and Spain to hold off on approval. While most EU countries approved the drug in 2003 or shortly after, the five holdouts did not grant approval until 2008, according to Reuters.
Germany is the largest national economy in Europe. Winning approval to market the medication there helped the drug's global sales grow by more than $900 million in following year, according to the company's 2010 annual report.
Generic Versions
AstraZeneca's patent on Crestor expired in the United States on July 8, 2016. This allowed other companies to seek FDA approval for generic versions and begin manufacturing the approved ones.
As of February 2020, at least 20 manufacturers had received FDA approval to manufacture generic versions of rosuvastatin calcium. The agency says the generic drugs it approves have the same quality and strength as brand-name versions.
Crestor sales dropped 70 percent from $1.2 billion in 2016 to $373 million in 2017 to $170 million in 2018. However, AstraZeneca noted in its 2017 and 2018 annual reports that the drug had remained one of its top sellers.
In the face of growing generic competition, the drug still generated more than $2.36 billion for the company worldwide in 2017, and $1.43 billion in 2018. But that represented a 30 percent and 39 percent global decline from the previous years.
Please seek the advice of a medical professional before making health care decisions.
Share This Page:
How can we improve this page?
Thank You for Your Feedback
We appreciate your feedback. One of our content team members will be in touch with you soon.
We appreciate your feedback. One of our content team members will be in touch with you soon.
Who Am I Calling?
Calling this number connects you with a Drugwatch representative. We will direct you to one of our trusted legal partners for a free case review.
Drugwatch's trusted legal partners support the organization's mission to keep people safe from dangerous drugs and medical devices. For more information, visit our partners page.