Even as the U.S. Food and Drug Administration (FDA) approved Crestor to treat cholesterol in 2003, some regulators within the agency still voiced reservations about the drug's safety. Crestor is part of a class of cholesterol drugs called statins, and while statins have been around since the 1980s, Crestor was a powerful new version.
Though the FDA knew about cases of a rare form of muscle damage during the drug's premarketing trials, the agency believed at the time the rate was similar to other statins already on the market. But in the first year after Crestor was approved, an analysis of adverse event reports to the FDA indicated the number of rhabdomyolysis cases among Crestor users was higher than for users of other statins. Rhabdomyolysis can lead to severe kidney injury or failure.
In 2005, just over a year after approving Crestor, the FDA required its manufacturer, AstraZeneca, to add a warning to the drug's label about the risk of rhabdomyolysis and other muscle injuries.
Further postmarket studies in the years after Crestor's initial approval would highlight or examine previously unknown or underestimated risks of serious side effects.
Possible Serious Side Effects of Crestor:
Rhabdomyolysis (a form of serious muscle damage that can cause kidney problems)
Kidney failure
Hemorrhagic stroke
Tendon rupture

Decreased cognition, such as memory loss & amnesia
Kidney damage
Type 2 diabetes
Muscle-related symptoms

Despite reports of sometimes serious side effects, Crestor became one of the most popular brand-name drugs in the U.S. Its success is due in part to its effectiveness in addressing cardiovascular disease (CVD).

In 2010, the FDA approved Crestor to prevent heart attacks, strokes and other cardiovascular disease — the leading cause of death in the U.S. As of 2012, Crestor was the "only statin that has been shown to reduce cardiovascular and all-cause mortality."

Crestor 5mg pill

Crestor also became AstraZeneca's best-selling drug — racking up more than $50 billion in sales before its patent expired in 2016. From April 2014 through March 2015, Crestor was the second most widely prescribed brand-name drug in the U.S., with nearly 21.5 prescriptions over the 12-month period.

The FDA approved the first generic version of Crestor in April 2016 and by July 2016 at least 10 companies were either manufacturing or seeking to manufacture generic versions of the drug. Analysts predicted the price of generic Crestor could be as little as just 10 percent of the name-brand version — leading to more prescriptions and more people exposed to potential side effects.
Muscle Toxicity and Serious Statin-Related Muscle Side Effects
Crestor's label carries a warning of skeletal muscle effects that tells health care professionals to "advise patients to promptly report to their physician unexplained and/or persistent muscle pain, tenderness, or weakness," if symptoms appear. The warning specifically mentions myopathy and rhabdomyolysis.
Myopathy literally means "muscle disease" in Greek. It is a group of disorders in which muscle fibers do not function properly. At the most severe end of muscle disorders related to statins is a condition called rhabdomyolysis — a type of muscle damage that can lead to kidney damage and sometimes death. This condition can be detected and differentiated from myalgia by tests that reveal toxic levels of muscle enzymes.
These enzymes can produce varying levels of myotoxicity — toxic effects on muscle tissue. The effects are defined as both the presence of muscle symptoms and elevated creatine kinase (CK) levels. CK enzymes are found in various cells and tissues, including muscle tissue in the body. But as their levels increase, the risk of serious injury rises.
| Statin-Induced Muscle Conditions | Description |
| --- | --- |
| Myalgia | Muscle aches, pains and weakness with no elevated CK levels |
| Myopathy | Associated with CK levels 10 times the upper limit of acceptable amounts in the body |
| Myositis | An inflammation of muscle tissue resulting in muscle weakness. CK levels may range from five to 50 times the acceptable upper limit |
| Rhabdomyolysis | Associated with CK levels 10,000 times the upper limit of acceptable amounts. Renal failure is possible; can result in death in some cases |
Among these conditions, rhabdomyolysis, though still a rare side effect, is the most severe and can lead to paralysis, kidney failure or even death in the worst cases.
Crestor Poses Rhabdomyolysis, Kidney Damage Risks
While rare, rhabdomyolysis — a serious form of muscle damage that can lead to kidney failure — may affect as many as 600 Crestor users every year.
Within months of Crestor receiving FDA approval in 2003, consumer advocacy group Public Citizen petitioned to have the drug recalled over safety concerns focused on rhabdomyolysis and the kidney damage it can cause.
Rhabdomyolysis is a serious condition in which skeletal muscle tissue breaks down rapidly and is released into the bloodstream. One type of debris created in this muscle breakdown is a protein called myoglobin. It is harmful to the kidneys, and as blood carrying myoglobin pass through the organs, it can cause serious problems including kidney failure.
Warning signs of rhabdomyolysis include muscle aches and dark-colored urine.
It is estimated that one in every 10,000 people who take statins for long periods of time will develop rhabdomyolysis. A 2014 study looked at 112 cases of statin-induced rhabdomyolysis and found roughly 15 percent died as a result of the condition.
But for Crestor, the rate of developing rhabdomyolysis may be higher than for other statins.
In 2005, a study in the American Heart Association journal Circulation found patients taking Crestor were eight times more likely to develop rhabdomyolysis, renal failure or proteinuria — high levels of protein in the urine — that patients taking other statins.
In 2004, Public Citizen analyzed adverse event reports to the FDA for the first year Crestor was on the market. It found the rate of reports was 6.2 times greater for patients taking Crestor than for the average of all other statins combined. Even compared to the statin with the second-highest rate of adverse event reports — Zocor — Crestor was 2.8 times higher.
Dr. Sidney Wolfe of Public Citizen told the Washington Post in 2005 that since Crestor's approval less than two years earlier, it had been linked to 117 cases of rhabdomyolysis and 41 cases of kidney failure. Both were higher totals than for other statins on the market at the time. Public Citizen's analysis also looked at the rate of kidney damage or insufficiency in Crestor patients. It found 29 reports in the first year of Crestor sales, a rate it called 75 times that of other statins.
The FDA denied Public Citizen's recall petition in March 2005, but did order that a warning of rhabdomyolysis risk be included on Crestor's label.
Risk of Liver Damage
Studies have shown that as many as three in every 100 patients taking Crestor may experience side effects from elevated liver enzymes.
Statins including Crestor can raise the levels of liver enzymes called serum alanine aminotransferase (ALT). Studies have shown this side effect occurs in about 3 percent of patients taking statins and serious liver damage only occurs in about 1 percent. The degree of ALT level elevation can indicate the seriousness of liver injury.
Liver-related side effects of Crestor can include:
Mildly elevated ALT levels
Liver injury
Hepatitis or hepatitis-like symptoms
Mild elevations of ALT levels usually resolve themselves. A small minority of cases may show symptoms of hepatitis, liver disease and jaundice. The rate of acute liver failure among patients taking Crestor or other statins is rare and similar to that of the general population.
Liver injury is rare but if it happens, it usually occurs two to four months into Crestor therapy. Recovery from liver injury, if caught quickly, can be resolved within one to two months after stopping Crestor therapy. Recurrence has been reported among people who restart Crestor. Health care professionals usually prescribe another statin.
Hepatitis or autoimmune hepatitis-like liver injury is usually treated with corticosteroids if there is no prompt recovery from stopping Crestor therapy. The National Institutes of Health (NIH) says it is essential for health care professionals to monitor recovery from these symptoms. Any further statin therapy should also be monitored.
AstraZeneca recommends doctors take blood tests to check patients' liver condition before prescribing Crestor. The company also tells patients taking Crestor to "call your doctor right away" if they experience certain symptoms that could be signs of liver problems.
Liver Problem Warning Signs:
Feeling unusually tired or weak
Pain in the upper belly
Yellowing of the skin

Loss of appetite
Dark urine
Yellowing of the whites of the eyes

While retesting for liver problems is not usually done, AstraZeneca recommends testing liver enzyme levels for patients who show symptoms of liver problems while taking Crestor.

In February 2012, the FDA approved label changes for Crestor recommending liver tests prior to prescribing and when "clinically necessary thereafter."
Crestor Poses an Increased Risk of Type 2 Diabetes, Especially for Women
Various studies have shown that taking Crestor may increase some individuals' risk of developing diabetes by 9 to 48 percent.
In 2008, an unexpected finding from a large drug trial first exposed an increased diabetes risk for people taking Crestor.
The JUPITER (Justification for the Use of Statins in Prevention: an Intervention Trial Evaluation Rosuvastatin) trial was focused on the potential of Crestor as a drug to prevent cardiovascular disease (CVD).
But researchers looking at data from the 18,000 patient study also found a 27 percent increase in the risk of patients developing diabetes. A subsequent study by the Women's Health Initiative (WHI) found the diabetes risk increased to 48 percent among women taking Crestor.
A 2013 study of Crestor's diabetes risk said the side effect was of "substantial importance" to women.
Writing in the American Diabetes Association journal Diabetes Care, the authors recommended weighing the risks and benefits for certain women. They warned that women with a low CVD risk could actually face more harm from developing diabetes if given the same dose of Crestor prescribed to men with a higher CVD risk.
The researchers did not conclude why the risk was higher for women, but suggested it may be because women tend to have smaller body mass so the statin dose may be relatively more potent than in men. They also hypothesized that the diabetes risk for women may have been overlooked because women are underrepresented in drug trials.
A 2015 study found Crestor and other statins were eight times more likely to prevent CVD than to cause diabetes. But the researchers also said that for patients with low CVD risk factors, "statins should be cautiously used." They also called for closer monitoring of patients' blood glucose levels.
Since 2012, the FDA has required labels for Crestor and other statins to include that health care professionals should be aware of potentially elevated blood sugar levels for patients taking statins.
Aggressive Statin Treatment May Increase Hemorrhagic Stroke Risk
Hemorrhagic strokes occur when blood vessels burst and bleed into the surrounding areas of the brain. The bleeding accumulates and compresses the brain. They are caused by either a weakened blood vessel or a brain aneurysm. They account for about 15 percent of all strokes and 40 percent of all stroke deaths.
Hemorrhagic strokes differ from ischemic strokes, which result from a blood clot blocking the flow of blood to the brain.
While Crestor may prevent recurrence of ischemic stroke, it may also increase the risk of hemorrhagic strokes.
Some studies have found an association between hemorrhagic stroke and statin use.
A 2006 study called the SPARCL (Stroke Prevention by Aggressive Reduction in Cholesterol Levels) trial, found that high doses of statins resulted in an increase in frequency of hemorrhagic strokes among patients — 55 for patients on statins compared to 33 for those on a placebo.
"The potential risk of recurrent hemorrhage should be considered when one is deciding whether to administer a statin to patients who have had a hemorrhagic stroke," the researchers wrote.
As of 2014, medical guidelines for using statins to prevent recurrence of strokes called for high doses, 20-40 mg in the case of Crestor. Researchers say such aggressive treatment may lead to rapidly lowering cholesterol levels in patients.
Several studies have found a higher risk of hemorrhagic stroke in populations with low cholesterol levels. While scientists have not concluded what may cause this, the general hypothesis is that cholesterol may somehow be important to cell-wall integrity — in other words, low levels may increase the risk of blood-vessel rupture.
Statins May Cause Memory Loss and Other Cognitive Impairment
Cases of cognitive impairment have been reported in patients using Crestor and other statins. Though rare, studies and adverse event reports to the FDA prompted the agency to require the addition of the condition to Crestor's label, and labels for all other statins, in 2012.
Reports included cases of memory loss, forgetfulness, amnesia, memory impairment and confusion. Crestor's label says the conditions, if they occur, can happen at any time after taking Crestor — "1 day to years" — and are reversible by discontinuing Crestor temporarily. The recovery time averages about three weeks.
Fact
Adverse event reports included cases of memory loss, forgetfulness, amnesia, memory impairment and confusion.
Again, it is important to never stop using a prescription medication such as Crestor without talking to one's health care professional first.
A 2015 study in JAMA Internal Medicine looked at 26 years of medical records for 992,000 people. The people included those who took statins for cholesterol, took another type of cholesterol-lowering drug or took no cholesterol medicine at all.
Researchers found people taking any type of cholesterol medicine — statin or non-statin — were nearly four times more likely to report memory loss within 30 days after starting the drug as those who took no medicine for cholesterol.
The researchers said that while all cholesterol drugs may cause memory loss, their findings may be the result of "detection bias" — the result of patients deciding they had memory loss as a result of talking with their doctor about it.
Resuming Crestor Use after Tendon Rupture May Cause Recurrence
While muscle-related side effects of Crestor and other statins are well documented, statins' effects on tendons are less well known.
In a 2008 study, French researchers looked at a database of nearly 4,600 reports of side effects experienced by patients taking statins over a 15-year period. Patients exhibiting tendonitis and tendon rupture accounted for about 2 percent of the reports.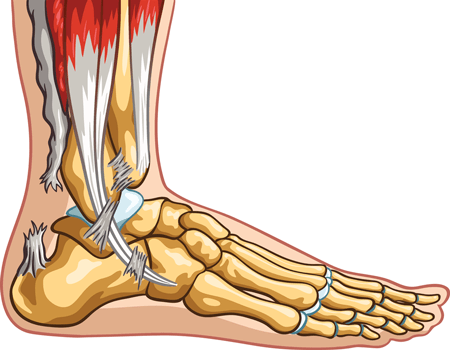 The Achilles tendon was the most common site of problems
Among patients reporting tendon issues, problems began in 59 percent of patients within a year of taking statins for the first time. The Achilles tendon was the most common site of problems. The issues went away when patients were instructed to stop taking the drug.
The researchers found that in every case where statin therapy was restarted, tendon problems recurred. This led the researchers to conclude there was strong support for "a relationship with the use of these drugs."
"We suggest that prescribers should be aware of tendinous complications related to statins," the study's authors wrote, "particularly in risky situations, including physical exertion and association with medications known to increase the toxicity of statins."
Higher Risk of Serious Side Effects
In addition to finding that woman taking Crestor may face a higher risk of developing diabetes than men taking it, studies have shown people of Asian descent may also face disproportionate adverse effects from the drug.
In 2004, the FDA approved a label change for Crestor after researchers found higher levels of the drug in patients with Asian ancestry, increasing those patients' risk of muscle damage.
At the time, the smallest dose of Crestor available in the U.S. was 10 mg. The FDA required AstraZeneca to make 5 mg doses available and recommended that level as the starting dosage for Asian patients.
Research has shown that "Asian patients frequently have heightened responses to therapeutic drugs." Researchers contribute this to genetic differences that affect how people metabolize drugs. Drug regulators in Asian countries tend to set recommended drug dosages lower than their Western counterparts, and the lower doses tend to have similar results for Asian patients that larger doses have for Western patients.
Because Crestor may affect different patient populations in different ways, its label lists certain conditions when it should not be taken, or directions doctors should follow when prescribing it to certain people.
Crestor and Specific Conditions or Patient Populations:
Active liver disease, including certain unexplained and persistent liver enzyme levels

Crestor is not indicated for use

Hypersensitivity to Crestor components or ingredients

Crestor is not indicated for use

Pregnancy

Crestor is not indicated for use

Breastfeeding

Crestor is not indicated for use

Women who may become pregnant

Prescribers told to advise women to use effective contraception while taking Crestor

Severe renal impairment, but not on dialysis

Crestor starting dose should be 5 mg and never to exceed 10 mg

People of Asian ancestry

Prescribers should consider limiting starting dose of Crestor to 5 mg
Certain drugs may also cause adverse reactions when taken with Crestor. Drug interactions and their potential consequences are listed on Crestor's label.
Drugs and Their Adverse Reactions
Cyclosporine (an immunosuppressive drug) :

Can increase Crestor exposure — increased risk of muscle damage

Gemfibrozil (a cholesterol medicine) :

Can increase Crestor exposure — increased risk of muscle damage

Atazanavir/ritonavir, Lopinavir/ritonavir, (HIV antiviral drugs) or simeprevir (a hepatitis C drug) :

Can increase Crestor exposure — increased risk of muscle damage

Coumarin anticoagulants (Warfarin and other blood thinners in its class) :

Taken with Crestor can prolong the time it takes for blood to clot

Concomitant lipid-lowering therapies (fibrates and niacin used to treat cholesterol) :

If 1 g or more of niacin or fibrate drugs are taken daily, combining with Crestor can increase risk of skeletal muscle effects, including rhabdomyolysis
Please seek the advice of a medical professional before making health care decisions.
Author
Terry Turner is an Emmy-winning, former television journalist. He is an associate member of the American Bar Association, the ABA's Health Law group and a member of the Alliance of Professional Health Advocates. He holds six certificates in Health Literacy for Healthcare Professionals from the Centers for Disease Control and Prevention. As a Washington-based investigative reporter, he routinely reported on health and medical policy issues before Congress, the FDA and other federal agencies. Terry received his B.A. in Media Arts from Lyon College.
---