The U.S. Food and Drug Administration approved Crestor (rosuvastatin) for treating cholesterol in 2003. Crestor is a statin like Lipitor.
At the time, the agency knew about cases of rhabdomyolysis during Crestor's premarketing trials. Rhabdomyolysis is a rare form of muscle damage that can lead to severe kidney injury or failure.
The agency believed other statins already on the market had a similar rate of rhabdomyolysis. But in the drug's first year, the number of rhabdomyolysis cases among Crestor users was higher than for other statins.
In 2005, the FDA required Crestor's manufacturer, AstraZeneca, to add a warning to the drug's label. The warning carried information about the risk of rhabdomyolysis and other muscle injuries.
Researchers continued to find previously unknown or underestimated risks of serious side effects. Other possible serious side effects of Crestor include hemorrhagic stroke, Type 2 diabetes and liver damage. The drug is also linked to decreased cognition, such as memory loss and amnesia.
People who suffered muscle injuries or liver damage filed Crestor lawsuits. Other patients sued AstraZeneca after taking Crestor and developing diabetes.
Crestor Muscle and Kidney Damage
The most common side effects for statin patients affect the muscles. Myalgia is the most common of the muscle-related side effects.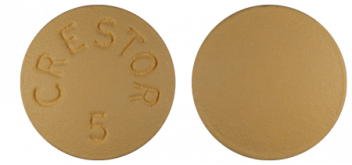 Researchers estimate that one in every 10 people taking Crestor or other statins will experience "statin myalgia." This is a condition in which patients experience muscle pain or weakness as a direct result of taking statins.
The risk increases in patients 65 and older. Patients with renal impairment are also at an increased risk for myalgia. As are patients taking cyclosporine, atazanavir/ritonavir, lopinavir/ritonavir or simeprevir.
Myopathy and Rhabdomyolysis
Crestor's label carries a warning of skeletal muscle effects. It tells health care professionals to "advise patients to promptly report to their physician unexplained and/or persistent muscle pain, tenderness, or weaknes." The warning mentions myopathy and rhabdomyolysis specifically.
Myopathy is a group of disorders in which muscle fibers do not function properly. The most severe muscle disorder related to statins is rhabdomyolysis.
Rhabdomyolysis is a type of skeletal muscle damage that can lead to kidney damage and sometimes death. This condition can be detected and differentiated from myalgia by tests that reveal toxic levels of muscle enzymes.
An estimated one in every 10,000 long-term statin users will develop rhabdomyolysis. Rhabdomyolysis may affect as many as 600 Crestor users every year.
Muscular Problems
1 in 10,000 patients taking statins long-term will develop a severe muscle condition.
Rhabdomyolysis causes skeletal muscle tissue to break down rapidly and travel into the bloodstream. One type of debris created in this muscle breakdown is a protein called myoglobin.
Myglobin is harmful to the kidneys. As blood carrying myoglobin passes through the organs, it can cause serious problems including kidney failure.
In 2005, a study in the American Heart Association journal Circulation found patients taking Crestor were eight times more likely to develop rhabdomyolysis, renal failure or proteinuria — high levels of protein in the urine — than patients taking other statins.
Warning signs of rhabdomyolysis include muscle aches and dark-colored urine.
Crestor and Diabetes
Studies have shown taking Crestor may increase a person's risk of developing diabetes by 9 to 48 percent.
In 2008, a large drug trial exposed an increased diabetes risk for people taking Crestor.
Researchers looked at data from the 18,000-patient study. They found a 27 percent increase in the risk of patients developing diabetes.
The Women's Health Initiative also conducted a study. Researchers found the diabetes risk increased to 48 percent among women taking Crestor.
Crestor and Liver Damage
Statins can raise the levels of liver enzymes called serum alanine aminotransferase (ALT).
Liver Enzymes
Statins can raise liver enzymes in some patients.
Studies have shown this side effect occurs in about 3 percent of patients taking statins. Serious liver damage occurs in about 1 percent. The degree of ALT level elevation can show the seriousness of liver injury.
Studies also show as many as three in every 100 patients taking Crestor experience side effects from elevated liver enzymes.
Liver injury is rare but if it happens, it usually occurs two to four months into Crestor therapy.
Patients who catch liver injury quickly can recover within one to two months after stopping Crestor therapy. Recurrence has been reported among people who restart Crestor.
AstraZeneca recommends doctors order blood tests to check patients' livers before prescribing Crestor. The company also tells Crestor patients to immediately call their doctors if they experience certain symptoms. These symptoms include feeling tired or weak, pain in the upper belly, skin yellowing, dark urine and yellowing of the whites of the eyes.
Crestor and Hemorrhagic Strokes
Crestor prevents recurrence of ischemic stroke. But it may increase the risk of hemorrhagic strokes.
With ischemic strokes, a blood clot blocks the flow of blood to the brain. Hemorrhagic strokes occur when blood vessels burst and bleed into the surrounding areas of the brain. The bleeding accumulates and compresses the brain.
Hemorrhagic strokes are caused by either a weakened blood vessel or a brain aneurysm. They account for about 15 percent of all strokes and 40 percent of all stroke deaths.
Several studies have found a higher risk of hemorrhagic stroke in populations with low cholesterol levels. Scientists have not determined the exact cause. But the general hypothesis is that cholesterol may somehow be important to cell-wall integrity.
In other words, low cholesterol levels may increase the risk of blood-vessel rupture.
Crestor and Memory Impairment
Cases of cognitive impairment have been reported in patients using Crestor and other statins.
The condition is considered rare. But the FDA required AstraZeneca to add the condition to Crestor's label. The agency based its decision on studies and adverse event reports.
Reports included cases of memory loss, forgetfulness, amnesia, memory impairment and confusion. Crestor's label says the conditions can happen at any time after taking Crestor.
The conditions are reversible by discontinuing Crestor temporarily. The recovery time averages about three weeks. Patients should not stop taking a prescription drug without consulting a doctor.
Memory Impairment
Memory impairment may be reversible by temporarily discontinuing Crestor.
In 2015, researchers compared people who took cholesterol medicine with those who didn't. They found people taking the medicine were nearly four times more likely to report memory loss within 30 days after starting the drug.