Ozempic vs Wegovy
Wegovy and Ozempic both contain semaglutide. The FDA approved Ozempic for the treatment and prevention of Type 2 diabetes in 2017, while Wegovy is FDA-approved for weight loss and management. The main difference between Wegovy and Ozempic is the amount of semaglutide in each injectable dose.
Is Wegovy the Same as Ozempic?
Wegovy and Ozempic are not the same medication, but they both contain the same active ingredient, semaglutide, a GLP-1 receptor agonist. Both require a prescription and use a weekly injection for their delivery method. Doses start low and increase until patients achieve an effective maintenance dose. Exact dosages differ, however, as do the intended uses of the drugs.
Wegovy received U.S. Food and Drug Administration approval as a weight loss drug in 2021. Patients without insurance pay approximately $1,627 for a monthly supply of four pen injectors. In contrast, Ozempic received FDA approval in 2017 for Type 2 diabetes. A single pen lasts for a month and costs approximately $907 without insurance.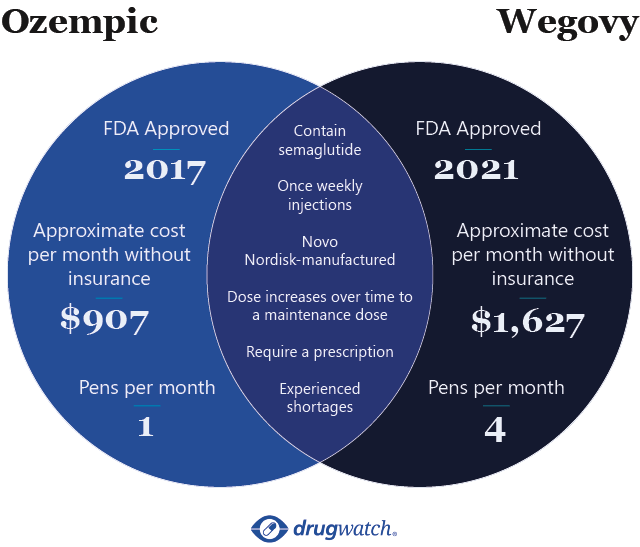 Despite these differences, the drugs have many things in common beyond their active ingredient. Among the most noteworthy are that Novo Nordisk manufactures both formulations and global supply shortages have affected the availability of Wegovy and Ozempic.
What Are the Different Uses of Ozempic vs. Wegovy?
While both Ozempic and Wegovy contain the same active ingredient, Wegovy is intended for weight loss while Ozempic is for the treatment of Type 2 diabetes.
Ozempic vs. Wegovy Uses
Ozempic is FDA-approved to treat patients with Type 2 diabetes and known heart disease.
Wegovy is FDA-approved to assist with chronic weight management in adults with obesity or who are overweight.
Wegovy and Ozempic both reduce appetite and doctors may prescribe either for weight loss and maintenance.
Ozempic and Wegovy have different intended uses; however, both medications work by slowing digestion and reducing appetite. As a result, doctors may prescribe either for weight management. Prescribing Ozempic for weight loss is an off-label use. Many insurance companies will not cover Ozempic for weight loss.
Lawsuit Information
Lawsuits are being filed by people who developed severe gastroparesis after using Ozempic.
Is Ozempic or Wegovy More Effective?
Comparing Ozempic vs. Wegovy shows that both drugs are effective at helping patients who are diagnosed with obesity or overweight reduce their body weight. Additionally, patients and study subjects demonstrate sustained weight loss, indicating a positive correlation between medication use and long-term results.
Wegovy has a slightly higher maximum dose compared with Ozempic. Patients on the former may reach a maintenance dose of 2.4 mg, while Ozempic's maximum dose is 2 mg. The higher dose of semaglutide gives Wegovy a slight advantage over Ozempic when considering effectiveness.
Wegovy vs. Ozempic
| | Ozempic | Wegovy |
| --- | --- | --- |
| Highest dose | 2.0 mg | 2.4 mg |
| Average A1C reduction* | 2.2% | 3% |
| Average weight loss* | 15 lbs. | 35 lbs. |
*results achieved at the highest allowed dose of each medication.
Although designed to treat and prevent Type 2 diabetes, Ozempic can be an effective weight management tool. Many clinicians therefore prescribe Ozempic for weight loss for individuals with Type 2 diabetes who are also overweight. Similarly, several studies indicate that Wegovy can also be an effective option for off-label use in patients with Type 2 diabetes. It shows promise for long-term interventions and disease prevention.
Long-term clinical studies have demonstrated the positive correlation between taking a 2.4 mg dosage of semaglutide combined with lifestyle modifications and reduced risk of developing Type 2 diabetes. Patients taking Wegovy at 2.4 mg may reduce the risk of Type 2 diabetes by as much as 60%.
Can You Take Both at the Same Time?
Taking Ozempic and Wegovy simultaneously is not recommended because it increases the total dosage of semaglutide administered. This can quickly put your dosage beyond safe levels and increase the risks associated with taking either drug. In addition to avoiding other semaglutide drugs while taking Ozempic, you also want to steer clear of any GLP-1 receptor agonist medications, including Mounjaro (tirzepatide).
These medications can produce significant weight loss, so patients should not take additional weight-loss drugs with them. Be sure to discuss any current medications with your doctor, including over-the-counter and natural remedies, before taking Wegovy or Ozempic.
Do Side Effects Differ Between Ozempic & Wegovy?
Side effects from Wegovy and Ozempic are largely gastrointestinal and do not differ greatly between the two. Because Wegovy contains a higher dose of semaglutide, side effects tend to be more severe compared to Ozempic. Patients have reported symptoms that include nausea, constipation, diarrhea, stomach pain and vomiting.
Medication side effects often resolve over time, but as many as 10% of patients must stop taking the medication because they do not resolve. In extreme cases, patients may require hospitalization for side effects that jeopardize their overall health.
Side Effects of Wegovy and Ozempic
Constipation
Diarrhea
Gastroparesis
Kidney failure
Nausea
Wegovy and Ozempic side effects can range from mildly disruptive to severe. It is imperative to discuss possible adverse effects with your health care provider before beginning treatment. Based on that discussion, you can make an informed decision about whether these drugs are right for you.
Recent Safety Concerns
Patients with extreme gastrointestinal distress, including pancreatitis and gallbladder issues, may need hospitalization to stabilize their condition. There is additional concern of possible stomach paralysis and malnutrition because of extreme appetite suppression.
An additional recent concern is a suspected increased risk of certain cancers with the use of GLP-1 class drugs, including semaglutide. However, a comprehensive analysis of existing studies and real-world patient data showed no increase in pancreatic, thyroid or other abnormal growths among patients taking the drug.
Some patients have had severe reactions to semaglutide drugs. As a result, there are currently several lawsuits against Ozempic. If you've experienced adverse reactions while taking Wegovy or Ozempic, you may be able to seek compensation through these suits.
Should I Take Ozempic or Wegovy?
As with any prescription medication, your doctor will carefully weigh individual factors before making a recommendation about which drug to take. Things such as your medical records, health history and current FDA recommendations will likely impact the decision.
Safety concerns about certain medications, including Wegovy and Ozempic, are another consideration. In some cases, your doctor may feel the risks outweigh any potential benefits and offer alternatives for your condition. Similarly, be sure to discuss with your health care provider any side effects or unusual reactions you experience while taking a semaglutide drug.
Please seek the advice of a medical professional before making health care decisions.
Share This Page:
How can we improve this page?
Thank You for Your Feedback
We appreciate your feedback. One of our content team members will be in touch with you soon.
We appreciate your feedback. One of our content team members will be in touch with you soon.
Who Am I Calling?
Calling this number connects you with a Drugwatch representative. We will direct you to one of our trusted legal partners for a free case review.
Drugwatch's trusted legal partners support the organization's mission to keep people safe from dangerous drugs and medical devices. For more information, visit our partners page.