Aspirin vs Aleve
Aspirin (acetylsalicylic acid) and Aleve (naproxen sodium) are nonsteroidal anti-inflammatory drugs (NSAIDs) that reduce pain, fever and inflammation. People who have had previous strokes or heart attacks may take aspirin in low doses to prevent another. Aleve lasts longer than aspirin and may require fewer doses for pain relief.

The active ingredient in aspirin is acetylsalicylic acid. It's available over-the-counter in brand names and generics. Aleve's active ingredient is naproxen sodium, and it's available over-the-counter in generic.
Aspirin and Aleve work in similar ways to relieve pain. They inhibit an enzyme called cyclooxygenase (COX). COX has two forms, COX-1 and COX-2. COX-1 protects the stomach lining from digestive acids and enzyme damage. COX-2 causes swelling and pain. COX-1 narrows arteries and makes platelets in the bloodstream sticky. COX-2 widens arteries.
Older NSAIDs such as aspirin and naproxen inhibit COX-1 and COX-2. This eases swelling and pain but causes an upset stomach and other gastrointestinal effects.
In general, most people tolerate aspirin and Aleve well. But both drugs increase the risk of stomach pain and more serious problems such as ulcers or bleeding.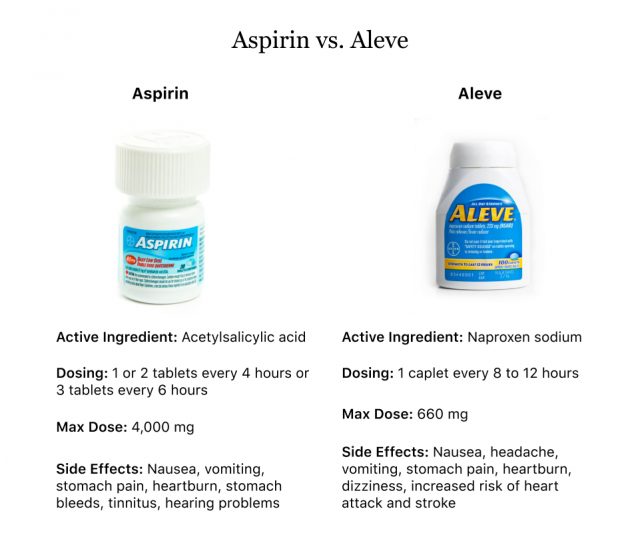 What Do They Treat?
In general aspirin and Aleve have similar uses such as relieving pain and reducing fevers. Unlike Aleve, aspirin may prevent second heart attacks and strokes. Some formulas of aspirin, such as Bayer Advanced Aspirin work in as little as 16 minutes.
Because Aleve lasts longer, it may be a better choice for people with chronic pain. More doctors prescribe non-aspirin NSAIDs such as Aleve for different types of arthritis. It lasts longer, but it takes longer to start working. So it's not a good choice for quick pain relief.
Aspirin and Aleve uses include:
Headache
Menstrual pain
Minor pain of arthritis
Muscle pain
Pain and fever of colds
Toothache
Heart Attack Prevention
Low-dose aspirin is the only NSAID used by medical professionals in the United States to help reduce the risk of another heart attack or stroke in people who have had previous heart attack or stroke. It thins the blood which helps prevent blood clots.
The American Heart Association warns against taking daily low-dose aspirin without a doctor's recommendation because of the risk for bleeding.
If you take aspirin for heart therapy, taking it with ibuprofen or another NSAID may reduce the benefit.
Inflammatory Arthritis
Aspirin and Aleve are indicated for treating arthritis, but doctors are more likely to recommend a non-aspirin NSAID, such as Aleve, for arthritis and other inflammatory diseases.
Naproxen at higher doses may relieve pain from chronic conditions such as rheumatoid arthritis, osteoarthritis, acute gout and ankylosing spondylitis — a type of inflammatory arthritis of the spine. It may help people living with chronic pain better manage long-term pain symptoms.
Some doctors may recommend if off label to treat migraines.
Dosage
Aspirin and Aleve come in different strengths and have different dosages. Each drug comes in different forms, such as extended release, liquids and suppositories. Because aspirin and Aleve can cause stomach problems, they should be taken with food or a full glass of water.
Children and adults can take aspirin and Aleve, but children younger than 12 years old should not use Aleve.
Aspirin Dosages and Forms
Aspirin comes in strengths ranging from 60 mg to 800 mg. It comes in extended-release tablets, delayed-release tablets, a chewable tablet, a gum to take by mouth, a powder, and a suppository to use rectally. Higher strengths are only available by prescription.
The most common doses are low-dose aspirin, regular strength aspirin and extra strength aspirin. Doctors may adjust the dose depending on the condition being treated.
The maximum daily dose for aspirin is 4,000 mg.
Common Recommended Aspirin Dosages
| | Low-dose 81 mg | Regular Strength 325 mg | Extra Strength 500 mg |
| --- | --- | --- | --- |
| Dose and Frequency | 4 to 8 tablets every 4 hours | 1 or 2 pills every 4 hours, or 3 pills every 6 hours | 1 or 2 pills every 4 to 6 hours |
| Daily Limit | Do not take more than 48 tablets in 24 hours unless directed by a doctor | Do not take more than 12 pills in 24 hours | Do not take more than 8 pills in 24 hours |
Aleve Dosages and Forms
Aleve over-the-counter comes in 220 mg. But other naproxen brands are available by prescription and dosages can go as high as 750 mg.
Aleve OTC is available in tablet, gelcap, caplet or liquid gel. But other formulas are available in delayed release tablets, extended release tablets, capsules and oral suspension.
For Aleve OTC, take one 220 mg pill every 8 to 12 hours. For the first dose, patients can take 2 pills within the first hour. Don't take more than 2 pills in 12 hours, and do not take more than 3 pills in 24 hours.
Don't take Aleve for more than 10 consecutive days unless your doctor tells you to. The maximum daily dose for naproxen is 660 mg.
Side Effects
Aspirin and Aleve are NSAIDs and they have similar side effects. The most common side effects for both are gastrointestinal side effects such as stomach pain, stomach bleeding and ulcers.
Because aspirin thins the blood, it is more likely to cause bleeding. People with any kind of blood or bleeding disorder should not take aspirin.
Aleve may increase the risk of aseptic meningitis – inflammation of the membrane covering the spinal cord and brain — especially in patients with lupus. Unlike aspirin, Aleve may cause drowsiness and blurred vision.
Fact
The FDA warns that non-aspirin NSAIDs such as Aleve may increase the risk of heart attack or stroke. Heart attack or stroke can occur as early as the first weeks of using the NSAID.
Aspirin Side Effects
Aspirin side effect information doesn't include data on how common the side effects are.
Aspirin side effects include:
Central nervous system (CNS) changes
Excess fluid in lungs (pulmonary edema)
Hearing loss
Kidney damage
Liver toxicity
Nausea
Platelet problems
Premature destruction of red blood cells
Spasm of airways in the lungs (bronchospasm)
Stomach pain, ulceration and bleeding
Swelling under the skin from accumulated fluid (angioedema)
Tinnitus, ringing in the ears
Urticaria (hives)
Vomiting
Warnings
Severe allergic reactions to aspirin have happened, and people with a history of allergies to the drug, such as hives or breathing problems, should not use it. People with bleeding GI ulcers, anemia, hemophilia, hemorrhoids, nasal polyps associated with asthma or ulcerative colitis should not use the drug.
Like other NSAIDs, aspirin has the potential to trigger heart failure because it may lead to sodium and water retention. Long-term high-dose aspirin use should be avoided, especially during pregnancy. High doses may cause birth defects and prolong gestation and labor.
Aspirin enters breast milk. Lactating mothers should ask their doctor's advice about whether they should stop breastfeeding or stop taking the drug.
Aleve Side Effects
Naproxen side effects gathered from drug labels include side effects that occur in 1 to 10 percent of people in OTC and prescription strength formulas.
Naproxen side effects include:
Abdominal pain (3 to 9 percent)
Constipation (3 to 9 percent)
Diarrhea (1 to 3 percent)
Diverticulitis (1 to 3 percent)
Dizziness (3 to 9 percent)
Drowsiness (3 to 9 percent)
Fluid retention (3 to 9 percent)
Gastrointestinal bleeding (1 to 4 percent)
Gastrointestinal perforation (1 to 4 percent)
Gastrointestinal ulcers (1 to 4 percent)
Headache (3 to 9 percent)
Hearing disturbances (less than 3 percent)
Heartburn (3 to 9 percent)
Inflammation of mouth and lips (stomatitis) (less than 3 percent)
Lightheadedness (less than 3 percent)
Nausea (3 to 9 percent)
Shortness of breath (3 to 9 percent)
Swelling (3 to 9 percent)
Warnings
People who are allergic to aspirin shouldn't take Aleve or any brand of naproxen. Aleve may cause serious skin reactions. Some can be life threatening. People should stop the drug at the first sign of a skin rash. Types of rashes include: exfoliative dermatitis, toxic epidermal syndrome, Stevens-Johnson syndrome and toxic epidermal necrolysis.
Taking naproxen may cause a person to develop high blood pressure. Like other NSAIDs, Aleve has the potential to trigger heart failure because it may lead to sodium and water retention. The risk is higher if taken in higher doses than directed or for longer than directed.
There aren't enough studies in pregnant women who take Aleve. But women who take NSAIDs while pregnant may have a greater risk of having a stillbirth. Small amounts of naproxen have been detected in breast milk. Mothers should talk to their doctors if they are breastfeeding while taking Aleve.
Please seek the advice of a medical professional before making health care decisions.
Share This Page:
How can we improve this page?
Thank You for Your Feedback
We appreciate your feedback. One of our content team members will be in touch with you soon.
We appreciate your feedback. One of our content team members will be in touch with you soon.
Who Am I Calling?
Calling this number connects you with a Drugwatch representative. We will direct you to one of our trusted legal partners for a free case review.
Drugwatch's trusted legal partners support the organization's mission to keep people safe from dangerous drugs and medical devices. For more information, visit our partners page.